This week, I want to share with you all some healthy ideas for Indian dinner. For me, dinner is the most challenging meal of the day. Since my day begins very early in the morning (around 4.45 am), I feel completely spent by 6 pm. As a result, dinner is always something that is quick but filling and wholesome. In this post, I am going to be sharing some easy Indian dinner menu ideas. 
Follow us on Pinterest for delicious pins. Join our Facebook group for more Instant Pot and Air Fryer Recipes.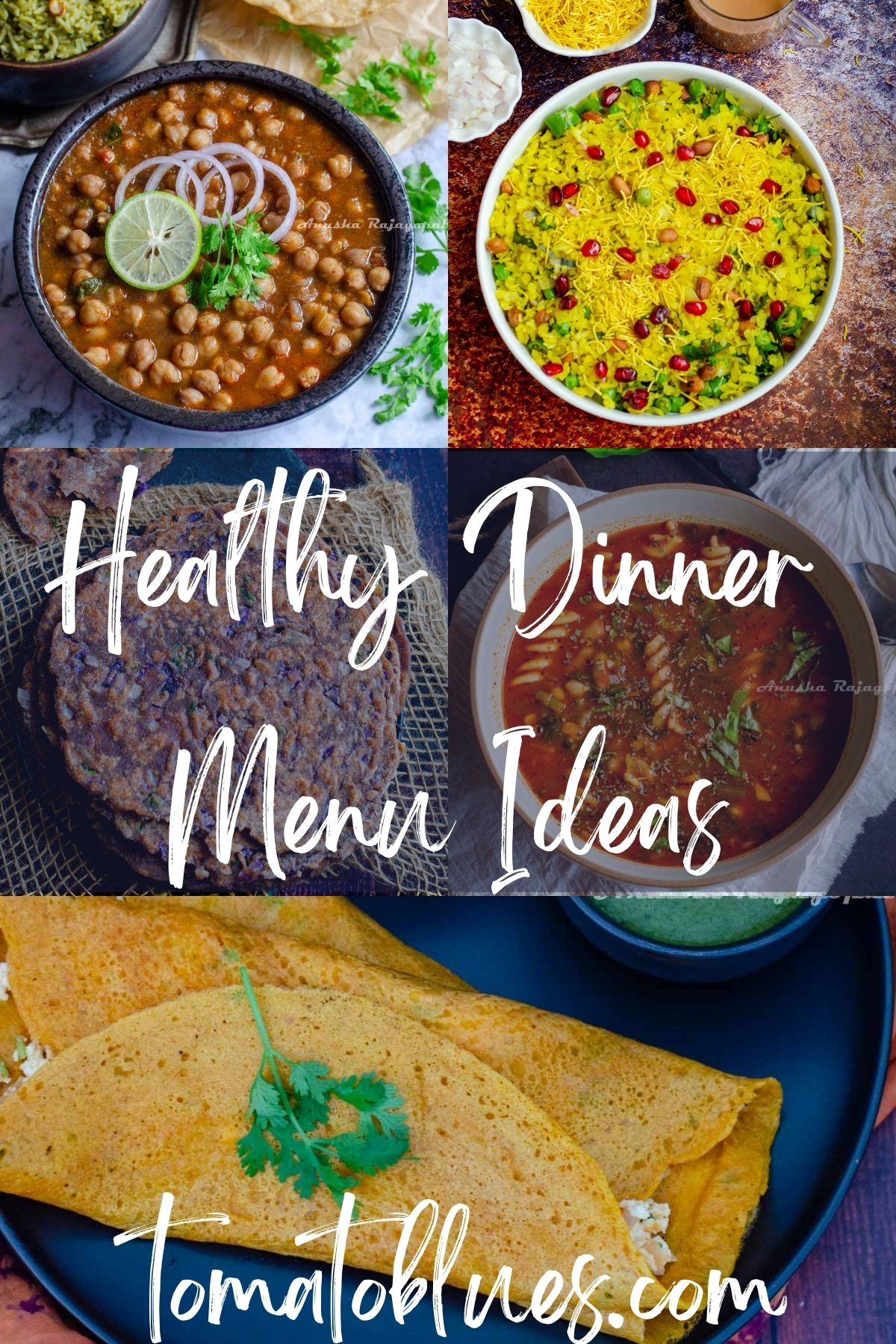 Please consider this post as a guide that can help you to plan dinners easily. Since my focus is on healthy eating with minimally processed food, I have included some recipes that are along these lines. You can also explore our Recipes page for more dinner inspiration.
Jump to:
Dinner meal prep ideas
If you are someone who has a hectic schedule through the day, aim to do at least 50% of the dinner prep over the weekend. A few hours spent over the weekend doing this means a relaxed evening after a long day at work. 
A few things that you can do over the weekend are 
Setting yogurt
You can set fresh yogurt in small sized containers and use them as and when required through the week. We are a family of three and go through a lot of yogurt. So, I use about 2 quarts of whole milk to make yogurt for the entire week.
When setting yogurt, I divide the milk into 4 batches and make 4 jars of yogurt. We open only one small jar at a time. This way, the remaining jars of yogurt stay fresh as well.
Chopping veggies 
You can chop veggies like cabbage, carrots and beans well ahead and store them in an air-tight container or in reusable silicone storage bags. Only veggies that cannot be chopped and stored ahead are onions, tomatoes, cukes and other such veggies that release water.
You can save a lot of time this way especially when you have green leafy veggies like spinach. I prefer sorting through Methi, Mint and Cilantro over the weekend as well.
Prepping fruits
Just like how you can chop veggies ahead of time, you can also prep fruits like grapes and pomegranate. 
Making dough for Rotis, Parathas or Chapatis
For me, the most time consuming step is kneading the dough. So, I tend to make the dough, smear some oil on it, wrap it in clingwrap tightly and store it in an air-tight container. Dough stored like this keeps well for 3 days. There will be slight discoloration of the dough but there wont be any difference in the taste.
Kindly avoid adding veggies that will release water to the dough if you plan to store the dough. You should not be adding veggies like radish or bottle gourd to the dough if you plan to store it.
Grinding Idli and Dosa batter
This is literally a no-brainer. I do this religiously every week. While grinding batter, I rotate the ingredients as well. Some weeks, I use millet to make the batter. Sometimes, I make batter for Aapam or Pesarattu.
Putting together a few chutneys
I highly recommend doing this. Every weekend, I make at least one chutney or Thogayal and refrigerate it. This turns out to be a life saver on days when I m just too exhausted to do anything.
If I have a Thogayal in the fridge, I just cook some rice in the Instant pot, whip up a Raita and serve it with the Thogayal. A hearty but wholesome meal comes together in less than 30 minutes and minimum effort.
In case I have Idlis or Dosas on the dinner menu, then I make some chutney or Podi to be served with these as well. Other than peanut and coconut chutneys, all other chutneys keep well in the fridge for 3 days. Store them in a clean air-tight container and use a clean dry spoon to handle them every time to prevent molding.
30 minute Indian dinner recipes
And then there are weekends when all we want to do is relax. For those days, here are some quick 30 minute fixes. You can try our Masala egg pasta, cracked wheat upma, millet Ven Pongal or easy Instant Pot vegetable Pulao.
Indian Dinner Menu Ideas For A Week
This week, I am focusing on feeding my family protein rich meals over dinner. It is also going to be early dinner since high-protein meals take a bit longer to digest.  Here is how the menu looks like-
Monday
Easy Instant Pot Chana Masala + Jeera rice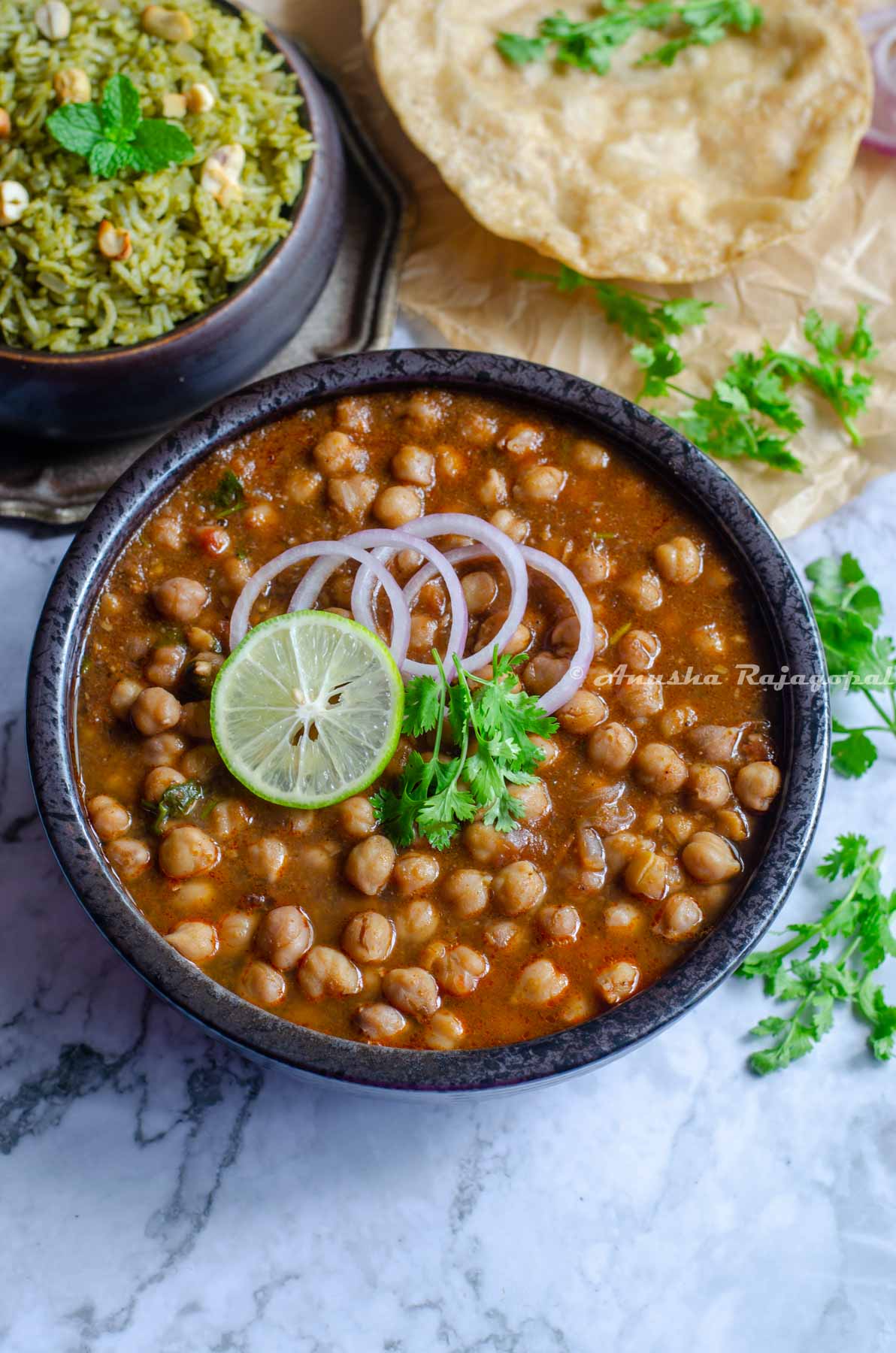 Prep work on Sunday– Soak chickpeas for 8 hours. Once they are hydrated, drain them in a colander, wash them well and keep refrigerated in a fridge-safe container.
Tuesday
Kanda Batata Poha and a tall glass of chilled Chaas
Prep work– Deseed pomegranate and store the arils in a clean dry box in the fridge over the weekend. You can top your salads or toast with these as well. Make Chaas and keep refrigerated. I prefer storing my buttermilk in a glass jug or carafe.
Wednesday
Ragi and wheat chapatis with home set yogurt
Prep work- Chop the purple cabbage over the weekend and store in a reusable bag. Also set the yogurt and refrigerate.
Thursday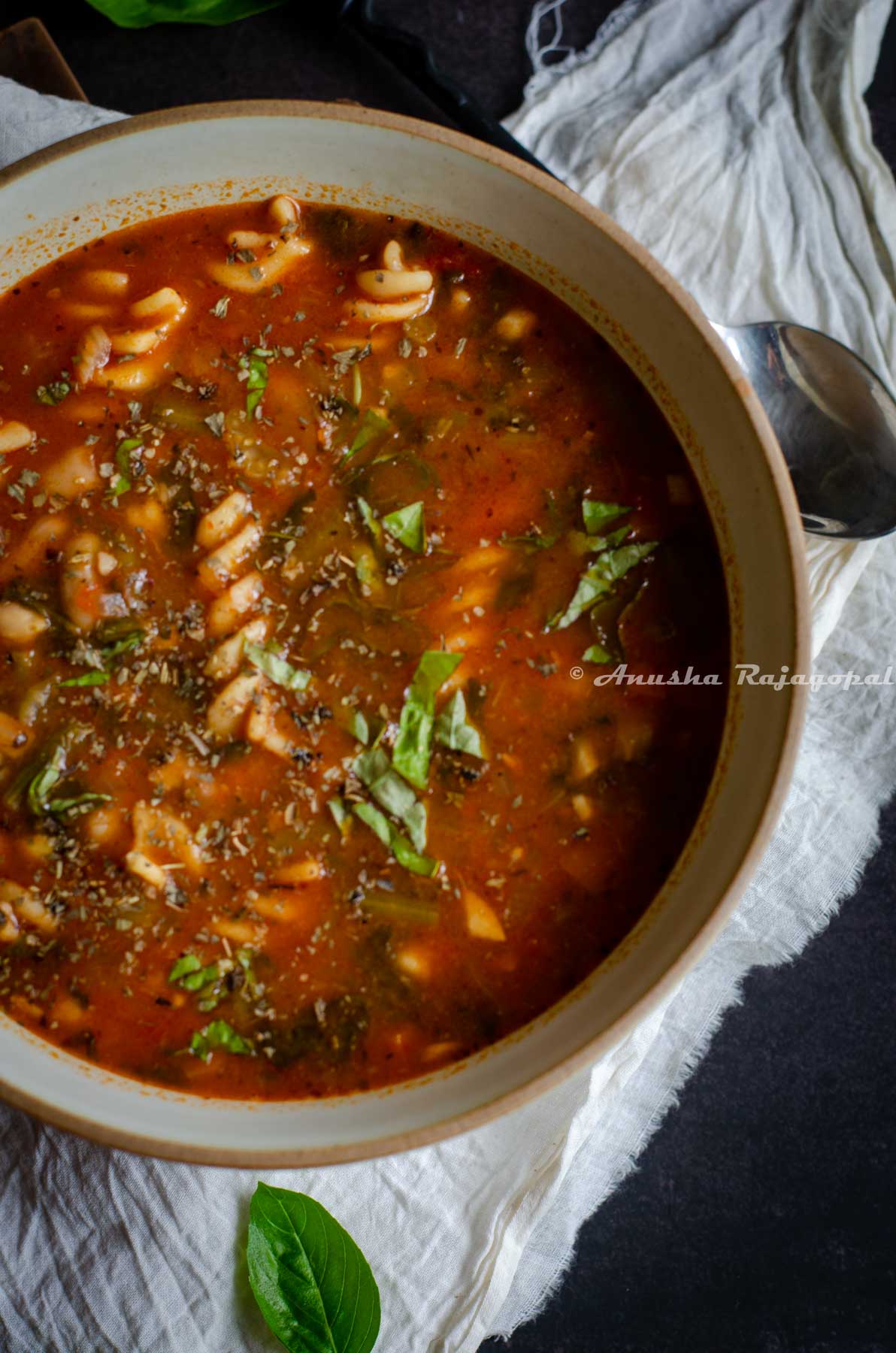 Since we will be using canned chickpeas, this calls for no prep work at all. This soup takes just 15 minutes of hands on prep time.
Friday
Wholesome Moong Chillas with Rainbow fruit salad
Prep work on Thursday- Soak the Moong dal and grind the batter. This batter keeps well in the fridge for 2 days. Usually, if I have Cheela batter, I make the same for breakfast on Saturday mornings as well. You can also grind some tomato mint chutney on Thursday evening if you prefer. This tangy chutney pairs well with Chillas excellently.
As for the fruit salad, I usually put it together a few hours before serving. You can choose to serve this salad or simply skip it if you feel it s too much work.
More dinner menu ideas
You don't have to restrict yourself to this menu. Check out our collection of dinner recipes that also double as breakfast and feel free to use any of these in your dinner menus.
More meal plans