HOW TO MAKE MASALA EGG PASTA- INDIAN STYLE EGG PASTA?
MASALA EGG PASTA- PASTA COOKED INDIAN STYLE WITH MASALA AND SCRAMBLED EGGS.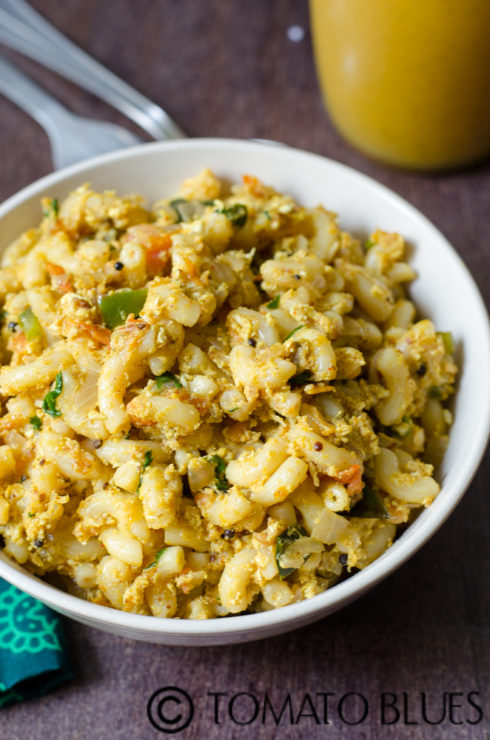 Masala egg pasta is my favorite way to eat pasta. We are not big pasta fans here. Yes, you heard me right. I make pasta once in six months. When little A was born, i had this bright shining hope that she ll love pasta. But, well, here we are, Little A is 3.5 now and still screws up her face at pasta. Sometimes life gives you such challenges, i tell you.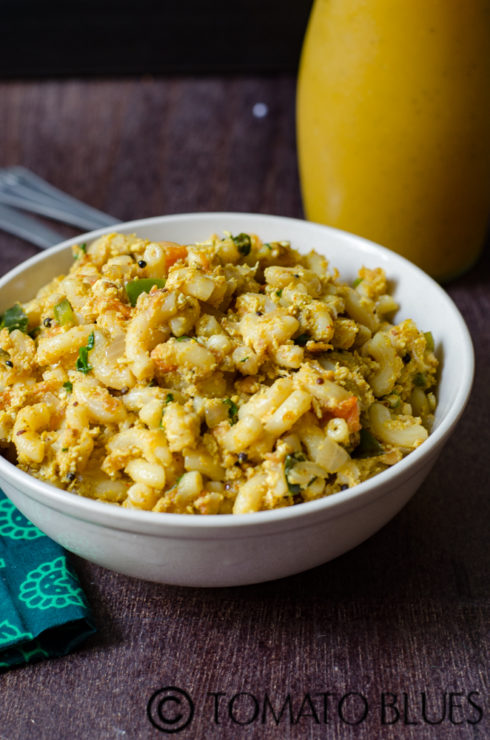 So whenever i make pasta, i make it in a way that i enjoy it. Pasta with eggs is my favorite after pasta with mushrooms. I like my spice, heat, ginger and garlic in everything i eat and this applies to pasta too. I can never eat bland pasta and that s why masala egg pasta came into being.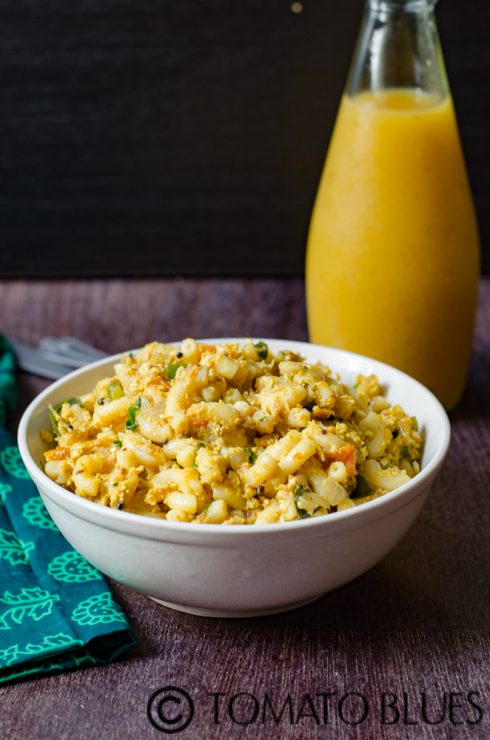 This masala egg pasta is a very simple and forgiving dish. You can make it with any pasta you want. Macaroni, spaghetti and fusili are best bets.  And add or reduce spice as you desire. But whatever you do, remember to eat it hot and wash it down with something cold and refreshing.
If you are looking for more pasta recipes, check out this Tomato cheese pasta, Green apple pasta salad and Creamy bell pepper pasta.
Recipe For Masala Egg Pasta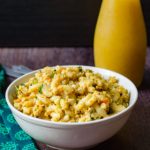 Print Recipe
Masala Egg Pasta Recipe- Indian style egg pasta
Masala egg pasta - Indian style pasta dish with scrambled eggs, basic indian spices and macaroni pasta.
Ingredients
Macaroni 1/2 cup

Eggs 2 largish

Onion 1 medium chopped finely

Tomato 1 small chopped finely

Capsicum 2 tbsp chopped finely

Green chili 1 chopped finely

Ginger 1 tsp grated

Garlic 1 tsp grated

Red chili powder 1 tsp

Coriander powder 1 tsp

Turmeric powder 1/2 tsp

Garam masala powder 1/2 tsp

Mustard seeds 1 tsp

Salt to taste

Curry leaves a few

Oil 1 tbsp

Water as required

Coriander leaves 1 tbsp chopped finely
Instructions
Bring 3-4 cups of water to a rolling boil.

Add pasta to this and allow it to boil until done.

Drain and set aside.

Heat a pan with oil.

Pop the mustard seeds.

Add curry leaves, grated ginger and garlic.

Fry till garlic begins to brown.

Add onions and fry till pink.

Add capsicum and green chili.

Fry for a min.

Add the spice powders next, mix well and cook on low flame for 30 secs.

Add salt and mix well.

Break the eggs into the pan and whisk vigorously till everything gets incorporated.

Make sure you dont allow the egg to cook fully.

While the eggs are still runny, add cooked pasta and mix well.

Cook covered for a min.

Garnish with coriander leaves.

Serve hot.
For Instant Pot & Air Fryer Recipes
Instant Pot timings may vary based on your geographic location. Air fryer settings and timings may vary based on the capacity and the model of the Air fryer.
Disclaimer
Nutrition values are provided here as a courtesy and are only a rough guide. Please consult a health care provider if you have any concerns.