How To Make Cheesy Garlic Herb Pull Apart Bread?
CHEESY GARLIC HERB PULL APART BREAD- PILLOW SOFT PULL APART BREAD WITH A CHEESY GARLIC FILLING.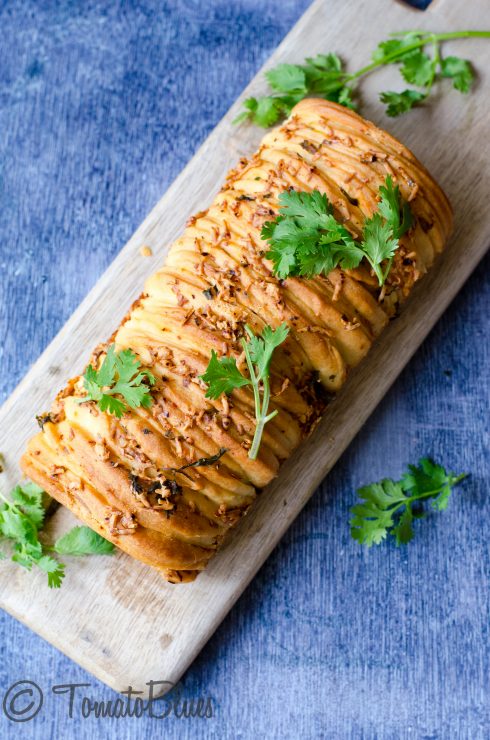 Cheesy Garlic Herb Pull Apart Bread- the very name or rather the description makes me go weak in the knees. I have a fetish for garlic in breads. No, wait. I have a fetish for freshly baked pull apart breads that have garlic and cheese in them. There is some magic in peeling away those layers one by one. I admit, i feel like a kid who just won her first online game 🙂 when i do this.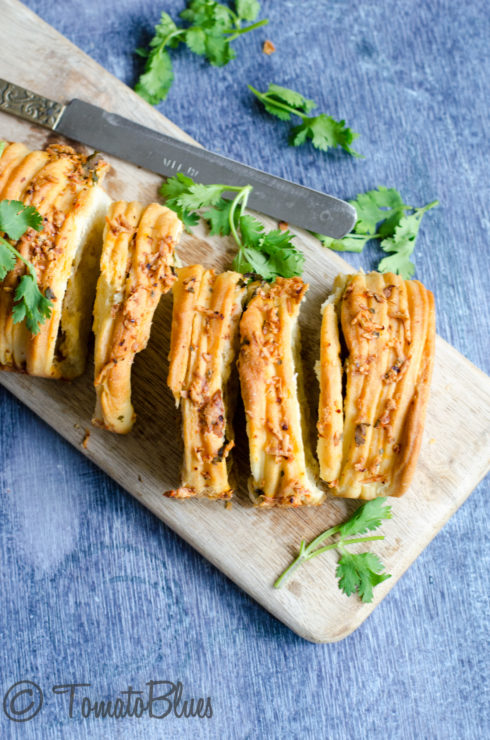 My first pull apart bread happened when i joined We Knead To Bake, a virtual bread baking group that chose a bread every month. But i feel in love with baking bread much before that. And i must say, i have come a long way since then, baking everything from stuffed buns to hokkaido loaf when it comes to bread.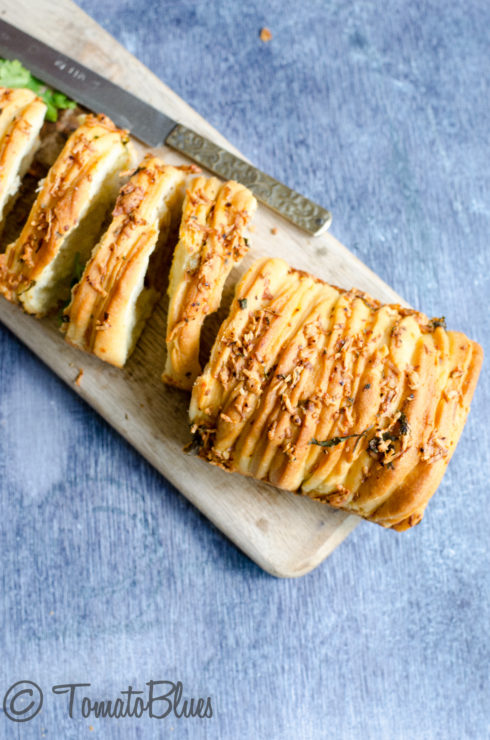 And i m still head over heels in love with baking a good loaf of bread. Which is exactly why this Cheesy Garlic Herb Pull Apart bread happened. I am a big fan of the King Arthur Flour website. Even though i have not had the luck to bake with their products, i find that all recipes on their website are doable and very reliable. This, I speak for myself, keeping in mind, my gut feeling and experience.
So, it was only obvious that i follow them on Instagram as well. Now, these folks have this thing called Bake Along every month on Instagram and this month, we are all baking along this fabulous , super simple but fancy looking Cheesy garlic herb pull apart bread.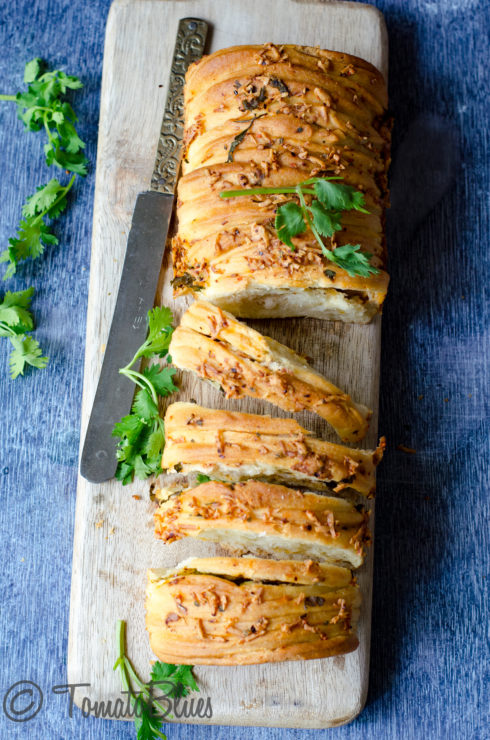 While this bread does look complex, its pretty straight forward and doesn't involve much technique. Yet, you will feel that you have baked a masterpiece of a bread because of its looks. What i learned while baking this cheesy garlic herb pull apart bread is that the dough does not double unlike other breads. It only becomes puffy. And it comes together in a pinch.
The original recipe called for an egg but i used oil in place of it. Also, i baked this bread three ways. Ok, please dont roll your eyes. Sometimes, i become possessed when it comes to baking bread. I baked this the first time with a garlic butter herb filling that is just like the one in the recipe but shaped them into fan tans. Now, those fan tans were gone as quick as you can say bread. So, i baked two more loaves, pull aparts this time. One with a cheesy herb filling and another with cinnamon sugar.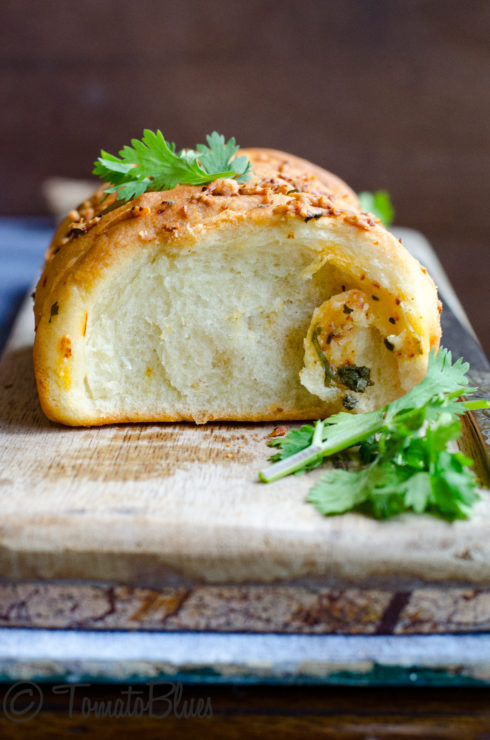 Shall we now check how to make this Cheesy Garlic Herb Pull Apart Bread step by step?
Combine butter, milk, salt and sugar in a microwave safe bowl. Microwave on high for 1 min or till butter melts completely. Give a good stir. Let cool. Add oil to this and mix well. Set aside.
In another bowl, combine flour, garlic powder and yeast. Make a well in the center. Now, add the liquid mixture to the bowl and mix well. Knead to a soft dough. The dough should form a ball but will be a bit sticky.
Cover with a cling wrap and let it rise till puffy. Takes anywhere between 1 hour to 1h and 30 mins. In the meanwhile, prepare the filling. Combine shredded cheese, garlic flakes, herbs and pizza seasoning. Mix well.
Once risen, remove and deflate the dough. Lightly dust your work space with flour and turn out the dough. Roll into a large circle of sorts that is about 1/4 inch thick. Using a round cookie cutter or dessert rings, press circles on the dough and cut them out. Place a tsp of the filling in the center of a circle and fold in half. Seal the edges.
Grease a loaf pan with olive oil. Place the sealed half circle upright. Repeat with the remaining dough. Sprinke remaining filling over the loaf. Cover and let rise for another twenty mins. Towards the end of the second rise, preheat oven to 200 C .
Once risen, bake the loaf for 20 to 25 mins or until top turns golden. Your Cheesy Garlic herb pull apart bread is ready.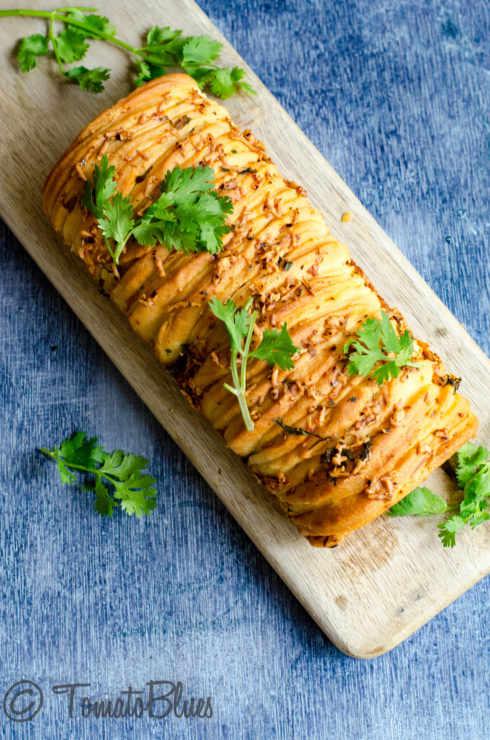 Recipe For Cheesy Herb Garlic Pull Apart Bread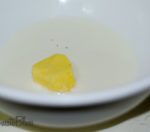 Print Recipe
Cheesy Garlic Herb Pull Apart Bread Recipe
Cheesy herb garlic pull apart bread- A super soft pull apart bread loaded with herbs, garlic and cheese.
Ingredients
All purpose flour 2 cups to 2.5 cups

Begin with smaller quantity

Instant yeast 1 tsp

Garlic powder 1 tsp

Milk 1/2 cup

Butter 4 tbsp at room temperature

Vegetable oil 1/4 cup

Salt 1 tsp

Sugar 2 tsp

Garlic powder 2 tsp

For The Filling:

Cheddar cheese

or any cheese of your choice 4 tbsp grated

Coriander leaves 2 tbsp finely chopped

Italian dried herbs 1 tsp

Red chili flakes 1 tsp

Garlic flakes 1 tsp

Oil for greasing

Flour for dusting
Instructions
Place milk, butter, sugar and salt in a microwave safe bowl.

Heat this mixture on high for 1 to 2 mins until butter melts completely.

Once done, mix well and let cool.

In a large mixing bowl, place the flour, yeast and garlic powder.

Mix well.

Make a well in the center.

Add the oil and the butter milk mixture.

Use a whisk to combine all of it into a mass.

Now, knead till the dough is smooth but sticky and forms a ball.

Once done, cover with cling wrap and let rise till puffy.

Takes anywhere between 60 to 90 mins.

In the meanwhile, combine the dried herbs, coriander and cheese for the filling.

Once the dough has risen, remove and deflate.

Divide the dough into two parts. This is for convenience sake.

Now, roll each part into a 1/4" thick circle on a lightly floured surface.

Once done, use a round cookie cutter and cut out circles of the dough.

Place a tsp of the filling in each circle and seal to form a semi circle.

Grease a loaf pan with oil.

Stack the filled semicircles upright in the pan and let rise for about 20 mins until lightly puffy.

Preheat oven to 200 c towards the end of the second rise.

Once risen,Sprinkle remaining filling if any over the bread.

Bake in the preheated oven for 20 to 25 mins or until tops turn golden.

Once done, unmould and let cool on a cooling rack for about 15 mins.

When cool, dig in.

This bread keeps well in room temperature for 3 days.
For Instant Pot & Air Fryer Recipes
Instant Pot timings may vary based on your geographic location. Air fryer settings and timings may vary based on the capacity and the model of the Air fryer.
Disclaimer
Nutrition values are provided here as a courtesy and are only a rough guide. Please consult a health care provider if you have any concerns.