If you love Thai food, you should know that Thai herbs are the super stars in any Thai dish. Right from their different curries to stir fries, almost all recipes feature a generous use of fresh herbs.
Follow us on Pinterest for delicious pins. Join our Facebook group for more recipes, quick tips and hacks.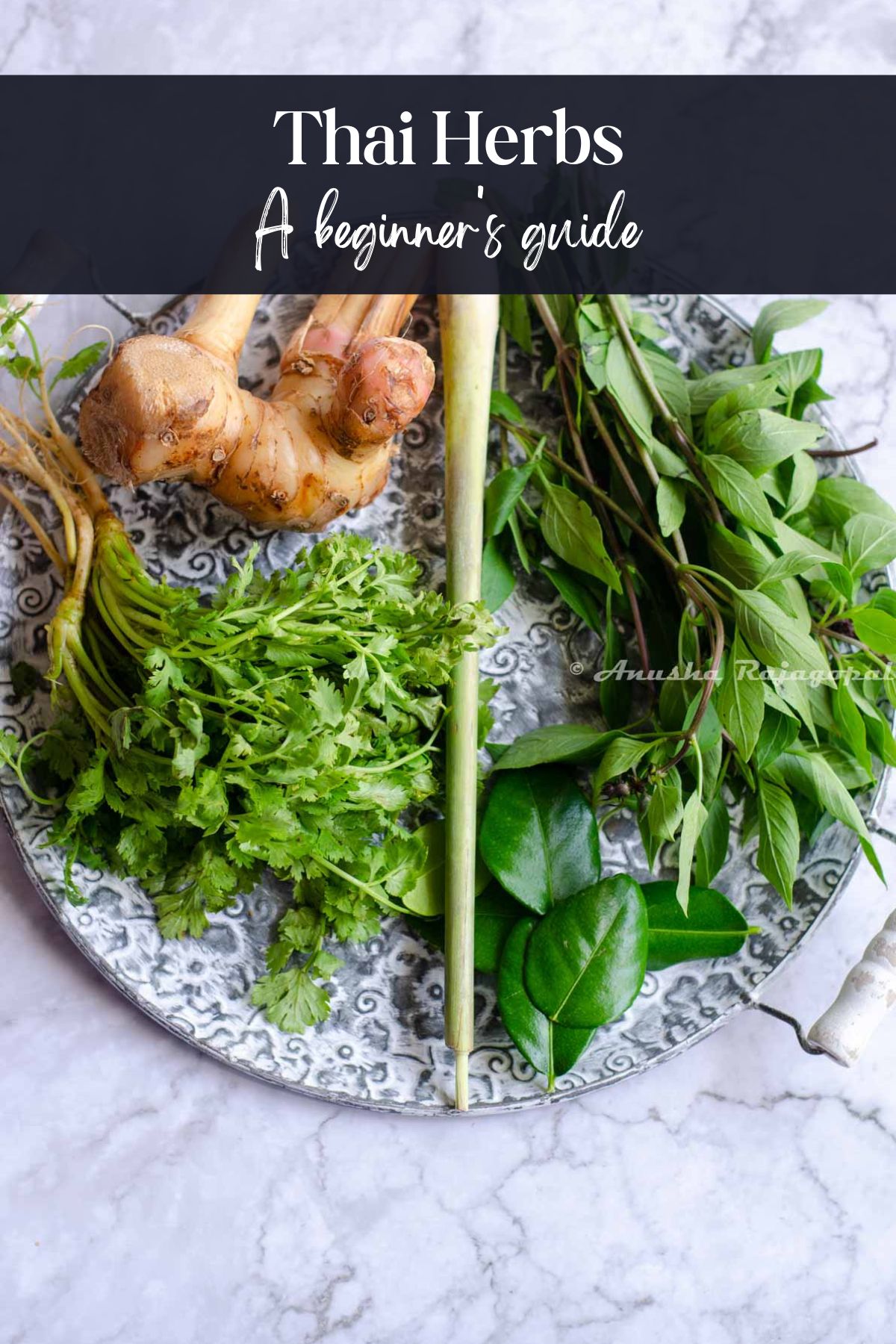 As a beginner or as someone who is new to Thai cuisine, it may be a bit confusing to identify these herbs. This post is a humble beginner's guide to essential herbs used in Thai cooking.
Jump to:
When I first began exploring this cuisine, I was thrilled to observe that it is very similar to Indian food. Some things like liberal use of coriander, green chilies and their fondness for spice struck a chord with me.
My move to Singapore made it so much easier to access these herbs very easily. Will you believe it if I tell you that these are available at our wet markets? And that I have a beautiful Thai Basil plant growing in my balcony?
It begins with a paste
All things Thai food begin with a fragrant paste. They have so many varieties including green curry, red curry and Tom Yum. To make this paste, they use a mortar and pestle.
While the traditional way of making these essential spice pastes is with the help of a mortar and pestle, it can be a hassle for beginners or people who are new to the concept.
In this case, take the short cut! and bring out that heavy duty blender. I do this all the time and it is such a blessing.
You can buy all these different pastes in any Asian supermarket or grocery store but the flipside is some may not be vegan friendly and they may also be expensive. 
The preservatives and additives are another story altogether. Which is why, it helps if we can make these on our own. And for this purpose, it is absolutely essential that we know how to identify and buy these herbs.
Chilli Padi rules!
Wondering what Chilli Padi is? Well, this is Bird's eye chili in local jargon. No recipe is ever complete without these potent spice bombs.
Be very careful when using these peppers. They can be very spicy. Always begin with the lowest amount possible in a recipe and increase the number of chilis based on your tolerance levels.
There are two types of these bird's eye chillis. Almost as tiny as half your little finger, they come in red and green colors.
Galangal
Amongst all the herbs, what piqued my interest the most is Galangal. Sometimes called as blue ginger, this medicinal root is related to the turmeric family.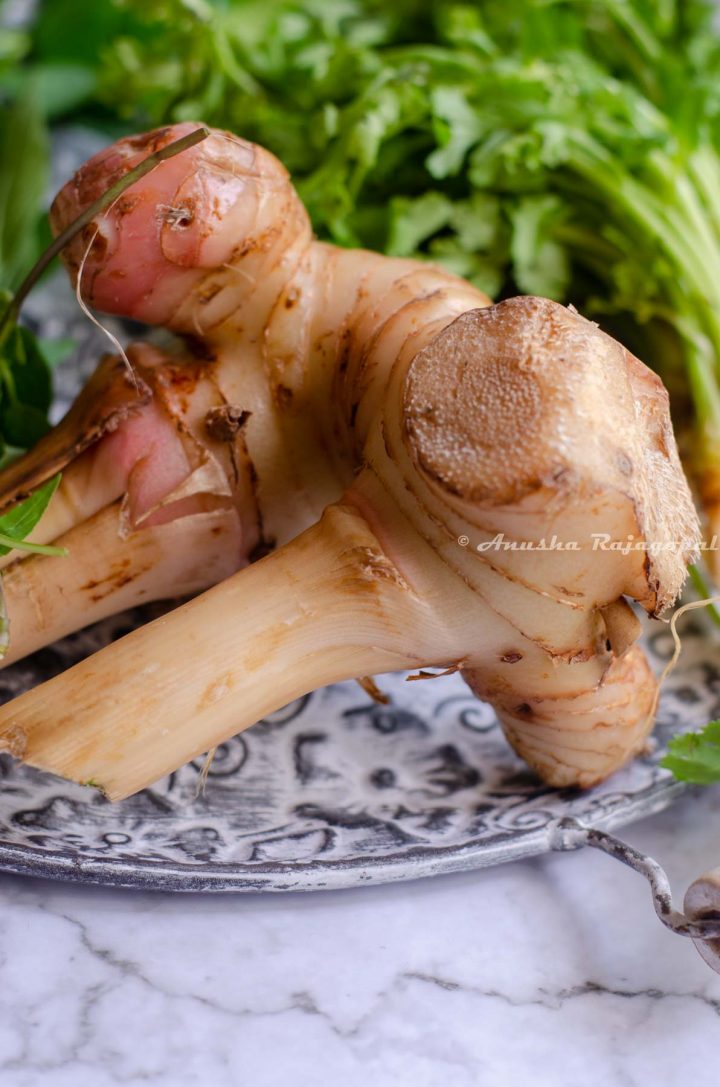 We call this as Sitharathai in Tamil. There are different types of galangal including lesser and greater galangal. While they all belong to the same family, they are all different in flavor and taste.
Difference between ginger and galangal
Is there a difference? Yes! Ginger is spicy, pungent and has a slight bitter aftertaste. On the other hand, galangal is sweet, has a piney fragrance and mild citrus notes.
Other names for this include Siamese ginger or Thai Ginger. Unlike ginger, this rhizome has a pinkish skin and its flesh is harder and more fibrous.
This citrusy rhizome is also popular in Indonesian and Vietnamese cuisine. In Indian culture, we use this to treat coughs, colds and indigestion.
Lemongrass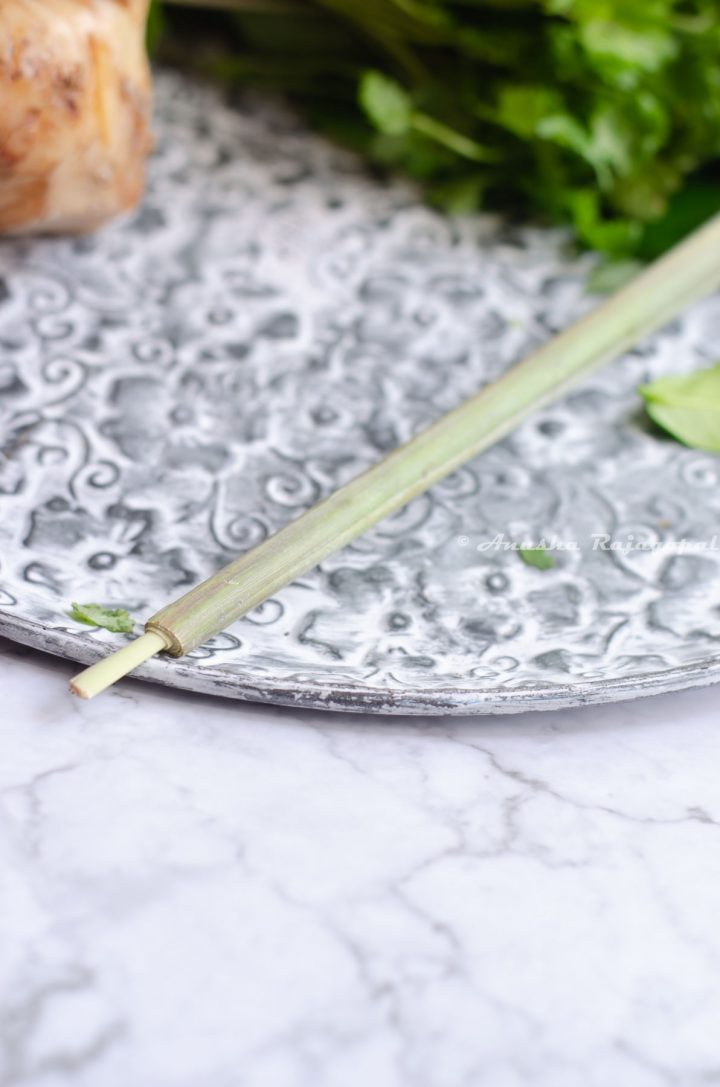 Of all the herbs here, this is my favorite. The first time I had a lemongrass experience was in my Masala Chai. This long hardy grass does belong to grass family.
Also known as barbed wire grass and Malabar grass, this has a prominent citrus flavor. While you can find both fresh and dried lemongrass easily, fresh ones are preferred while cooking Thai food.
Fresh lemongrass has a pronounced citrusy flavor with a hint of ginger. I love adding dried lemongrass stalks to my Chai and soups.
Lime leaves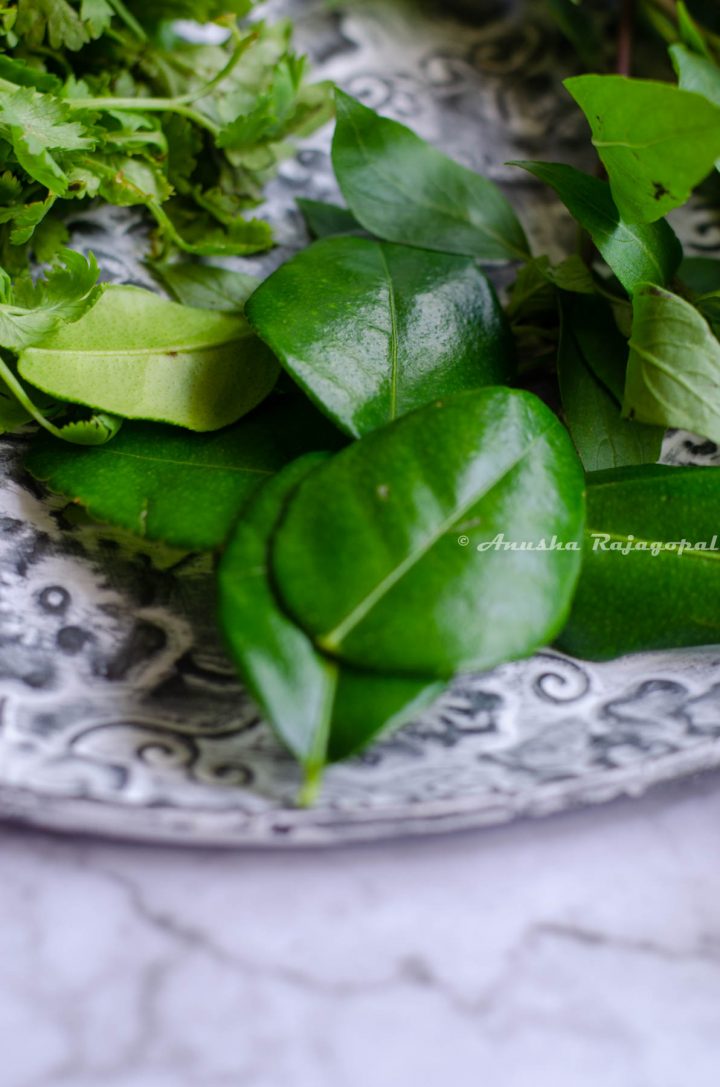 Also called as Makrut lime leaves, these thick and shiny dark green leaves are a key ingredient in making many Thai style curries and stir fries.
You can find fresh, frozen and dried lime leaves in the market. While it is considerably cheaper in Asian supermarkets, they may be more expensive in other places.
Before using these leaves, discard the rib that runs through the middle and thinly slice or chop them.
First, fold the leaf into half. Grasp the tip of the stem and pull the rib away from the leaf. Then using a sharp knife, chop or slice them.
In some places, you will find these labeled as Kaffir lime leaves. Both are the same.
Cilantro roots and stems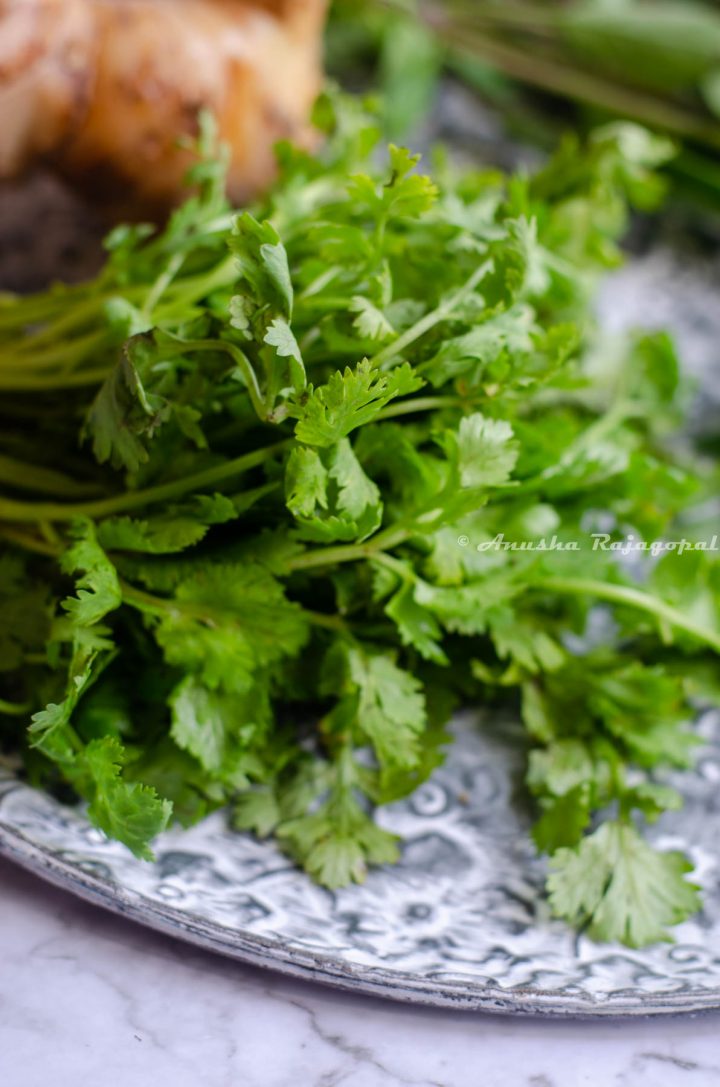 Indian, Mexican and Thai food use cilantro generously. What makes it interesting in Thai cuisine is that they use the roots and stems too.
Cilantro roots are packed with flavor and fragrance. Indispensable in Tom Yam soup, this is called as Pak Chee in Thai and plays a vital role in bringing alive many soups.
Before using cilantro roots, make sure to wash them thoroughly to get rid of any mud, sand and dirt.
Cilantro is also called coriander in India and many Asian countries. Only in the US, cilantro refers to the green leaves and coriander, the dried seeds.
Thai Basil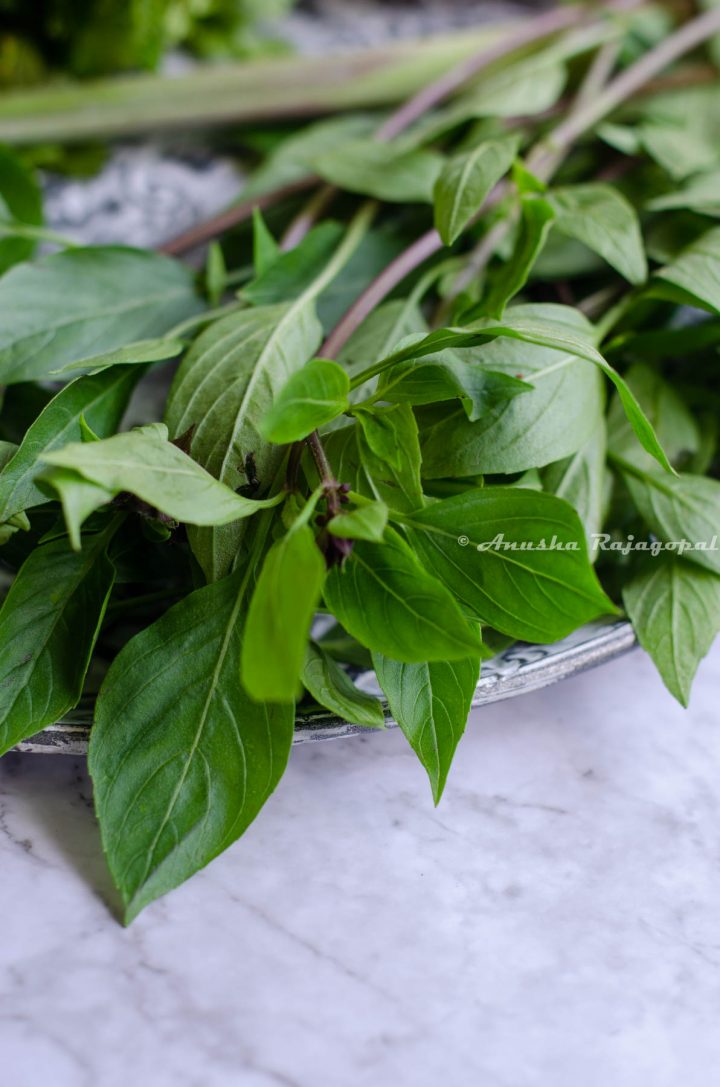 With a pronounced anise-like flavor, this vibrant green herb is what I will call the quintessential of Thai cuisine. Unlike Italian basil, these leaves withstand high temperature cooking.
Thai red curry and Thai green curry is unthinkable without these leaves that have purple stems and white flowers. Did you know that Thai basil is also referred to cinnamon basil, which is its literal translation in Vietnamese.
Thai basil vs Italian Basil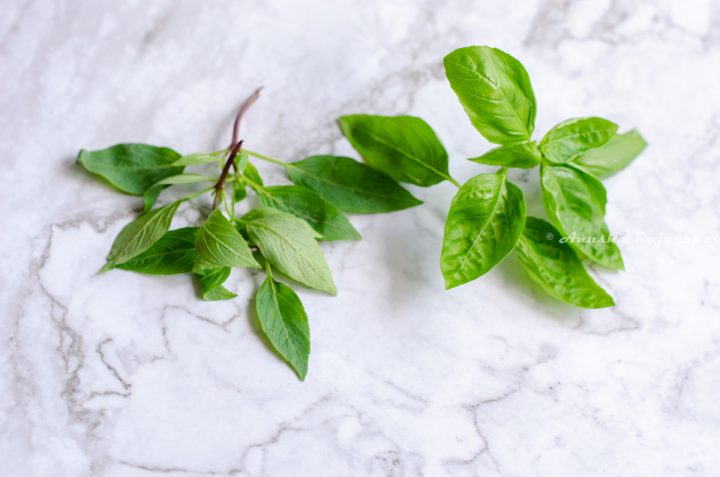 Italian basil, also called as Genovese basil and Thai basil both belong to the same family. But the similarity ends there, almost.
Genovese basil leaves are rounder and more delicate. They have verdant stems and do not withstand high heat easily. Thai basil leaves are narrow and have a slightly serrated edge. 
If you cannot source fresh Thai basil, find dried ones. While you can substitute Thai basil with Genovese basil, it simply will not give you the same punch in terms of taste and flavor.
To take it up a notch, you can add a sprig of mint and other herbs like cilantro.
Explore Asian Recipes
If you find this post useful , please leave a STAR RATING (★★★★★) in the recipe card and tell us more in the comments.
Follow us on FACEBOOK, PINTEREST & INSTAGRAM for delicious tidbits everyday.
Be a part of our Tomato Blues Recipes Community and get special discounts on our workshops