HOW TO MAKE VEGAN THAI BASIL FRIED RICE?
Vegan Thai Basil Fried Rice- Flavorful rice with the goodness of thai basil and crunchy cashews.
This post contains affiliate links to products we love. We earn a small commission when you click and buy through these links. This post is not a sponsored post.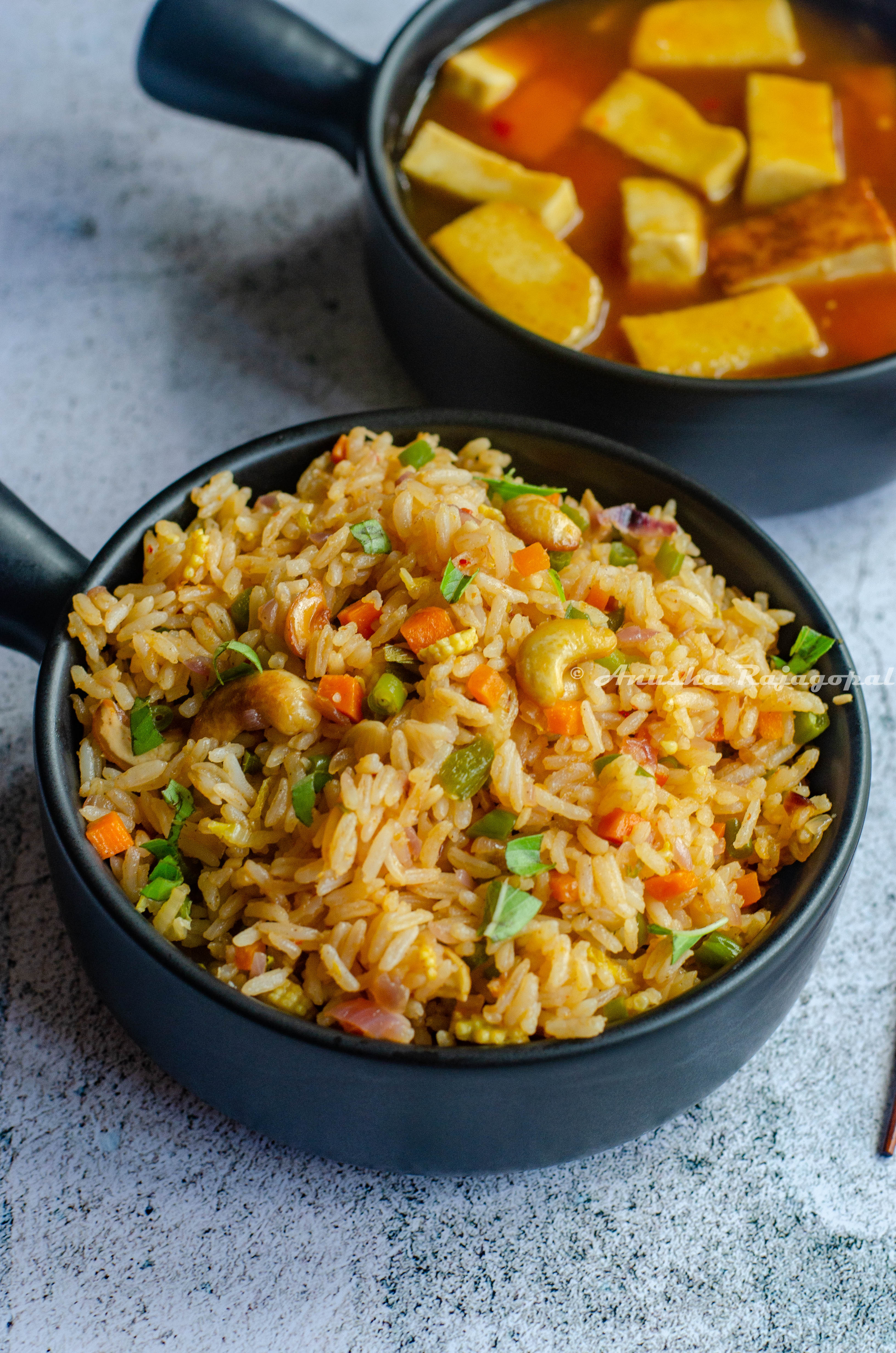 Why should you try this Vegan Thai Basil Fried Rice?
✓ Hands down the best way to make use of leftover rice. Yep. This fried rice.
✓ A complete meal with loads of veggies.
✓ The umami and the spice is a flavor explosion in your mouth.
✓ And finally, this is a freezer-friendly meal.
Let's Talk Rice!
Rice is an integral part of the Asian cuisine. May it be South Asian or South East Asian or Indian, rice is indispensable. White rice became a staple only in the recent years. But before that, it was all about brown rice and heirloom rice varieties.
When it comes to South Asian cuisine, Jasmine rice is the most used type of rice. This is a fragrant short-grain rice that works brilliantly for all fried rice and Asian-style rice varieties. I have used this variety to make this Thai-style veg fried rice today. However, if you cannot source this, you can use short-grained rice or Basmati rice to make this recipe.
How to cook rice for Thai fried rice?
Cold rice that is at least a day old works best for all fried rice recipes. I tend to cook rice the previous day and let it sit in the fridge till I m ready to make this. There is a reason why cold rice is the best for fried rice. The grains do not stick and mix well with the sauces and veggies well without becoming mushy.
I have used Jasmine rice that has been cooked the previous day in this recipe. And I cooked the rice in my instant pot. You can also cook it on the stovetop using the open pan method.
You can buy Instant pot on Amazon India too- Click here to buy.
Cooking Jasmine Rice in an open pan
If you are cooking it in the open pan method, make sure to use at least 3 c of water for every cup of rice. When the rice is cooked, drain all the water completely, wash the rice once under running water and let it drain fully in a colander. When done, spread it out on a plate and let cool before refrigerating. You can also go ahead and make the fried rice immediately if you are pressed for time.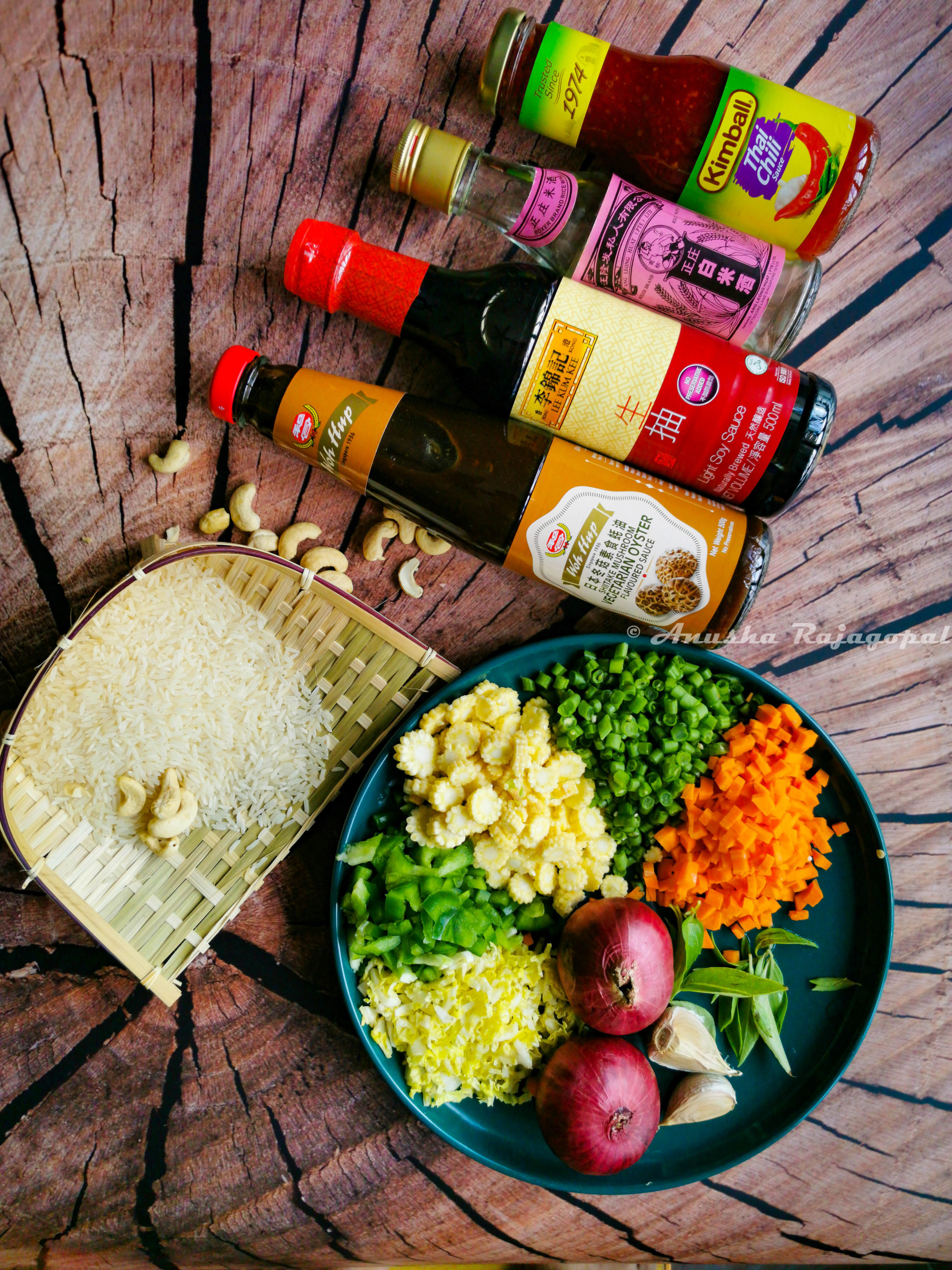 Where to source Jasmine rice and other ingredients?
If you are living in India and are looking to buy ingredients for this fried rice, then check out our favorite products on Amazon.
Jasmine rice

Rice wine vinegar
If you are living in Singapore, then you can source Jasmine rice and all the other ingredients from Redmart on Lazada.
If you are living in the US, then you can source Jasmine rice from Asian stores.
Freezing Thai Veg Fried Rice
Like I mentioned before, this fried rice is a very freezer-friendly meal. Allow the rice to cool fully. You can then divide the fried rice into portions, transfer it to a freezer-friendly silicon bag or Ziploc bags, or pyrex and then freeze.
Before using the frozen fried rice, allow it to thaw in the fridge for 4 hours. Then add it to a pre-heated skillet and toss on medium heat for a few mins. That is all. Your frozen Thai veg fried rice is ready to be eaten. You can also defrost it in the microwave.
Basil and alternatives
Because I live in Singapore, it is very easy for me to source Thai basil. If you are living in the US, then you can find this Thai basil in Asian stores. If you are unable to source fresh Thai basil, you can use the regular Sweet basil too.
Ingredients- Substitutes and Replacements
✓ Sesame oil- Fried rice tastes best when made with sesame oil. Cold-pressed sesame oil works like a charm in this recipe. You can also use canola oil or rice bran oil to make this.
✓ Jasmine rice- As I mentioned before, Jasmine rice works well here. But Basmati rice or any fragrant short grained rice will work too.
✓ Veggies– This fried rice uses baby corn, carrots, beans, cabbage and bell peppers. You can also add snow peas, broccoli and green peas too. Even sweet corn kernels will taste good.
✓ Cashewnuts- Thai style recipes mostly call for cashews or peanuts. If you are not a fan of cashews, you can use roasted peanuts. Or just skip both for a nut-free fried rice.
✓ Sauces- Make sure the sauces you use are vegan-friendly. I have used a combination of Thai chili sauce, light soy sauce, mushroom sauce and rice wine vinegar. You can substitute Thai chili sauce with Sriracha too.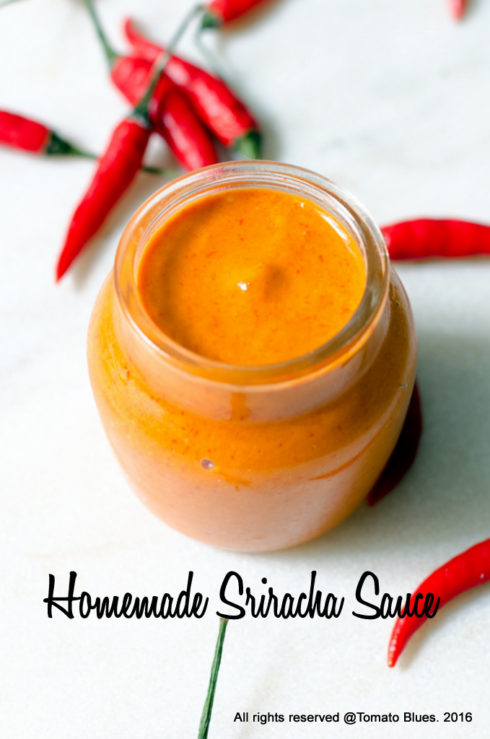 How to make Sriracha Sauce at home?
Whether you are making Thai basil fried rice or any thai style recipe, this sauce is a great condiment to have.You can also add this to your Mayo to spice it up a notch and make it more exciting.
Meal Planning and Prep Work
Meal Planning
This fried rice is a meal planners' delight. Cook the Jasmine rice and leave it in the fridge until you are ready to make this. Cooked Jasmine rice keeps well for upto 2 days in the fridge. You can also chop all veggies except the bell peppers and onions beforehand and store it in a fridge-friendly container.
Prep Work
If you have leftover rice ready, then making this rice is a breeze. Get started on chopping the veggies and mix the sauces together beforehand to make this fried rice business faster. Make sure to pat your veggies dry before chopping them. Moisture in the veggies will make them soggy while cooking.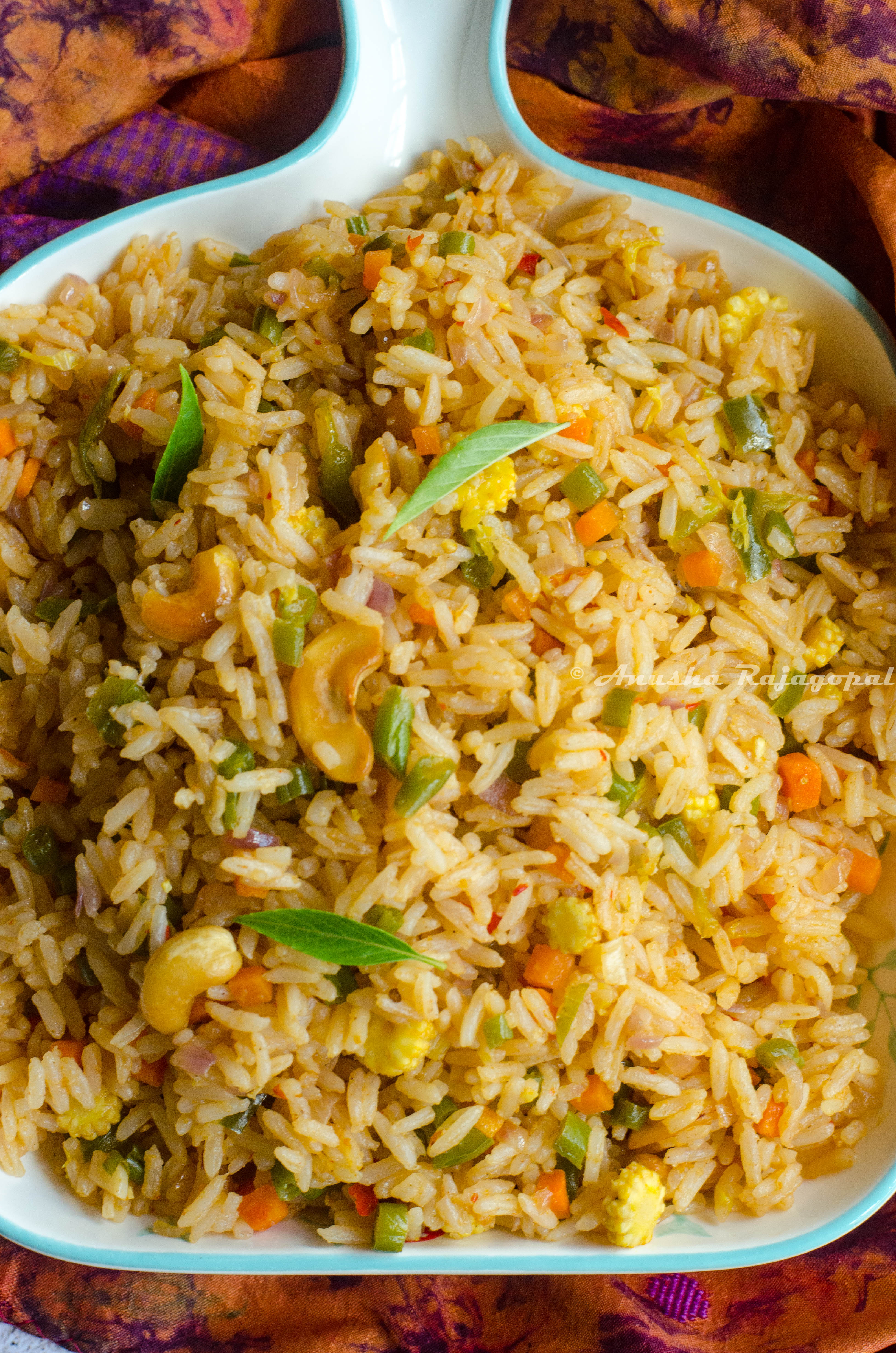 Loved this recipe? Want to make it? Then save it on Pinterest.
Thai Basil Fried Rice- Pin This Image For Later

More Asian Inspired Recipes
Vegan Thai Basil Fried Rice Step by Step
Cooking Jasmine Rice in Instant Pot
Wash the rice under running water and drain fully. Add this to the pot insert along with water, salt and sesame oil. Place the insert in the instant pot, close it and turn valve to sealing. Turn on the Instant pot . Choose Pressure cook mode ( Manual in older models),  high pressure and set the timer to 3 mins.
Allow the cooking cycle to complete and wait for 10 mins. After 10 mins, switch off the IP and do a quick release by turning the valve to venting. Be very careful while you do this.
When done, open the lid and fluff the rice with a fork. Spread it out on a plate and allow to cool. When cool, store in a container in the fridge or use immediately to make fried rice or enjoy it as is.
Making Thai Basil Veg Fried Rice
Heat a pan with sesame oil. Add cashews and toast till golden. Drain and set aside. Now add minced garlic and basil leaves. Fry till garlic turns golden. Now, add the finely chopped onions and a pinch of salt. Mix well and cook till onions turn pink and soft.
Now, crank up the heat and add the chopped veggies. Toss well and cook for 3 mins on high flame. We do not want the veggies to become soft and limpy. They need to be crunchy and yet cooked. 
When done, add all the sauces and white pepper powder. Add the cooked jasmine rice and mix well.
Finish by adding toasted cashews and garnish with more fresh basil leaves. Mix well and serve hot.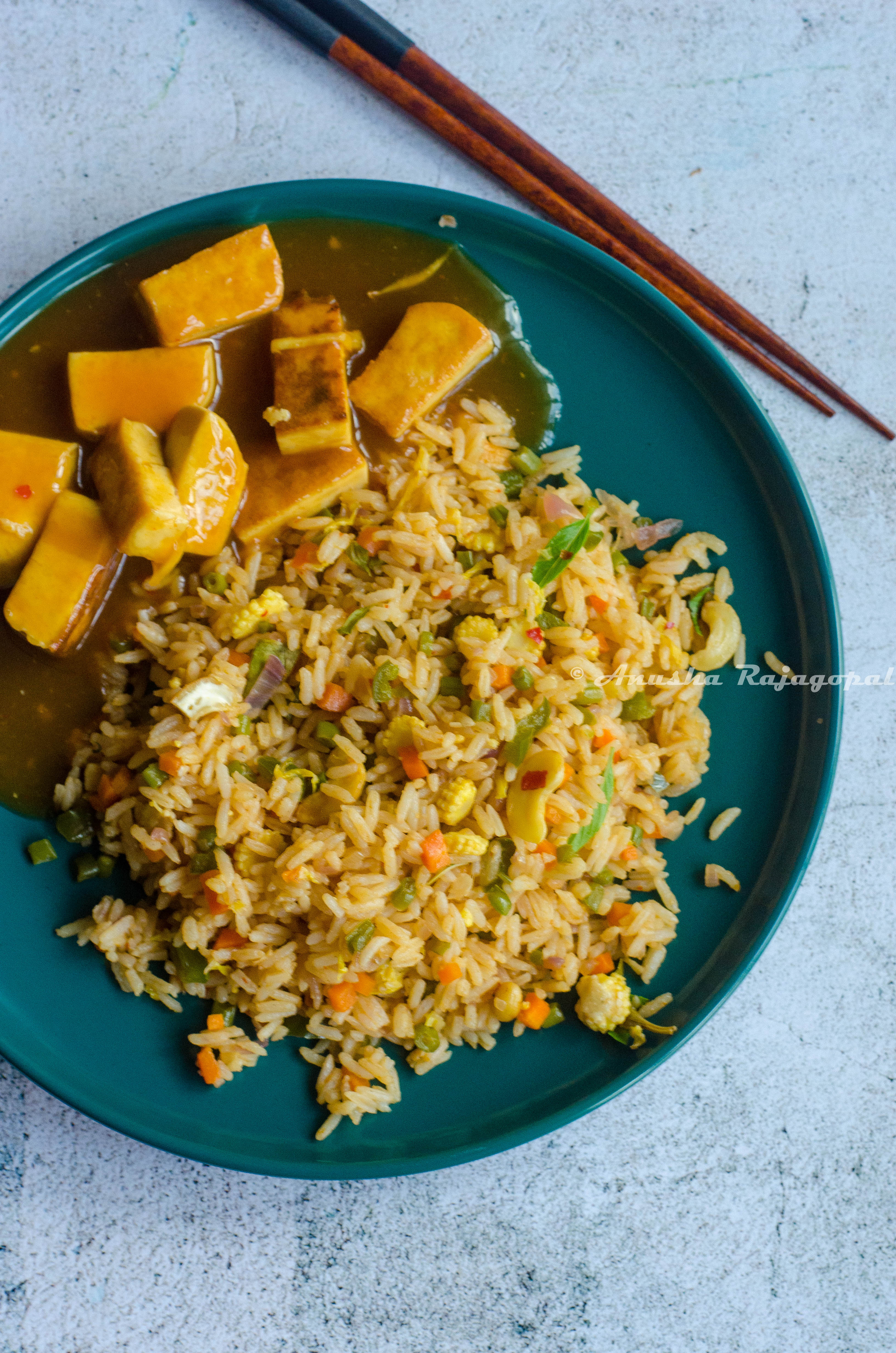 Recipe Card For Vegan Thai Fried Rice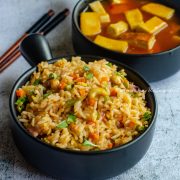 Print Recipe
Vegan Thai Basil Fried Rice
Fragrant jasmine rice tossed together with veggies and sauces. Makes for a great weeknight meal.
Ingredients
For the Jasmine rice
1

c

Jasmine rice

1

c

Water

1

tsp

Salt

1

tsp

Sesame oil
For the basil fried rice
2

tbsp

Sesame oil

12

cashews

5

cloves

Garlic peeled and minced

12

Thai basil leaves finely chopped

1/2

c

finely chopped onions

1/4

c

each Chopped carrots, beans, baby corn, cabbage and bell pepper

1.5

tbsp

Light soy sauce

1

tbsp

Thai Chili Sauce

1

tbsp

Rice wine

1

tbsp

vegan friendly red chili sauce

1

tbsp

Vegan friendly mushroom sauce

1.5

tsp

White pepper powder

1

recipe

cooked and cooled jasmine rice
Instructions
Making Jasmine rice in Instant pot
Wash the rice thoroughly under running water.

Discard all the water used for washing.

Combine the rice, water, salt and sesame oil in the inner pot of your Instant Pot

Close the instant pot, set valve to sealing.

Turn on the IP and set it to high pressure on 3 mins.

Wait for 10 mins for natural pressure release.

After 10 mins, do a quick pressure release.

Open the lid and fluff the rice with a fork.

Spread the cooked rice on a plate and allow it to cool.
Making Vegan Thai Basil Fried Rice
Heat a pan with sesame oil.

Add the cashews and toast until golden and crunchy.

Drain on a kitchen towel.

Now, add the minced garlic and basil leaves.

Fry till the garlic turns golden brown.

Add the finely chopped onions and a sprinkle of salt.

Mix well and fry till onions become pink and soft.

Next, add all the chopped veggies and mix well.

Cook on high flame for 3 mins.

While this is getting done, add the sauces and vinegar to a bowl and mix well.

Add the sauce mixture to the veggies.

Now, add the cooled rice and mix everything well.

Add the toasted cashews and remaining basil leaves as garnish.

Mix well and serve immediately.
For Instant Pot & Air Fryer Recipes
Instant Pot timings may vary based on your geographic location. Air fryer settings and timings may vary based on the capacity and the model of the Air fryer.
Disclaimer
Nutrition values are provided here as a courtesy and are only a rough guide. Please consult a health care provider if you have any concerns.
Gluten-Free Thai Veg Fried Rice
Soy sauce contains gluten. So this makes it unsuitable for celiacs. If you want to make this Thai fried rice gluten-free, use Tamari sauce or liquid Aminos in place of the light sauce. Also, make sure your mushroom sauce is gluten-free too. Check the labels for any mention of a warning that says the product has been processed in a place where they manufacture wheat and such.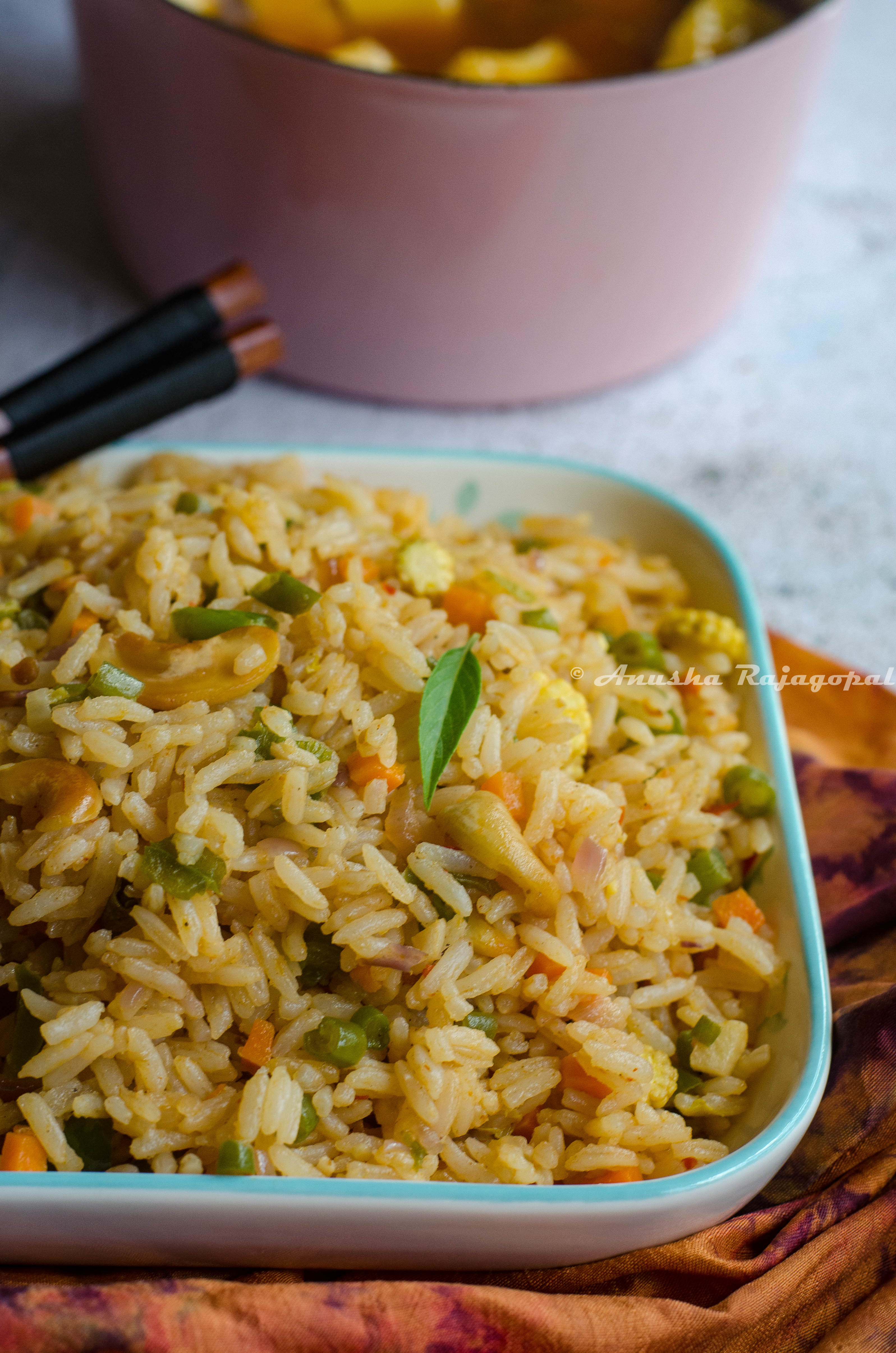 More Gluten Free Recipes
Follow me on Instagram or Facebook for regular cooking updates and short videos. Find us on Pinterest for delicious content. Made our Vegan Thai Basil Fried Rice? We value your thoughts and comments! Leave a comment and tell us how it worked for you.
In case you have any questions regarding this recipe, leave a comment or write to anusapraj@gmail.com and I'll respond at the earliest possible. If you tried this recipe and enjoyed it, click a picture and share it on Instagram by tagging us @tomatoblues.
Now here are some more gluten-free recipes that you can enjoy.