HOW TO MAKE ORIENTAL STYLE CABBAGE AND PEA SPROUT SALAD?
ORIENTAL STYLE CABBAGE AND PEA SPROUT SALAD- CRUNCHY SALAD WITH CABBAGE AND PEA SPROUTS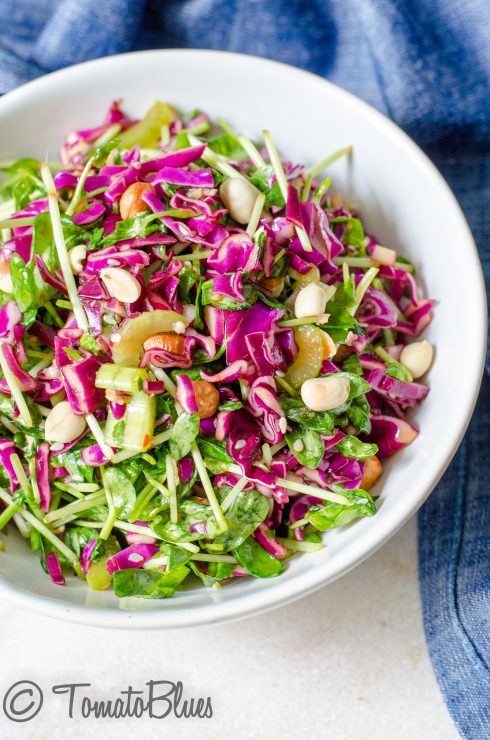 Oriental style cabbage and pea sprouts salad is something that i made on a whim and was loved by everyone including my H s friends. When i first moved to Singapore, some things were mind boggling. The varieties of mushrooms, fruits and other veggies opened up new avenues. But when i dug deeper, i learned of the local ways of eating.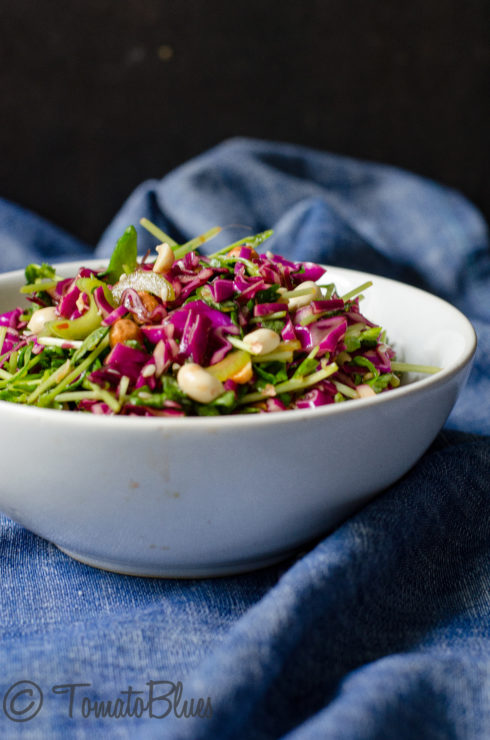 People in Singapore eat a lot of green leafy vegetables. They have an array of keerai stuff and my personal favorite is their kailan which tastes very similar to spinach. But these pea sprouts take the cake any day for me. Called dow miao in the local language, they are such a fun ingredient to work with. I have made hummus, pesto and use them very often in my salads. They are mildly sweet, crunchy and balance flavors in any salad very well.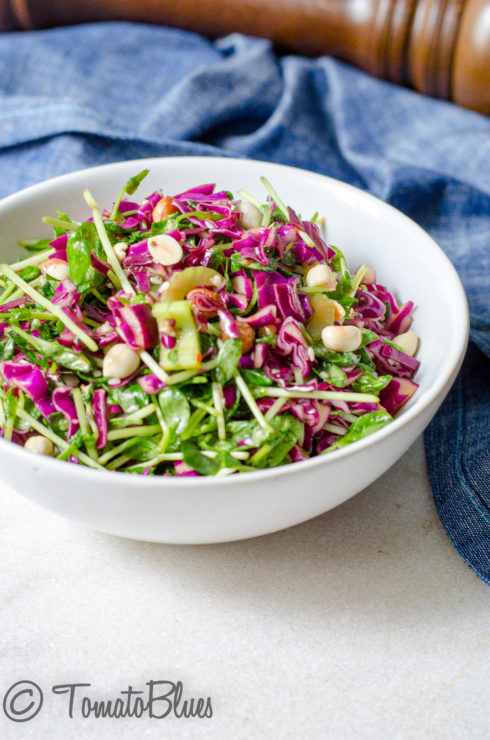 This oriental style cabbage and pea sprout salad uses a very simple dressing. It has no complex ingredients and relies on Umami to bring out the best in this salad. Also, this dressing doubles up as a light dip for our spring rolls at times 😆 .
If you are looking for more salad ideas, check out Apple and cucumber salad, Rainbow salad, Thai style quinoa salad and Fresh garden salad. 
Recipe For Oriental Style Cabbage And Pea Sprout Salad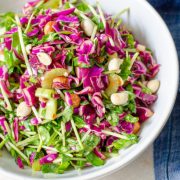 Print Recipe
Oriental Style Cabbage And Pea Sprout Salad
Oriental style cabbage and pea sprout salad- a simple Umami salad with cabbage and tender pea sprouts.
Ingredients
Purple cabbage 1 c shredded

Pea sprouts 1/2 c

Celery sticks 1 small sliced thinly

Roasted peanuts 2 tbsp

For the dresssing:

Sesame oil 1 tbsp

Soy sauce 1 tbsp

Grated ginger 1 tsp

Garlic 1 clove grated

Lemon juice 1 tbsp

Crushed white pepper 1 tsp

Salt to taste

Brown sugar 1 tsp

Coriander leaves 1 tbsp chopped finely
Instructions
Combine all the ingredients for the dressing in a large bowl. Whisk thoroughly until well incorporated.

Now, add cabbage, celery and pea sprouts.

Toss well making sure the dressing and the veggies are mixed well.

Add roasted peanuts just before serving.
For Instant Pot & Air Fryer Recipes
Instant Pot timings may vary based on your geographic location. Air fryer settings and timings may vary based on the capacity and the model of the Air fryer.
Disclaimer
Nutrition values are provided here as a courtesy and are only a rough guide. Please consult a health care provider if you have any concerns.