HOW TO MAKE SINGAPORE NOODLES?
SINGAPORE NOODLES- RICE NOODLES AND VEGGIES TOSSED IN A LIGHT CURRY POWDER.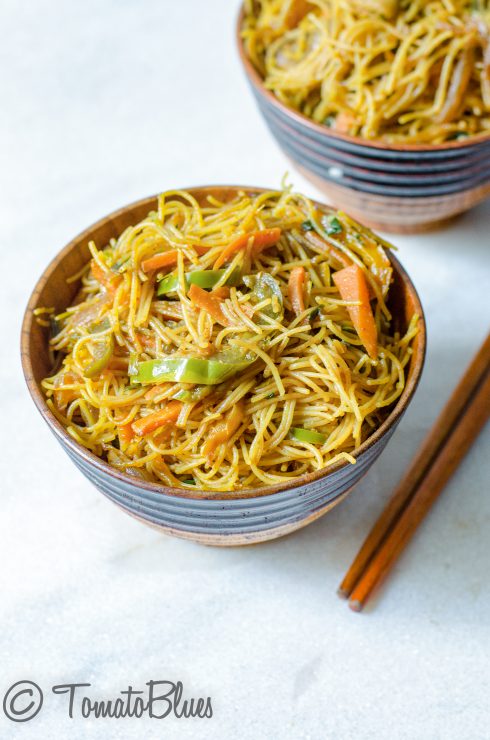 Singapore noodles is a delicious, gluten free and vegan rice noodles based dish that is chock full of vegetables. Now, i really do not know why this is called Singapore noodles. Because, this dish is not available anywhere in Singapore and is only popular in the West.
Singapore noodles are basically a stir fry dish with rice noodles and veggies or meat. This can be called a cousin of the fried bee hoon that is available across all hawker stalls in Singapore. But this dish is more like a marriage of Indian flavors and the oriental rice noodles.
You can use any curry powder of choice for this recipe. But sambar powder, idli molaga podi etc will not give you the same taste as the real Singapore noodles. I used Mc Cormick's curry powder for this recipe and i highly recommend it for this particular recipe. (This is not a sponsored post and this is just a recommendation).
Similarly, you can use all the veggies listed here or just stick to a few. Meat also works well in this recipe. Whichever you choose, this is a simple and hearty meal that can easily feed four on a lazy week night.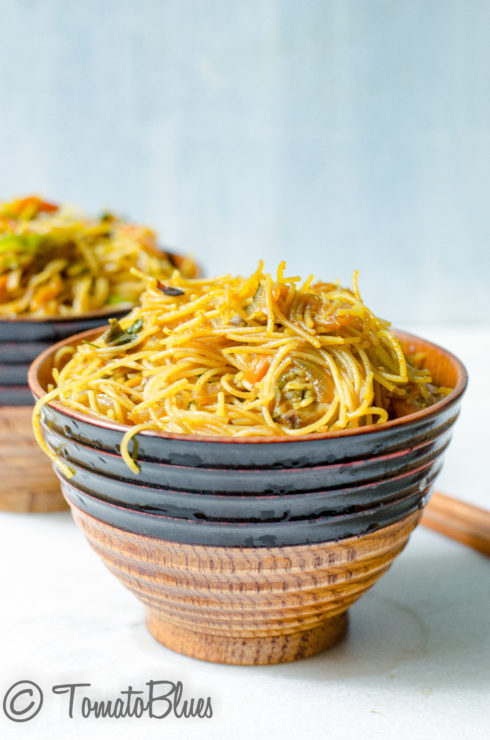 Recipe For Singapore Noodles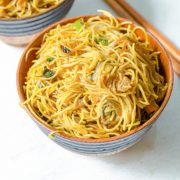 Print Recipe
Singapore Noodles Recipe
Singapore noodles - A noodle stir fry made with rice noodles and loads of veggies.
Ingredients
Rice noodles 100g

Onion 1 largish sliced thinly

Capsicum 1 small sliced thinly

Mushrooms 1/2 c sliced

Carrots 2 tbsp julienne

Cabbage 1/4 c shredded

Garlic cloves 2 minced

Curry powder 1 tbsp

Turmeric powder 1/2 tsp

Soy sauce 2 tbsp

Use Tamari or Liquid Amnos for GF

Vinegar 1 tsp

Red chili sauce 2 tbsp

Sugar 1/2 tsp

Salt to taste

Oil 1.5 tbsp

Lemon juice 2 tbsp
Instructions
Cook rice noodles according to packet instructions.

Drain and set aside.

Heat a pan with oil.

Add garlic and fry till it begins to brown.

Add onions next along with the capsicum and mix well.

Fry till onions begin to brown,

Add the curry powder, turmeric powder, salt and sugar at this stage.

Mix well and cook for 2 mins on low flame.

Now, add the remaining veggies, close and cook till tender but crunchy. This takes 2 to 3 mins on high flame.

Once done, add the soy sauce, vinegar and chili sauce.

Mix well.

Add cooked rice noodles and toss well.

Cook on high heat for a minute.

Switch off flame.

Add the lemon juice next and mix well.

Serve immediately.
For Instant Pot & Air Fryer Recipes
Instant Pot timings may vary based on your geographic location. Air fryer settings and timings may vary based on the capacity and the model of the Air fryer.
Disclaimer
Nutrition values are provided here as a courtesy and are only a rough guide. Please consult a health care provider if you have any concerns.