HOW TO MAKE MASALA CHAAS?
Masala Chaas- a light and refreshing yogurt based drink with herbs.
This post was originally published in 2014. This has now been updated with fresh recipe cards.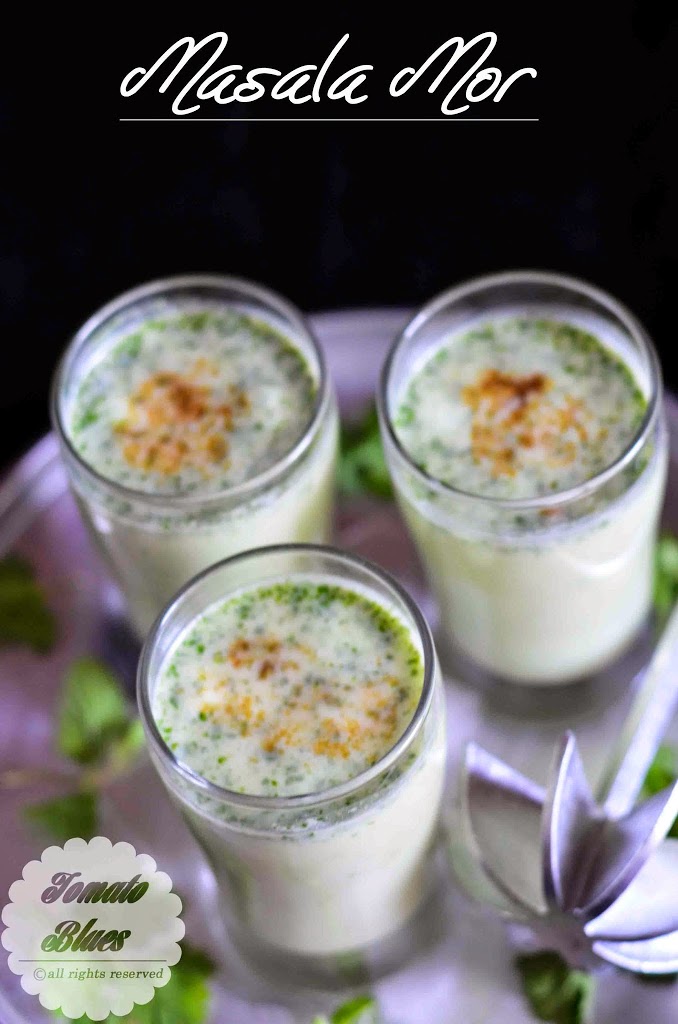 Masala Chaas/ Masala Mor
Chaas means buttermilk in Hindi. Mor means buttermilk in Tamil.
While buttermilk in the west refers to the water that s collected after churning butter from cream, this chaas means diluted yogurt that has been flavored with herbs.
Masala Chaas is the ideal drink recommended even by Ayurveda enthusiasts. This light and refreshing yogurt based drink has fantastic digestive properties and is very easy to make.
Herbs and Spices
The most suitable herbs for Masala mor is fresh grated ginger, mint and coriander.
As for spices, you can add a generous pinch of cumin powder along with some asafetida for good digestive effects.
However, you may experiment with the flavors according to whatever you have in your fridge.
Yogurt in Chaas
You can use sour yogurt to make masala chaas. In fact it is the best way to use up sour yogurt. I prefer using home set yogurt but store bought ones will work too.
Greek yogurt does not work so well for masala chaas as low fat yogurt does.
Make ahead Masala Buttermilk
You can make this recipe well ahead of a day and let it cool in the fridge. This herb flavored and mildly spiced buttermilk is a fantastic drink that serves a crowd very easily.
I prefer natural ways to beat the heat. In that sense, it will be an understatement if i say i m crazy about fresh juices, shakes and smoothies. Plus i m a huge 
yogurt
 fan.
While i m whipping up fruity mocktails and shakes a lot during summer, this spiced buttermilk is a regular at home. We prefer some creamy and mildly spiced buttermilk to beat the afternoon heat when mercury torments us the most.
It s a fabulous way to keep the body cool with some earthy goodness of cumin and some refreshing mint. And its a preservative free economical way to enjoy buttermilk.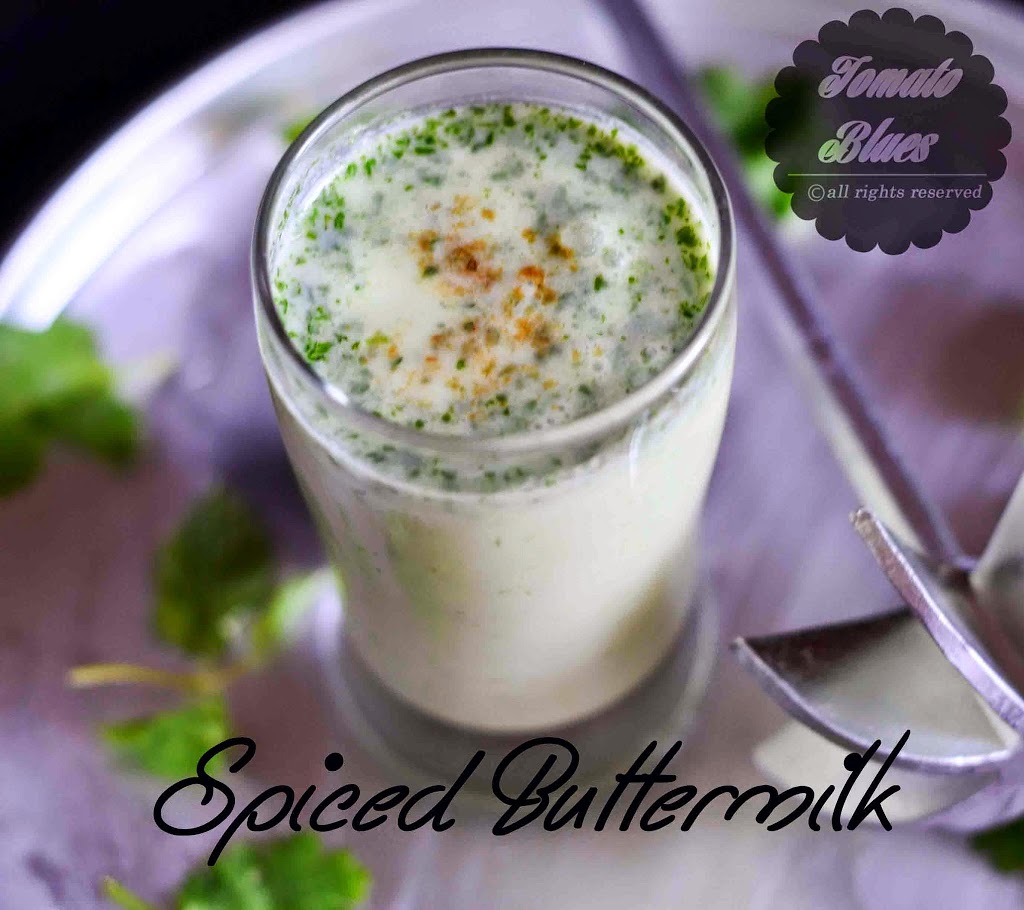 Follow me on Instagram or Facebook for regular cooking updates and short videos. Follow me on Pinterest for delicious content. Tried our Masala Chaas? Loved it? Then please rate this recipe and leave a comment.
In case you have any questions regarding this recipe, leave a comment and i ll respond at the earliest possible. If you tried this recipe and enjoyed it, click a picture and share it on instagram by tagging us @tomatoblues.
Recipe For Masala Chass- Spiced Buttermilk
( Learn to make masala chaas, a mildly spiced buttermilk recipe)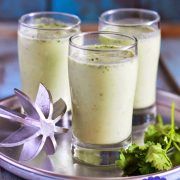 Print Recipe
Masala Chaas- Masala Mor
Masala Chaas also called as masala mor is a spiced buttermilk drink made with low fat yogurt.
Ingredients
Thick fresh yogurt 2/3 c

Coriander

cilantro leaves 3 tbsp chopped finely

Mint leaves 10 chopped finely

Ginger grated 1 tsp

Lemon juice 2 tsp

Roasted cumin powder 1 tsp

Chilled water 2.5 cups

Salt to taste

To Serve

Ice cubes a few

Roasted cumin powder 1/2 tsp
Instructions
In a blender, place 2 tbsp yogurt, cilantro, mint and ginger and grind to a puree.

Now, add this paste to the remaining yogurt along with cumin powder, salt, water and lemon juice.

Whisk thoroughly.

Let sit the prepared buttermilk in the fridge after this stage.

Allow it to cool for a while if you dont want to serve it immediately.

To serve, place ice cubes in a glass, pour buttermilk until a little more than 3/4 th full.

Sprinkle cumin powder on top before serving.
Notes
1. You can make this ahead and store in the fridge. But while doing so, add lemon juice just before serving.
2. Addition of ginger is optional. You can also add a green chilly in its place.
3. Feel free to add more water if you find the buttermilk too thick.
4. For best results, use a immersion blender to whisk the mixture. A electric hand beater also works well.
For Instant Pot & Air Fryer Recipes
Instant Pot timings may vary based on your geographic location. Air fryer settings and timings may vary based on the capacity and the model of the Air fryer.
Disclaimer
Nutrition values are provided here as a courtesy and are only a rough guide. Please consult a health care provider if you have any concerns.