If you live in a tropical country like i do, you may not have much trouble
making yogurt at home
. Its only during winters that making set curd or yogurt at home is a little tricky. However, if you live anywhere else where the mercury dips too low, then making yogurt can be pretty challenging. The idea of buying store bought yogurt simply doesnt appeal to me because of the wisdom that has been imparted to me about making yogurt at home. Honestly, if you keep in mind simple things while you make a batch of yogurt, then you will find that you have been throwing away money on those cups that you ve picked up from the supermarket shelves. Besides, nothing can beat homemade yogurt.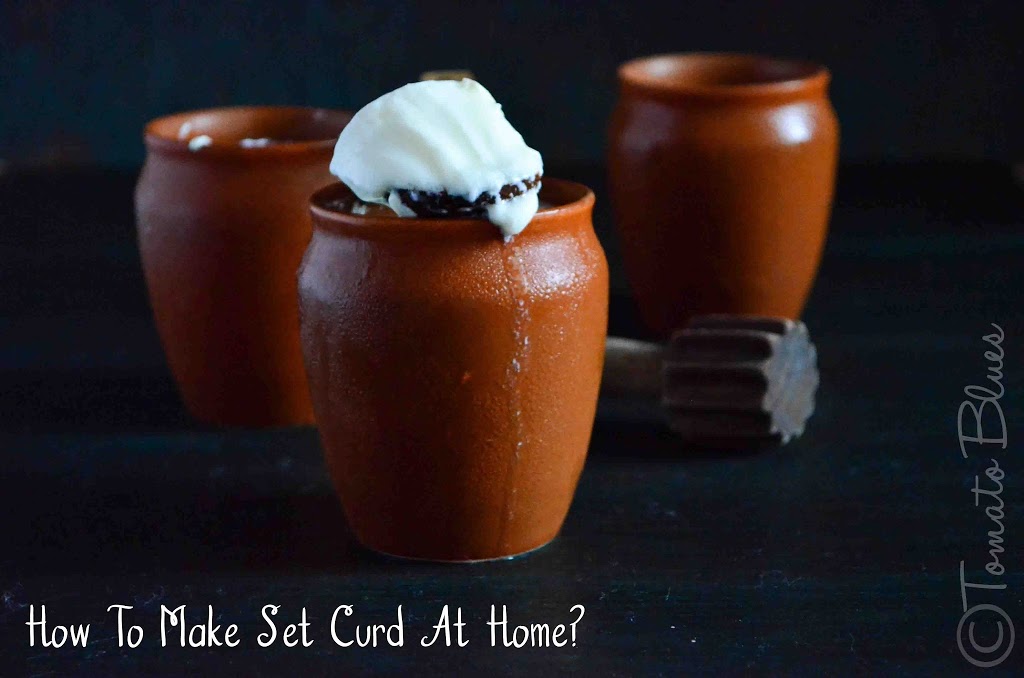 When i say simple things to keep in mind while making yogurt, i m talking about a live yogurt culture or a starter, the right temperature of the milk and the amount of culture you use. Many folks have the idea that the more culture you use, the better your yogurt sets. However, this is a very wrong notion. Now, lets come to culture itself. You have two ways to get that live culture- one buy some set yogurt from the store and go from there or two, add a chili stalk or two to 1/4 c of milk and let it stand till curdled and sour for about a day. You can also use a marble sized tamarind or 1/2 tsp vinegar too for making your starter. As for the temperature, the milk to which you add the yogurt must be warm enough so that you can dunk your fingers into for 15 secs at least without wincing. So, shall we go about making yogurt then?
How To Make Yogurt At Home From The Scratch ( Thayir- Dahi)
( Learn how to make thick set yogurt at home by yourself easily)
Prep Time: 30 mins
Setting Time: 12 hours to 24 hours 
Makes 500 g 
Allergy Info: Soy and Nut free
Cuisine: International
Ingredients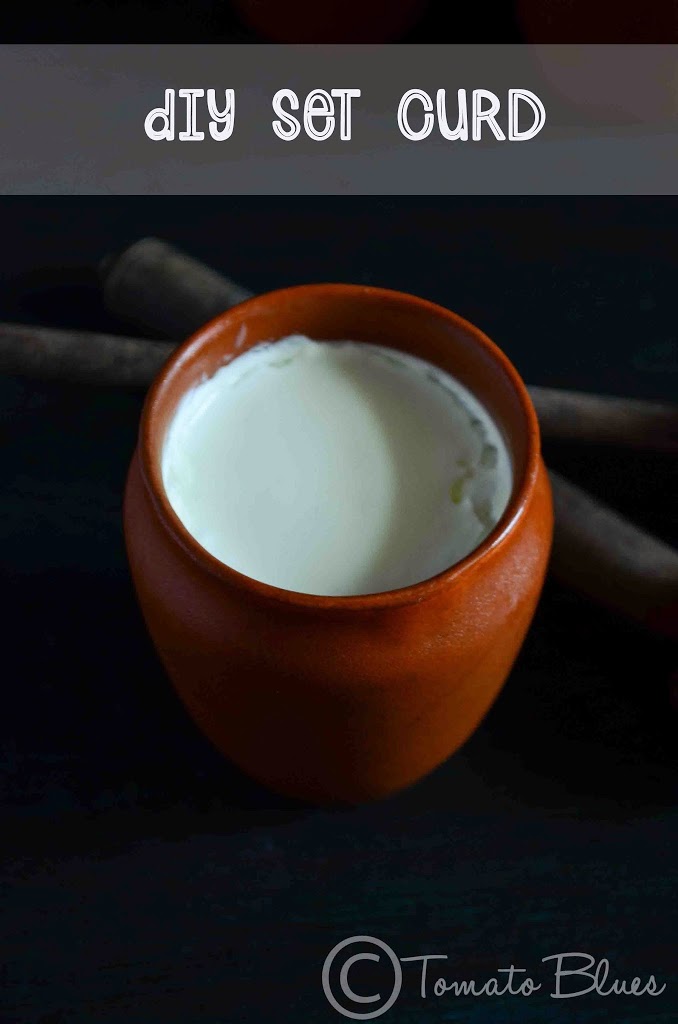 For The Starter
Milk 1/4 c
Vinegar 1/2 tsp ( see notes)
Salt a small pinch
(or)
Store bought yogurt 2 tbsp
For The Yogurt
Starter 2 tbsp
Milk 500 ml
Notes
In case you dont want to use vinegar, you use a marble size tamarind ball or 2 to 3 stalks of green chilies instead.
Directions
We have to make the starter first.
Heat 1/4 c of milk for about 2 mins.
To this add vinegar or tamarind or green chili stalks and a small pinch of salt and mix well.
Close with a lid and let it stand for 10 to 12 hours until the mixture turns sour.
Once the mixture is done, heat 500 ml of milk for making the yogurt.
Now comes the tricky part.
You must let the milk cool down to a temperature where you can dunk your fingers in and hold it in there for 10 to 15 secs. If you are able to dunk your finger in for longer, it means the milk is not warm enough for the curd to set
If you let the milk go too cold or if the milk is too hot to touch, the curd wont set well.
This cooling process takes approximately 20 to 30 mins depending on where you live and the current weather conditions.
Once the milk is in the right temperature, add 2 tbsp of the starter to it and mix well using a whisk or a wooden ladle.
Transfer this mixture to a clean vessel or a glass bowl and close with a lid.
Let it stand for 10 to 12 hours undisturbed. I prefer doing this overnight.
In case the place where you live is cold, leave the vessel in the oven with the lights on overnight. Make sure you post a note on the oven door indicating what s in there so that people dont disturb it!
After 10 hours, you shall have thick creamy luscious curd or yogurt to enjoy.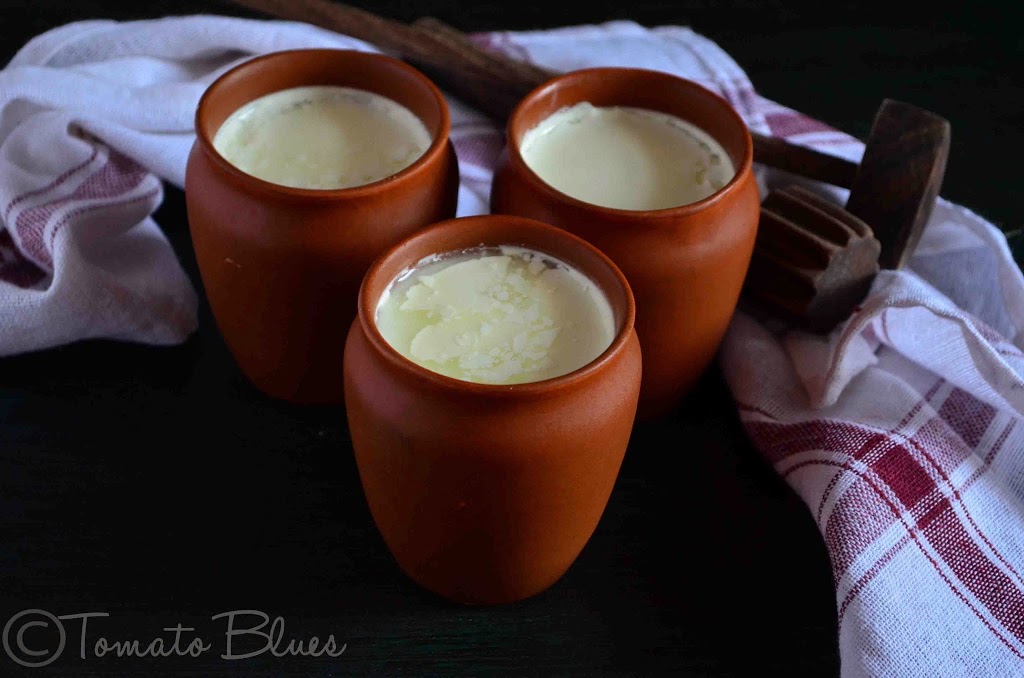 Notes
1. The creaminess of the curd also depends on the fat content in the milk that you choose. Choose milk that has medium amount of fat in it.
2. The curd may take slightly lesser time to set if you live in a warm place or if the weather is warm. Like say anywhere between 6 to 8 hours.
3. Its important not to disturb the mixture while it sets.
4. In case you live in India and you dont have an oven but its biting cold, use a hot pack or a casserole for setting the curd.
5. If the milk that you want to use to set the curd has already been boiled and cooled down, microwave it on high for about  2 to 3 mins. This will be perfect for setting the curd.
6. The water that you see on the top of the set curd is nothing but the water in the milk. You can simply mix this into the curd or discard it or use it as whey water.