HOW TO MAKE JEERA RICE?
Jeera rice- An easy rice recipe using Cumin and long grain rice.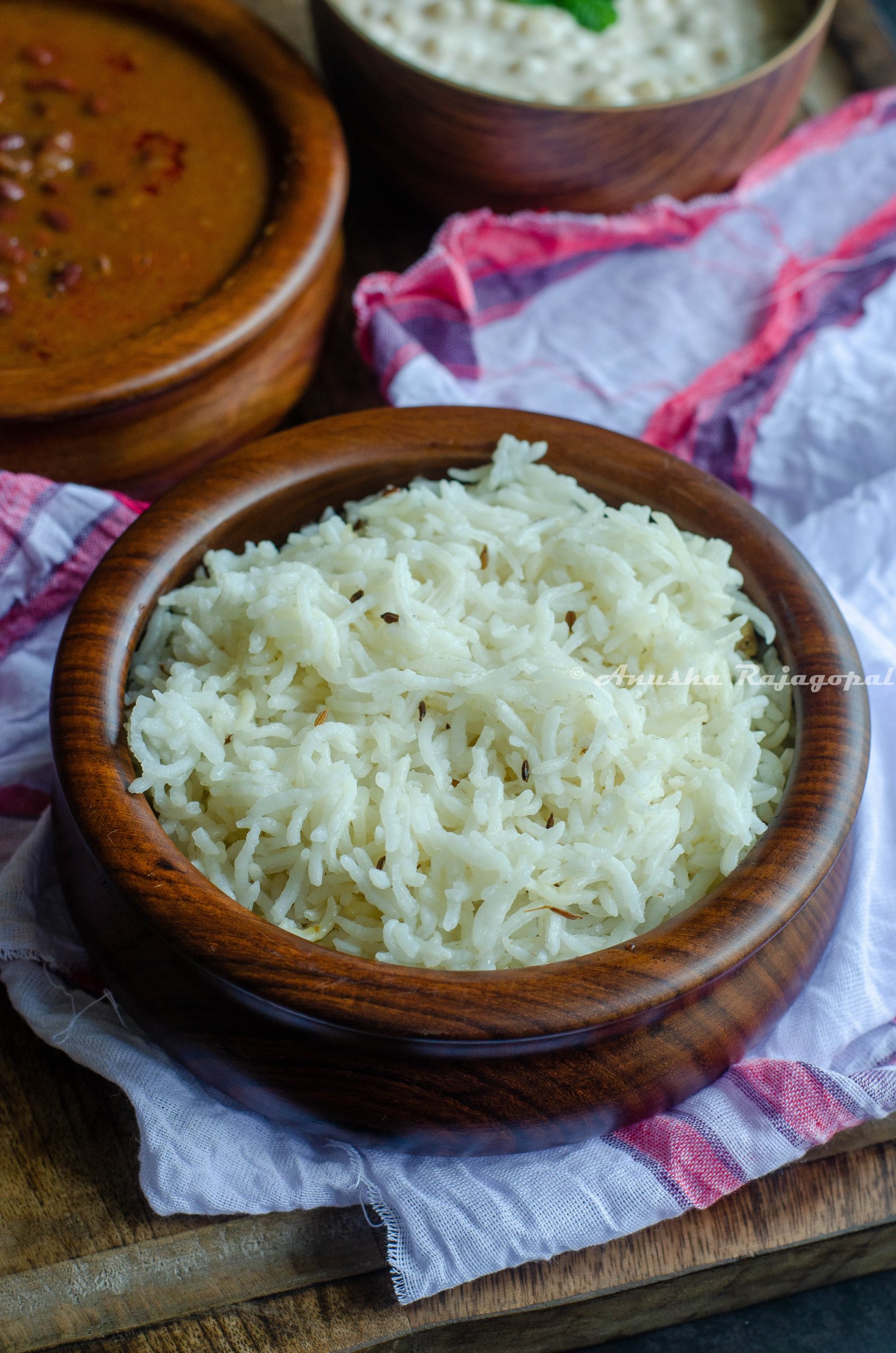 Jeera rice is the easiest rice-based recipe that any newbie can make. It s a very beginner-friendly dish and scores high on several counts. It can be made as a huge batch and feeds a crowd easily. This makes this Jeera rice a party-friendly recipe.
This recipe calls for a very few ingredients and so you need not go foraging in your pantry for an assortment of spices and masalas. You can make this cumin-flavored rice in your Instapot, Mealthy Multipot, Open pan and Pressure cooker too. This recipe is that versatile and forgiving.
Most often, people tend to think of it as nothing but steamed rice tempered with cumin seeds. But no, it's a little more than that. It involves striking the right balance between the spices and the rice. And not going for the overkill. My recipe is a time-tested recipe. I have tried several ways of making Jeera rice and I must say this version stands out brilliantly among all my other trials. It almost matches up to the ones served in restaurants and yet has a homey earthy flavor to it.
Recipe Notes
The proportion of water and rice is very important in getting fluffy nonsticky rice. Also, the soaking time changes the cooking time. Hence, it becomes very important to follow the exact timings mentioned here.
Only Basmati rice works well in this recipe if you are looking for a restaurant-style recipe. However, if you want a simple home-style recipe, then you can use short-grained rice varieties like Govindo Bhog or Jeerasar too.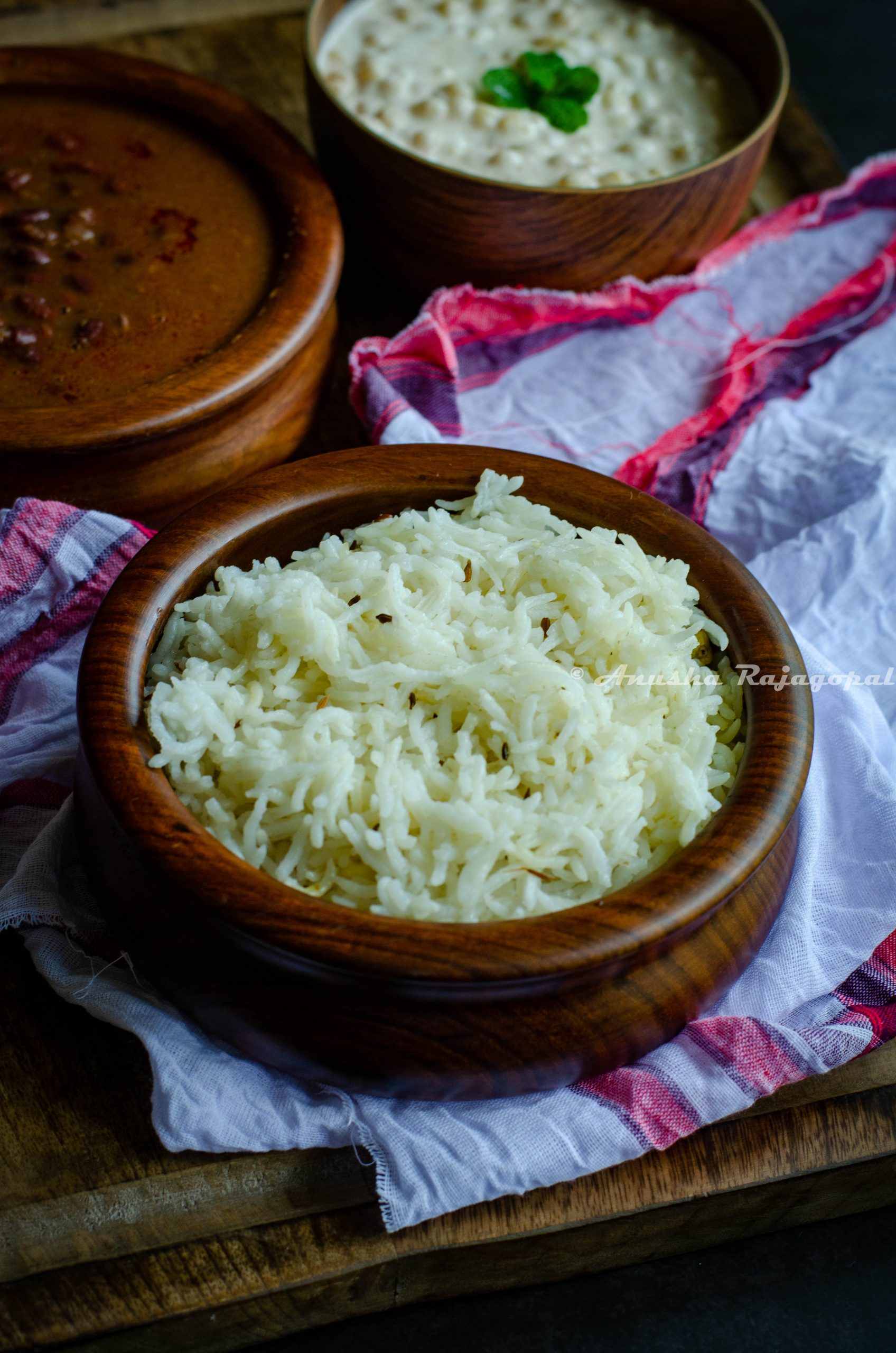 Serving suggestions
Our favorite way to enjoy jeera rice is with rajma masala and papad. I also make a chilled Boondi Raita to make it a complete meal. Try it and you will love it!
More recipes featuring rice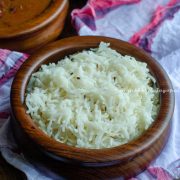 Print Recipe
Jeera Rice
Jeera rice is an Indian staple rice dish. Made with long grained rice and spices, this makes for a great side to almost all curries and Dal.
Ingredients
1

c

Basmati rice

2

c

Water

2

tbsp

Ghee

clarified butter

1

tsp

Shah Jeera

Caraway seeds

1

tsp

Cumin seeds

2

podsGreen cardamom pods

1

small Bay leaf

1

tsp

Salt or to taste
Instructions
Wash the basmati rice thoroughly under running water until the water runs clear.

Soak the rice in 2 c water for 20 mins.

Once done, heat a wide and deep pan with ghee.

Reduce the heat to the lowest.

Add cumin seeds, cardamom seeds, shah jeera, and bay leaf, and wait till the spices begin to brown.

Now, add the soaked rice along with the water and salt.

Gently mix with a wooden ladle.

Cook the rice till done.

Gently fluff the rice with a fork.

Alternatively, you can cook the rice in an electric rice cooker too.
For Instant Pot & Air Fryer Recipes
Instant Pot timings may vary based on your geographic location. Air fryer settings and timings may vary based on the capacity and the model of the Air fryer.
Disclaimer
Nutrition values are provided here as a courtesy and are only a rough guide. Please consult a health care provider if you have any concerns.
This recipe was originally posted in August 2014. This has been updated with recipe cards and fresh pictures.