How To Make Andhra Puliohara?
Note: This post was originally published in 2014 and has now been updated with recipe cards.
Andhra Puliohara- The popular Tamarind rice from Andhra Pradesh &Telengana Regions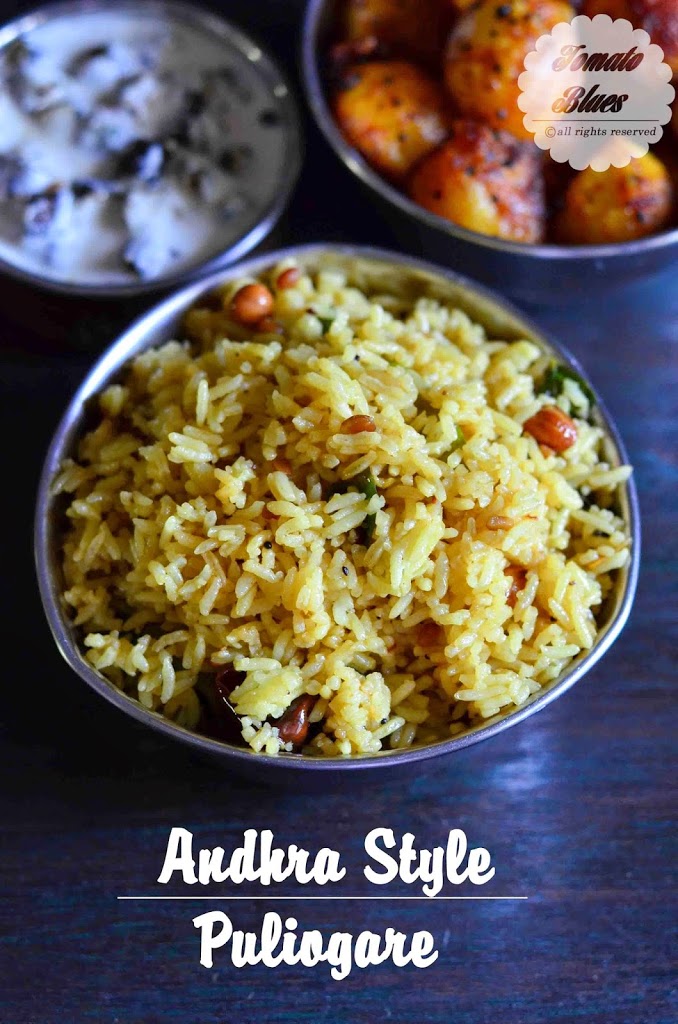 Andhra Puliohara is a fantastic recipe that uses up leftover rice. This puliohara which has its origins in states of Andhra and Telengana uses a fresh roasted spice powder to add flavor to it.
Andhra Puliohara And Tamil Nadu Puliodharai:
So, what is the difference between Andhra style Puliohara and Tamil Nadu style Puliodharai? The way in which it is prepared is the difference.
While the tamil style Puliodharai uses a Puli Kaachal to make tamarind rice, the Andhra version uses a freshly simmered Tamarind gravy to mix into some leftover rice.

Rice varieties for Andhra Puliohara or Tamarind rice:
Now, this is probably applicable for all variety rices. Leftover cooked short grained rice works  best for all these type of recipes. Ideally, Ponni rice, Sona Masoori and even Matta rice works well.
In case you do not have access to any of these varieties, you can attempt this with regular Indian basmati rice too.
Tamarind And Tamarind Paste For Puliohara and Puliodharai:
The type of tamarind you choose determines your Puliohara s taste and flavor to a great extent. Choose old tamarind for best results in your Tamarind rice.
What is the difference between old tamarind and new tamarind?
Aged tamarind, commonly referred to as Pazhaya Puli in Tamil comes in a dark almost blackish shade. The new tamarind, commonly called as Pudhu puli, is  usually is a light brown in color.
While aged tamarind works well in recipes like Sambar and vatha kuzhambu, the fresh brownish tamarind works well in rasam.
Tamarind Subsitutes For Andhra Puliohara:
If you do not have tamarind with you, you can also use tamarind paste to make tamarind rice. If you are using tamarind paste, then 2 tbsp of the paste is recommended for this recipe.
Sesame Seeds and Peanuts- Nut free Tamarind Rice:
The sesame seeds used in the freshly ground powder lends a beautiful nutty flavor with a very subtle hint of bitterness to this rice. This rounds off the tangy and sweet flavors and the result is a beautiful balance of flavors. But if you are allergic to Sesame seeds, then you may skip them altogether.
As far as peanuts in Tamarind rice go, they are quite indispensable in terms of authentic nature of the recipe. But again if you are allergic to tree nuts or peanuts, then you may skip them.
Add cooked black channa instead of peanuts in your Puliohara for that crunch. Or use a tbsp of channa dal while tempering. This should not only give you that crunch but also a nice flavor.
Sesame Oil and alternatives
Sesame oil or rather cold pressed sesame oil is the preferred oil for cooking any kind of puliohara. This is because the sesame oil has a distinct flavor.
It also helps in balancing the heat from the chili because Andhra Puliohara in general tends to be on the spicier side.
A good alternative to Sesame oil in Puliohara would be to use any neutral flavored vegetable oil. If you are feeling quite experimental, you can also try using coconut oil.
If you thought Tamarind is only used in Indian cooking, then do have a look at this:
If you are a fan of Temple Style Puliodharai, then do explore this post:
Shall we now check how to make Andhra Puliohara?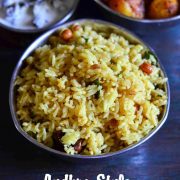 Print Recipe
Andhra Puliohara
Andhra style Puliohara - A tangy tamarind based rice that serves a crowd easily. Ideal for Prasadam, Neivedyam and Travel. Uses leftover rice.
Ingredients
2

cups

Leftover cooked rice

Short grained rice like Ponni works best

25

g

Tamarind

soaked in 1/2 c warm water for 20 mins

4 to 5

numbers

green chili

3

tbsp

Peanuts

12

curry leaves

1/2

tsp

Hing

Asafetida in english

Salt to taste
To Roast and Grind
1/2

tsp

Mustard seeds

1/2

tsp

Fenugreek seeds

1

tsp

Sesame seeds

White works best
To Temper
Mustard seeds 1 tsp

Urad dal 1 tsp

Dry red chilies 2 broken

Sesame oil 1 tbsp
Instructions
Soak the tamarind in hot water for about 10 mins.

Once done, blend the tamarind along with the water to a smooth puree, strain and set aside.

Heat a pan and dry roast mustard seeds, fenugreek seeds and sesame seeds till light brown and fragrant.

Remove and let cool.In the same  pan with 3 tbsp sesame oil.

Add the peanuts and fry till golden and crunchy.Drain on a kitchen towel.

To the oil in the pan, add mustard seeds and once they splutter, turn down the flame to medium and add urad dal,dry red chilies, green chilies, turmeric, curry leaves and hing in this order.

Once the dal has turned a light brown, add the tamarind extract and salt along with the jaggery.

While the tamarind is simmering, blend the roasted ingredients to a powder.

Now tip in the ground powder and mix well.

Let the mixture simmer on medium flame till oil separates.

At this stage, add the cooked rice and fried peanuts and mix well.

Switch off flame and check seasoning.

Adjust salt if necessary.Serve hot with accompaniments suggested.
Notes
1.Short grained rice works best for this recipe. If you dont have leftover rice, pressure cook rice to three whistles, let cool completely and use.
2. In case you dont have sesame oil, feel free to use any neutral flavored cooking oil. Coconut oil is not recommended.
3. You may also add a few broken cashews instead of or along with the peanuts.
For Instant Pot & Air Fryer Recipes
Instant Pot timings may vary based on your geographic location. Air fryer settings and timings may vary based on the capacity and the model of the Air fryer.
Disclaimer
Nutrition values are provided here as a courtesy and are only a rough guide. Please consult a health care provider if you have any concerns.