THENGAI SADAM – SOUTH INDIAN COCONUT RICE
Thengai Sadam- A very simple and quick variety rice made with freshly grated coconut.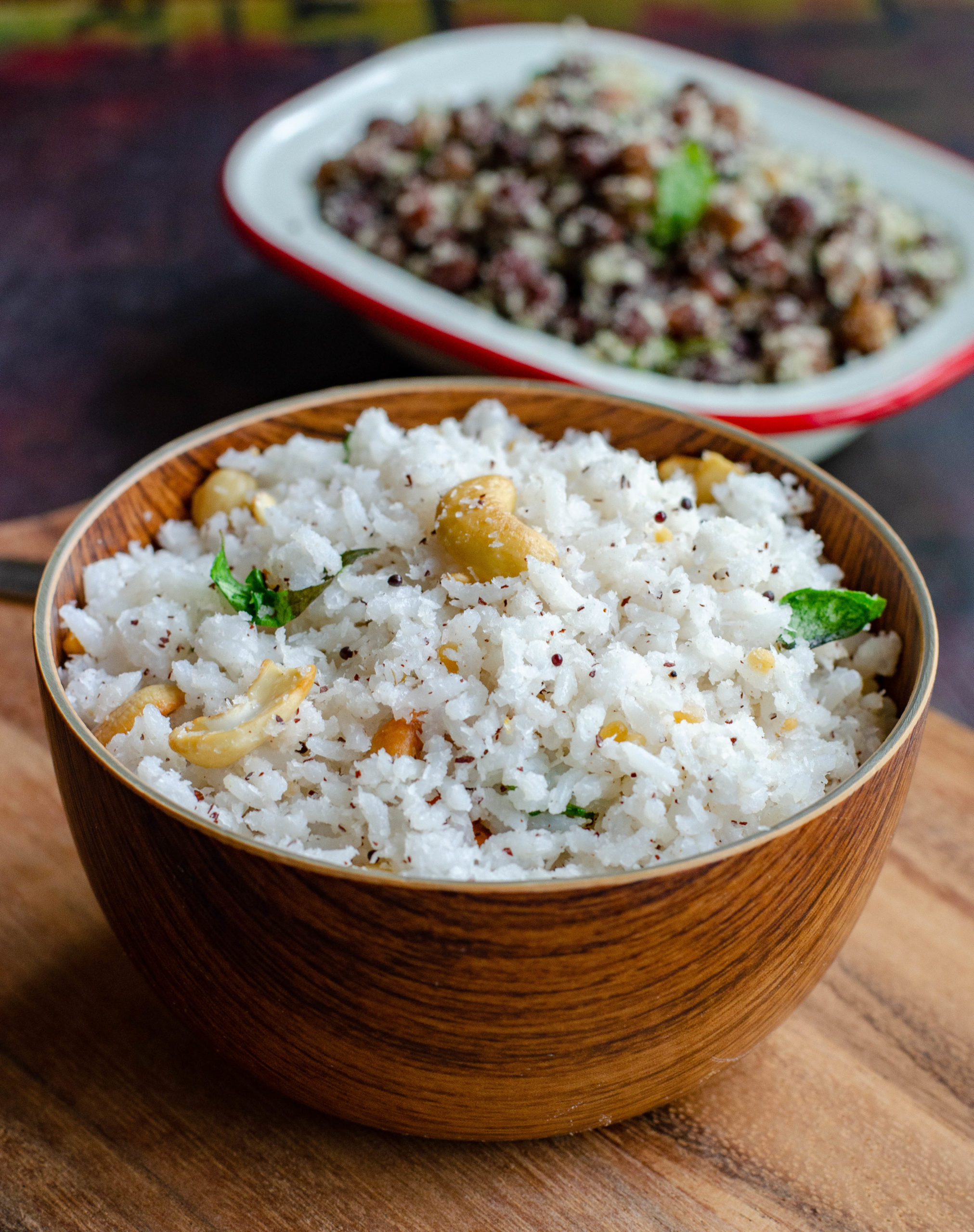 Why should you try Thengai Sadam aka Coconut rice?
✓ Thengai Sadam is a great way to use up leftover rice.
✓ Coconut rice is a vegan and gluten-free recipe that can easily be made nut-free too.
✓ This recipe makes for a wonderful Neivedyam ( Prasadam), especially on days when you are pressed for time.
Jump to:
When to make Coconut Rice?
Coconut rice is a fuss-free recipe. This is a popular dish during the Navratri festival and the Kanum Pongal festival. It is also a common dish in many South Indian baby showers. Because this is a Sattvic dish, this is a sought-after recipe during the festivals.
But it definitely does not have to be limited to those days, right? You can make this easy peasy lemon-n-squeezy Thengai Sadam as a quick meal, when you are alone and do not want to cook much.
However, I wont recommend packing this for lunch as coconut gets spoilt soon. Unless you live in a cold place or it is winter, try and avoid packing this for lunch.
Thengai Sadam- Ingredients and Substitutes
Making Thengai Sadam involves very few basic pantry ingredients. 
✓ Rice–  Cooked raw rice that has been cooled down is the best rice for this recipe. Short-grained rice varieties like Ponni, Jeeraga Samba or Surti Kolam also work well here. The only key thing is to make sure that the rice is completely cool and the grains are separate.
✓ Coconut- I have used freshly broken coconut for making this. But you can also use frozen fresh grated coconut after thawing it. I won't recommend using dry coconut for this recipe.
Pro Tip: If you find scooping out the flesh from a broken coconut, i suggest that you break the coconut and freeze it. Once its frozen, remove and thaw the coconut. As soon as the coconut is thawed, use a sharp knife to make small cuts and scoop out the flesh.
Other than these two ingredients, we are going to make a basic tempering and some cashews to add some texture to our coconut rice.
How to cook rice perfectly for Kalandha Sadam or Thengai Sadam?
Kalandha Sadam in Tamil means mixed rice. We refer to recipes like Thengai Sadam as Kalandha Sadam in general. And almost all such recipes call for rice cooked perfectly.
So what is the correct consistency of the cooked rice? The grains must be cooked just right, separate and fluffy. To get this right every time, here are a few tips.
Add salt to the rice while cooking it.
For every cup of rice, add two cups of water. And pressure cook for just 3 whistles. Once done, do not rush to release the pressure. Wait for pressure to release naturally.
When the pressure releases, open the lid, transfer the cooked rice to a wide plate. Add a few drops of oil and spread it apart using a fork. Let it cool completely. 
What goes well with coconut rice?
Since this is not a spicy dish, a mildly spicy dry vegetable curry will taste excellent with this.
Here are a few suggestions-
South Indian Thengai Sadam- FAQs
Can we use dry desiccated coconut to make Thengai Sadam?
Dry desiccated coconut or Kopparai will not work in Thengai Sadam as they have a completely different flavor profile.
What variety of rice can be used to make South Indian Coconut rice?
As with all types of variety rice, Short-grained rice varieties like Ponni and Jeeraga Samba work best. But if you are unable to source this, then, feel free to use Basmati rice to make Thengai Sadam.
How to make nut-free Coconut rice?
For making nut-free coconut rice, skip the cashews in the recipe. Instead, in order to add some texture and bite, add some cooked brown chickpeas. 
Can we pack Thengai Sadam for the lunch box?
Because this recipe calls for fresh grated coconut, it s not recommended to pack it for lunch box. This tends to spoil quickly and hence, it is encouraged to enjoy this as soon as it is cooked.
Meal Planning & Prep Work
Meal Planning
Are you planning to make Thengai Sadam for the weekdays? Then, I suggest you grate the coconut over the weekend and freeze it. Just thaw it before using and use as per the recipe instructions.
Prep Work
Start the rice in the cooker- prep the coconut in the meanwhile- when the pressure drops, let the rice cool- start on your dry curry while this happens- finish the tempering once the rice is cool.
How to make Thengai Sadam, step by step?
Tempering
Heat a pan with coconut oil. Add the cashews first and allow them to become a pale golden brown. Now, add the mustard seeds, urad dal. Mix well. When the mustard seeds begin to pop and dal turns golden, quickly tip in the red chilies and curry leaves. Fry them for 20 to 30 secs. Switch off the flame.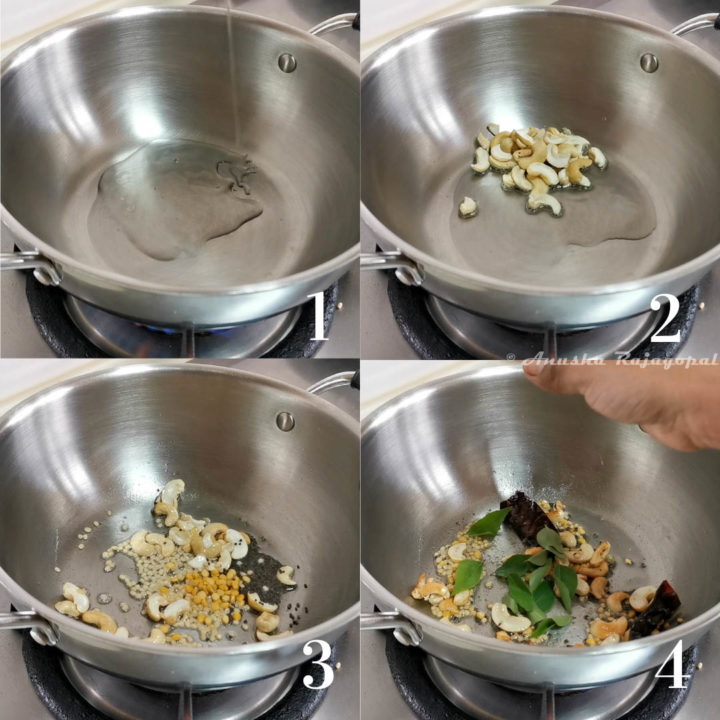 Mixing the rice and coconut
Now add cooked and cooled rice. Add the grated coconut along with this. Gently mix everything together. Taste for salt and adjust the seasoning, if required. You can now serve Thengai Sadam with the fry of your choice.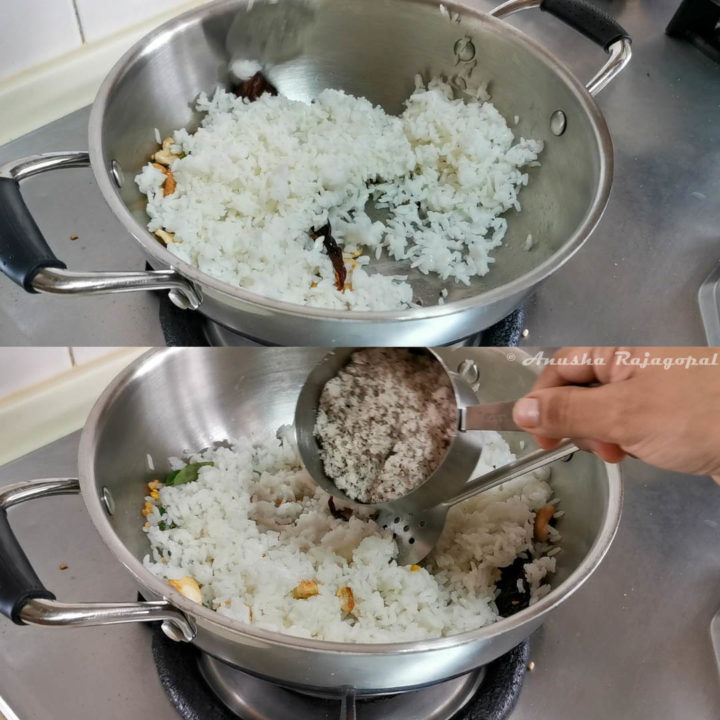 Some more rice recipes
Pro Tip: Start with frying the cashews first, while tempering to avoid over frying them later. Switch off the flame while mixing in the rice and coconut. This is because, we don't want the coconut to dry up in the heat. We want to trap those fresh coconut flavors. Also, if you keep the flame on, the rice tends to dry up and the coconut changes color too.
Follow me on Instagram or Facebook for regular cooking updates and short videos. Find us on Pinterest for delicious content. Tried our Thengai Sadam? We value your thoughts and comments! Leave a comment and tell us how it worked for you.
In case you have any questions regarding this recipe, leave a comment and I'll respond at the earliest possible. If you tried this recipe and enjoyed it, click a picture and share it on Instagram by tagging us @tomatoblues.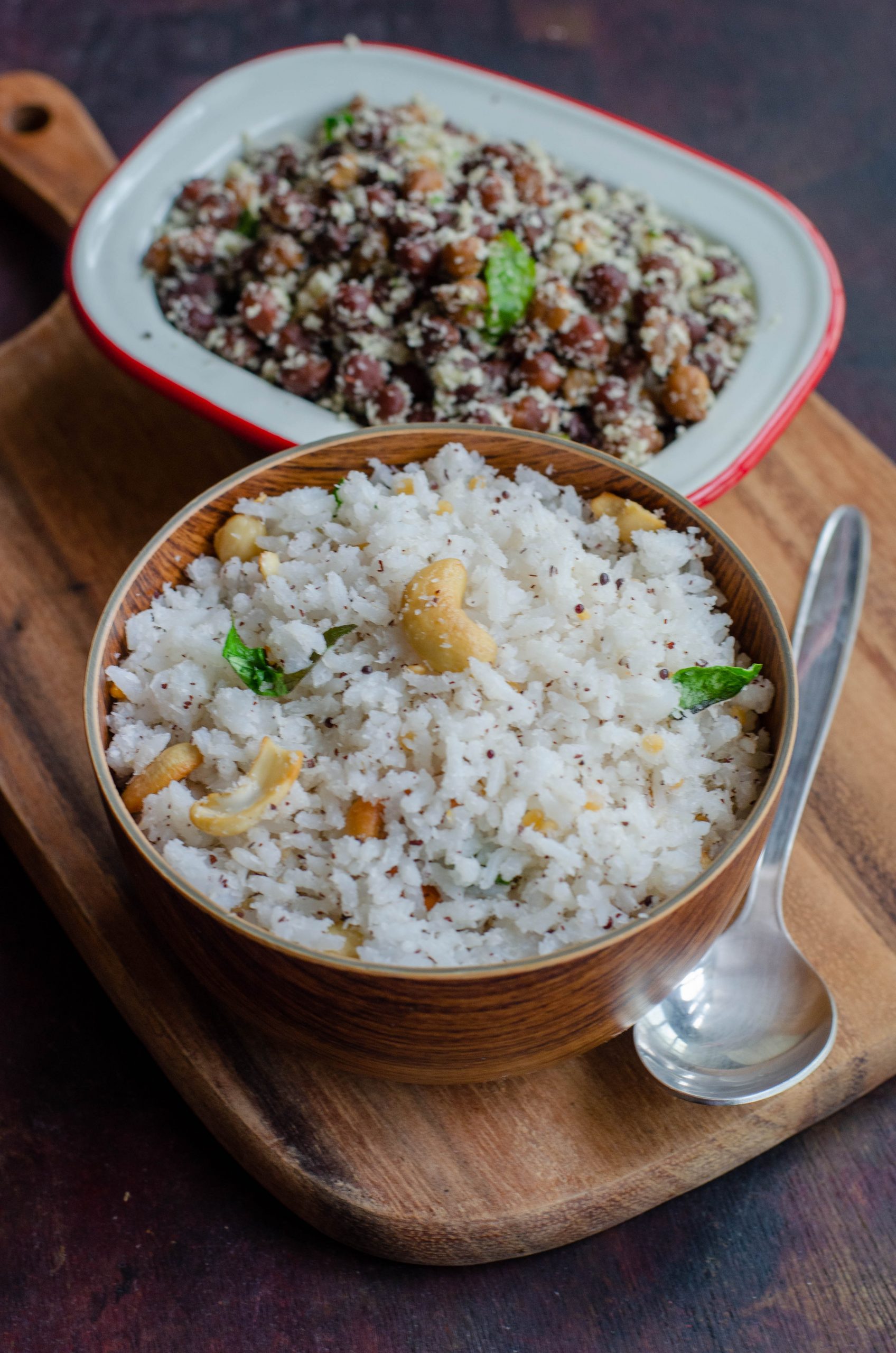 This is my entry for this week's #fridayfiesta, started by Fiesta Friday, co-hosted by Goats and Greensand Food Eat Love.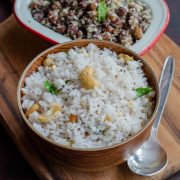 Print Recipe
Thengai Sadam
Thengai Sadam, South Indian style coconut rice. Vegan and gluten-free.
Ingredients
1

tbsp

Cold pressed coconut oil

12

halves

Cashews

1

tsp

Mustard seeds

1

tsp

Broken white urad dal

1

tsp

Channa dal

1

sprig

Curry leaves

2

2

dry red chilis

2

c

Cooked raw Ponni rice, cooled

Refer recipe notes for more information.

3/4

c

Fresh grated coconut

1

tsp

Salt or to taste
Instructions
Heat a pan with coconut oil.

Add the cashews and fry till pale golden brown.

Now, add the mustard seeds, Urad dal and channa dal.

Now, add the dry red chili and curry leaves and fry for 20 secs.

Add the cooked rice and grated coconut along with salt.

Serve with any curry of your choice.
Notes
For any South Indian style variety rice, short grained rice is preferred. 
I have used raw Ponni rice to make coconut rice today.
However, if you are unable to source this, then use Basmati rice which works equally well too.
For Instant Pot & Air Fryer Recipes
Instant Pot timings may vary based on your geographic location. Air fryer settings and timings may vary based on the capacity and the model of the Air fryer.
Disclaimer
Nutrition values are provided here as a courtesy and are only a rough guide. Please consult a health care provider if you have any concerns.