There s this friend of mine. Anjali Kumar. Hails from central India, is a wonderful cook and she taught me how to make poha. Well i am partly from Karnataka and partly from Tamil Nadu. My idea of making poha is to make avlakki or gojju avlakki. I ll post those recipes too soon. But when Anjali made poha, i loved it. I love the flavours that she adds. Like saunf and dhania. I dont when i make authentic avlakki. And the further twist was adding fresh onions and sev as a topping along with a lil cilantro. This is a 10 min affair. And i love the quickness and the simplicity of the dish. I make it for breakfast when i wake up late.So the next time you wake up late, you know what to make.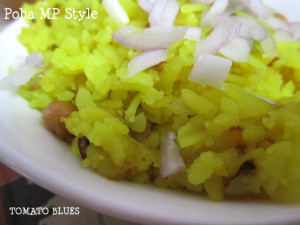 Serves: 2
Source:Mrs. Anjali Kumar
Preparation Time: 5 mins
Cooking time: 10 mins
What you need?
Flattened rice 3 cups the thin variety
Groundnuts or peanuts 3 tbsp
Green chillies 4 to 5 chopped finely
Onion 1 large and 1 small chopped finely
Curry leaves a sprig
Oil 2 and half tbsp
Turmeric powder 1/2 tsp
Saunf or fennel seeds 1 tsp
Dhania or coriander seeds 1 tsp
Mustard seeds 1 tsp
Hing a large pinch
Salt to taste
Sugar 1/2 tsp
For Garnish:
A little of the chopped onion
Sev (nylon sev)
Lemon wedge
How to make it?
First, place the flattened rice in a colander and rinse with cold water. Let the water drain completely. Retain the flattened rice in the colander. Keep aside
Heat oil in a kadai. Add the mustard seeds and wait for them to splutter. Now add the turmeric. Next add the fennel seeds and dhania seeds.
Now, add the peanuts and fry them till they are brown. But dont burn them.
Add the chillies and saute for a minute and then add the onions to the oil next and fry them till transparent or pink.
Now add the flattened rice, salt and sugar and combine well.
Garnish with chopped onions, cilantro and sev. Serve with a lemon wedge.
Makes a filling and delicious breakfast and can be made in a jiffy.