This post is a comprehensive guide on how to use the Instant Pot as a steamer. Undoubtedly, the Instant Pot is a magic device. Having made millions of lives easier, this nifty kitchen appliance is something that I cannot do without.
Follow us on Pinterest for delicious pins. Join our Facebook group for more Instant Pot and Air Fryer Recipes.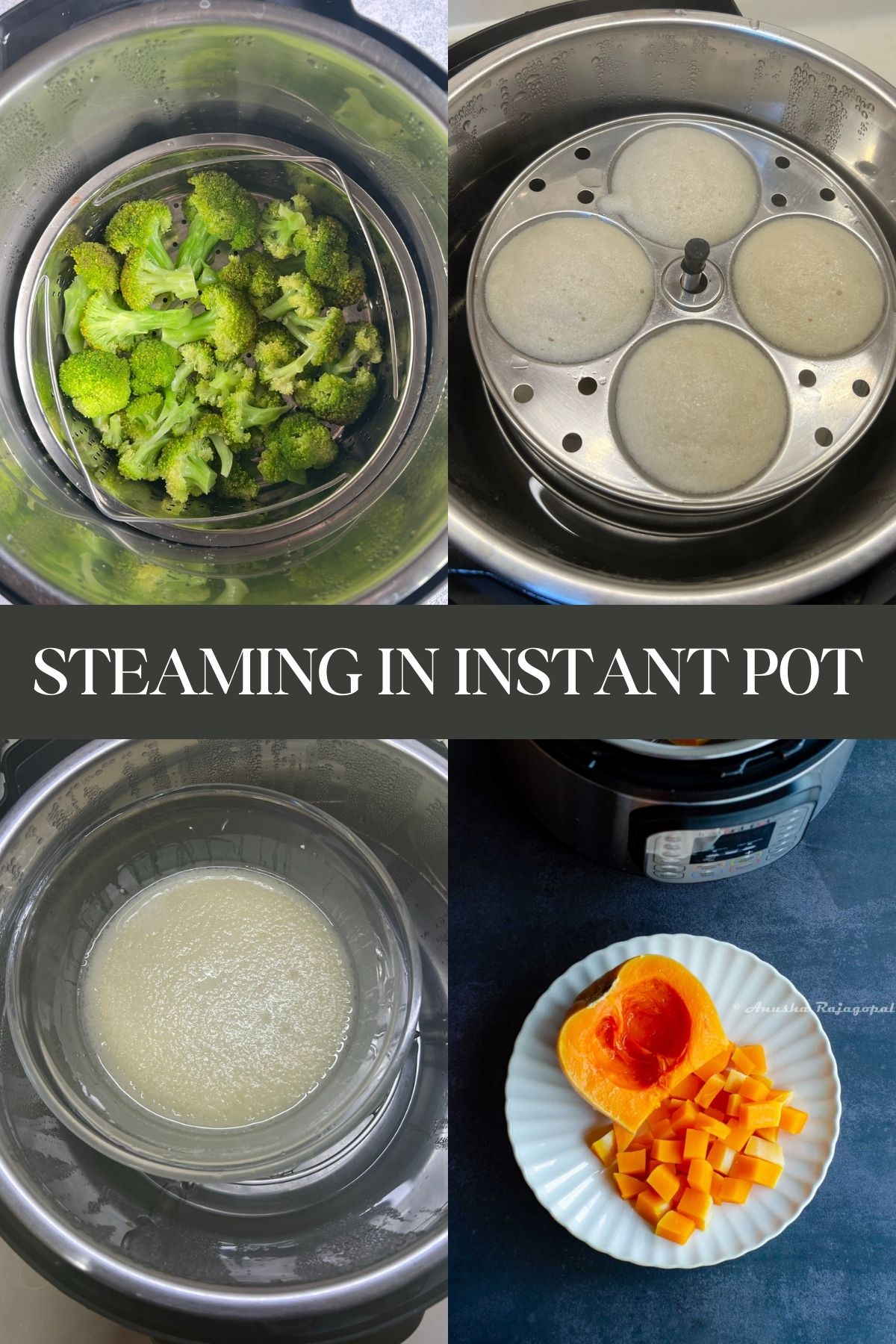 Steaming is just one of those many functions of this gadget. You can use your Instant Pot or any brand of electric pressure cooker as a steamer effectively.
When I posted a videos of Idli being steamed on my Instagram stories, a number of my followers reached out to ask me about the know-hows of this process.
In line with that, this guide is a humble attempt on how to use the STEAM function in your IP, its pros and shortcomings.
Jump to:
Why the Instant Pot is a great steamer?
Steam large quantities of food- But for the 3 quart model, the larger models are all wonderful for steaming a big batch of dumplings or Idlis or pretty much anything!
Minimal dish washing- You can reuse the inner pot to cook other things since we will just be adding water to it while steaming. I steam veggies and then cook dal in it right after that. 
No fancy gadgets needed- Yep. You read that right. All you need is a colander that can fit in to your inner pot or that can sit snugly over the inner pot.
Minimal baby sitting- when you use a kitchen timer and a transparent glass lid, it is so easy to gauge if your dish is done. 
What can be steamed?
Vegetables and fruits- I love my sturdy 6 quart for this reason! Steaming veggies has never been easier. Baby food has never been this fuss-free.
Idlis- While this may seem a bit unconventional to my trusted South Indian readers, believe me. Your IP is brilliant because it can steam at least 20 Idlis in one go. 
Dumplings and pretty much anything else that can be steamed in a conventional steamer.
Tofu and sprouts
Last but not the least, I have even used this to steam my Mochi dough. Because I am that cool mom who wants to maximize the utilitarian value of any gadget I own. Lol
How does the STEAM PRESET work?
By default, this is a preset that is set to 10 minutes on low pressure. So, what does this mean? This setting is ideal for any thing that is suitable for steaming.
Since the Instant Pot takes lesser time to come to pressure in this function, there is no overcooking of food, making this a blessing for quick steaming.
Technically, you can use the IP as a steamer in different ways. Let me explain. Before we begin, there are some things worth noting-
Add sufficient water
Always add enough water to the inner pot before steaming. In fact, this is true for other modes of cooking in the IP as well. Since it is highly unsafe, please do not cook without sufficient water in your IP or any electric pressure cooker.
Allow the water to boil
After adding the water to the inner pot, turn on the SAUTE MODE-NORMAL and set the timer to 5 MINUTES. Wait for the water to begin boiling. Begin the steaming process only after the water has started to boil.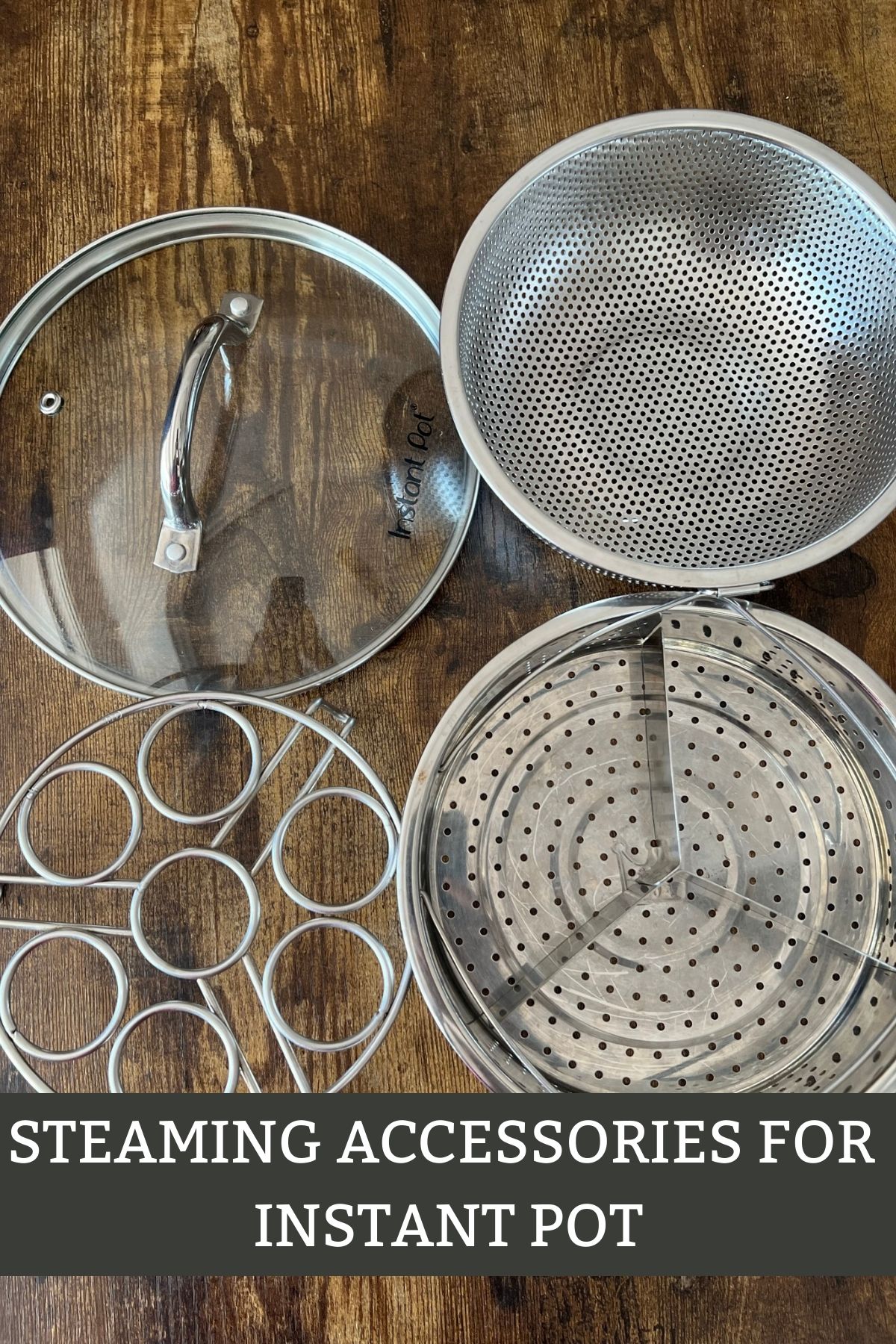 Steamer baskets
Invest in good quality food grade stainless steel steamer baskets for this purpose.
To make life easier, I recommend buying a steamer basket that comes with a divider insert. 
Safety precautions
During the process, it is natural for the pressure valve to rise up. As soon as the STEAMING is complete, please wait for the pressure valve to fall down before opening the lid. 
Instant Pot Steam Venting or Sealing
The Steam preset in Instant Pot is set to 10 minutes. You can adjust this to 15 minutes maximum and 3 minutes minimum. Your VENT should be in the SEALING position when using this preset mode.
How to steam in Instant Pot without STEAM button?
Not all IP models are the same and there are a few in the market that come without an inbuilt STEAM function.
In this case, leverage the SAUTE function and convert the IP into a steamer.
Simply pour 1 to 2 cups of water to your inner pot, place a trivet in and your steamer basket over the trivet.
Now, close the IP with a clear glass lid that fits snugly.
Press SAUTE MODE-NORMAL and set the TIMER to however long you prefer. Wait for the cooking cycle to complete.
In the event that you are using the Instant Pot lid, do not panic or worry if you find that the pressure valve has risen during the process. It is absolutely normal. It will fall down within a few minutes after the SAUTE cycle is complete.
When the valve has fallen down, open the lid and enjoy your steamed delicacies.
In case you have used a snug fitting glass lid, then you can simply open the lid as soon as the SAUTE cycle is complete.
How to steam without steamer basket?
Well, while this is not the ideal case, there are times when we do not have that steamer basket or you just popped it into the dishwasher.
Use a colander for steaming
Worry not. I got you covered. Our good old colanders make fantastic steaming baskets. Place your vegetables in the colander. Your colander containing the veggies will go over the trivet. 
And that is all that you need to do. Here are some things that I have learned in my experience while following this method-
Make sure your colander does not touch the walls of the inner pot. When it does, you will find it difficult to remove it.
Both the netted colanders and the ones with holes work but my preference is the netted ones.
Or steam using a trivet or an egg rack
Say you don't have a steamer basket or a colander. Then what? Another nifty trick is to use a tall trivet or an egg rack. Here is a list of things that you can steam using the tall trivet or an egg rack-
Potatoes
Broccoli, cauliflower and vegetables that have been cut into big pieces.
Butternut squash and pumpkin
Whole sweet potatoes
Eggs ( I love Kopitiam style soft boiled eggs)
You can even steam Idlis in this method. Pour Idli batter into small cups or silicon muffin liners. Place these filled cups over the trivet and you are good to go. Follow the same to steam dumplings as well.
How to steam Idli in the Instant Pot?
Honestly, this was supposed to be an exclusive post on just steaming Idlis. After much debating and deliberating inside my head, I decided that I will add all the nitty gritty with regard to steaming. After all, why stop at Idlis, right?
Here's how you do it-
Prep work
If your Idli batter is in the fridge, allow it to come to room temperature for a few minutes.
Steps 1 and 2
Insert the inner pot into the Instant Pot. Add 1 to 1.5 cups water. Plug in the IP, press SAUTE MODE-NORMAL and set the timer to 6 minutes. 
While the water is getting ready to boil, grease your Idli plates with sesame oil or ghee. Fill each groove with batter till it is 3/4th full.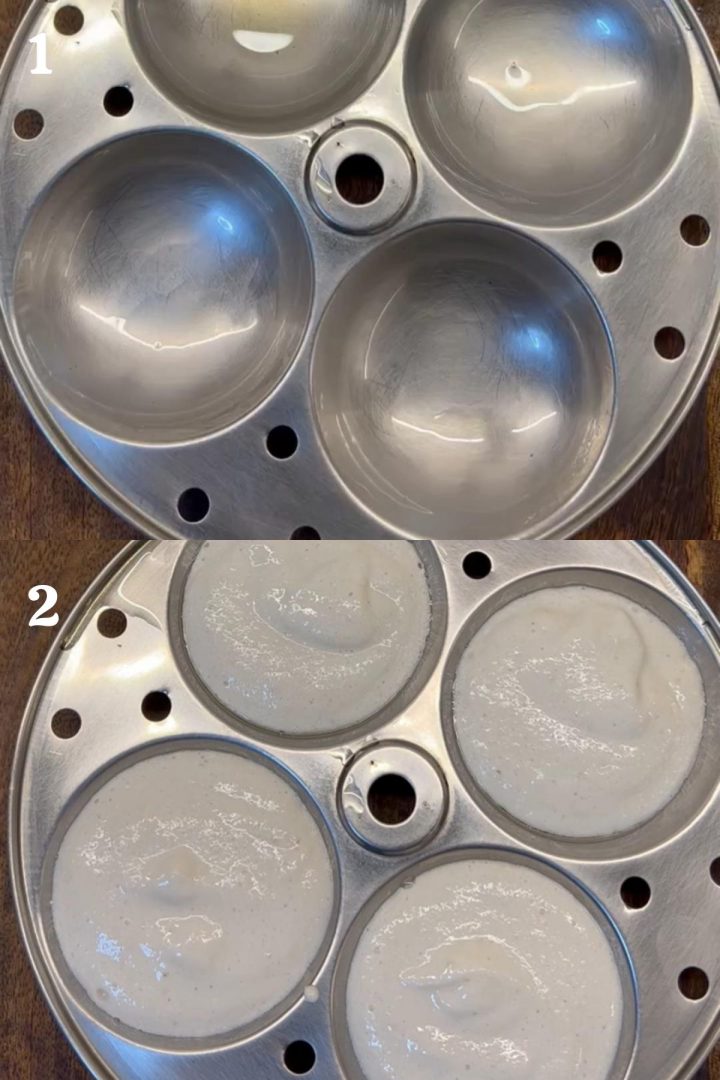 Steps 3 and 4
Insert an empty Idli plate at the bottom of your Idli plate stand. Carefully, stack your filled Idli plates one over the other.
Check if the water has begun boiling. You should be able to spot some steam rising up.
When the water is ready, press CANCEL. Place the filled Idli plates into the inner pot.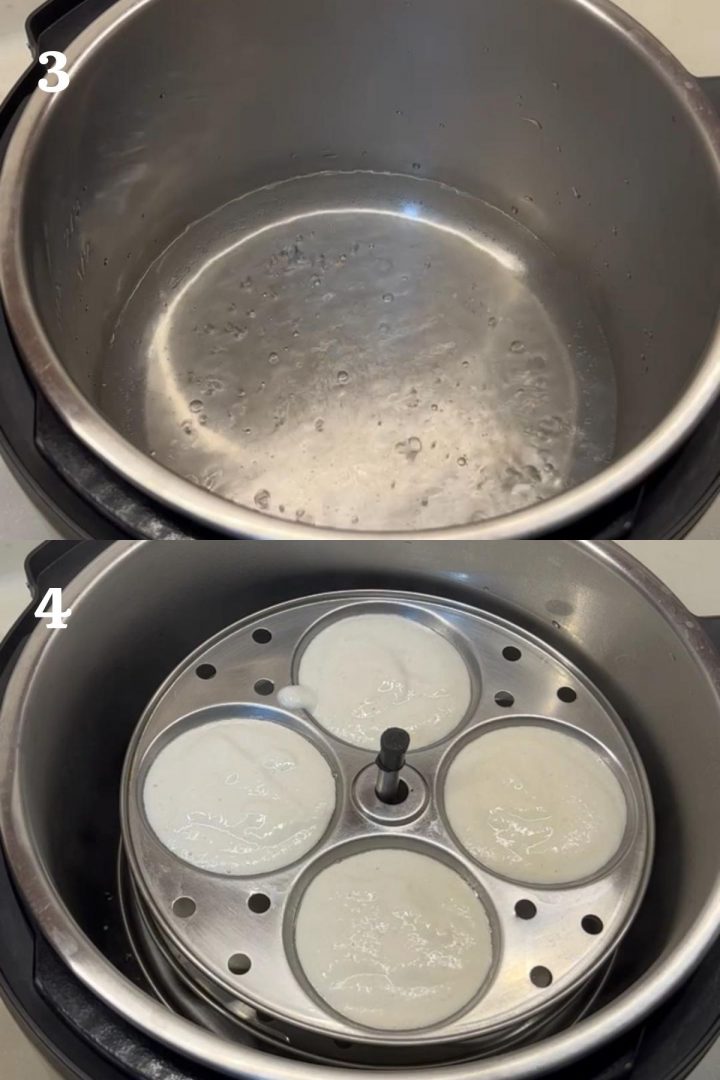 Steps 5 and 6
Cover with a clear pot lid. If you do not have a clear pot lid, ensure that the sealing ring has been fitted properly into the Instant Pot lid. Now, close the Instant pot with the lid.
TURN THE VALVE TO VENTING. Your VALVE SHOULD NOT BE TURNED TO SEALING. This is very important. You do not want to pressure cook your Idlis. 
Start a kitchen timer to 9 minutes. For every batch of 12 Idlis, I recommend a steaming time of 9 minutes. When the 9 minutes are up, wait for the pin to drop before attempting to open the lid.
While this is happening, the pin will raise up just like how it does when the IP pressure cooks. This is completely normal.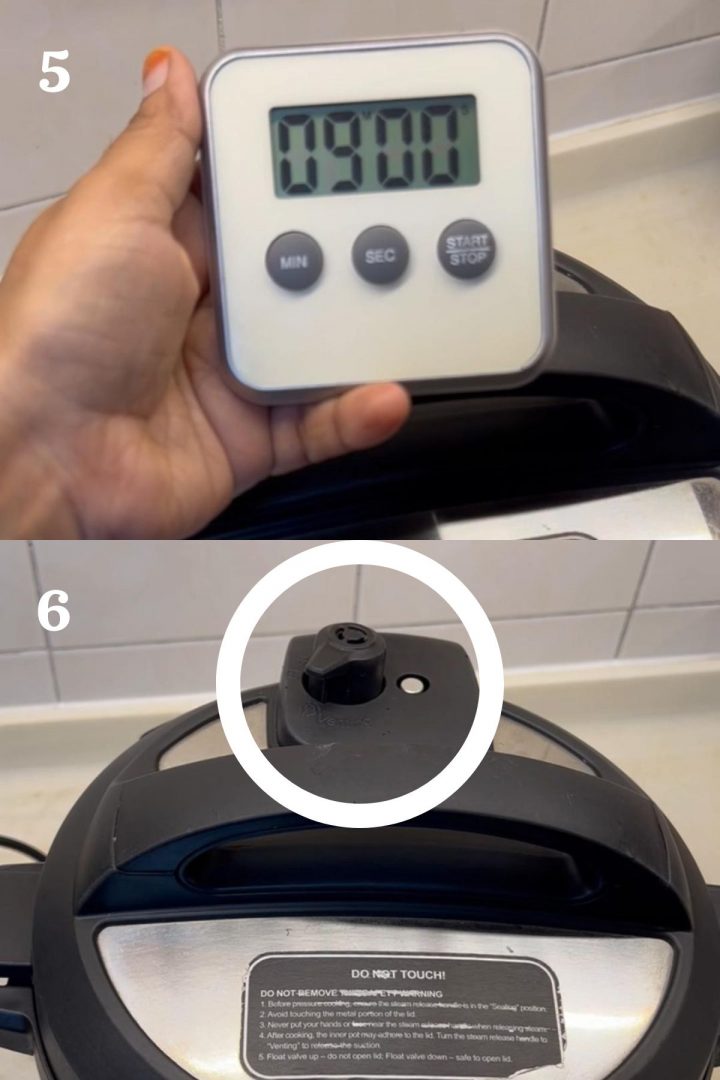 As soon as the pin drops, open the lid. Wait for 2 to 3 minutes before removing the steamed Idlis from the IP.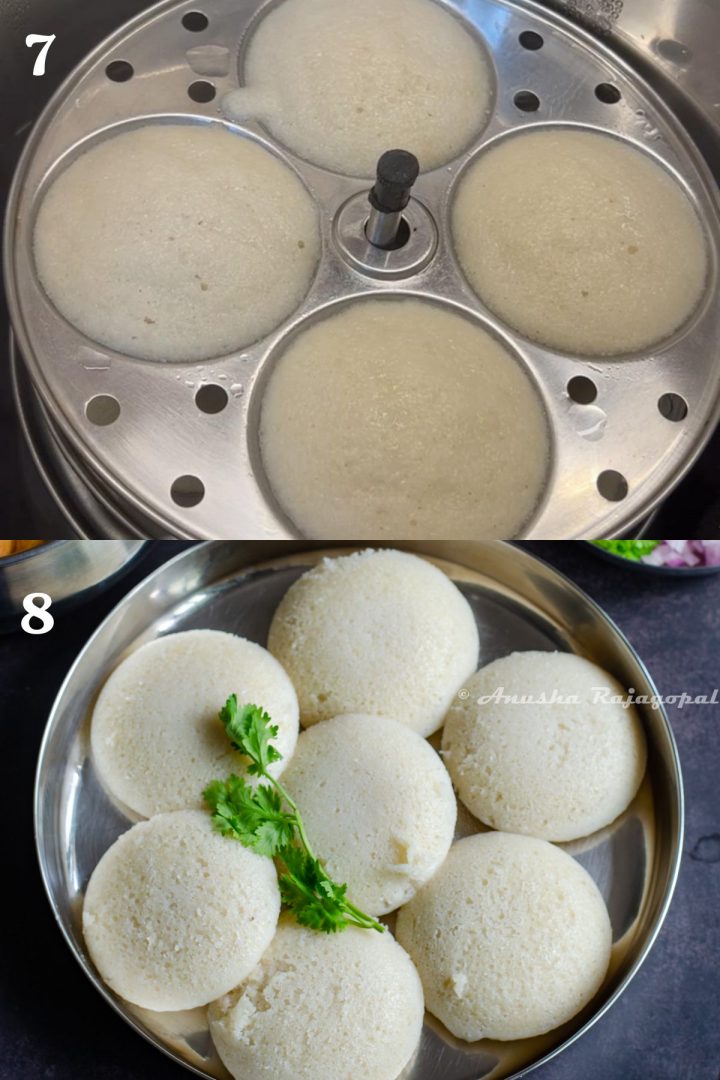 Check out all our Instant Pot recipes
We have over 40 recipes! Click here!!
If you find this post useful , please leave a STAR RATING (★★★★★) in the recipe card and tell us more in the comments.
Follow us on FACEBOOK, PINTEREST & INSTAGRAM for delicious tidbits everyday.
Be a part of our Tomato Blues Recipes Community and get special discounts on our workshops