Mexican Air-fryer cauliflower is going to become your star air-fried snack. Pinkie promise! These little flavor-packed crisp cauliflower bites are the answer for all your weekly snack woes.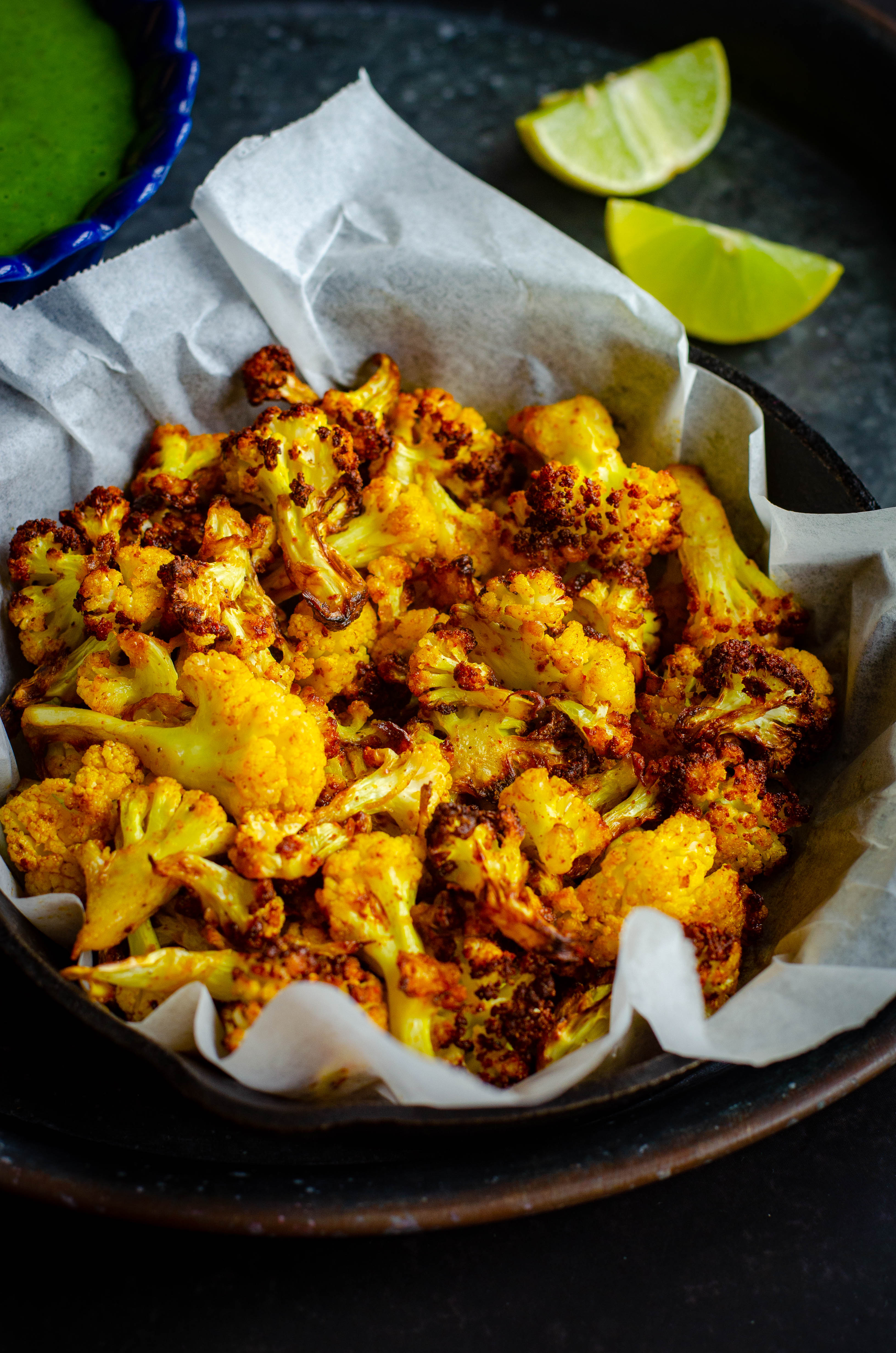 Why should you try this Mexican Air Fryer Cauliflower?
We are talking minimal effort and maximum snacking made healthier.
These Mexican-style cauliflower bites are vegan and gluten-free.
And you can eat this as a snack on its own or add it to a salad or a Buddha-bowl.
Ingredients
Cauliflower– Is our star ingredient, as the recipe suggests.
Olive oil– We are going to be using olive oil to air-fry chunks of cauliflower to a beautiful golden brown. If you do not have olive oil, use Canola or rice-bran. I have just used light olive oil over here and not the extra virgin olive oil.
Mexican flavors– Let us talk taco seasoning, paprika, lime and cumin here, shall we? All these spices are synonymous with Mexican food. When you toss cauliflower in them, it means only one thing- Good things!
Lime Juice– This is like the magic ingredient in this recipe. Adding lime juice brings out the flavors of the other spices and makes it a complete Mexican recipe.
Jump to:
Air-fryer Cauliflower- Variations
When I say air-fryer cauliflower, my mind is already conjuring up umpteen flavor combinations to try. Cauliflower is that veggie that adapts itself to air-frying so well. While this recipe uses Mexican flavors, there really is no reason to limit ourselves to just that, right?
Some more variations to this Air-fryer cauliflower-
Middle eastern Inspired Air-fryer Cauliflower
Use olive oil, zaa'tar and sumac for that middle eastern style air-fryer cauliflower.
Indian-inspired Air-fryer Cauliflower
Try garam masala or Pav Bhaji masala in the spice mix for a typical Desi-style version.
Asian style Air-fryer Cauliflower
Toss the cauliflower in Sriracha sauce or Thai chili sauce with some Soy or Tamari and air-fry for an Asian-inspired recipe.
Tell us in the comments if you have tried other flavor combinations for air-fryer cauliflowers.
Recipe Notes
This recipe is slightly different because we are going to be blanching our cauliflower. Why blanch? Well, to begin with, this recipe is gluten-free. So there is no binding agent like corn starch or flour or bread crumbs. This is also vegan. So we are not going to be using egg either. Because of these two reasons, we need to blanch. Blanching will help in coating the cauliflower florets evenly with the spices.
I did try this recipe without blanching. While the texture was the same, I somehow felt that the spices did not merge well with the cauliflower. But this method truly gave some amazing air-fryer Mexican cauliflower.
Prep Work
As a part of your prep work, you can always blanch the cauliflower the first thing. Drain all the water thoroughly. Spread it out on a kitchen towel and allow it to dry. Alternatively, you can use a paper towel to pat them dry.
Drying the blanched cauliflower is very important here as any moisture will make them soggy while they are air-fried.
Baked Mexican Cauliflower
I can almost hear you asking me- What if I do not own an air-fryer? You can still make this in the oven. Preheat your oven to 200c. Spread out the marinated cauliflower on a baking tray in a single layer. Make sure there are no overlaps and that you space them apart nicely.
Bake for 10-12 mins, making sure to toss them around once they are baked for about 6 to 7 mins. And there, our baked Mexican cauliflower is ready.
Cast-Iron Skillet Baked Mexican Cauliflower
For a super crispy baked Mexican cauliflower, bake these in a cast-iron skillet instead of a regular baking sheet. And one more thing- When you preheat the oven, grease your skillet and pop it in the oven while it is pre-heating. Doing this helps the skillet retain the heat better. This, in turn, means crispier cauliflower.
Pin This Image To Try This Recipe Later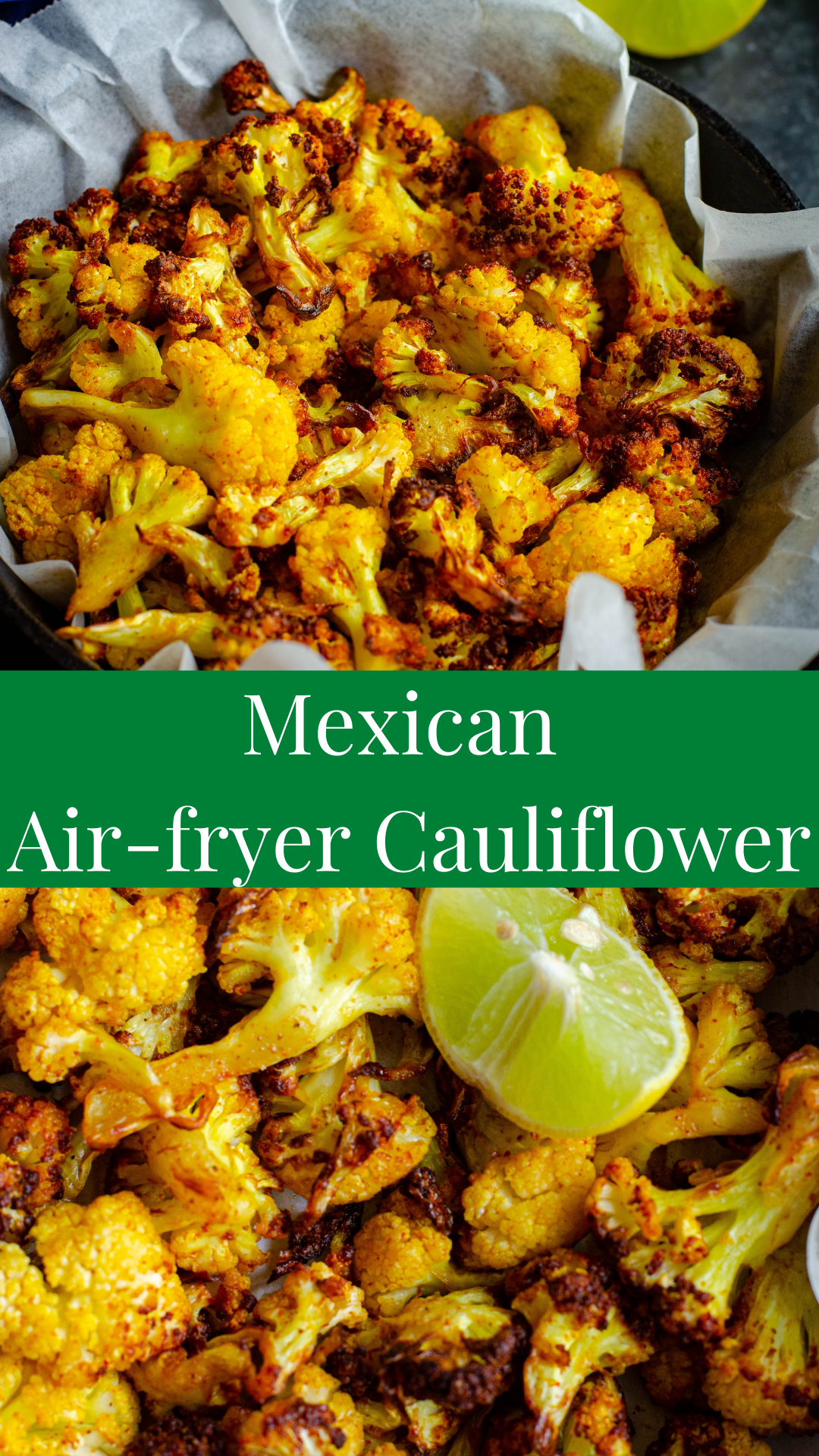 Mexican Air-fryer Cauliflower- Method
Blanching the cauliflower
Pick a large mixing bowl and combine turmeric and salt in this. Add hot boiling water to this, mix well. Add the cauliflower florets to the bowl and mix well. Cover and let it sit for 5 mins. After 5 mins, drain the cauliflower in a colander. 
Now, spread out the blanched cauliflower florets on a paper towel and allow it to air- dry. This takes roughly 5 to 7 mins. Alternatively, you can also pat dry each floret with a towel. This is a very important step. Skipping this step means you will have soggy cauliflower after frying. So make sure to dry the florets thoroughly.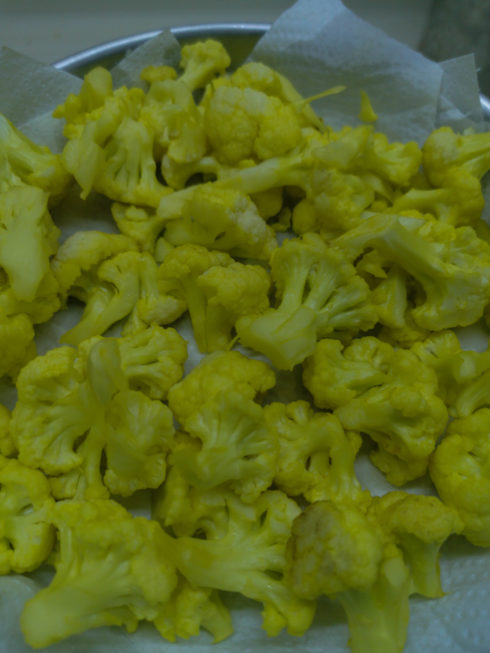 Preheat the Air-fryer for 10 mins at 400F before we begin coating the cauliflower with spices.
Adding the spices to the cauliflower
Add olive oil to a bowl and add the florets. Toss well. Now, sprinkle all the spice powders along with the salt and lemon juice over the cauliflower florets. Mix well using a silicon spatula. 
Air frying the marinated cauliflower 
Once the cauliflower has been coated evenly, line your air-fryer basket with baking paper. Arrange the florets in a single layer, making sure they don't overlap. If they overlap, then they wont be roasted evenly. Because my air-fryer is not very big, I had to do two batches of roasting. You can also do the same if your basket is small.
When you are done arranging them, air-fry for 12 mins. After 6 mins, stop and shake the florets up and continue air-frying for the remaining time. Depending upon the model and make of your air-fryer, it may take upto 15 mins to get one batch of this yummy Mexican air-fryer cauliflower done.
When done, remove from the basket and repeat with the second batch. 
Once you have finished with both the batches, serve hot or warm with any dip of your choice.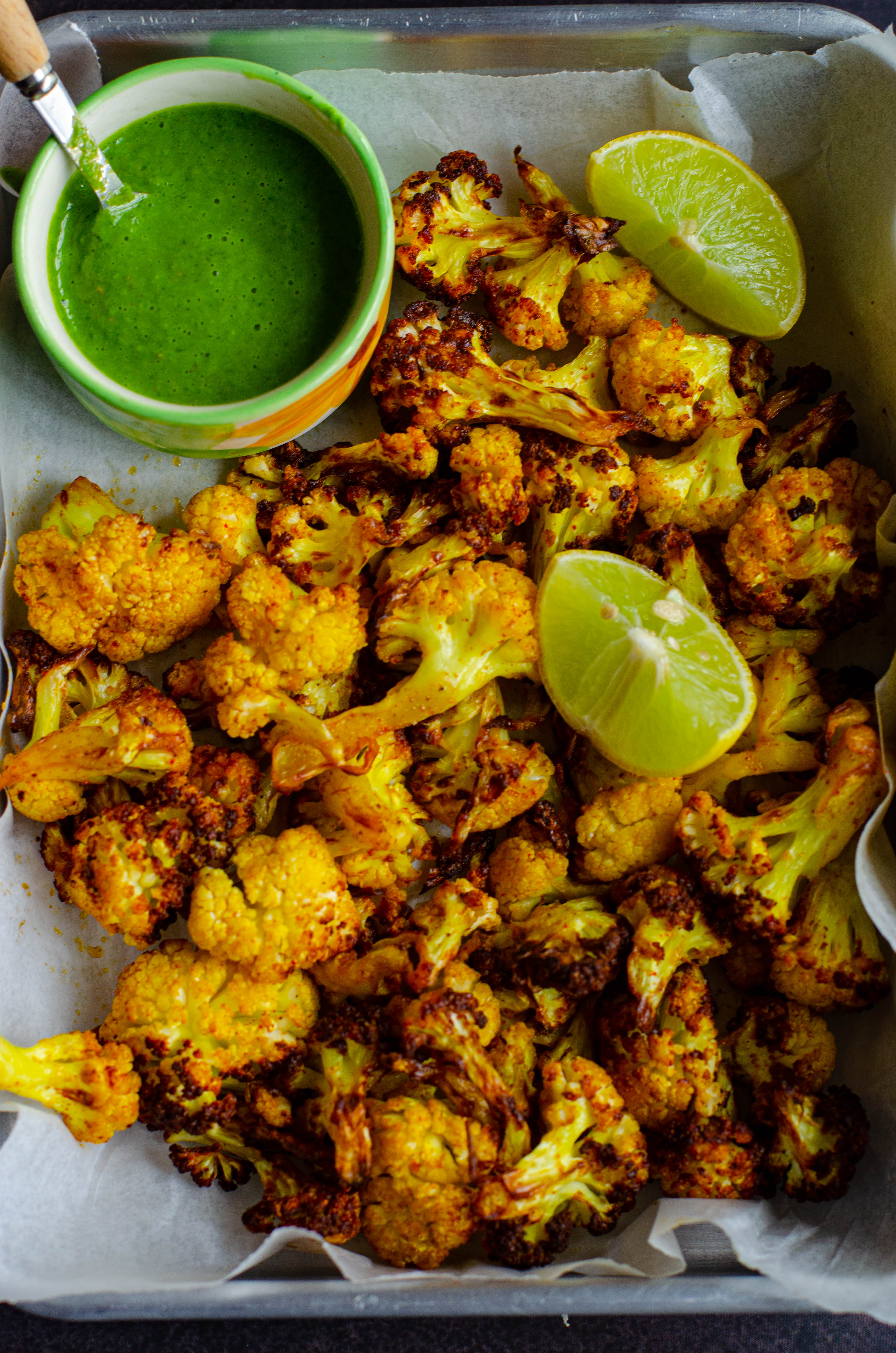 If you are looking for more Dip ideas, then check these recipes out-
Follow me on Instagram or Facebook for regular cooking updates and short videos. Find us on  Pinterest for delicious content. Tried Mexican Air-fryer Cauliflower? We value your thoughts and comments! Leave a comment and tell us how it worked for you. Email us your questions to anusapraj@gmail.com if you need any guidance in making this soup.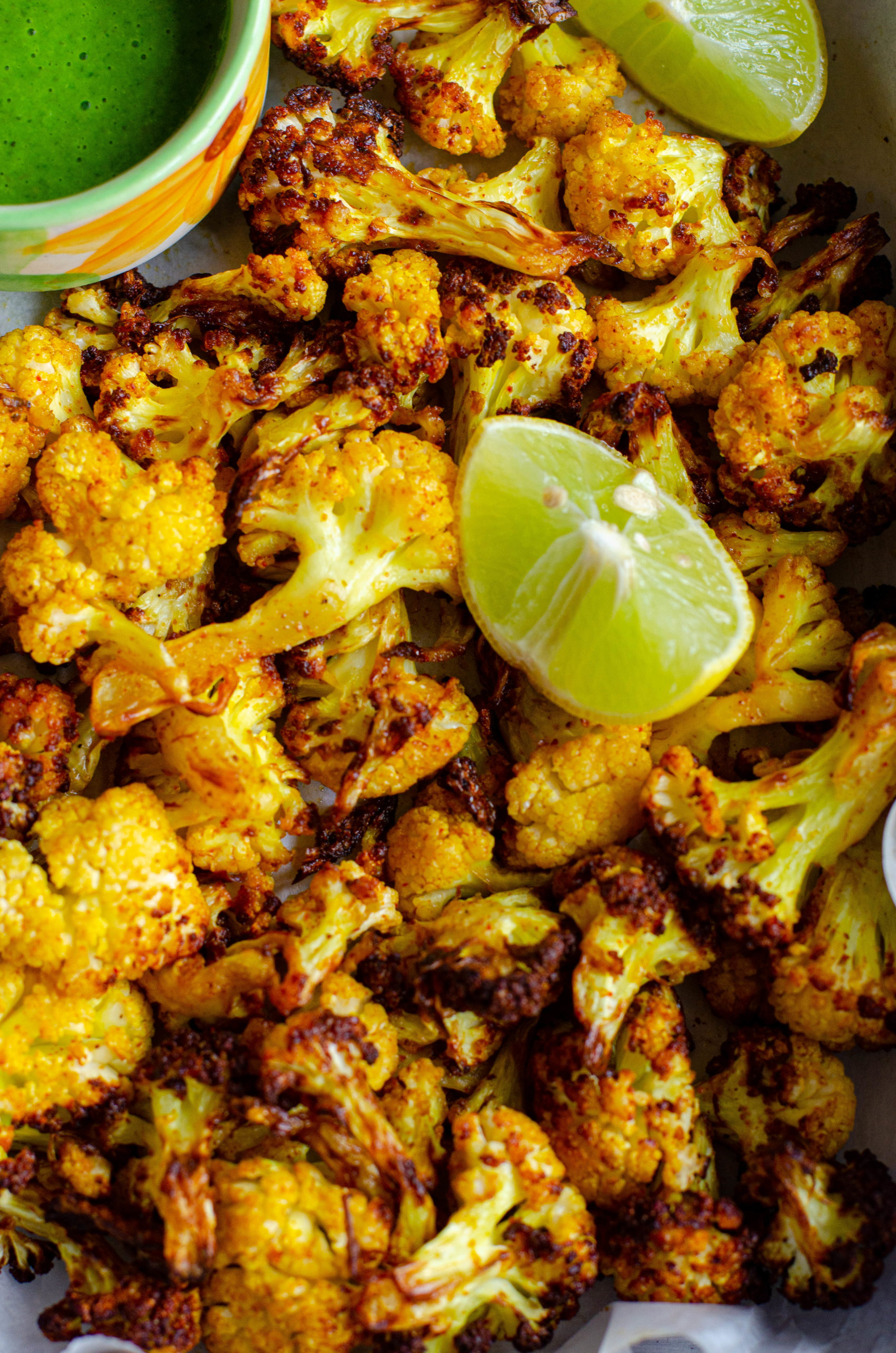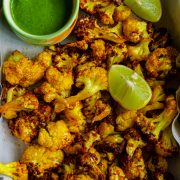 Print Recipe
Mexican Air Fryer Cauliflower
Easy and simple mexican inspired air-fried cauliflower bites
Ingredients
1

tsp

Salt

1

tsp

Ground turmeric

5

c

Boiling hot water

300

g

Cauliflower florets
For the Marinade
2

tsp

Ground paprika

1

tsp

Taco seasoning

1

tsp

Cumin powder

1

tsp

Salt or to taste

2

tsp

Lime juice

1

tbsp

Olive oil
Instructions
Blanching the cauliflower
Combine salt and turmeric in a bowl.

Add the boiling water to this and mix well.

Now, dunk the cauliflower florets in this and keep it covered for 5 mins.

After 5 mins, open and drain the water fully.

Spread the cauliflower on kitchen towels and pat them dry fully.
Marinating
In a bowl, add the olive oil and toss the cauliflower in this.

Now sprinkle the salt, lime juice and spice powders over the cauliflowers and mix well using your hands or a silicon spatula, making sure the spices coat the cauliflowers well.
Air frying
Pre heat the air fryer at 200 C for 10 mins.

Line the air fryer basket with a sheet of aluminum foil or parchment paper.

Now, place the cauliflower in a single layer. We are going to be air-frying cauliflower in two batches

Cook for 12 mins in the air-fryer. Stop after 6 mins, shake the pieces up and continue the frying process.

Repeat the process with the next batch.

Once done, serve hot with any dip of your choice.
For Instant Pot & Air Fryer Recipes
Instant Pot timings may vary based on your geographic location. Air fryer settings and timings may vary based on the capacity and the model of the Air fryer.
Disclaimer
Nutrition values are provided here as a courtesy and are only a rough guide. Please consult a health care provider if you have any concerns.