How To Make Tomato Thokku?
TOMATO THOKKU- SPICY TOMATO RELISH FLAVORED WITH GINGER& CURRY LEAVES. EASY THOKKU RECIPES. VEGAN. PALEO.
Tomato Thokku is something that i always make when tomatoes are in abundance. This however applied to the time we lived in India. We get all vegetables and fruits all through the year in abundance in Singapore. Tomatoes are no exception. However, the western part of the world always get tomatoes in plenty during Summers. That is when they make the best out of the tomatoes season by freezing and canning tomato puree. But Indian cuisine is so different owing to the tropical weather we enjoy almost year round. We have tomatoes in abundance throughout the year and cooking Indian food is quite unimaginable without tomatoes.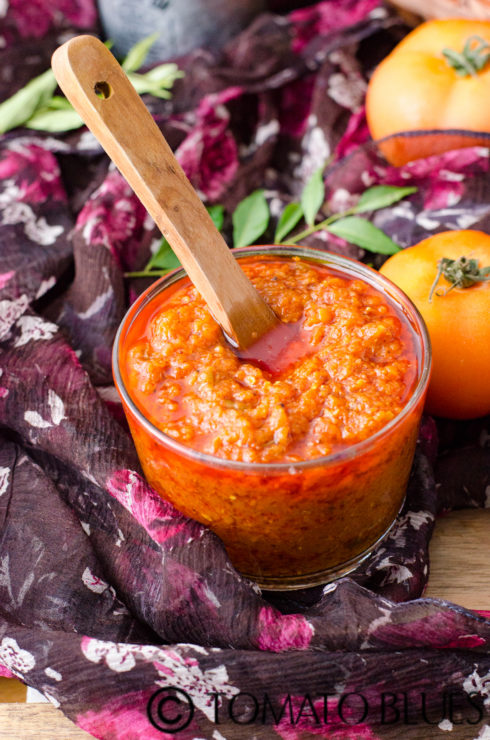 And just like the name of my blog suggests, i get blues without tomatoes in my pantry. So there are always enough tomatoes in the fridge. Three weeks back, i went overboard and bought so many tomatoes. And then i had to travel. And i was left with a kilo and a half of these ripe red beauties. And that is how i succumbed to my tomato thokku craving and made it. When it comes to making tomato thokku, the versions are many. Some people add tamarind. Some dont. Some like garlic in their thokku. But i like a basic tomato thokku with a hint of ginger that adds a nice crunch to the thokku. I m sharing my style of tomato thokku here. This tomato thokku keeps well for three days at room temperature. You can store it in the fridge for upto 10 days. The key to making some good tomato thokku is using sufficient oil and making sure your jars are sterilised.
The reason why i hate making tomato thokku often is because of the chopping work. I simply cannot bring myself to chop the same vegetable repeatedly. So, this time, i decided to blend quartered tomatoes into chunky bits in my food processor. I initially thought the texture may differ.But i was rewarded with a lovely chunky tomato thokku bursting with the flavors of ginger and curry leaves. So, if you are lazy like me, please resort to the blending method. Or simply chop your tomatoes very finely for the thokku.
Step By Step Instructions For Making Tomato Thokku
Wash and pat dry your tomatoes. I used regular country tomatoes aka naatu thakkali for this. Apple thakkali or Bangalore tomatoes or Roma tomatoes will work too but you may have to use a tbsp of tamarind if you use these as they are not tangy enough.  Once dry, quarter them and blend in a blender to a chunky puree. Set aside
Once done, heat a pan with ¼ of sesame oil ( nalla ennai) and add curry leaves  and turmeric to this. Add the pureed tomato , salt and red chili powder to this and mix well. Turn down the heat to medium and cook the puree till it reduces to half. I used my pressure pan to make the puree. Make sure your pan is heavy bottomed for cooking this thokku.
While the mixture is cooking, heat another pan and dry roast the mustard seeds and fenugreek seeds until fenugreek seeds are pink and fragrant. Do this on low flame as they burn quickly. Let cool and grind to a powder in a blender. I used my coffee bean grinder for this.
Now, once the mixture has reduced to half, add the powder and mix well. Continue to cook the mixture until it further reduces to a state where the oil separates.
When you find that the oil has separated and floats to the top, that is when your thokku is ready. Switch off flame. And heat the pan in which you roasted the mustard and fenugreek seeds with 2 tbsp of sesame oil. Add mustard seeds and once they pop, add hing and chopped ginger. Add the tempering to the thokku and mix well. Let cool completely before transferring to jars. Once cool completely, transfer to clean sterilized glass jars and use as required.
Your Tomato Thokku can be eaten with curd rice, dosa, idli, chapati and poori. This works well during travels.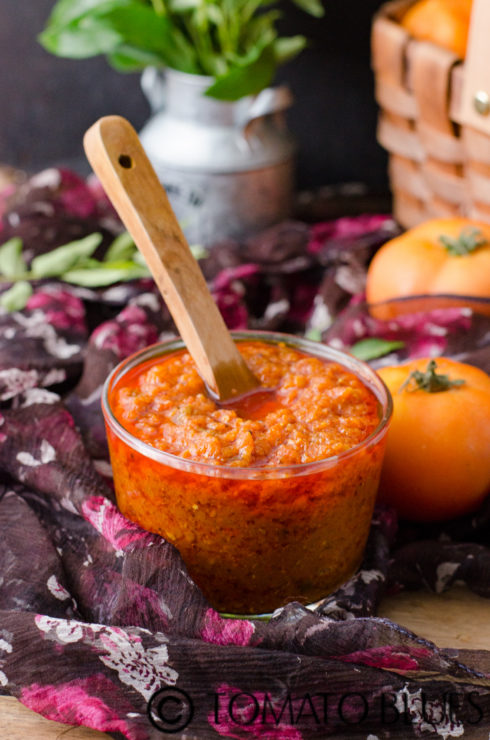 Recipe For Tomato Thokku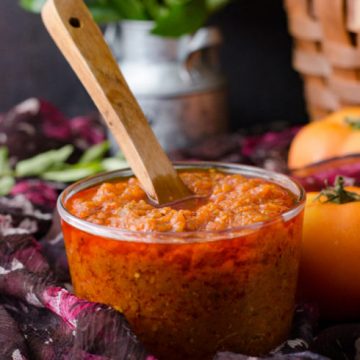 Tomato Thokku
Tomato Thokku- Spicy vegan relish made with fresh tomatoes and ginger. Tastes great with rice and flatbreads, dosa and idli
Ingredients
Tomatoes 1 and ½ kg quartered and blended to a chunky puree

Sesame oil ¼ c + 2 tbsp

Ginger 1.5" peeled and chopped finely

Curry leaves a sprig

Mustard seeds 1 tbsp plus 1 tsp

Fenugreek seeds 2 tsp

Red chili powder 2 tbsp

Turmeric powder a large pinch

Salt to taste
Instructions
Heat a heavy bottomed pressure pan or pan with ¼ c of oil.

Add turmeric powder and curry leaves to this.

Once the leaves wilt, add pureed tomato along with salt and red chili powder and mix well.

Continue to cook this on medium flame , stirring occasionally, until it reduces to half.

While the mixture is cooking, heat a small pan and dry roast 1 tbsp mustard seeds and 2 tsp fenugreek seeds till the fenugreek seeds turn pink. Do this on low flame as it tends to burn quickly.

Once done, let cool and grind to a powder in a blender

When the mixture has reduced to half, add the powder and mix well.

Continue to cook the mixture further till oil floats to the top.

Once you see oil floating to the top, your thokku is ready.

Heat a pan with 2 tbsp oil.

Pop 1 tsp mustard seeds and add the chopped ginger to this.

Once the ginger begins to wilt, add to the thokku and mix well,

Let the thokku cool completely.

Once cool, transfer to a clean sterilized glass jar and use as required
Pin This Recipe
Pin this recipe and save for later