How To Make Millet Flakes Granola Bars?
MILLET FLAKES GRANOLA BARS- HEALTHY GRANOLA BARS WITH MILLET, CACAO & NUTS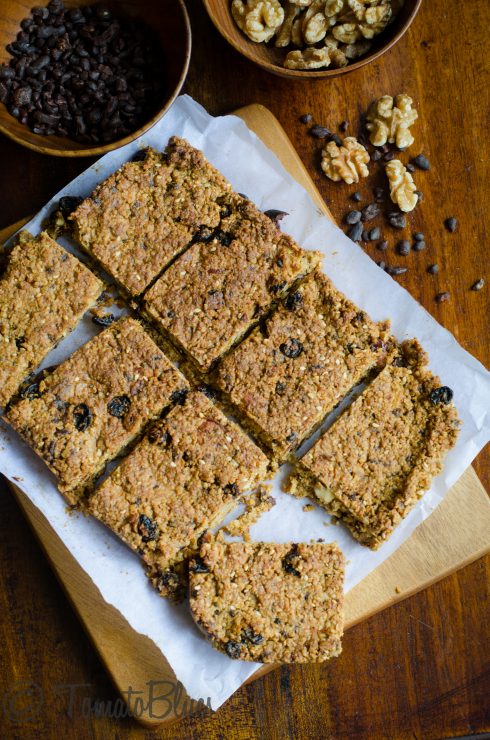 Granola bars need no introduction. They seem to be the rage among all foodies at the moment. In fact, they have been the "in thing" for a while now and their popularity doesn't seem to cease any time soon. While these granola bars are available in a variety of flavors and combinations in stores, the downside to these versions are that they are often chock full of sugar and preservatives.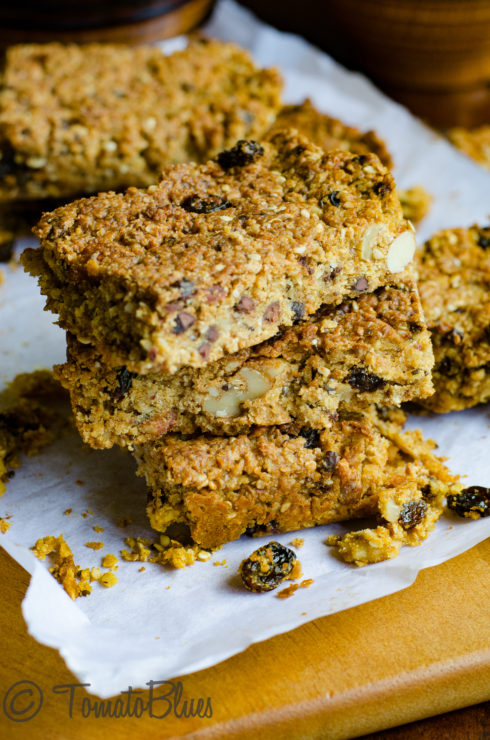 Sugar is a big no for people who are watching their weight. But then again, granola bars can be a great snack on the go. Mr. P has been working monster hours.  I mean, literally, monster hours and he hardly has the time to eat a proper breakfast these days. I tried my hand at these millet flakes granola bars to see how it works with Mr.P. These millet flakes granola bars were a complete sell out. His colleagues simply loved it.
These millet flakes granola bars are gluten free and have no refined sugar. I have used powdered Gula Melaka in these bars in place of the regular brown or white sugar. Gula Melaka is palm jaggery  and is very popular here in Singapore. Also, I tried using almond butter for a change in place of the coconut oil and I must say the bars held up pretty well and were really delicious with a nutty taste. If you are looking for more ways to use millet flakes, then please check out this healthy millet flakes parfait.
Recipe For Millet Flakes Granola Bars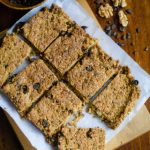 Print Recipe
Millet Flakes Granola Bars Recipe
Millet Flakes Granola Bars- Gluten free granola bars with cacao, millet, walnuts and almond butter. This has no refined sugar and is vegan.
Ingredients
Organic millet flakes 1 cup

Chia seeds 1 tbsp

Cacao nibs 2 tbsp

Walnuts 10 broken into small bits

Sesame seeds 1 tbsp

Powdered Gula Melaka 1/4 cup

Use coconut sugar or brown sugar as a substitute

Gula Melaka syrup 2 tbsp

Use maple syrup or date syrup or molasses as substitute. ( Blackstrap molasses not recommended)

Almond butter 4 tbsp

Sea salt a pinch
Instructions
Preheat oven to 180 c

In a microwave safe bowl. add the almond butter along with Gula Melaka syrup and mix well

Microwave on high for 20 secs.

Remove and add the salt to this and mix well.

In another bowl, place the millet flakes, sesame seeds, chia, walnuts and cacao nibs

Give a good toss.

Make a well in the center.

Add the almond butter mixture along with the powdered Gula Melaka.

Using a wooden spoon, mix well so that it all comes together to form a shaggy dough like mass.

Line a sheet cake pan with parchment.

Dump the mixture in the middle of the pan and gently spread out using your fingertips.

Now, use an inverted flat bowl and press the mixture and smooth it out evenly.

Bake this for 20 mins until set.

Cool and cut into squares.
Notes
In case you dont find Gula Melaka syrup, use Maple syrup or rice syrup. Honey will work too but the recipe wont be vegan then.
I used organic millet flakes for this but rice cereal will work well too.
Feel free to add your own choice of nuts and seeds.
For Instant Pot & Air Fryer Recipes
Instant Pot timings may vary based on your geographic location. Air fryer settings and timings may vary based on the capacity and the model of the Air fryer.
Disclaimer
Nutrition values are provided here as a courtesy and are only a rough guide. Please consult a health care provider if you have any concerns.