December is not only remembered for its cold weather in Tamil Nadu. It s also a month to celebrate Andal a very popular devout of lord Vishnu. Andal is famous for her songs and hymns on Lord Vishnu and it is said that no one has rendered services to the lord better than her. Known also as Kodhai, she s the only lady Alvar and is celebrated as a God too in some places in Tamil Nadu. Come Margazhi, temples in Tamil Nadu resonate with the Andal Thirupavai. And the streets of Tamil Nadu look vibrant with beautiful rangolis. But my point is not about all this. My post is about the gooey hot ven pongal they give as prasadam in all Vishnu temples during margazhi. Whenever i visit a Vishnu temple and get a chance to eat this pongal, i m left wanting for more. Needless to say, this is one of my regular breakfast choice and its such a power pack with the goodness of rice and moong dal and tempered with oodles of ghee.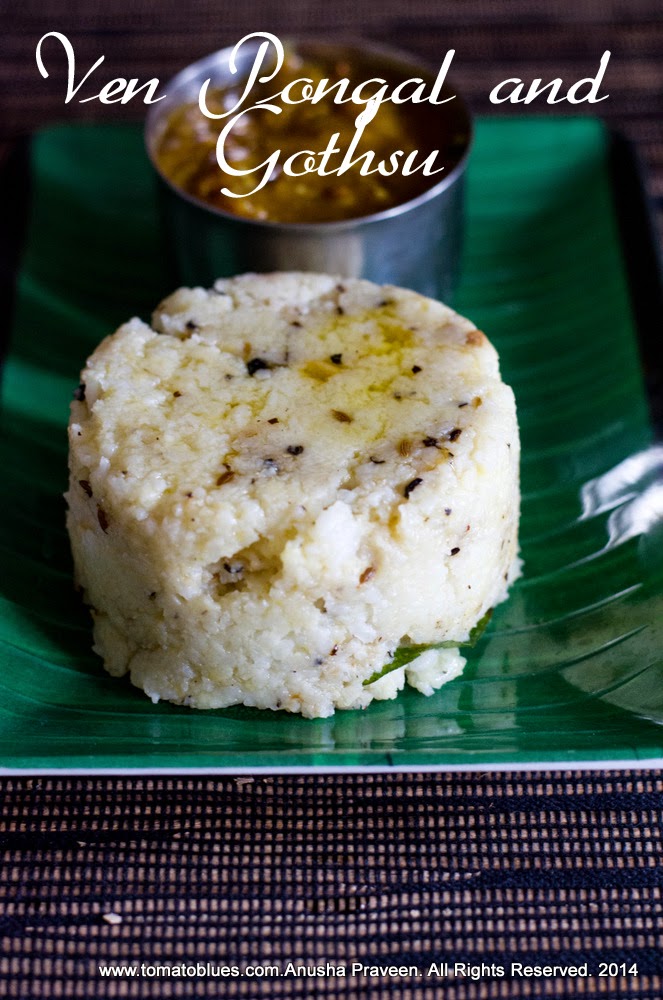 Recipe For Ven Pongal
( Learn how to make Ven Pongal Recipe, a south indian version of kedegree served for breakfast)
Prep Time: Under 10 mins
Cook Time: Under 30 mins
Serves 2
Cuisine: South Indian
Course: Breakfast/ Main Course
Allergy Info: Soy free
Ingredients
Moong dal 1/4 cup
Raw rice 1/2 cup
Pepper corns 1 tbsp
Cumin seeds 1 tsp
Ginger grated 2 tsp
Curry leaves a sprig
Cashews broken 10 to 12
Ghee 1/4 cup
Salt to taste
Directions
Pressure cook the rice and dal together with salt for 7 to 8 whistles or until they can be mashed easily. Cook them adding the normal amount of water you will add for the rice plus 1/2 cup water.
Fry the cashews in 1 tbsp ghee till golden brown.
Heat 2 tsp ghee in a pan. Add pepper corns and cumin seeds.
After the pepper corns pop, add the ginger and curry leaves.
Once done, this to the rice and mash it well.
Next add the cashews and mix well.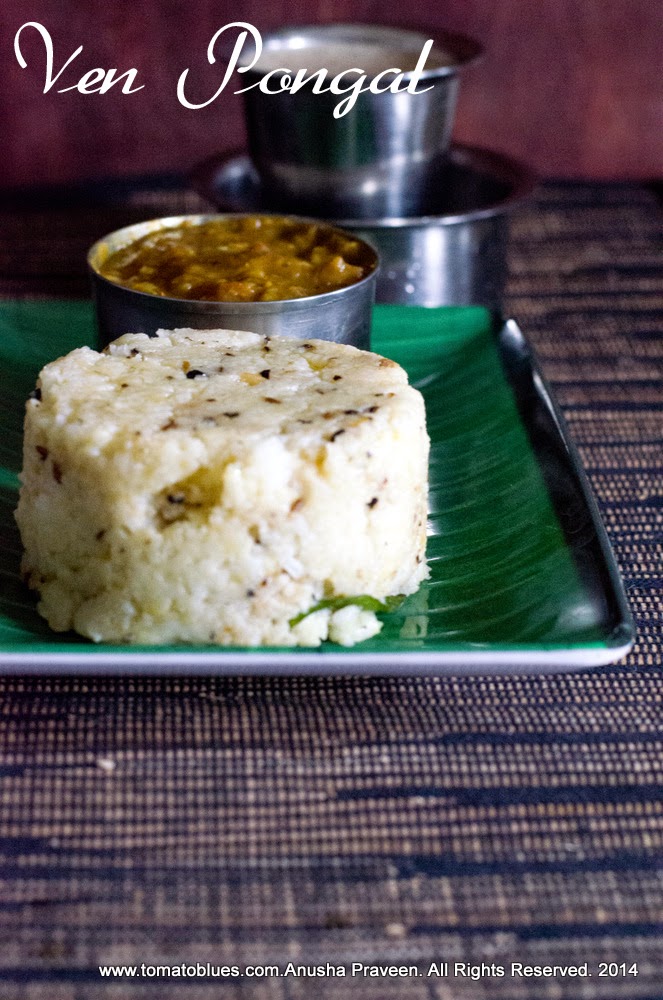 Add the remaining ghee before serving