HOW TO MAKE THINAI SAKKARAI PONGAL?
Thinai Sakkarai Pongal- Sweet Pongal made with foxtail millet and jaggery.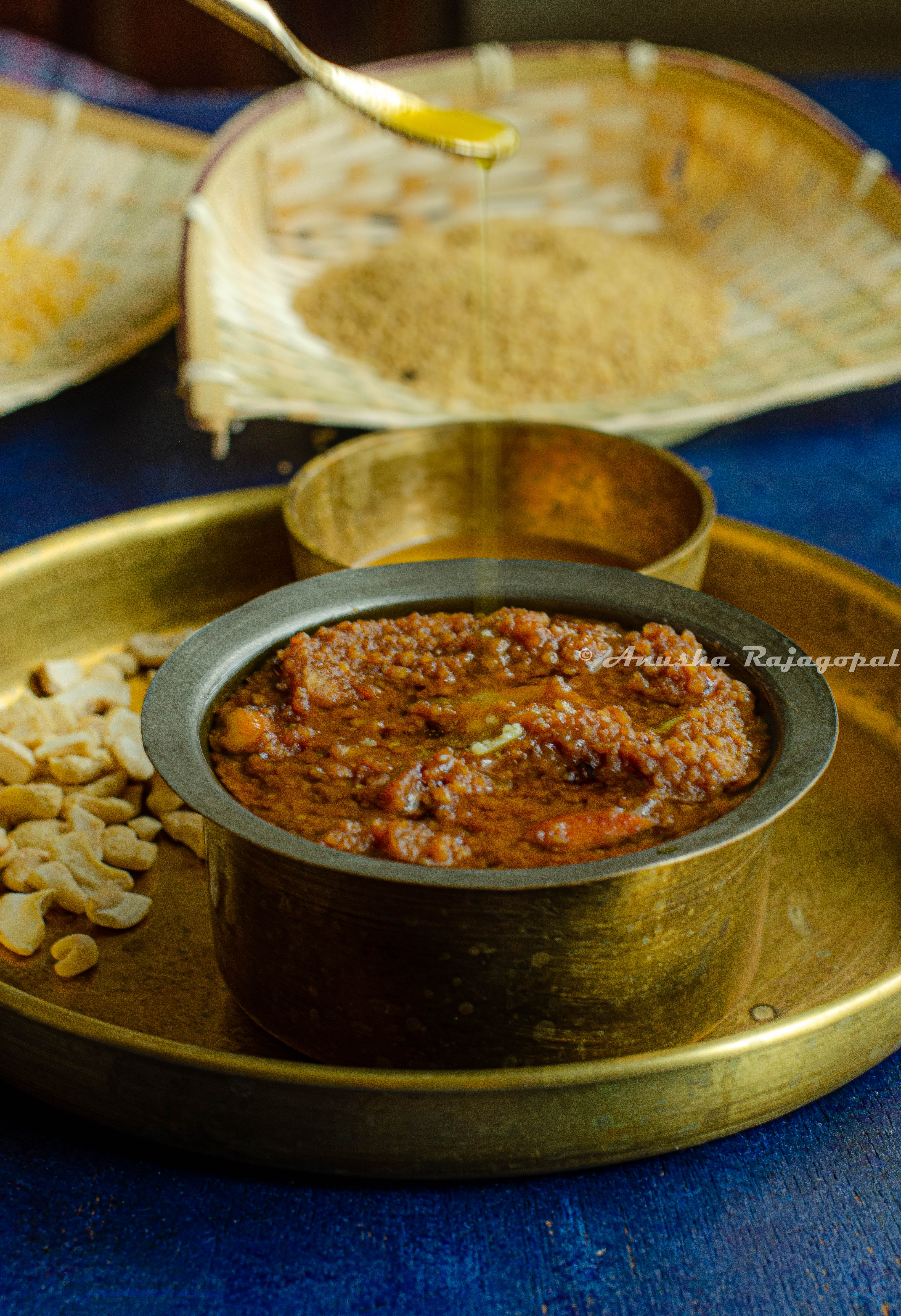 Sakkarai Pongal And Margazhi
Sakkarai Pongal and Margazhi are synonymous. Margazhi is a Tamil month. For the uninitiated, Margazhi is that time of the year when we all snuggle into our blankets. Yes. You guessed it right. Margazhi begins mid-December every year.
In Tamil Nadu, we wake up early in the morning, draw beautiful Kolams at our entrances and light a lamp by the doorstep at the main entrance. And every 1st of Margazhi, we prepare Pongal.
In fact, Pongal is the Neivedyam in most temples. If you go to a temple early morning on a chilly Margazhi morning, the chances are very high that you will be given a scoop of piping hot Sakkarai Pongal in a Dhonnai. Dhonnai is an eco-friendly cup made with dried Mandharai leaves.
The aroma of hot Pongal served in a Dhonnai is something indescribable. You will understand what I m trying to tell only if you happen to taste it. So i strongly recommend that you try it at least once!
Jump to:
Foxtail Millet in Sakkarai Pongal
Traditionally, pongal means a sweet pudding that s made out of newly harvested rice, mung bean lentils and jaggery. But i wanted to try something different this year. So, i came up with this sweet pongal that uses fox tail millet in place of rice. I was expecting a phenomenal change in the taste as the rice was missing but to my surprise, it tasted almost like the traditional rice pongal but the texture was different. I must admit here that we loved the texture in this version more than our regular sakkarai pongal.
Variations and different types of Millet Pongal
You can make the same Sakkarai Pongal using other millet too. Barnyard Millet, Little Millet and Kodo Millet work very well in Sweet Pongal.
We have a few other recipes for Millet Pongal. You can check them out too for more Millet inspiration.
Millet Pongal In Mealthy / Instant Pot
I have made this foxtail millet Sakkarai Pongal in my Mealthy today. I used the Pot in Pot method of cooking to cook two separate batches of millet+dal combination. One portion was used for Ven Pongal and the other portion was used to make this Sweet Pongal.
I have not soaked the millet before making this Pongal. You can soak it for 30 mins to reduce cooking time and if you have difficulty digesting Millet in general.
This Thinai Sakkarai Pongal can be made in the Instant Pot too. Please follow the same timings and procedure.
Cooking time for foxtail millet will vary if you are using unpolished millet. Also, its highly recommended that you wash the unpolished millet at least 3 times before using it. I also insist that you soak unpolished Foxtail millet at least for 2 hours before cooking it.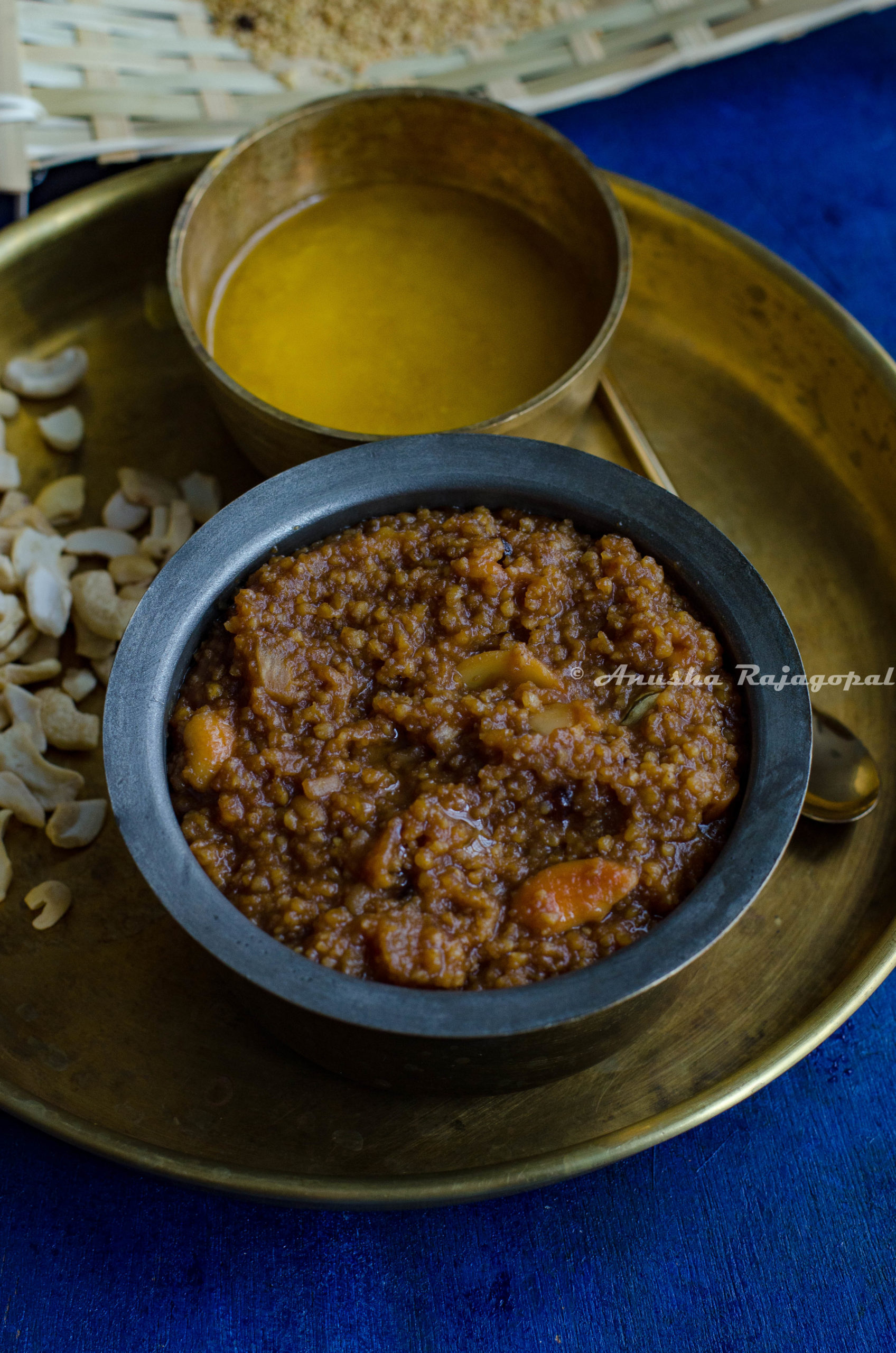 Prep Work
Wash and soak the millet if necessary.
While the millet is getting soaked, chop the coconut and break cashew nuts in halves. Also, crush the cardamom pods.
Ingredients- Substitutes and Replacements
Thinai– This is the main ingredient in this Sweet Pongal. Thinai is known as Kangni in Hindi, Korra in Telugu and Navane in Kannada.
Moong Dal– We are going to use Moong lentils to make. We are going to dry roast moong dal for a few mins before making the pongal.
Jaggery– I have used organic jaggery powder in this recipe. If you are using non-organic jaggery, then make sure you strain the jaggery syrup. Also, if you are doing this, then fry the cashews and coconut in a separate pan and make the syrup in a separate pan.
You can also use grated jaggery in the same quantity mentioned here, in place of the jaggery powder.
Ghee– A good Sakkarai Pongal needs a lot of ghee. So be generous for best Sakkarai Pongal.
Cardamom– Adds flavor.
Pachai Karpooram/ Edible Camphor- I like adding this for bringing a temple style Prasadam flavor in the Pongal. Feel free to give it a miss if you are not a fan or if you don't have access to it.
Thinai Arisi Pongal- Consistency
Any Pongal must be gooey and slightly flowy. The most important factor in nailing this right consistency is the amount of water. I have used approximately 2 c water to make this pongal and it is just right.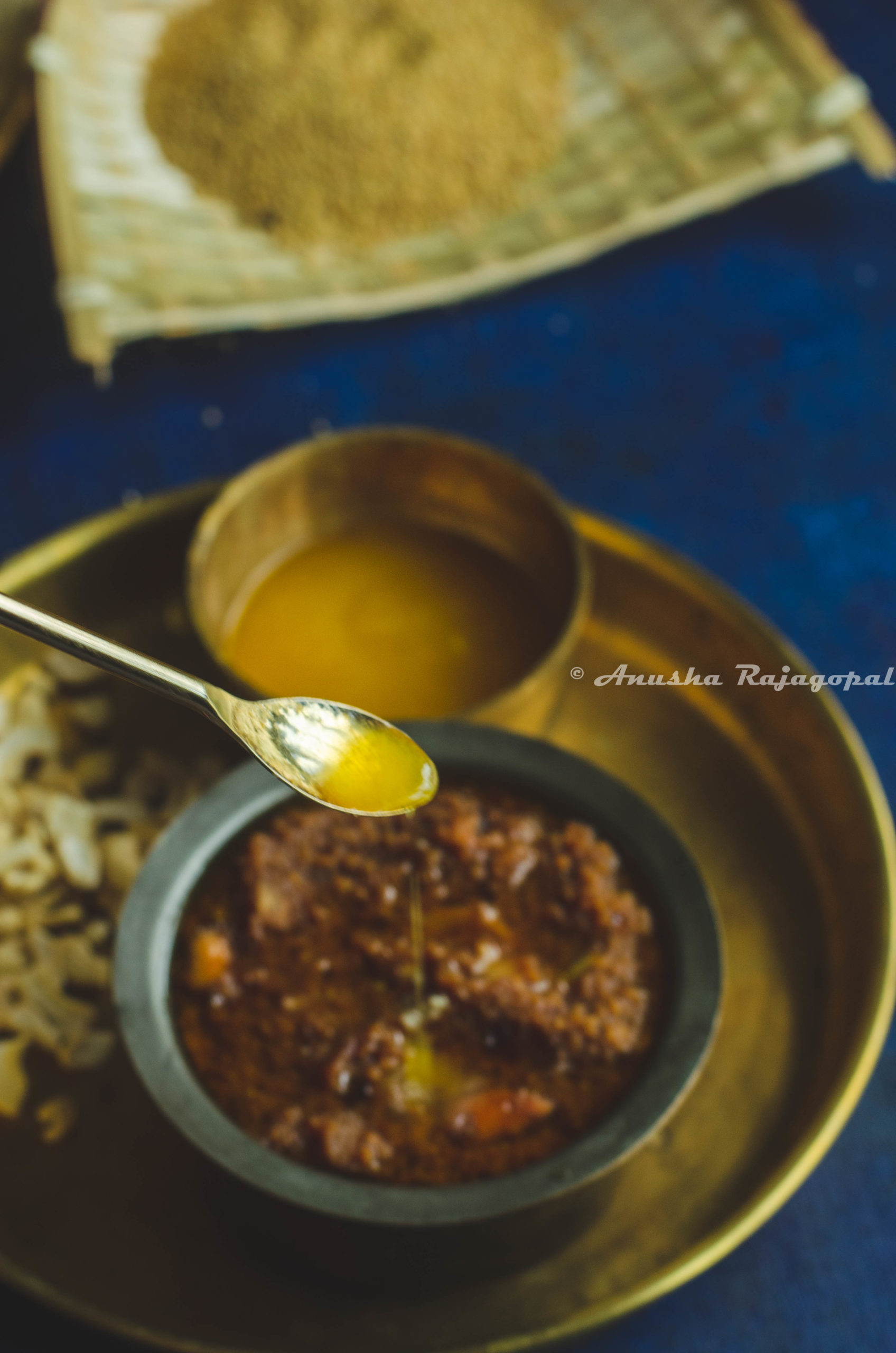 Thinai Sweet Pongal In Mealthy – Step By Step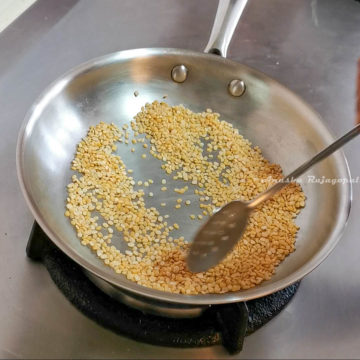 Roasting Moong Dal
Heat a pan. Add the Moong dal and dry roast on low flame till aromatic. The moong dal need not become golden or change color. Dal burns very quickly. So please do not leave it unattended while roasting. This takes around 4 mins on low flame.
Pressure Cooking the Dal and Millet in Mealthy / Instant Pot
Combine the millet and dal in a pan. Wash it well. Drain the water used for washing. Now add 2 c water. Place inside the Mealthy / Instant Pot. Close the lid and turn the pressure valve to Sealing position.
Switch on the Mealthy/ Instant Pot. Choose Pressure cook mode if cooking in Mealthy. Choose Manual mode if cooking in Instant Pot. Set pressure to low and timer to 11 mins. Once done, wait for the pressure to release naturally. 
I have used the pot in pot method, like I mentioned earlier. If you are following this, then make sure to close the pot in which you have added the millet and dal.
You can also cook this in a regular pressure cooker. Cook for 3 to 4 whistles in a regular pressure cooker. Wait for pressure to release naturally. 
Making  Jaggery syrup for Millet Sakkarai Pongal
Once the millet+ dal is done, mash it well with a ladle. Set aside. Let s now make the jaggery syrup.
Heat a pan with ghee. Add the cardamom, chopped coconut bits and cashews. Fry on medium flame till cashews turn golden. 
Once done, add the jaggery, a very tiny piece of edible camphor and water. Mix well. Continue to simmer the syrup until it begins to bubble cheerfully. We are not looking for any string consistency here. You just have to cook the syrup till it begins to bubble and is slightly thick.
Making the Thinai Sakkarai Pongal
Now add the mashed millet dal mixture to the pan. Mix well, making sure that the syrup is well incorporated into the millet mixture. When done, simmer on low flame for 2 mins. Add 1.5 tbsp ghee. Mix well. 
Our Thinai Sakkarai Pongal is ready to be served.
You can check out these too
Vidhya's Instant Pot Quinoa Pongal
Sharmi's Wheat Rava Sweet Pongal
In case you have any questions regarding this recipe, leave a comment and I'll respond at the earliest possible. If you tried this recipe and enjoyed it, click a picture and share it on Instagram by tagging us @tomatoblues.
Follow me on Instagram or Facebook for regular cooking updates and short videos. Follow me on Pinterest for delicious content. Tried our Thinai Pongal? Then please rate this recipe and tell us why you loved our recipe!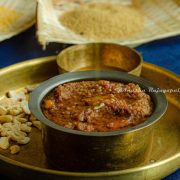 Print Recipe
Thinai Sakkarai Pongal
Thinai Sakkarai Pongal- Foxtail Millet and Jaggery pudding. Gluten free.
Equipment
Mealthy Multipot/ Instant Pot
Ingredients
For pressure cooking millet and dal
1/2

c

Thinai arisi/ Fox tail millet/ Kangni/ Navane Akki

1/4

c

Mung dal

2

c

Water
For making the Sakkarai Pongal
2.5

tbsp

Ghee (divided)

3

tbsp

Broken cashews

2

tbsp

Chopped small bits of Fresh Coconut

3

Green cardamoms

1/16th

tsp

Edible Camphor ( Pacha Karpooram)
For making Jaggery syrup
2/3

c

Organic Jaggery powder

1/4

c

Water
Instructions
Dry roast the moong dal on low flame until aromatic.
Thinai Sweet Pongal In Mealthy / Instant Pot
Wash millet and dal once or twice in running water. Drain water used for washing.

Add water to the inner pot. Place a trivet. Now, place the pan with the millet and dal on the trivet.

Close the Mealthy/ Instant Pot. Set valve to Sealing.

Switch on the Mealthy and choose Pressure cook mode. If you are using Instant Pot, then choose Manual mode.

Set timer to 11 mins and pressure to LOW.

When cooking is complete, wait for pressure to be released naturally.

When cooked, open and mash the dal and millet well. Set aside.

Heat a pan with ghee.

Add the powdered cardamom, cashews and coconut bits and fry on medium flame until cashews turn a light golden brown.

Turn flame to the lowest possible.

Now add jaggery, edible camphor and 1/4 c water. Mix well.

Simmer this mixture on medium flame till it begins to bubble cheerfully and the syrup thickens slightly.

There is no need for any string consistency in this jaggery syrup.

When the syrup is done, add the cooked and mashed millet dal mixture. Turn the flame to low.

Mix well, making sure that the syrup is well incorporated into the millet mixture.

Simmer for 2 mins on low flame.

Add 1 tbsp ghee just before switching off the flame. Mix well.
Video
Notes
Please note that the cooking time for the Millet+ Dal may vary depending upon the age and quality of the millet.
Also, cooking times for Mealthy and Instant pot will vary depending upon your geographical location. Higher altitude places may have a longer cooking time. 
For Instant Pot & Air Fryer Recipes
Instant Pot timings may vary based on your geographic location. Air fryer settings and timings may vary based on the capacity and the model of the Air fryer.
Disclaimer
Nutrition values are provided here as a courtesy and are only a rough guide. Please consult a health care provider if you have any concerns.
This post was originally published in January, 2015. It has now been republished with new pictures and a fresh recipe card after retesting the same recipe in an Electric Pressure Cooker.