Even though i feel that having dosa for dinner is a breeze in the kitchen, i am forced to grapple with the mystery of what to make with the dosa. No matter how many books you read, how many online recipe journals you riff through or for that matter ask your mom, aunts and extended aunts, the task of making something to go with the dosa is something like an unsolved murder mystery. If you dont have chutney or sambhar in an array of colours, the very idea of eating dosa for a meal can be a kill joy. I can probably say that my hunt for chutney recipes will be eternal considering P is married to dosas. On one such hunts, i happened to buy the Malliga Badrinath book on chutneys and i am indebted to her for giving us one of these legacies.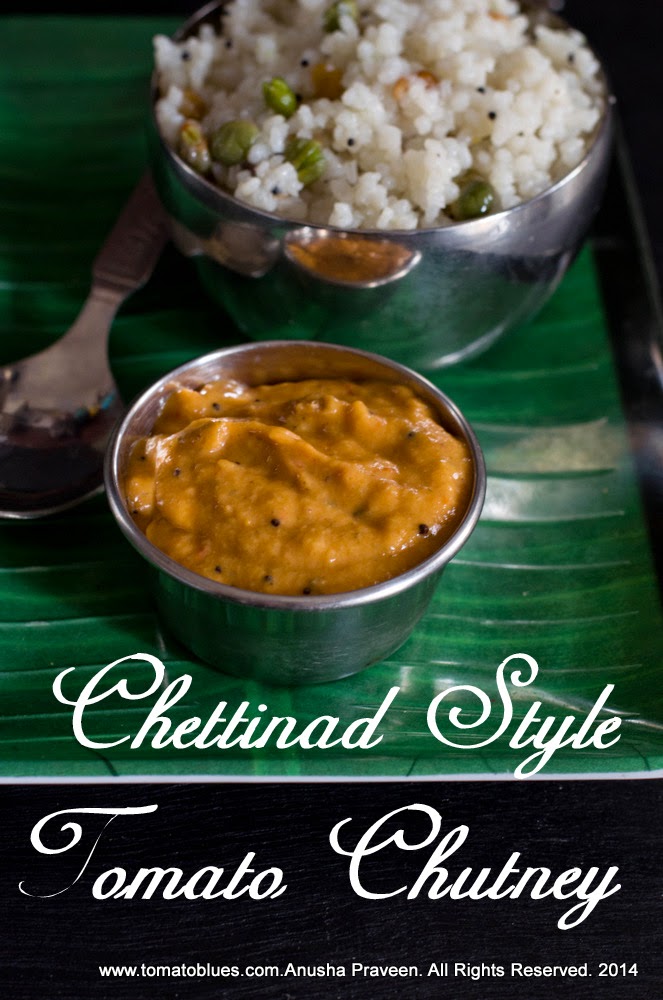 Recipe For Chettinad Style Tomato Chutney
( Learn how to make Chettinad Tomato Chutney, a tangy dip with tomatoes and garlic)
Prep Time: Under 10 mins
Cook Time: Under 20 mins
Serves 2
Allergy Info: Vegan, Soy free, Nut free
Course: Accompaniment, Dip, Relish
Cuisine: Indian ( South/ Chettinad)
Ingredients
Tomatoes 3 large chopped finely
Onion 1 large chopped finely
Coriander a small bunch or about 1/ 2 cup chopped finely
Garlic cloves 4 minced well
Dry red chilies 2
Tamarind the size of a marble soaked in warm water
Salt to taste
Oil 1 and 1/2 tbsp ( sesame oil)
To Temper:
Mustard seeds 1 tsp
Hing a large pinch
Sesame oil 1 tsp
Curry leaves a sprig
Directions
Heat a kadai with the oil.
Add the garlic and chillies and saute till garlic browns.
Now, add the onions and saute till it turns pink.
At this stage, add the tomatoes and saute till oil seperates.
Add the tamarind to this and saute for a min.
Let the mixture cool.
Once cool, add the coriander leaves and salt.
Blend to a smooth paste in a blender.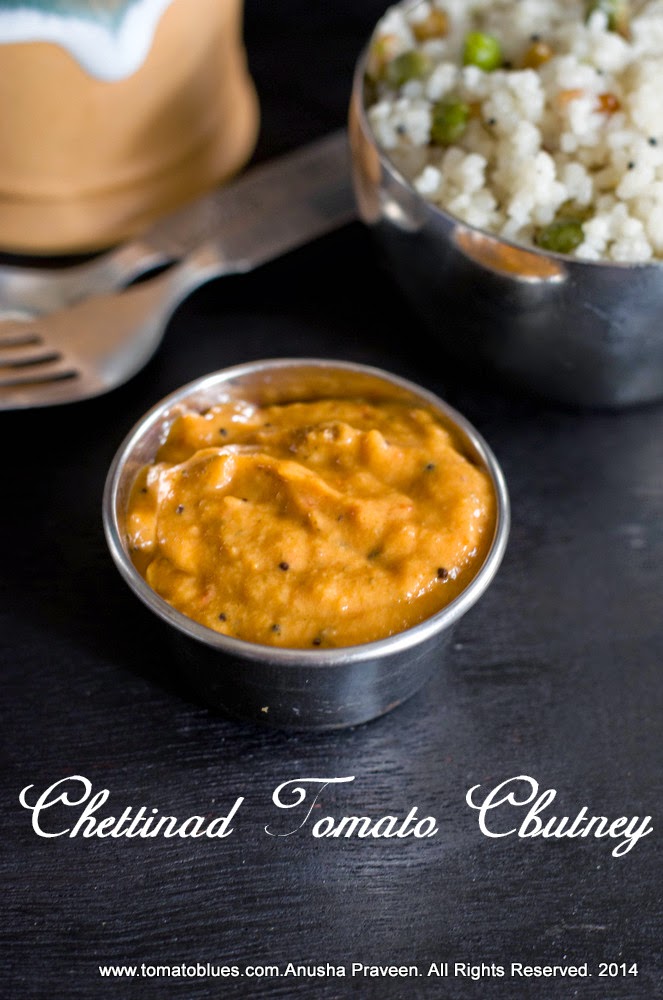 Temper with mustard seeds, hing and curry leaves.