HOW TO MAKE THINAI VEN PONGAL?
Thinai Ven Pongal- A healthy savory Pongal with Foxtail millet.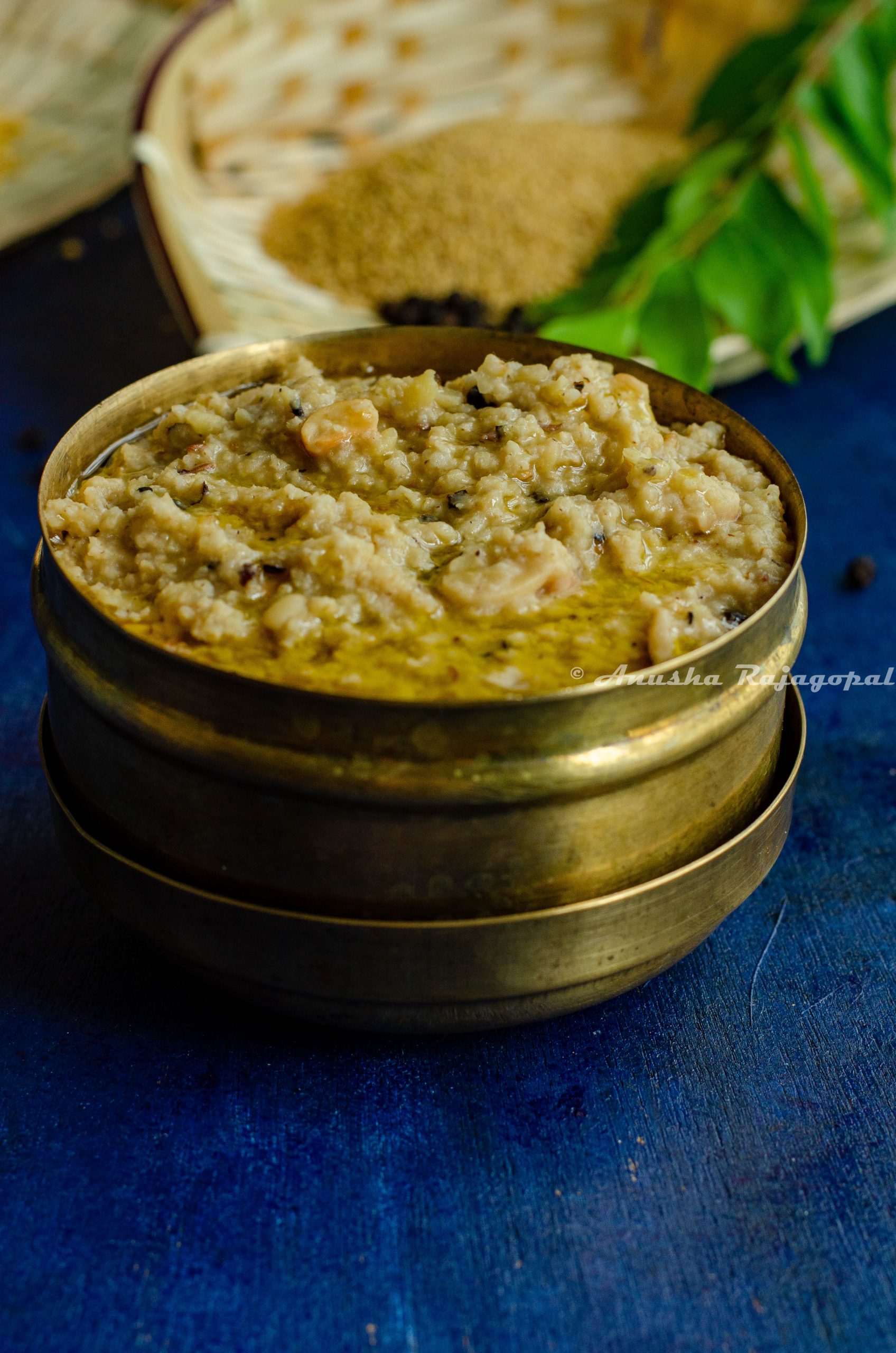 Thinai Ven Pongal for Margazhi
Like i mentioned in my Thinai Sakkarai Pongal post, Pongal is a ubiquitous part of Margazhi, the Tamil month dedicated to Andal. If there was Sakkarai Pongal, then Ven Pongal had to follow, right?
I cooked two batches of millet+ dal in my Mealthy (electric pressure cooker) using the pot in pot method to make this Ven Pongal. While i did not make the Sakkarai Pongal completely using the Mealthy, I made this Khara Pongal completely in the Mealthy.
Jump to:
Thinai Ven Pongal In Mealthy / Instant Pot
Making Pongal in an electric pressure cooker is such a breeze. Because Pongal is a dish where over cooking the carbs won't mess up the end result, its such a forgiving dish to whip up in the IP or Mealthy.
Which is why, if you are a beginner, you should begin with this easy recipe in your Mealthy or IP.
I have used the pot in pot method to make both versions of Pongal. You can also just make the Ven Pongal in the IP on its own.
Prep Work
In terms of prep work, this worked out best for me. Do give it a shot and let me know if these prep work steps helped you.
Break the cashews- Crush the pepper- Chop ginger and curry leaves- Dry roast the dal- Wash the millet and dal- Proceed to pressure cook the Pongal in Mealthy.
While the Pongal is being cooked- prep the side dish.
Recipe Notes
I have not soaked the millet before making this Pongal. You can soak it for 30 mins to reduce cooking time and if you have difficulty digesting Millet in general.
This Thinai Pongal can be made in the Instant Pot too. Please follow the same timings and procedure.
Cooking time for foxtail millet will vary if you are using unpolished millet. Also, its highly recommended that you wash the unpolished millet at least 3 times before using it. I also insist that you soak unpolished Foxtail millet at least for 2 hours before cooking it.
You can make the same Thinai Ven Pongal in a regular pressure cooker too. Pressure cooking the millet+dal mixture with the other ingredients for 4 to 5 whistles will give you the perfectly gooey Thinai Ven Pongal.
Ingredients- Substitutes and Replacements
Thinai– This is the main ingredient in this Pongal. Thinai is known as Kangni in Hindi, Korra in Telugu and Navane in Kannada.
Moong Dal– We are going to use Moong lentils to make. We are going to dry roast moong dal for a few mins before making the pongal.
Ghee- Clarified butter or ghee is the lifeline of any Pongal. If you are making Ven Pongal, i suggest adding 1 tbsp oil plus ghee while cooking the millet and dal. Adding oil will ensure that the Pongal doesn't become cakey and solid even after it cools down.
Curry leaves and Ginger– Both these ingredients are crucial. Ginger not only adds flavor but also aids in easy digestion. Curry leaves add a fantastic earthy flavor to the Pongal.
Hing/ Perungayam/ Asafetida– This again is an important flavor component in any Khara Pongal or Ven Pongal recipe. Perungayam not only adds flavor but also helps control flatulence.
Thinai Ven Pongal In Electric Pressure Cooker
Time needed: 30 minutes.
Prepping Dal
Roasting Moong Dal

Heat a pan. Add the Moong dal and dry roast on low flame till aromatic. The moong dal need not become golden or change color. Dal burns very quickly. So please do not leave it unattended while roasting. This takes around 4 mins on low flame.

Begin Cooking in Mealthy

Turn on Saute mode in Mealthy for 11 mins. Add ghee+ oil.

Roasting cashews

When the mixture is hot, add the broken cashews and fry till golden. Once done, drain and set aside.

Tempering for the Pongal

Add the crushed pepper, cumin, ginger, hing and curry leaves to the oil. Mix well. Saute till the spices begin to crackle.

Adding millet+dal for pressure cooking

When done, wash the millet and dal well under running water. Drain the water used for washing. Now add 2 c water to this. Mix well. Add this mixture to the Mealthy / Instant Pot.

Simmering

Add salt to the pongal and mix well. Continue to cook this on saute mode till the mixture begins to gently bubble up on the surface.

Pressure cooking

Once done, switch off the Saute mode in your Mealthy/ Instant Pot. Now, close the lid of the cooker. Turn the valve to sealing mode. Turn on the Pressure cook mode in Mealthy or Manual mode in Instant Pot. Set the timer to 11 mins and the pressure to high. Wait for the pressure to be release naturally.

Mashing the mixture.

When the cooking is complete and the pressure has fallen, open the lid. Now, lightly mix and mash the mixture.

Adding the cashews

Now add the roasted cashews to the Pongal and mix well.

Serve the Pongal hot

Now mix it up well, add a tbsp ghee and serve the Pongal hot.
Some More Breakfast Recipes From Tomato Blues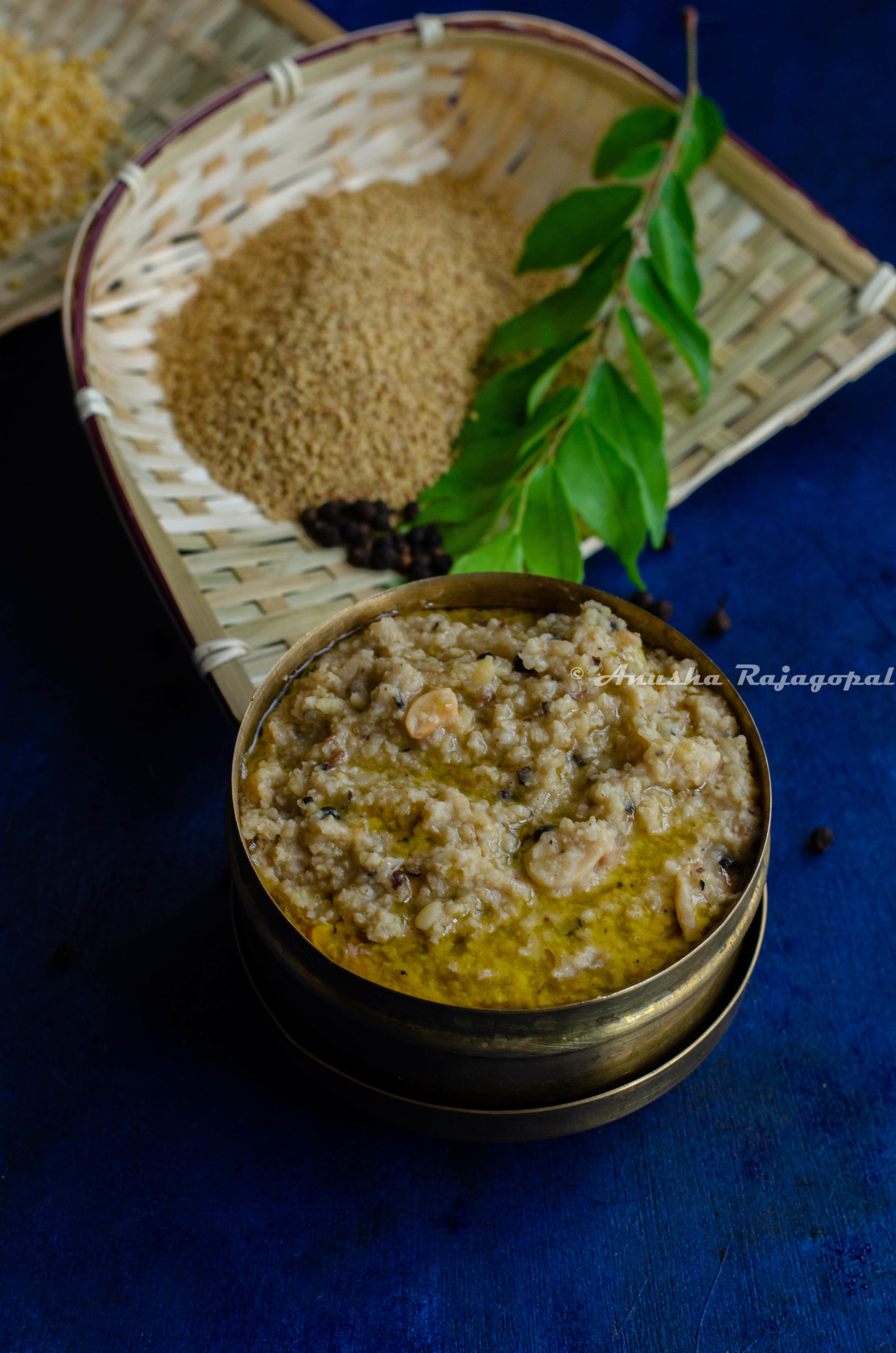 In case you have any questions regarding this recipe, leave a comment and I'll respond at the earliest possible. If you tried this recipe and enjoyed it, click a picture and share it on Instagram by tagging us @tomatoblues.
Follow me on Instagram or Facebook for regular cooking updates and short videos. Follow me on Pinterest for delicious content. Tried our Thinai Ven Pongal? Then please rate this recipe and tell us why you loved our recipe!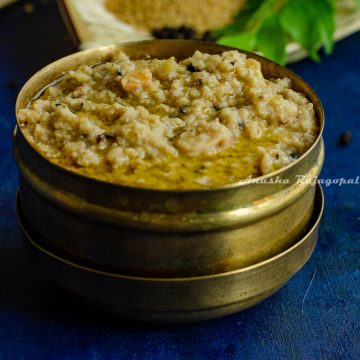 Thinai Ven Pongal
Thinai Ven Pongal- savory Pongal made with foxtail millet and moong lentils.
Equipment
Mealthy Multipot/ Pressure cooker
Ingredients
3

tbsp

Broken cashews

¼

c

Moong Dal

2

tbsp

Ghee

1

tbsp

Oil

2

tsp

Crushed Whole black pepper

1

tsp

Cumin seeds

1

tsp

Minced ginger

10

Curry leaves

½

c

Foxtail Millet

2

c

Water

1

tsp

Salt or to taste
Instructions
Roasting the Dal
Add the moong dal and dry roast this on low flame until fragrant. Takes 3 to 4 mins.

Once done, combine this with the millet.

Wash the millet and dal thoroughly. Set aside.
Frying the cashews
Turn on Saute mode in your Mealthy.

When hot, add broken cashews and fry till they turn golden. Takes 2 to 3 mins.

When done, drain the cashews and set aside.

Now, add the cumin seeds, crushed peppercorn, ginger and curry leaves.

Mix well and fry till the spices begin to crackle. This takes 1 min approx.

Now add the washed and drained millet and dal mixture along with 2 c water.

Mix well. Continue to cook this on Saute mode for 2 to 3 mins until tiny bubbles begin to appear on the surface.

When done, Switch off the Saute mode by pressing cancel. Now, close the Mealthy. Turn the valve to sealing.

Switch to pressure cook mode. Choose low pressure and set the timer to 11 mins.

Once cooking is complete, allow for the pressure to be released naturally.

When done, open the lid and mix and mash the pongal lightly.

Now add fried cashews and mix well.

Drizzle some ghee over the pongal and serve hot.
Video
Pin This Recipe
Pin this recipe and save for later