HOW TO MAKE MAPILLAI SAMBA ADAI?
Mapillai Samba Adai– This is a high protein complex carb recipe featuring Mapillai Samba, an heirloom rice variety of India.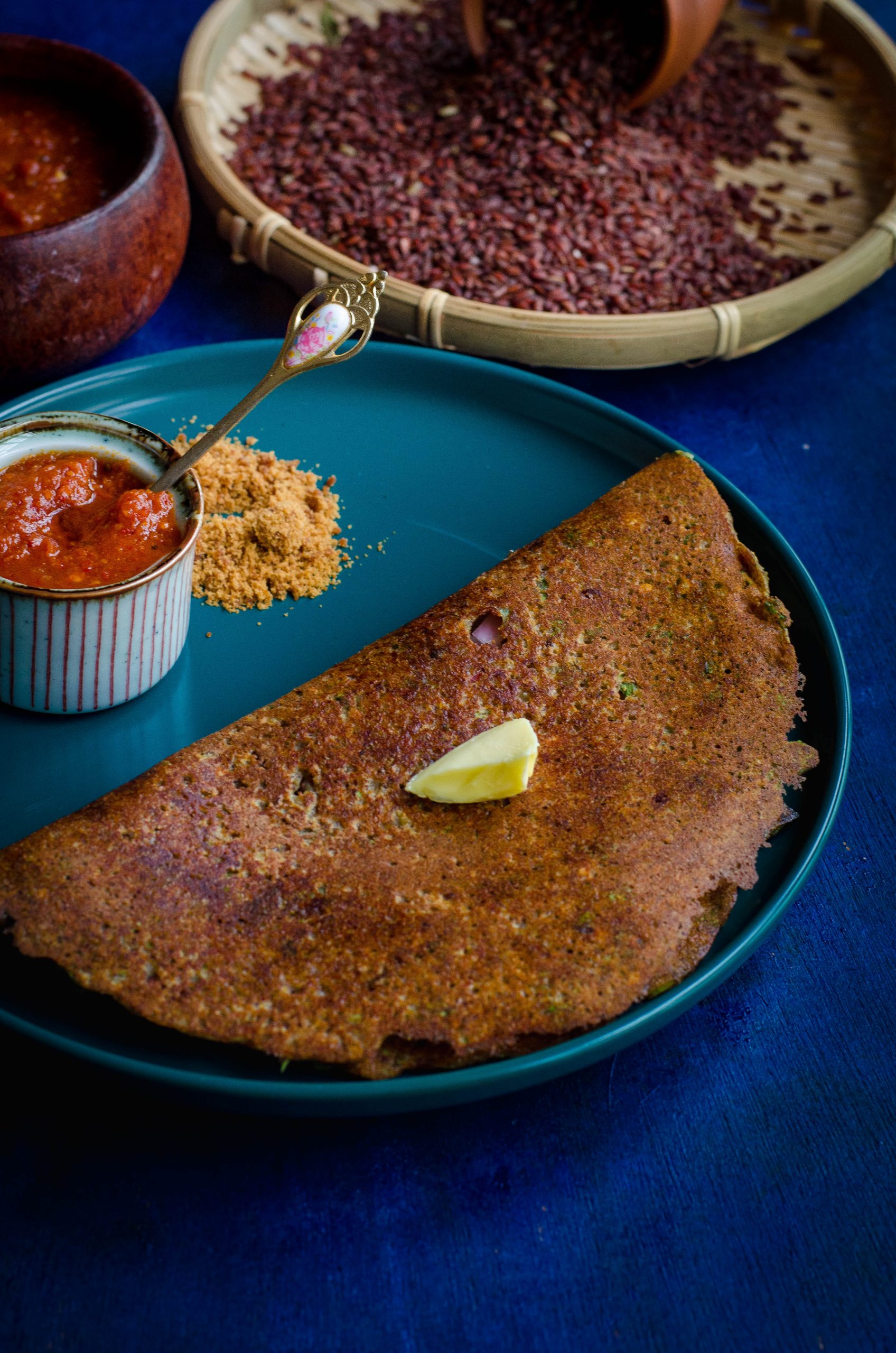 Before we get into the nitty gritty of this post, let me bring you upto speed on this traditional recipe called Adai, may I? Dosa is a well known South Indian staple that has spread its wings far and beyond the Indian subcontinent, agreed?
But.. but.. there is so much more to the South Indian cuisine than Idli and Dosa. And that s why we need to talk about dishes like Adai.
What is Adai?
Adai is a complex carb Indian style Crepes. This is a traditional South Indian tiffin and is so much more than a Dosa in terms of nutrition. It is basically a combination of rice, lentils and spices. These are then soaked and ground to a smooth paste.
And then some more nutrition boost. We add some freshly plucked Moringa leaves( Drumstick leaves) and there you go, we have a wholesome meal rich in carbs, proteins and iron.
I have vivid memories of my MIL plucking a handful of Moringa leaves fresh from the tree during the mornings. And i would instantly know that its Adai for breakfast.
In case you are interested in making Adai the traditional way, then check out our Adai recipe by clicking here- Recipe For Adai
Jump to:
Mapillai Samba Rice
Mapillai Samba is a native variety of rice that is from the Tamil Nadu regions of Southern India. It literally translates to the Bride Groom's Rice. There are some theories around this name but that s for another day.
Whatever the theories, the nutritional benefits of this reddish brown rice is plenty.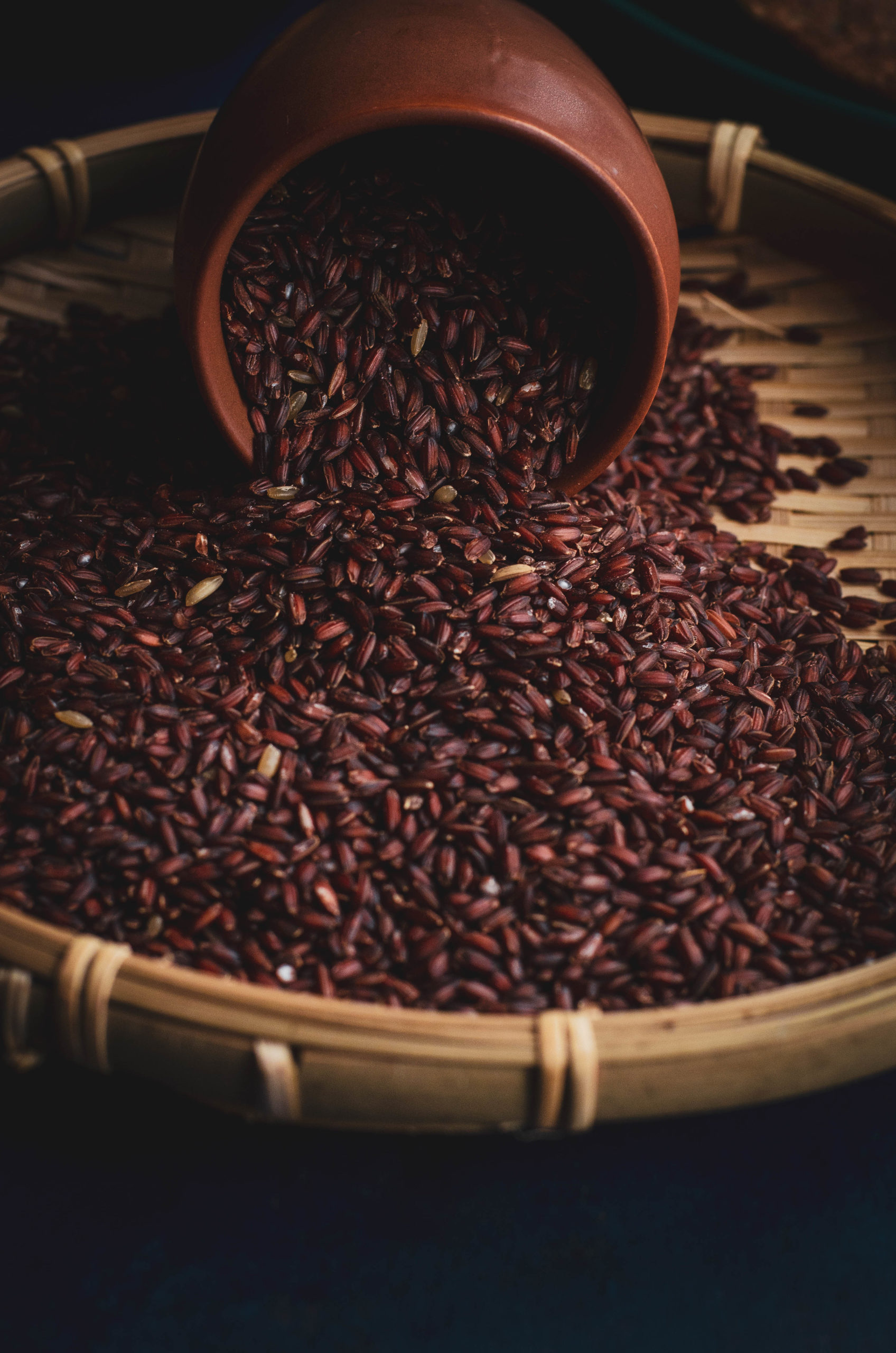 Nutritional Benefits Of Mapillai Samba
This is an indigenous variety of rice that is a powerhouse in terms of fiber. Apart from this, it is also rich in Magnesium and Vitamin B. Unlike white rice that has been stripped bare of all nutrients, this still has its outer husk intact.
This rice is also low GI. And hence, this is diabetic friendly too. This also makes it ideal for people looking to control their carb intake and yet get their carbs too.
You can make a porridge with Mapillai Samba rice for kids too.
Where to buy Mapillai Samba Rice?
In The US– You can buy Mapillai Samba from Amazon if you live in the US.
In Singapore– You can find this Mapillai Samba Arisi on Amazon SG too.
In India– Buy my favorite brand of Mapillai Samba in India by clicking here-
My Favorite Mapillai Samba On Amazon India

Prep Work
The only prep work involved is to wash and soak all the ingredients. Once this is done, everything else is pretty much straightforward.
Ingredients- Substitutes/ Replacements
Rice- We'll use two types of rice- regular Sona Masuri rice and the indigenous Mapillai Samba. I have used both in this recipe because the adai made with just the Samba rice didn't taste great. It was too dry for our taste.
Green Moong Beans– Adds protein and also improves the taste and texture in this Adai.
Garlic– Helps reduce flatulence that is common in all high protein recipes.
Dry Red Chili– Gives a nice spicy taste and flavor to the Adai.
Onions– We are going to add finely chopped onions only after making the adai. This is optional but highly recommended.
Coconut Oil– This Adai tastes best when made with cold pressed coconut oil. However, you may also use any neutral flavored vegetable oil.
Making Mapillai Samba Adai Step By Step
Soaking
Wash the rice and dal thoroughly under running water. The water should run clear.
Once done, soak everything together for 8 hours. Soaking time for this recipe is a bit longer when compared to the regular Dosa varieties. This is because Mapillai Samba takes longer to hydrate. Also, lentils when hydrated for longer, grind quickly and digest easily.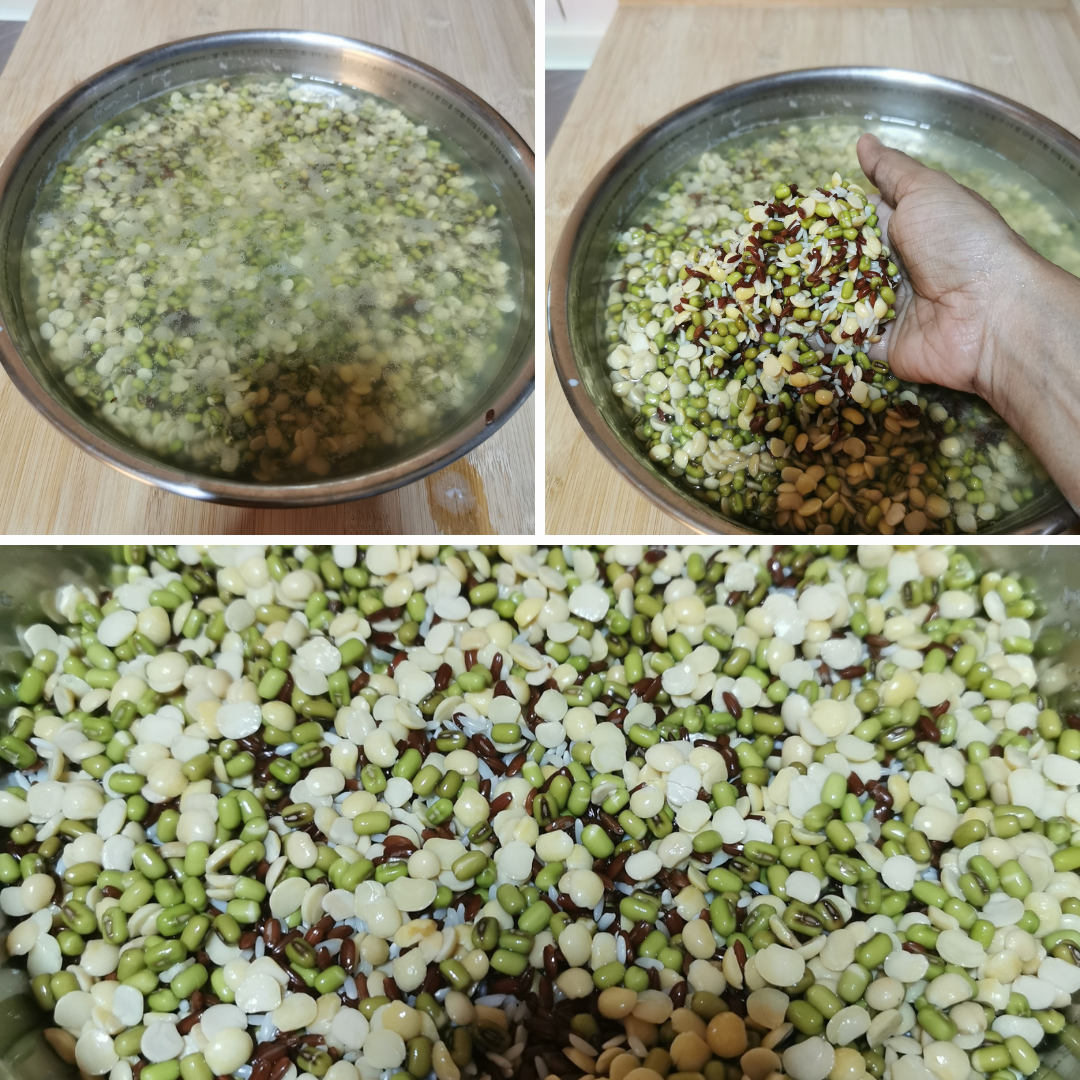 Grinding
When the rice and dal has hydrated well, drain all the water used for soaking.
Divide the soaked mixture into two portions. Add the dry red chili, ginger, garlic and asafoetida along with salt to one portion. Add this to a blender. Pulse this a few times to break down the garlic, chili and ginger to smaller bits.
Now add 3/4 c water and grind to a slightly coarse paste. Transfer to a bowl.
Add the remaining portion of the soaked mixture. Grind to a slightly coarse mixture, adding 3/4 c water. Add this to the same bowl as the previously ground batch.
Mix both the pastes well using a ladle or a whisk.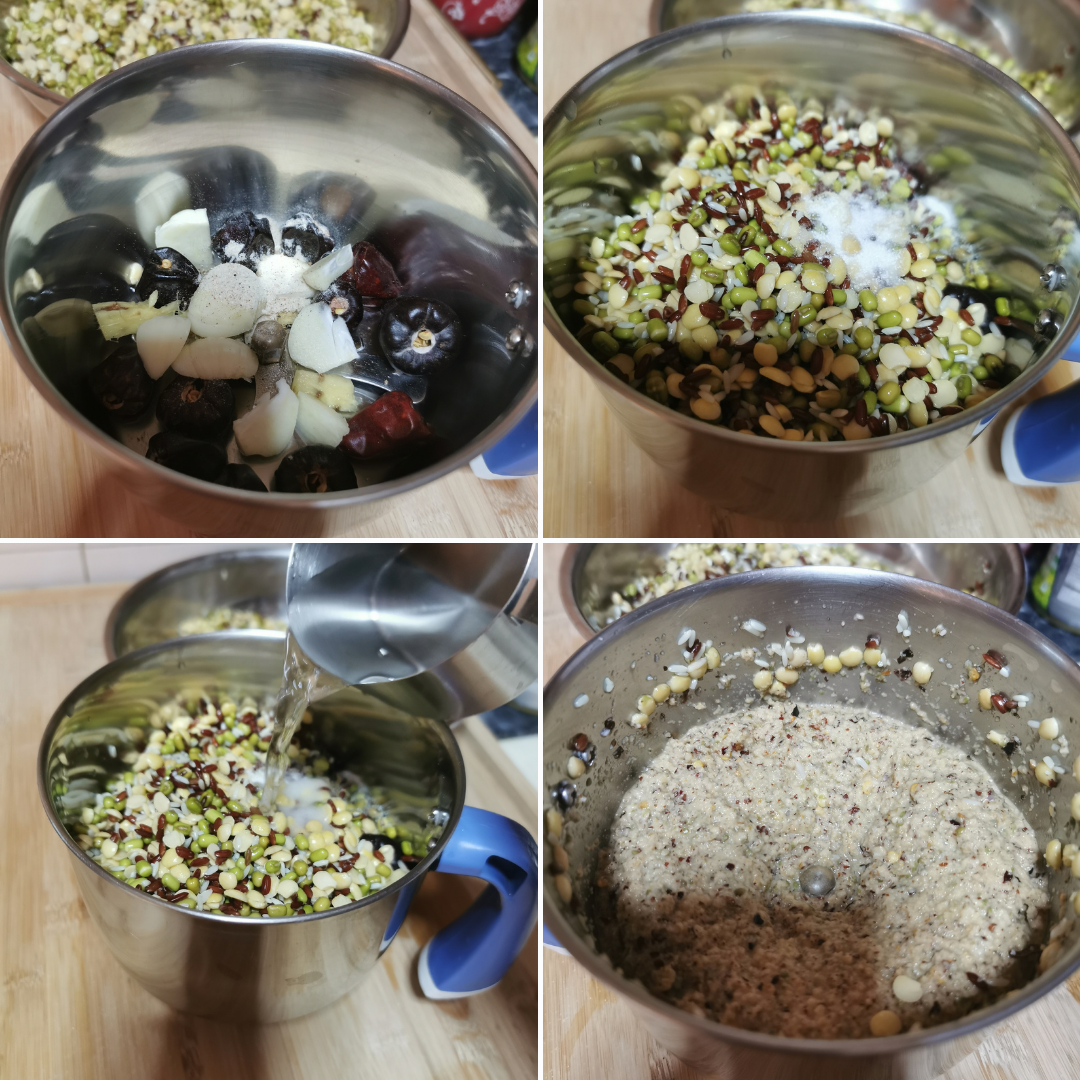 Pro Tip: Divide the soaked rice +spices into two batches for easier grinding.
Note: Add 1/2 c to3/4 c water for every batch of soaked mixture and grind to a paste. This paste shouldn't be too smooth or too coarse. The consistency of the batter should be slightly thicker than regular dosa batter.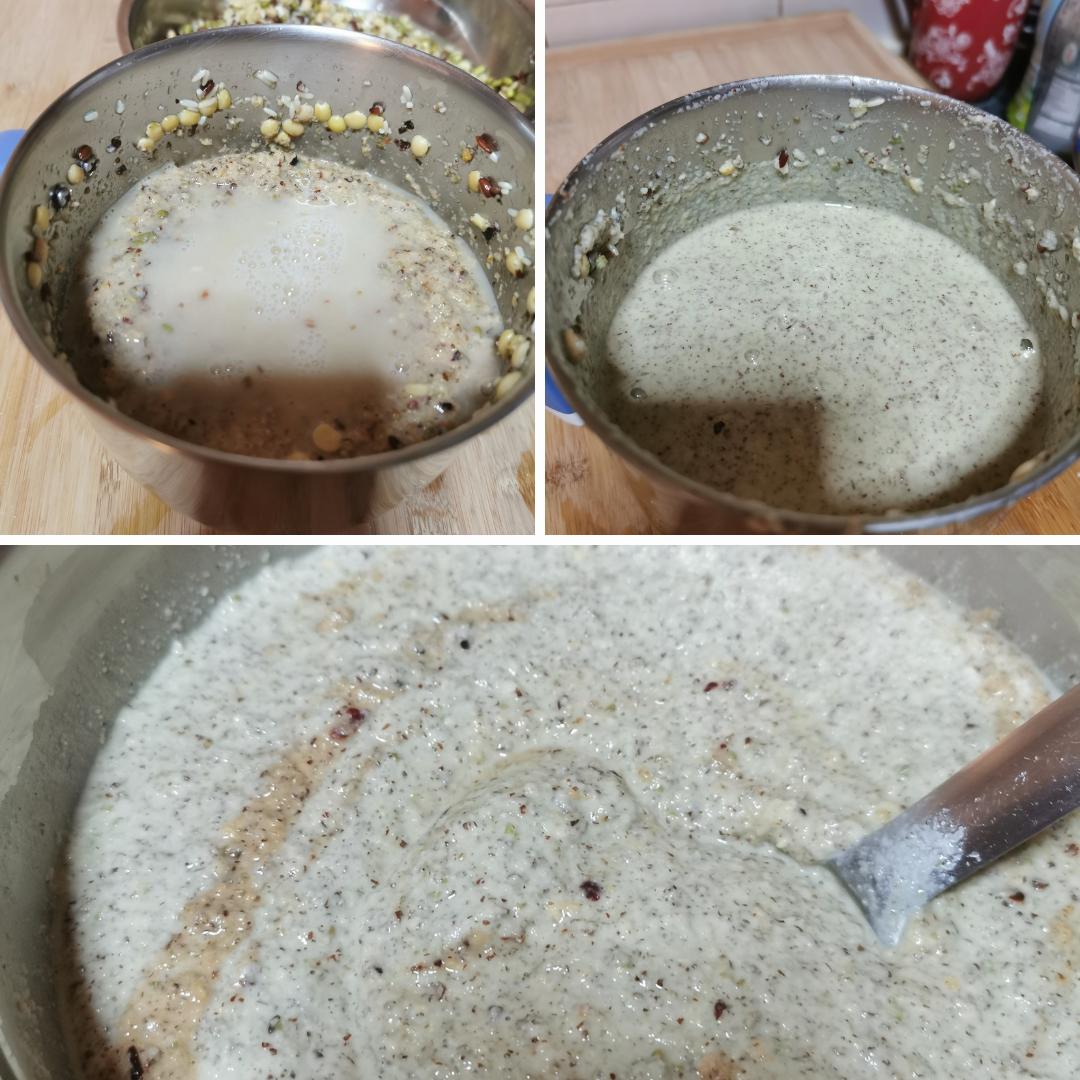 This Mapillai Samba Adai is a no ferment Dosa. This can be made instantly once the batter is ready.
Making the Mapillai Samba Adai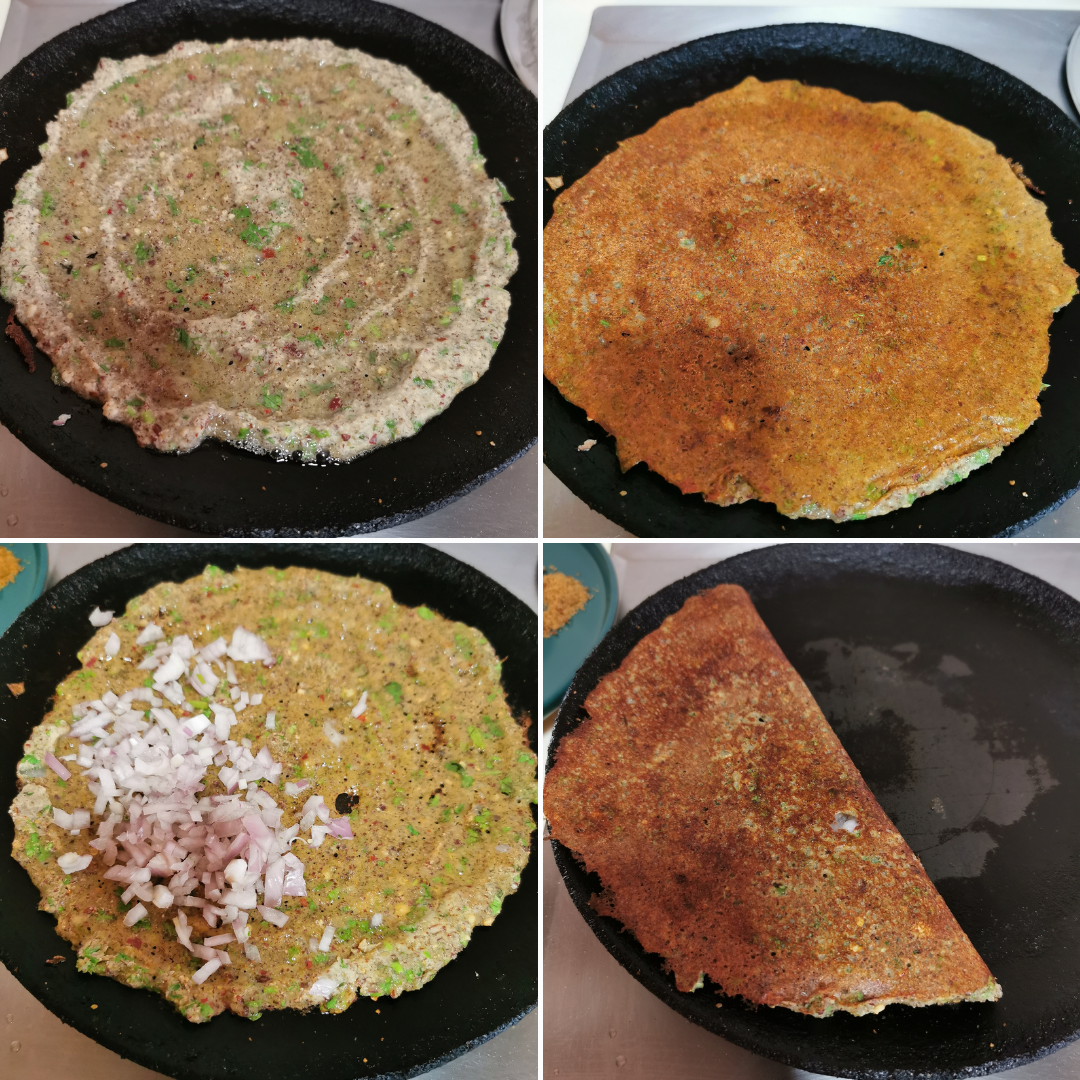 Once you are done grinding the batter, adjust salt if required. You can also add finely chopped cilantro leaves for more flavor.
To make this Adai, heat a cast iron Tawa. The tawa should neither be smoking hot nor cold.
Once the Tawa is hot, spread a ladle of the batter, like how you would do regular dosa batter.
Pro Tip: If you are not able to spread the batter easily, try diluting the batter with 2 to 3 tbsp water and then proceed.
Lower the flame, drizzle some cold pressed coconut oil around the edges. Cook the Adai till you see no raw batter around the edges and the edges are golden and crisp.
We recommend- Cold pressed coconut oil for making this Adai for a fantastic flavor. Try adding different veggies like shredded cabbage, finely chopped banana blossom or spinach for a different taste Adai.
Once done, flip and cook the other side for 30 to 40 secs. When done, flip, sprinkle a handful of finely chopped onions and fold the dosa over.
Serve hot with any chutney of your choice.
Serving Suggestions for Mapillai Samba Adai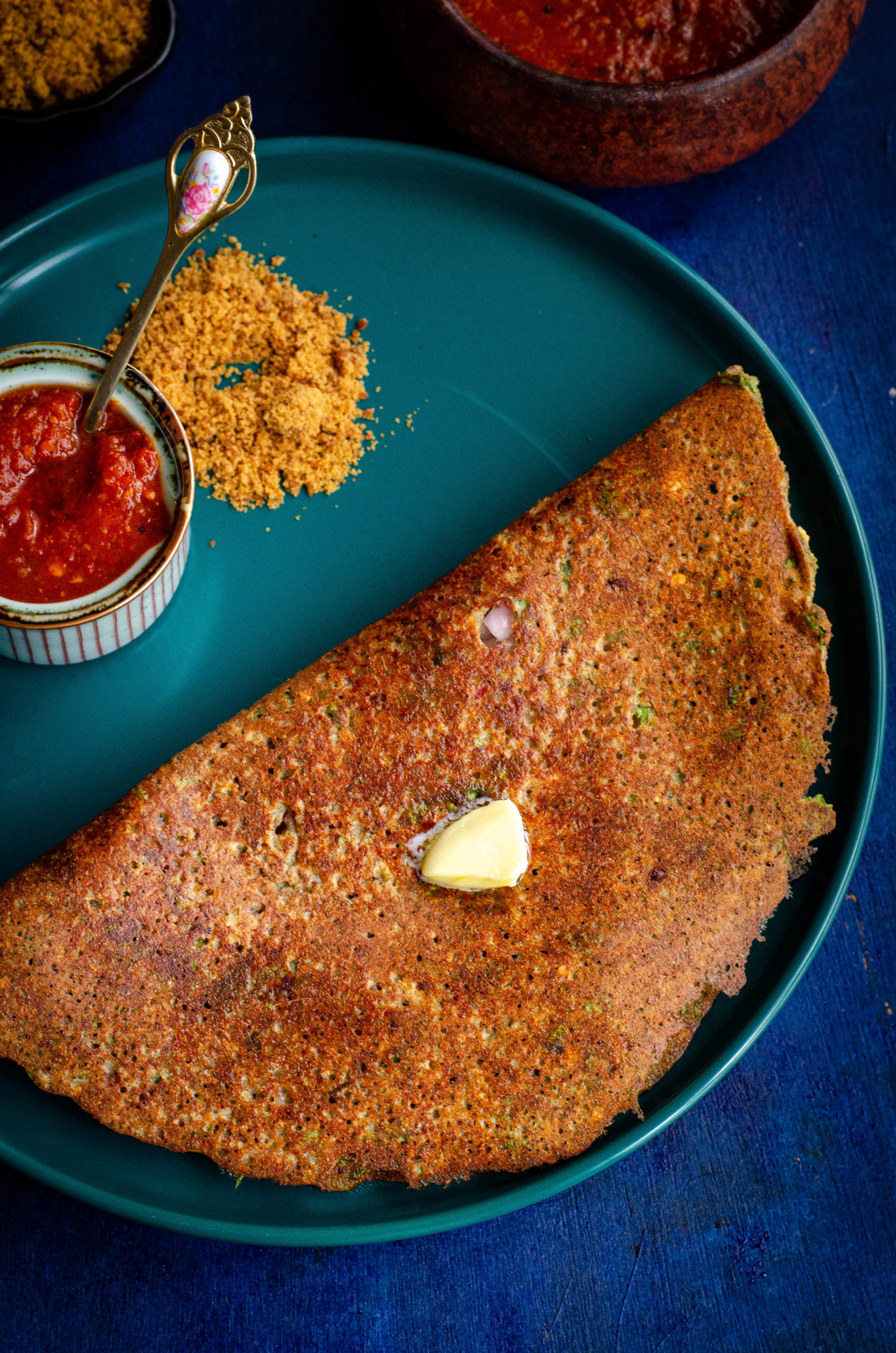 Any type of Adai tastes best with Jaggery, a huge dollop of butter and a tangy Tomato Chutney. 
You can also pair this Mapillai Samba Adai with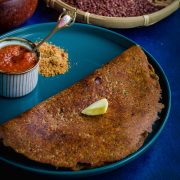 Print Recipe
Mapillai Samba Adai
Mapillai Samba Adai is a high protein no ferment dosa that features the native indigenous rice variety- Mapillai Samba
Ingredients
1

c

Sona Masuri

1

c

Mapillai Samba rice

1/3

c

Green Moong Beans

1/3

c

Toor dal

1/4

c

Channa dal

2

tbsp

Whole white Urad dal

8

dry red chilis

5

cloves

garlic

peeled and chopped roughly

1/2

inch

knob of ginger

peeled and chopped roughly

1/4

tsp

Asafetida

1

c

water

approximately

2

tsp

Salt

or to taste

4

tbsp

finely chopped coriander leaves

4

tbsp

Cold pressed coconut oil

3/4

c

finely chopped onions

for garnish
Instructions
Soaking the ingredients
Wash the rice and dals together under running water for 2 to 3 times.

Add 6 to 7 c water to this and let it soak for 8 hours or overnight.

When soaked, drain all the water used for soaking.
Grinding the batter
Divide the soaked mixture into two portions.

Add the red chili, garlic, ginger, salt and asafoetida to one portion.

Place all this in a blender.

Add 3/4 c water and grind to a slightly smooth paste.

Once ground, transfer this to a mixing bowl.

Now, grind the remaining mixture with another 3/4 c water.

Grind to a slightly coarse paste.

When ground, combine both batches of the ground paste. Mix well using a ladle or whisk.

If you find the batter too thick, dilute the batter with 1/2 c water.

Add the finely chopped coriander leaves. Mix well. Now the batter is ready.
Making the Adai
Add a ladle of the batter and spread to a slightly thick dosa.

Drizzle around 2 tsp coconut oil around the edges.

Cook on low flame till you see no raw batter on the surface.

When cooked, flip and cook the dosa on the other side as well for about 30 to 45 secs.

Once done, flip over and sprinkle 2 to 3 tbsp finely chopped onions over the dosa.

Fold the dosa over and serve hot.
For Instant Pot & Air Fryer Recipes
Instant Pot timings may vary based on your geographic location. Air fryer settings and timings may vary based on the capacity and the model of the Air fryer.
Disclaimer
Nutrition values are provided here as a courtesy and are only a rough guide. Please consult a health care provider if you have any concerns.