Can anything ever live up to a breakfast of soft steaming hot fluffy idlies? I doubt it. But when there are people like Mr.P in the universe who screw up their faces in disgust when some one so much as mentions idlies, then you have to resort to making something else with idlies. And that s the situation at home. So i am usually left with a few idlies after i ve had my share. I m a idli fanatic by the way.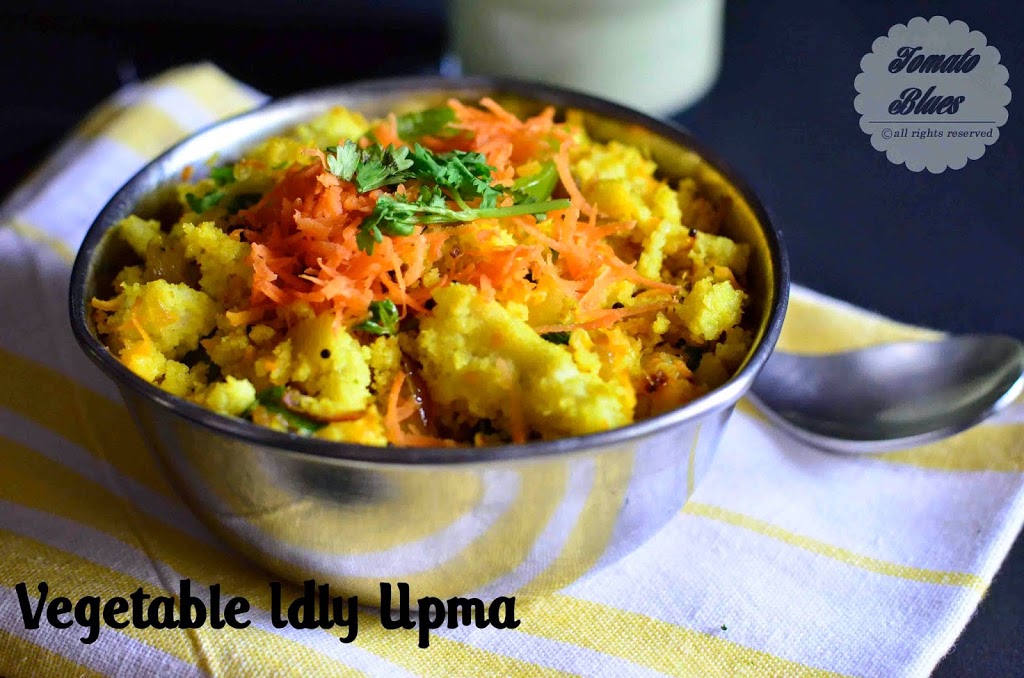 When some cold idlies still soft and yummy stare at me from the bowl, i try and jazz them up in the hope that Mr.P eats it. It works sometimes. But doesnt work mostly. ( Sigh!) Anyway, the story is i make several versions of idli upma, all of which i hope to share on the blog sometime soon. And this version is my favorite version. Its a fabulous way to sneak veggies in, make a colorful platter for kids to gobble up or to beat the 4 o clock cravings. Its also a super breakfast and doesnt require any chutney or sambar. Well if you have some on hand, go ahead and use it up. But you dont require it as a rule. Did i mention the super quick part?
Recipe For Vegetable Idli Upma
( Learn how to make Vegetable Idli Upma, a dish with mixed veggies and scrambled idlies)
Prep Time: 15 mins
Cook Time: 15 mins
Serves 2
Allergy Info: Vegan, Can be made gluten free, Soy free and Nut free
Course: Breakfast, Quick Snack, Dinner
Cuisine: South Indian

Ingredients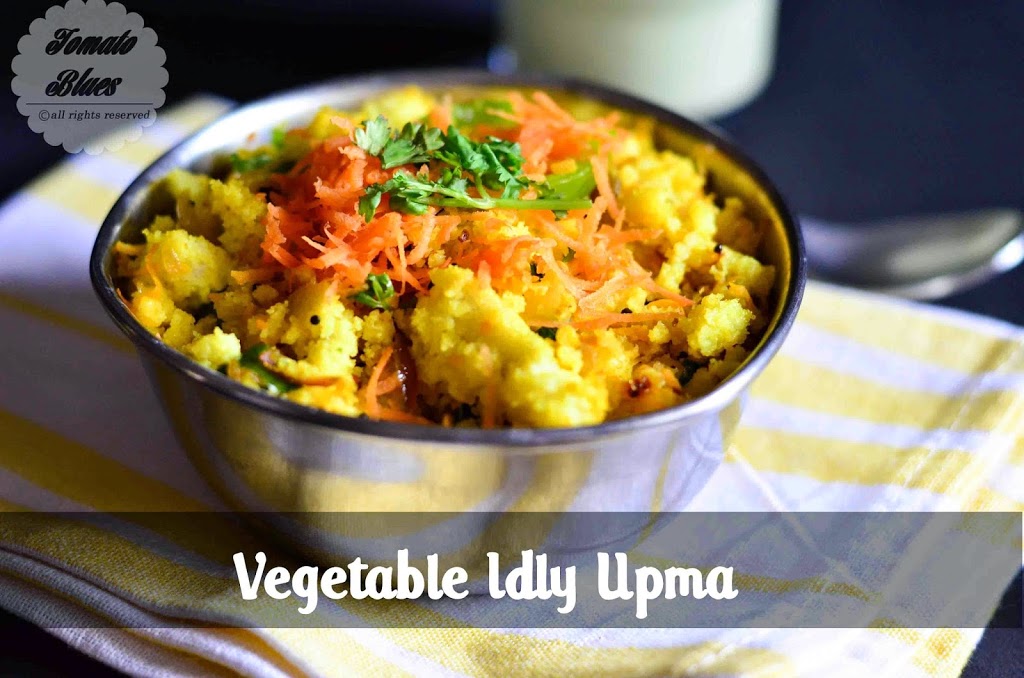 Leftover idlies 8 to 10 scrambled ( click on the bold text for idli recipe)
Onion 2 med sliced thinly
Carrot 2 small peeled and grated
Capsicum 1 chopped finely
Green chilies 4 to 6 slit length wise
Curry leaves 10 to 12
Grated ginger 1 tsp
Turmeric powder 1/2 tsp
Oil 2 tbsp
Mustard seeds 1 tsp
Urad dal 1 tsp
Hing a small pinch ( skip if you want a gluten free version)
Salt to taste
For Garnish
Coriander leaves 2 tbsp
Grated carrot 2 tbsp
Directions
In a pan, heat oil and pop the mustard.
Add urad dal, ginger, curry leaves, hing and green chilies next and wait till dal turns a golden brown.
Now, add turmeric powder along with onions and fry till onions turn translucent.
Next add capsicum and grated carrot and fry till carrots wilt.
At this stage add salt and mix well.
Now, add scrambled idlies and combine thoroughly.
Transfer to individual bowls.
Garnish with coriander leaves and grated carrots.
Serve hot.