HOW TO MAKE KANDA BATATA POHA?
Kanda Batata Poha- An easy vegan breakfast made with rice flakes, potatoes and peas.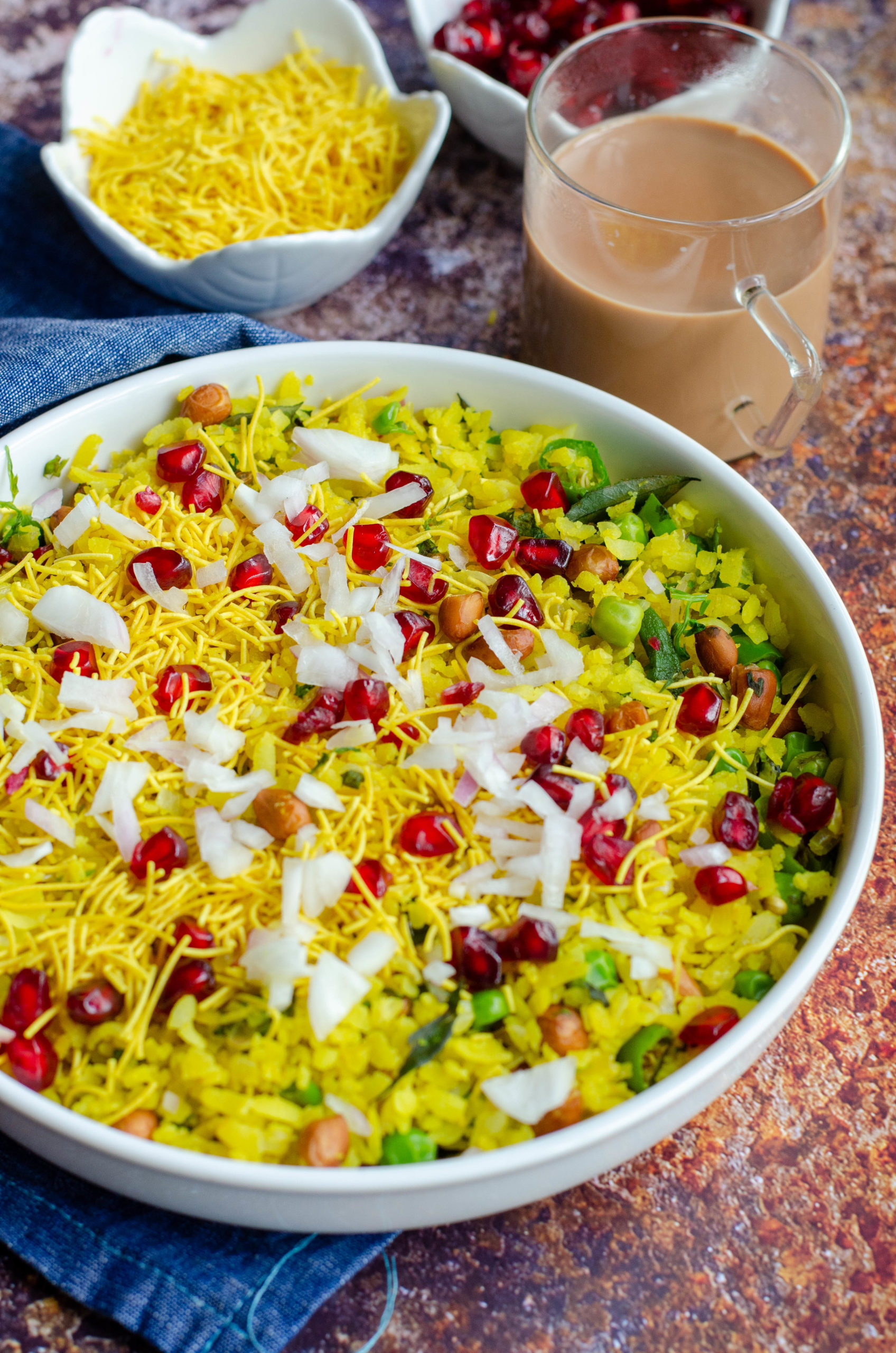 Jump to:
What is Kanda Batata Poha?
Poha, in Hindi means rice flakes. Rice flakes are also called as parched rice in some places. Poha is a fantastic healthy breakfast option and you can make so many different versions of it,
But the most popular among the versions of Poha is this lip-smacking Kanda Batata Poha.Kanda Batata Poha is a typical Maharashtrian dish that is a staple in many Maharashtrian households.
This comes together in a pinch and I resort to this hearty breakfast with a cup of chai on lazy weekends.
Kanda in Hindi means onions and Batata means Potatoes. This Kanda Batata Poha calls for basic pantry ingredients but onions and potatoes are an absolute must.
Which Poha to use?
I have used thin Poha to make this recipe. In fact, the thin Poha is my go to choice for all Poha based dishes. You can also use medium rice flakes to make this. I ll explain the nitty gritty in this down in my recipe notes and FAQs sections.
Variations
You can use thin red rice poha to make this recipe too. That will be a healthier version also.
Serving Suggestions
Serve this delicious breakfast with a cup of masala chai or even a glass of this carrot milk to make it a complete brunch meal.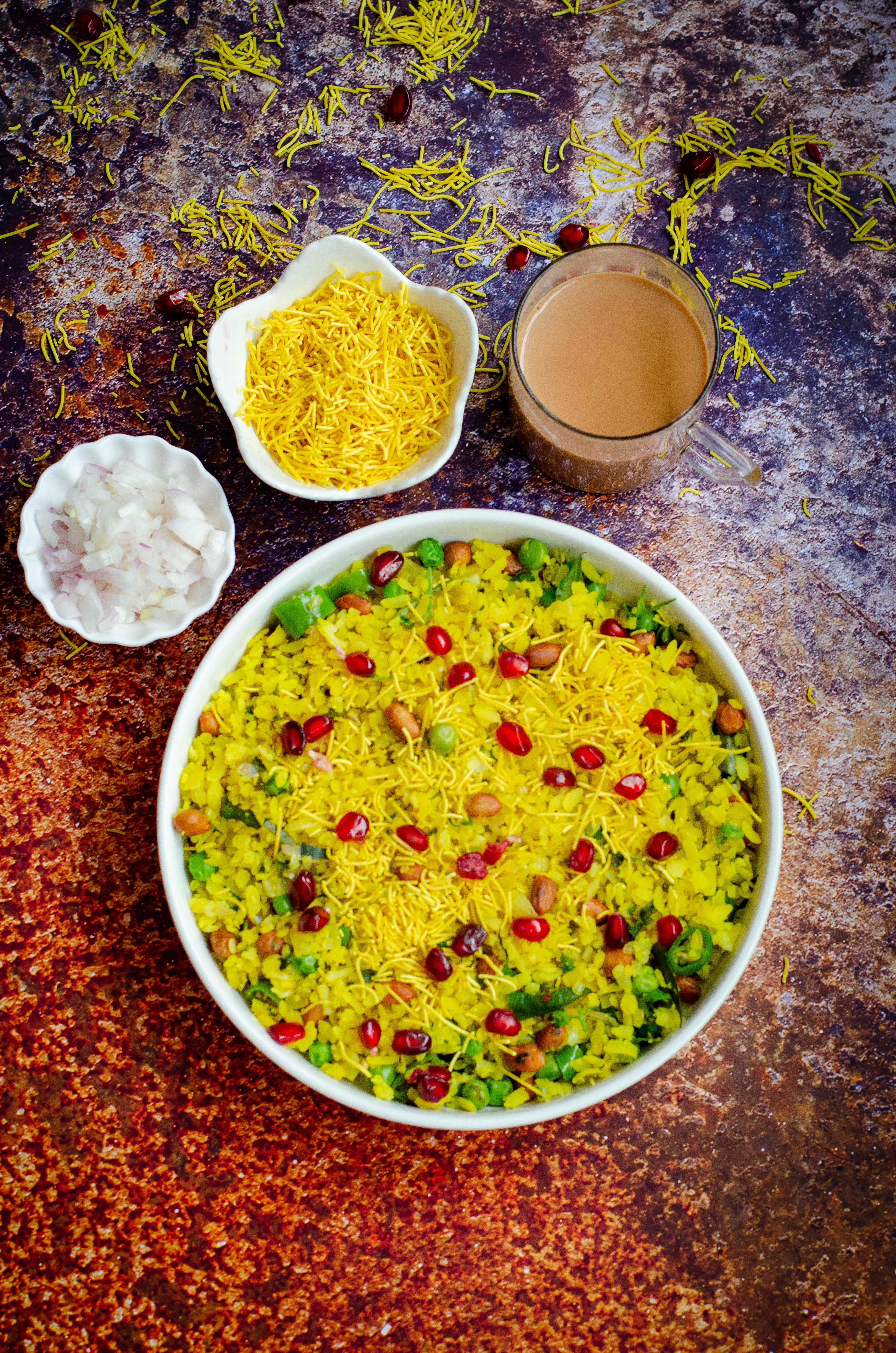 Recipe Notes
Avoid soaking the Poha. This will make sure that the Poha does not become soggy.
Frying the peanuts and draining them before making the Poha will give you crunchy evenly fried peanuts. This adds a nice texture to the Poha.
Thin Poha vs Thick Poha
Like i mentioned earlier, thin Poha is my preference for any Poha recipe. When using thin poha, i don't soak the rice flakes. I place the poha in a colander, just wash them two times under running water and let it stand till it s ready to be added to the pan.
Thick Poha, on the other hand, requires soaking. If you are a beginner, kindly avoid using this variety. But if this is all that you have, then wash the poha two times under running water. Drain all the water used for washing. For every cup of Poha you add, add 1/4 c water, mix well and let it soak for 5 mins.
Prep Work
To begin work on Kanda Batata Poha, first prep the veggies.
Then, wash the poha and set aside. ( See recipe notes)
When the Poha is getting ready, begin with the peanuts and then go on to sauteeing the veggies.
Kanda Batata Poha- FAQs
Why is my Poha dry?
Your Poha will become dry if you there is not enough moisture in the Poha or if you cook it for too long. Not only will it become dry but also brittle. The Poha will also become dry if you haven't washed it well and drained it properly. This is in case of thin poha flakes variety.
My Poha is dry. What can i do?
If your Poha is dry, transfer it to a pan. Sprinkle about 2 to 3 tbsp water and mix well. Cook covered on low flame for 2 to 3 mins. Your Poha will become soft and fluffy.
Why is my Poha soggy?
If you have soaked the poha for a longer time than 10 mins, then there is a very good chance that the Poha becomes soggy.
Can Kanda Batata Poha be made nut free and gluten free?
Yes! Skip the peanuts and Hing ( asafetida) for a nut free and gluten free Kanda Batata Poha.
How long should i soak Poha for ?
If you are using thin Poha flakes, then no soaking is required. It is enough if you just wash it. The moisture that remains after washing thin poha is sufficient to make it fluffy and soft.If you are using medium thick rice flakes, then soak it for just 2 to 3 mins. If you are using thick poha flakes, then wash, drain and soak the Poha for 5 mins. I strongly recommend using a kitchen timer for this purpose.
Why is salt and sugar added to the poha?
The typical Maharashtrian Poha is spicy with a slight hint of sweet. Hence, we add green chilis, salt, sugar and lemon juice too to add some zing.
Poha Recipes For You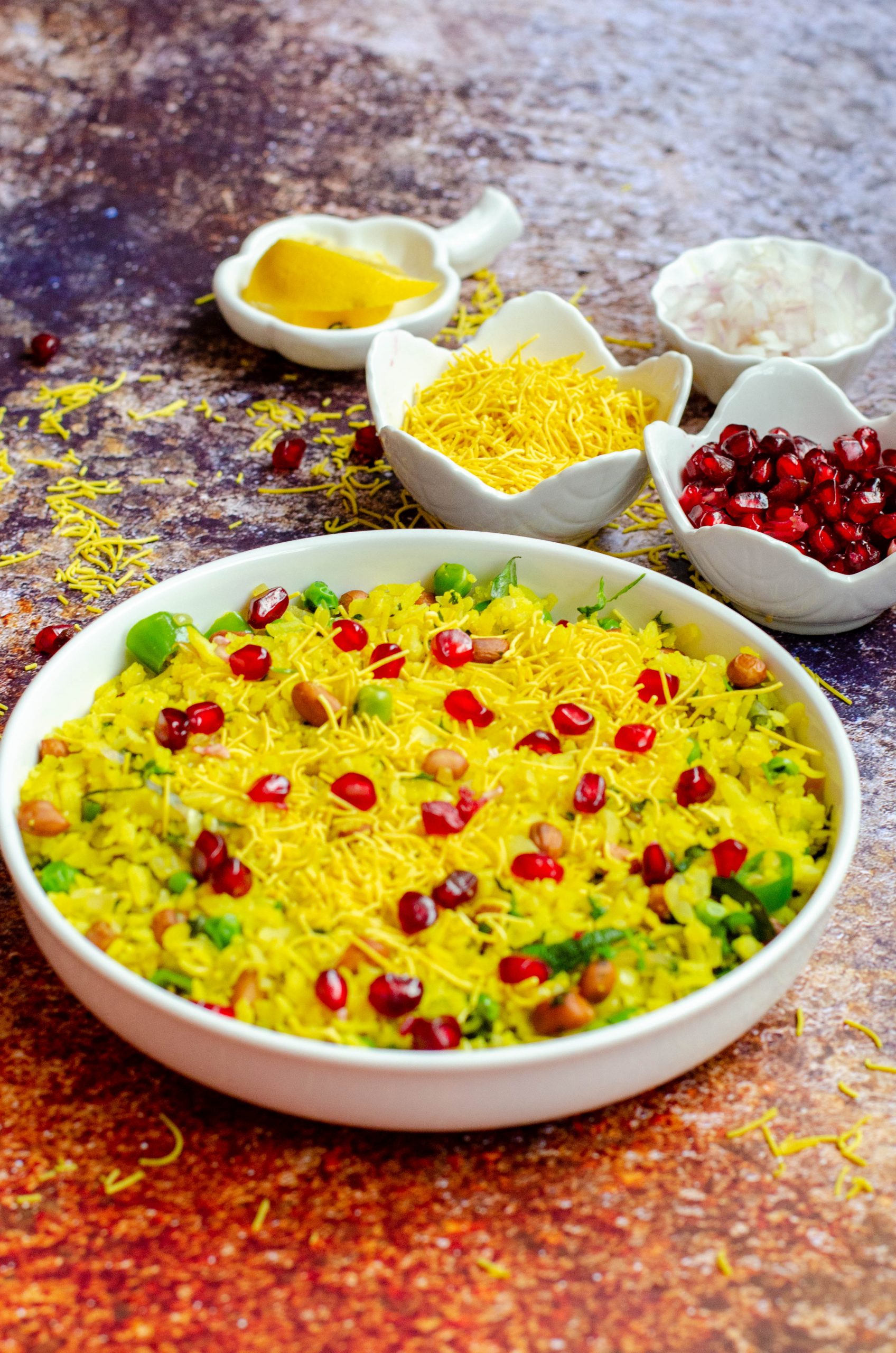 In case you have any questions regarding this recipe, leave a comment and I'll respond at the earliest possible. If you tried this recipe and enjoyed it, click a picture and share it on Instagram by tagging us @tomatoblues.
Follow me on Instagram or Facebook for regular cooking updates and short videos. Follow me on Pinterest for delicious content. Tried our Kanda Batata Poha? Then please rate this recipe and tell us why you loved our recipe!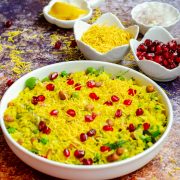 Print Recipe
Kanda Batata Poha
( Parched rice with onions and potatoes served with a hint of lemon)
Ingredients
2

cups

Parched rice 2 c preferably the thin variety

3/4

c

Finely chopped onions

3/4

c

Peeled and cubed potatoes

6

Green chilies sliced thinly

10

Curry leaves

4

tbsp

Peanuts

2

tbsp

Oil

1

tsp

Mustard seeds

1

tsp

Coriander seeds

1

tsp

Fennel seeds

1/4

tsp

Hing a small pinch

3/4

tsp

Turmeric

1

tsp

Sugar

2.5

tsp

Salt or to taste

1.5

tbsp

lemon juice
To Serve
1/4

c

Finely chopped onions

2

tbsp

Sev

optional

3

tbsp

Pomegranate pearls

2

tbsp

finely chopped coriander leaves
Instructions
Wash the parched rice under running water and set aside.

Heat a pan with oil.

Add the peanuts and saute till golden brown. Remove with a slotted spoon and drain on a kitchen towel.

In the same pan, pop the mustard and add the coriander seeds, fennel seeds, hing, turmeric, curry leaves and green chilies.

Saute till green chilies turn white.

Add the chopped onions and saute till golden brown.

Add the potatoes next and saute till fork tender.

Now, add the salt and sugar and mix well.

Sprinkle about 2 tbsp water, mix well and cook covered on low flame till potatoes are fork tender. This takes about 4 to 5 mins.

Make sure, you open the lid every now and then and keep stirring to avoid the potatoes burning or sticking to the bottom

Add the parched rice now and mix thoroughly.

Sprinkle 1 tbsp of water and add the peanuts to this. Mix again.

Cook further for 30 secs.

Switch off flame and add lemon juice and coriander leaves.

Mix well.

Serve hot topped with onions, pomegranate pearls and sev.
Notes
Please note that the calorie values mentioned here are suggested out of courtesy and as a rough guideline.
I m not a nutrition expert to provide exact and accurate information with respect to nutrition values.
For Instant Pot & Air Fryer Recipes
Instant Pot timings may vary based on your geographic location. Air fryer settings and timings may vary based on the capacity and the model of the Air fryer.
Disclaimer
Nutrition values are provided here as a courtesy and are only a rough guide. Please consult a health care provider if you have any concerns.
P.S. This post was originally published in June 2013. This has now been updated with new pictures and recipe card.