How To Make Coriander Poha?
CORIANDER POHA- AVAL OR POHA WITH CORIANDER AND OTHER HERBS. BREAKFAST RECIPES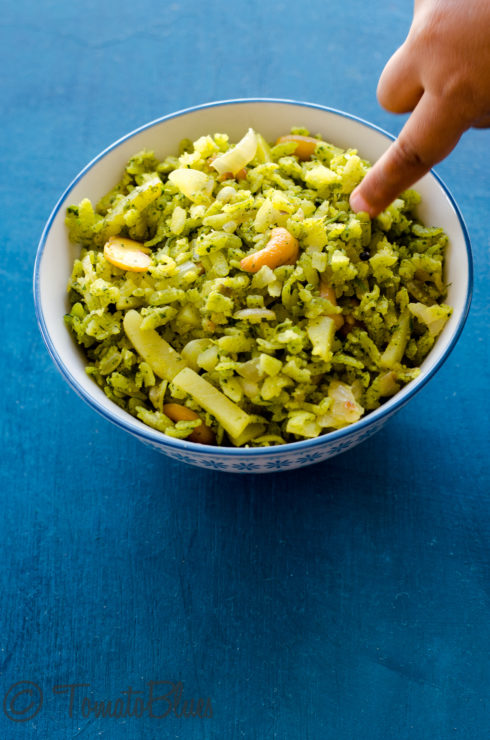 I love poha. Period. I dont have anything better to say about poha. But then, if you want to ask why poha of everything, Sorry, but you are so not in my club.The most versatile ingredient in a south India kitchen is parched rice. After the regular rice, of course. Poha floats my boat on all those days when i m in a hurry or on my whirl wind mode, which is most of the days.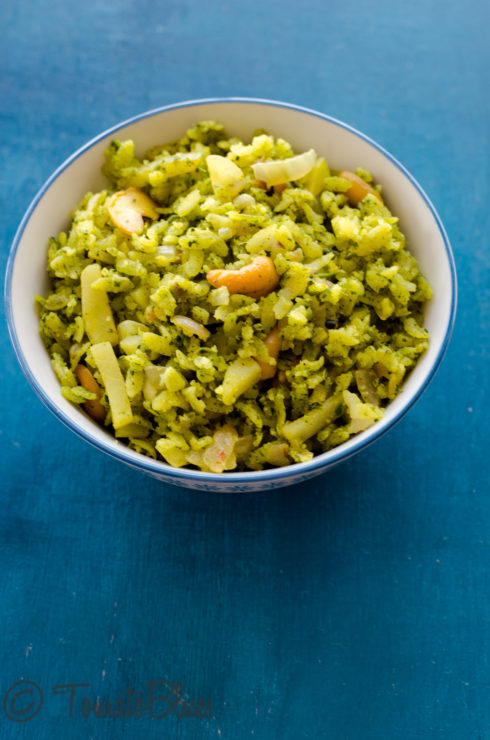 You must bear in mind that Mr.P leaves exactly when the clock strikes half past 8. So not much time do we have, do we? No.Not at all. Sigh… but a woman has to do what she has to do and one of those things happen to be making breakfast before 8.25 in the morning, brushing her teeth and opening the door to a million people on the planet including a puny maid. Ignore the puny part. And who saves my face on all such days? Its either the dosa batter or the humble poha. There is not a single moment in my wifey life that i have failed to thank Divine Providence for having bestowed on mankind, the brains to invent both.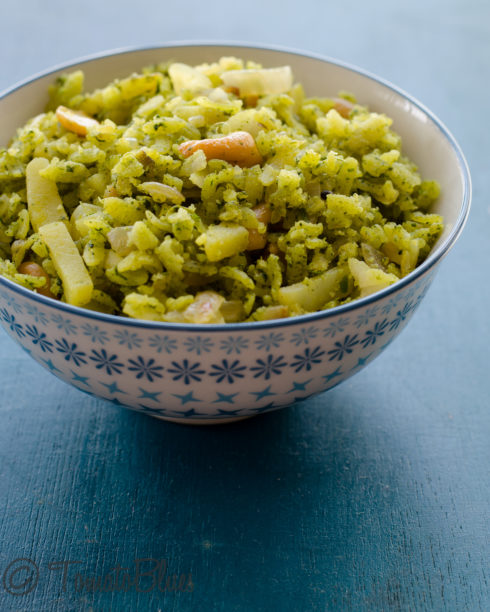 While Mr.P does like the traditional 
Poha
 that i make, i am a person who doesnt settle for less. Recently, i started experimenting with parched rice and i reached 
Gojju Avalakki
 and only a few days later, i landed up making this deliciously flavored coriander poha. Well, it takes a lil more time than  the regular poha  like say 2 more mins, so the deadline extends to 8.27 but its a treat nevertheless to the taste buds. Take your breakfast to a notch high with this earthy coriander poha recipe.
Recipe For Coriander Poha
( Parched/Flattened rice flavored with coriander)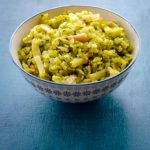 Print Recipe
Coriander Poha
Coriander Poha- a simple yet flavor packed dish made with flattened or parched rice aka poha aka aval and fresh coriander. Vegan. GF.
Ingredients
Poha or Flattened Rice or Parched Rice 2 cups

Onion 1 large chopped finely

Potato 1 medium peeled and cubed

Curry leaves a sprig

Salt to taste

Mustard seeds 1 tsp

Urad dal 1 tsp

Oil 2 tbsp

To Grind To A Paste:

Coriander leaves a small bunch

Green chilies 4 to 5

Curry leaves 1

Lemon juice 1 tbsp
Instructions
Soak the poha for about 5 mins in water enough to cover it after rinsing it thoroughly.

In case you are using the thin variety, all you have to do is just wash it thoroughly under running water and set aside for 5 mins. If you are using the thicker ones, then soak the poha for 5 mins in 1 cup of water. After 5 mins, drain the water and set aside.

Now, grind together the coriander, green chilies, curry leaf and lemon juice adding little water to a fine paste.

Use your coffee grinder for this and you will be done quickly. But remember little water are the operative words here. You add too much water and you will have a soggy poha.

Now heat oil in a pan.

Add the mustard and pop them. Once popped, add the urad dal.

Once the dal turns a light brown, add the onions and saute them till light brown.

Now toss in the potatoes and cook till tender.

Next, add in the soaked poha, salt and ground paste and mix well.

Cook closed on low flame for 2 to 3 mins.

Once done, serve hot with curd or sev and onions.
For Instant Pot & Air Fryer Recipes
Instant Pot timings may vary based on your geographic location. Air fryer settings and timings may vary based on the capacity and the model of the Air fryer.
Disclaimer
Nutrition values are provided here as a courtesy and are only a rough guide. Please consult a health care provider if you have any concerns.