Ok. Gojju Avalakkai does not feature in the kitchens that belong to the forever and mysteriously extended clan of Lakshmanans and Rajagopals. In case you are wondering who the both are, the first is my marital home and the second is my maternal home. Gojju Avalakki, though relished by Amma and me alike, is not even contemplated in my house. I can bet that the reason should probably be that Appa is not a fan of this or that this never made an appearance during Appa s childhood. The thumb rule in my house being make only what got made in Appa s childhood house, hereinafter called the Periya Veedu, i was used to eating only rava upma and the normal poha at my house. That is until i went to college. Then in college, my palette grew as long as the Great Wall of China and i had the fortune to eat so many good things which was conjured at a close friend s house. That happens to be the super Suma aunty who is another wonder woman like my amma. They both work like a clockwork, they both cook like super chefs and they both find the time to swap books and shop with their daughters. But most importantly, they are tech savvy and fashionable and hence understand their daughters' innate need to own a smart phone and buy a Levis jeans. That said and done, while it was crispy dosas and huli palya that is amma s forte, Suma aunty s thing was this awesome bisibele bath and then this gojju avalakki. Obviously in college, my friend and i dint bother to pick up a spoon unless it was meant for eating. But well, a wedding, a marriage and a husband can change so many things. I learnt cooking as you all know and i learnt how to make gojju avalakki too.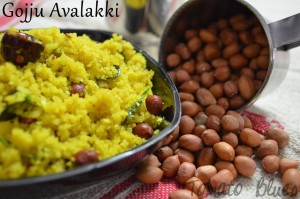 Gojju Avalakki is nothing but flattened rice mixed with a tangy mixture of spice powders and seasoned with crunchy peanuts and curry leaves. Makes a brilliant after school snack, a quick breakfast and even a light dinner. And its super duper easy to whip up. I hope you all give it a shot.What s more, there s no chopping involved. Woot..woot.
Recipe For Gojju Avalakki
(Flattened Rice flavored in a tangy sauce and seasoned.)
Prep Time: Under 10 mins
Cook Time: Under 5 mins
Serves 2 to 3
What You Need?
Flattened rice or poha or aval 1.5 c
Tamarind paste 1 tbsp
Sambar powder 2 tsp
Turmeric powder 1/2 tsp
Jaggery grated 1 tbsp
Peanuts a fistful
Mustard seeds 1 tsp
Urad dal or black gram 1 tsp
Channa dal or bengal gram 1 tsp
Curry leaves a sprig
Hing a large pinch
Dry red chilies 5 to 6
Oil 2 tbsp
Salt to taste
Coriander leaves chopped 2 tbsp
Grated fresh coconut 2 tbsp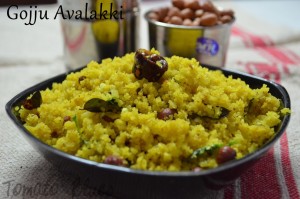 How To Make It?
Coarsely powder the flattened rice in a blender for not more than 30 secs. Your powder must resemble moriyo or semolina.
Once done, wash the powder well under running water and set aside.
In a small mixing bowl, combine the turmeric, sambar powder, tamarind paste, jaggery and salt with 1/8 cup of water and mix well.
Add this mixture to the washed flattened rice and mix well.
Let this mixture rest for 5 to 7 mins
Now, heat oil in a pan and pop the mustard.
Add the dals, curry leaves and the peanuts next along with the hing.
Once the peanuts and the dals turn a light golden brown, switch off the flame.
Add the flattened rice to this peanut mixture and combine well.
Check for seasoning and adjust if required.
Garnish with coconut and coriander leaves.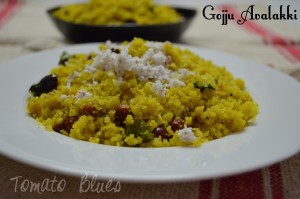 Serve hot with a cup of fresh curds. And thank you all for being there for me and liking Tomato Blues on Face Book. Its 250 likes today and i m truly overwhelmed. Thank you all a million.