Chana Ghashi is a simple, hearty and wholesome Konkani style Chickpea curry. Like any Konkani recipe, this vegan chickpea curry relies on fresh grated coconut to bring out beautifully nutty flavors and aroma. This gluten-free protein-rich curry pairs well with plain steamed rice and Rotis too.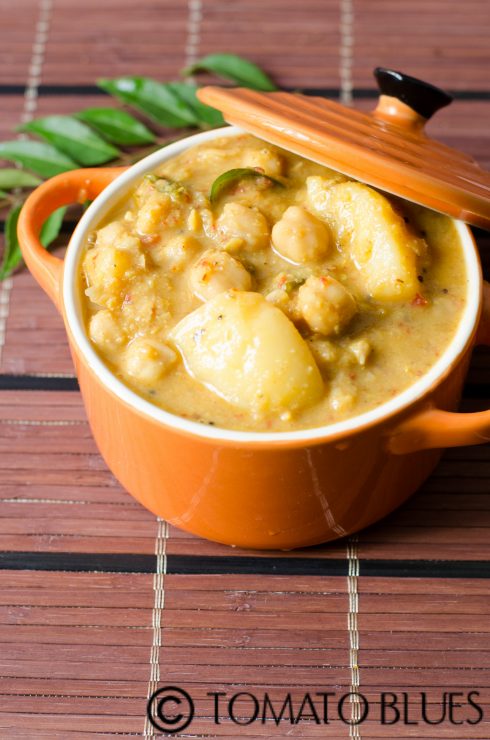 Chana Ghashi is a style of cooking chickpeas that comes from the Konkani cuisine. For the uninitiated, Konkani cuisine hails from the Mangalore and Goa regions in Karnataka.
Their cooking style is similar to that of Kerala where copious amounts of coconut and its derivatives are used. Most popular Konkani recipes use meat in them, the most common being fish because of its easy availability.
But this Chane Ghashi is a lip smacking vegetarian curry that does not even use onion and garlic. Yet, it is a beautiful blend of fresh coconut and earthy cumin flavors which is accentuated by the tangy tamarind.
The first time i read this recipe in Mrs. Chandra Padmanabhan's Southern Flavors, i was really not keen to make it. Lets just say, i was ignorant.
But a while back, when i was browsing through the same book for different curry recipes, i reread the recipe for Chane Ghashi and i immediately knew that this would be the ideal recipe for lunch next day.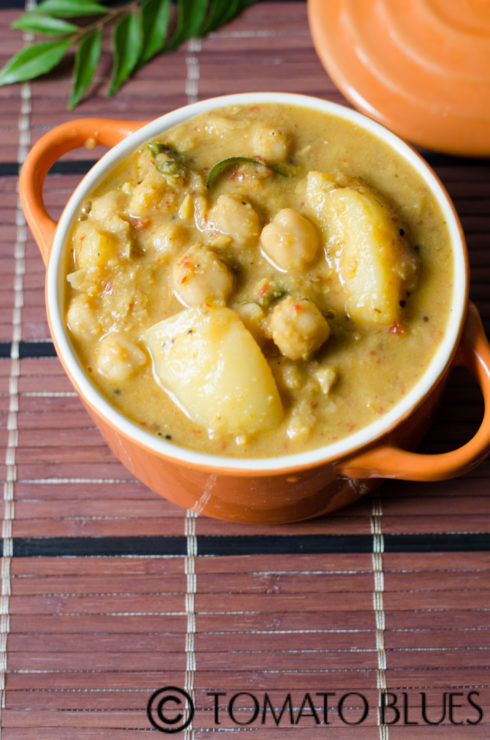 This Ghashi combines potatoes and chickpeas which are then simmered off in a freshly ground spice paste. The curry is then rounded off with a simple tempering that uses Indian pantry staples.
Even though i m not a huge spuds fan, i love the way they give body to a recipe and also absorb flavors easily. I would say this chickpea spuds combination is a winner in terms of nutrition and taste.
You can make this chana ghashi in fifteen minutes if you have a can of garbanzo ready. You can always omit the potato to make this a diabetic friendly dish.
And i must admit, chana ghashi is our current favorite curry that we eat with everything from poori to rice.
Chana Ghashi or Chana Gassi
This popular Mangalorean curry goes by several names. While some call it Chane Ghashi, some also call this as Chana Gassi.
Whatever be the way you want to call it, this is an ideal side dish that you can make during the Mahalaya Paksham or the Karthik Maas times when you need to go on a No onion No Garlic diet.
Mahalaya Pakhsam
Mahalaya Paksham , in India is the time during which prayers and ceremonies are conducted for our ancestors. This lasts for a fortnight. And as a rule, we do not tend to consume onion and garlic during this time.
Potatoes
You can use Yukon gold or Russet potatoes to make this delicious vegan Gassi. These kinds lend a great body and flavor to this recipe.
If you want to pretty up your Ghashi, then feel free to use boiled and peeled baby potatoes in place of the regular ones.
Coconut
Fresh grated coconut works best for Channa Ghashi. But you can also use frozen fresh coconut after thawing to make this curry.
Chickpeas
We can use both black and white chickpeas to make this Chana Gassi. You can also use canned garbanzo beans instead of using hydrated chickpeas or garbanzo beans.
If you are using canned garbanzo beans to make this curry, then skip pressure cooking the beans. Also, drain the liquid fully from the beans before adding them to the curry.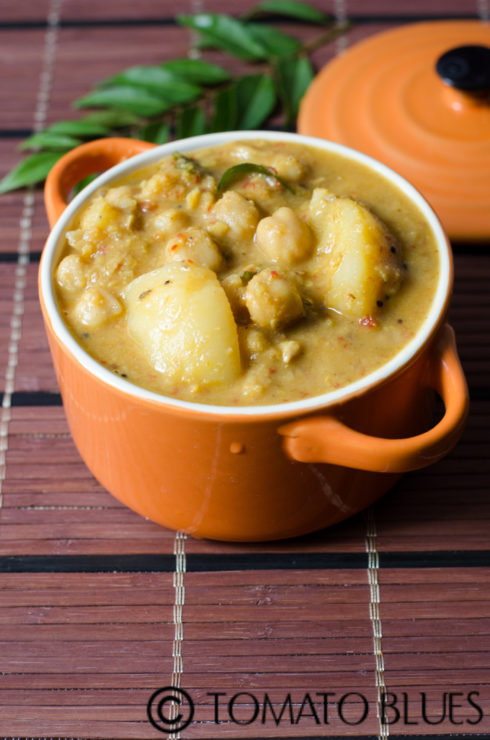 Follow me on Instagram or Facebook for regular cooking updates and short videos. Follow me on Pinterest for delicious content. Tried our Chana Ghashi? Loved it? Then please rate this recipe and leave a comment.
In case you have any questions regarding this recipe, leave a comment and i ll respond at the earliest possible. If you tried this recipe and enjoyed it, click a picture and share it on instagram by tagging us @tomatoblues.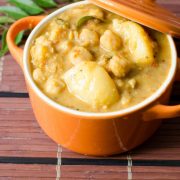 Print Recipe
Chana Ghashi Recipe- Konkani Chickpea Curry
Chane Ghashi- A mild chickpeas and potato curry cooked in a freshly ground coconut and spice paste. Tastes great with rice, roti and poori
Ingredients
Chickpeas/ Garbanzo 3/4 c

Russet Potatoes 2 medium peeled and quartered

Coconut oil 1 tbsp

Turmeric powder 1 tsp

Freshly grated coconut 4 tbsp

Dry red chili 3 to 4

Cumin seeds 1 tsp

Tamarind small marble size

Mustard seeds 1 tsp

Salt to taste

Curry leaves 2 sprigs

Vegetable oil 2 tsp
Instructions
Soak chickpeas overnight in 2 cups of water,

Next morning, drain and pressure cook chickpeas with 2 cups of water and salt until done.

Simultaneously, heat a pan with water.

Add the potatoes and boil till fork tender.

Drain water and set aside.

Once the chickpeas are done, set them aside along with the cooked water if any.

In a pan, add vegetable oil and fry the red chilies.

Remove and let cool.

In the same pan, fry tamarind and grated coconut until coconut begins to brown. Be careful while you do this as coconut burns quickly. This is best done on low flame.

Remove and let cool

Once cool, combine coconut, tamarind, red chilies and cumin seeds along with 1/2 c of water and blend to a smooth paste in a blender. Set aside.

Heat a pan and add the potatoes and chickpeas along with the cooked water, turmeric powder , 1 sprig of curry leaves and salt.

In case you do not have enough water, add about 1/2 c of water.

Simmer for 5 mins on medium flame.

Now add the cooked paste and mix well.

Continue to simmer for about 5 mins.

Once the gravy has thickened, switch off flame.

Heat a pan with 1 tbsp coconut oil.

Pop the mustard and add the curry leaves.

Add the tempering to the curry and mix well.

Serve hot with rice, roti or poori.
Notes
1. You can use black chickpeas/ kala channa here instead of the white one.
2. Addition of curry leaves is a must for that authentic flavor.
3. The original recipe does not call for roasting the ingredients but i did to enhance the flavor.
4. You can also make chane ghashi with yam instead of potatoes.
For Instant Pot & Air Fryer Recipes
Instant Pot timings may vary based on your geographic location. Air fryer settings and timings may vary based on the capacity and the model of the Air fryer.
Disclaimer
Nutrition values are provided here as a courtesy and are only a rough guide. Please consult a health care provider if you have any concerns.
Explore More Bean Recipes
Note: This post was originally published in May 2016. This has now been updated with fresh recipe cards.