Step by step guide to make Pesarattu, an Andhra style no-fermentation needed dosa made with whole green moong beans. Wholesome, protein-rich and filling, this easy and beginner-friendly South Indian dosa is the perfect breakfast recipe, not that you cannot have it for dinner too. 
Come join us on Pinterest to find delicious pins.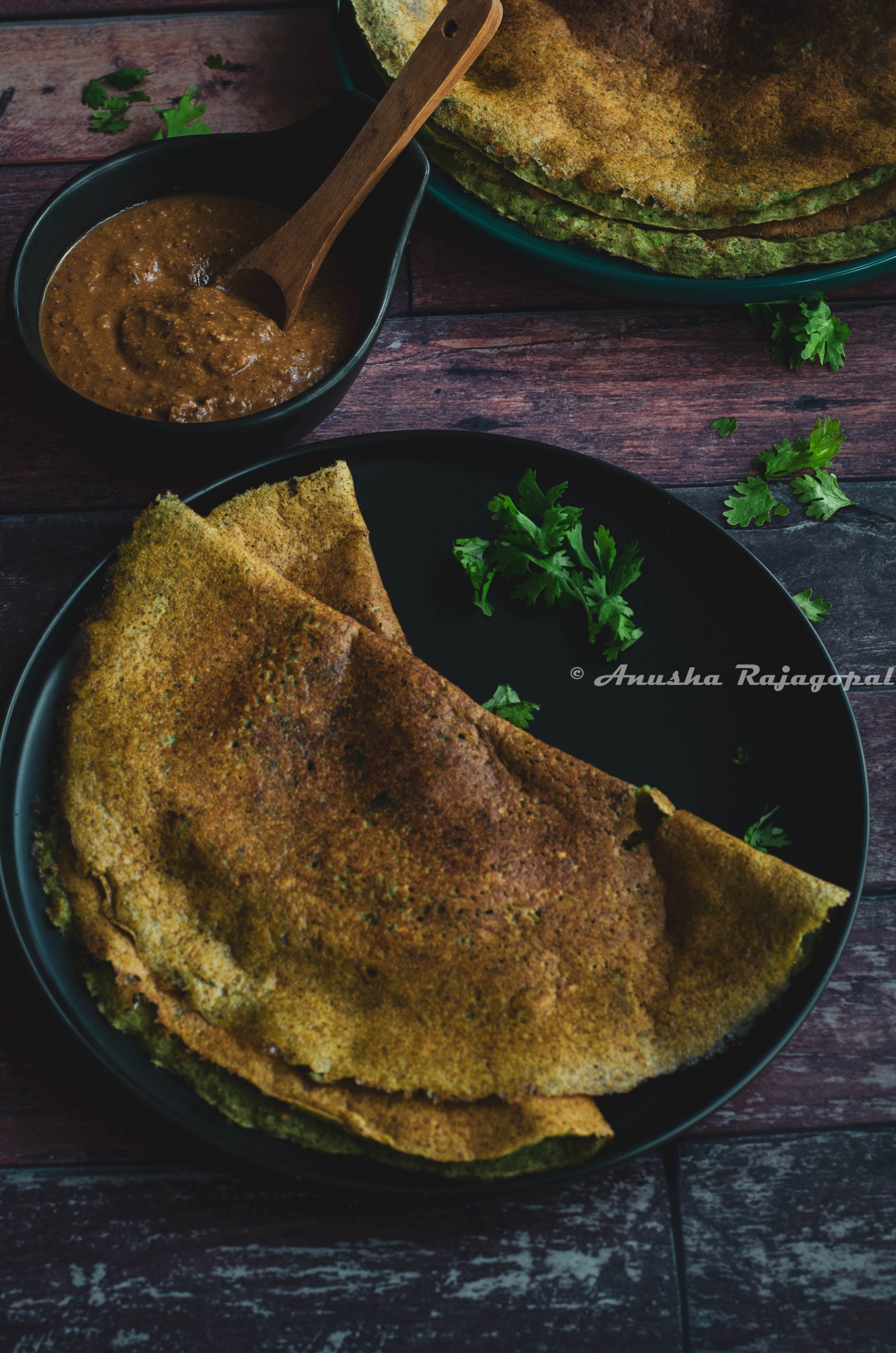 Jump to:
In our family, we are team 'Big Breakfasts'. Yep. We love " All You Can Eat" breakfasts. While i strongly rely on options like my millet idli-dosa, I do forget to soak for the batter at times. There are also days when i just don't feel like it to lug my grinder across that one foot length and breadth of my kitchen.
And that s when i resort to recipes like this protein-dense Pesarattu dosa.
Popularly called MLA Pesarat, this is a protein-dense, no fermentation Dosa. I cannot even begin to describe our love for this Andhra specialty. 
MLA Pesarattu Recipe
In Andhra, this is how they call this Moong Dal dosa. These are served with some Upma and a spicy Allam Pachadi. The Pesarattu Upma combination is something that is heavenly.  And that is what makes MLA Pesarat special. Allam Pachadi is Ginger Chutney and is considered the best condiment to serve up with these crepes.
Diabetic-friendly
This recipe becomes diabetic friendly if the rice is skipped and cold-pressed oil is used to cook it instead of ghee. It is also ideal for weight loss as it keeps you full for a long time.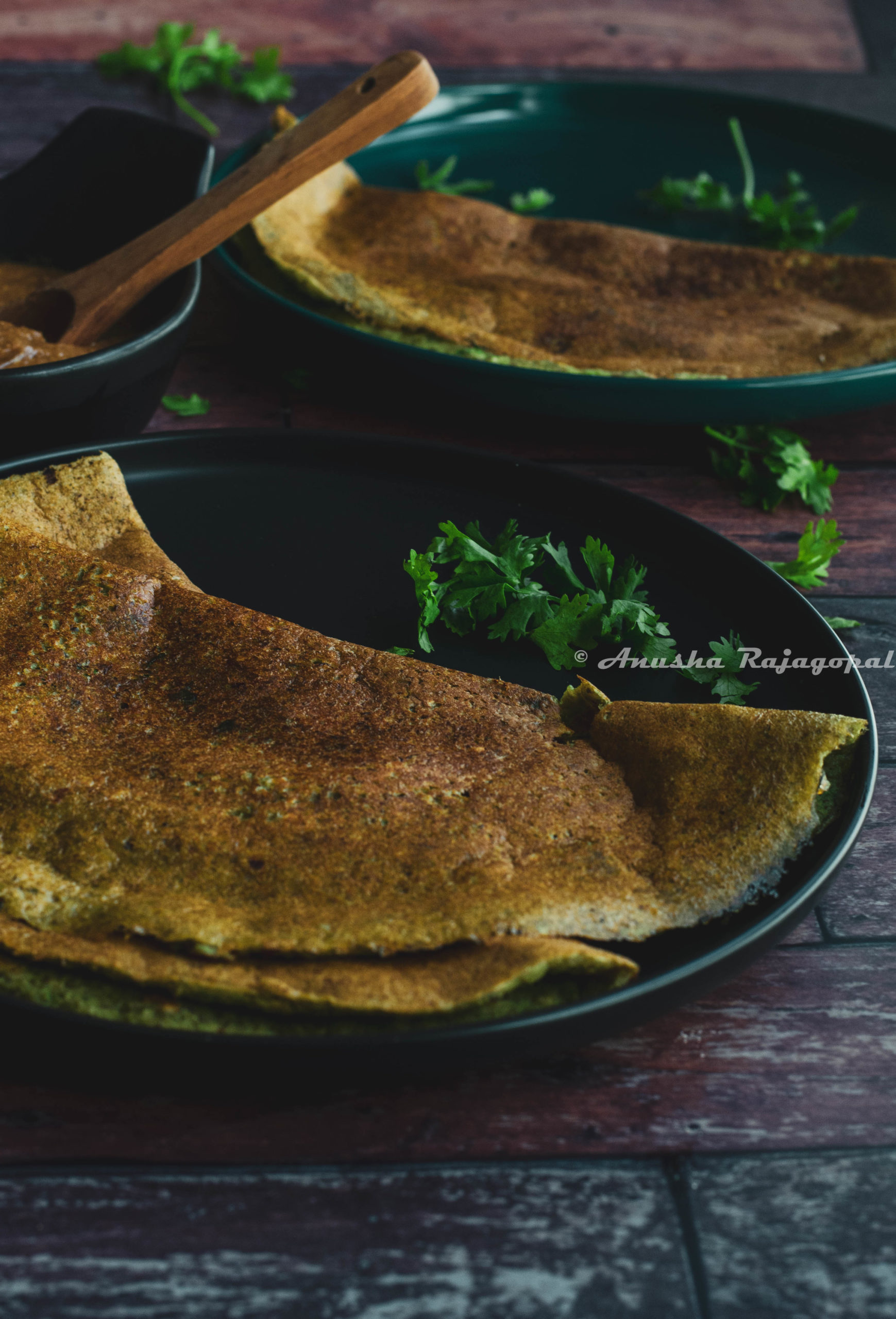 Ingredients- Substitutes and Replacements
Moong Beans– Whole green Moong Beans/ Mung Beans are used in this recipe. This not only adds nutrition value to the recipe but also gives a beautiful texture.
Raw rice– We use raw rice to give some crispy texture to the Pesarattu. You can skip this for a low carb high protein Pesarattu recipe.
This is just an overview of the ingredients. The detailed list including the quantity of ingredients used are included in the recipe card below. Please use the JUMP TO RECIPE button at the top of the post or the table of contents to navigate through this post.
Prep Work
Just sharing my suggestions on the line of work for this recipe, if you are making these for breakfast.
The previous night– Soak the Mung Beans and raw rice.
In the morning– Grind the soaked beans and rice along with the spices to a batter and get started on making them.
FAQs
Does Pesarattu batter need fermentation?
No. Pesarattu is traditionally a no ferment batter. This can be made instantly after grinding the batter.
Can leftover Pesarat batter be stored? How to store it?
Yes, you can refrigerate and use this batter for 2 days. Store leftover batter in a clean air tight Pyrex container or stainless steel container.
Can broken green mung beans be used? 
Yes. You may use broken green mung beans to make this. However, replacing green mung beans with yellow split moong dal will make it Moong Dal Chilla and not Pesaratu.
Can we use moong bean sprouts in Pesaratu recipe?
Yes. Using green moong sprouts will make it much more nutritious. However, this is not the authentic Andhra style Pesarattu. 
Why is my Pesaratu sticking to the pan?
This means that the pan is too hot. I recommend using a cast iron pan to make these. Sprinkle some water on your pan, allow it to cool down and try again. Another reason why the dosa sticks to your pan is because of adding too much water to the batter while grinding. The batter should not be too watery.
Can we make Pesarattu without rice?
Yes. You may make this recipe without adding rice. That will make it low carb- high protein too. Or you can also add soaked Kodo Millet in place of raw rice. Soaked quinoa works well in place of rice too. If you are looking for substitutes for raw rice, you can also add 3 tablespoons rice flour to the green moong beans and grind.
Can we make Pesarattu without soaking the mung beans?
This is not recommended. If the whole green mung is not hydrated, then it becomes difficult to grind it. Also, dried beans should always be soaked before using. This makes digestion easier.
What is the soaking time for Pesarattu?
I recommend soaking the mung beans for at least 4 to 5 hours. 
Pro Tip- If you are pressed for time, then soak the Mung beans in hot water for 3 hours. That will speed up the soaking process. Also old mung beans take longer to hydrate.
Serving Suggestions
Traditionally, finely chopped onions are sprinkled as a topping once the dosas are cooked. You can also add shredded carrots, beets or cabbage as a topping.
You can also serve these with some chilled yogurt, coconut chutney or a tangy chutney. The yogurt helps in easy digestion too.
The best combination for this will be Allam Pachadi aka Andhra style ginger chutney. You can watch how its made here-
Fancified Serving suggestions 
Make them into mini pesarattus, add scrambled paneer or shredded veggies. Roll them up and serve as an appetiser. A creamy dip like Tzatziki will pair well with this.
Variations 
Skip rice in this recipe and you ll have a keto friendly breakfast option.
For a kid-friendly version, add shredded cabbage, beets or carrots.
More Dosa Ideas
Method
Firstly, wash the mung beans and rice until water runs clear.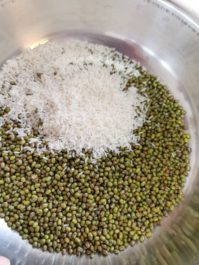 Then soak the beans and rice together in enough water for about 4 hours. Note that rice soaks sooner than the beans. However, we are soaking both together for convenience. Here is the picture of green gram after soaking. You can also spot the rice grains.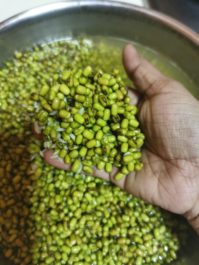 Once the beans are hydrated, drain all the water used for soaking. Add the garlic, ginger, 1 teaspoon cumin seeds, green chilies, dry red chillis and all spice powders mentioned in the recipe along with the drained mixture.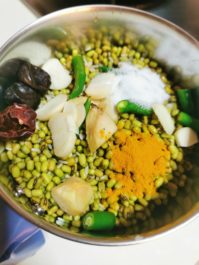 Add this in batches to a blender and grind to a smooth paste adding water gradually. At this point, you can add finely chopped coriander leaves to the batter. This gives a great flavor to this green gram dosa.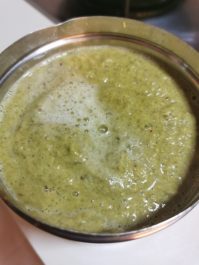 How to make Pesarattu?
Once the batter is ground, heat an iron Tawa. The Tawa shouldn't be smoking hot. It should not be cold either. The dosas will stick to the pan if it is too hot.
Take a ladle of the ground batter and spread it evenly to a slightly thick dosa. Reduce the flame to low. Drizzle ghee around the edges. Cook the Dosa till you see no more raw batter on the surface. 
Flip, drizzle some ghee around the edges and cook for 30 to 45 secs.
Once done, flip again, sprinkle finely chopped onions over the dosa, fold over and serve hot.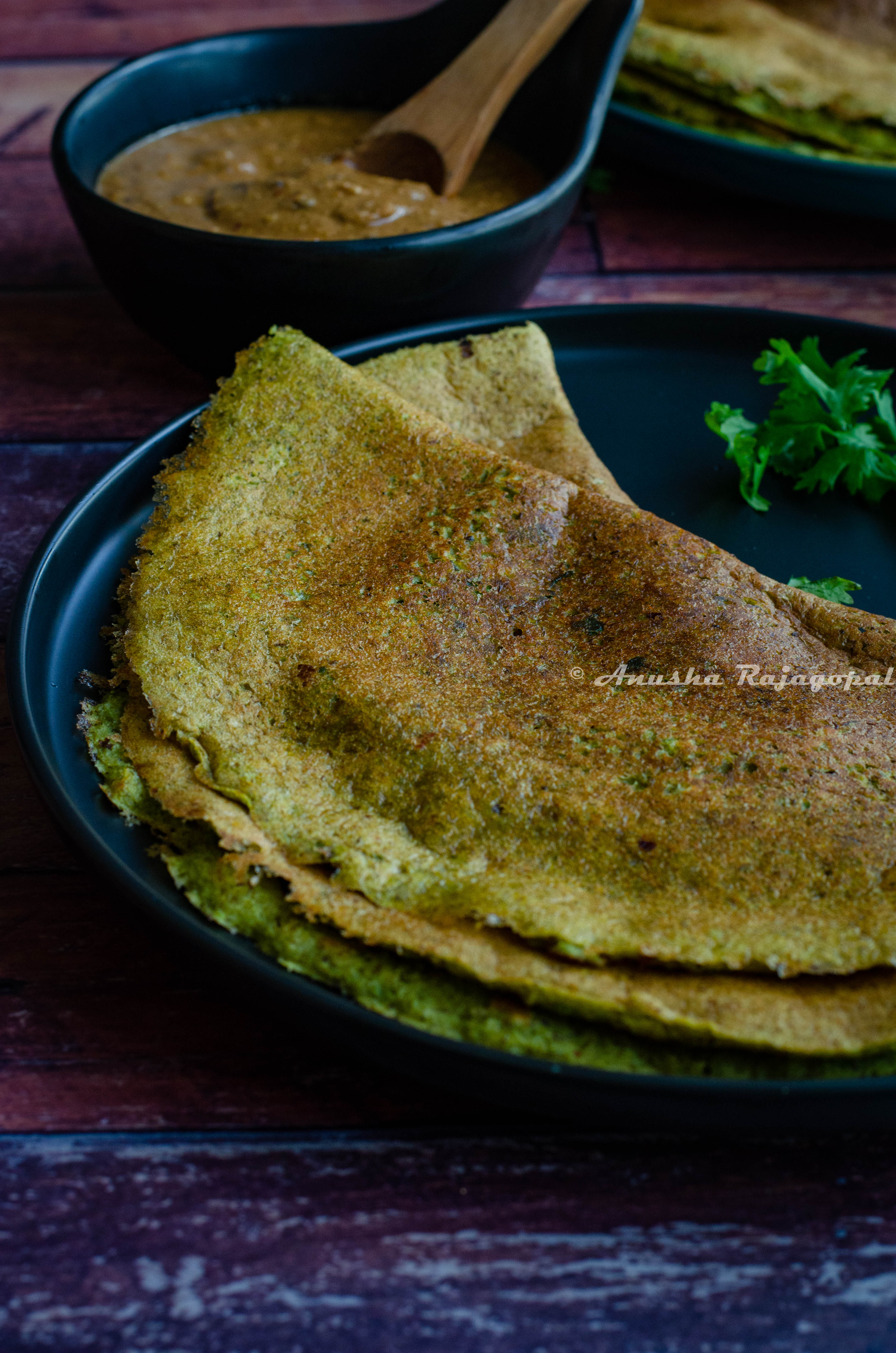 P.S I m so sorry that i accidentally deleted these step by step pics on my phone. I'll definitely update them as soon as i click the next set.
Follow me on Instagram or Facebook for regular cooking updates and short videos. Follow me on Pinterest for delicious content. Tried our Pesarattu? Then please rate this recipe and tell us why you loved our recipe!
In case you have any questions regarding this recipe, leave a comment and I'll respond at the earliest possible. If you tried this recipe and enjoyed it, click a picture and share it on Instagram by tagging us @tomatoblues.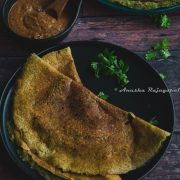 Print Recipe
Andhra Style Pesarattu
Andhra style Pesarattu - Instant no ferment high protein dosas ideal for breakfast.
Ingredients
1.5

c

Whole green mung beans

1/4

c

Raw rice

1

tsp

cumin seeds

3

green chili

3 to 4

Dry red chili

1/2

inch

knob of ginger, peeled

2

cloves

Garlic peeled

1

tsp

Turmeric powder

2

tsp

Salt or to taste

3/4

c

Water approximately
For Cooking the Pesarattu
3 to 4

tbsp

Ghee

1

recipe

Above batter
For serving
3/4

c

finely chopped onions
Instructions
Wash and soak the mung beans and rice together for 4 hours.

Once soaked, drain the water fully.

Add the soaked mung+ rice, garlic, ginger, green chili, dry red chili and turmeric powder along with salt to a blender.

Add 3/4 c water gradually and grind to a smooth paste.

You can grind the batter in batches too. Also, add water by 1/4 c while blending.

Once the batter is ready, heat an iron tawa.

Pour a ladle of the ground batter to the center of the tawa.

Spread it like how you would, a regular Dosa.

Reduce the flame to the lowest possible.

Drizzle 1 tsp of ghee around the edges.

Cook the Pesarattu till you see no raw batter on the surface and the edges have become a golden brown.

Flip and cook for 30 to 40 secs again on low heat.

When done, flip over, sprinkle 2 tbsp finely chopped onions, fold the dosa over and serve hot.
For Instant Pot & Air Fryer Recipes
Instant Pot timings may vary based on your geographic location. Air fryer settings and timings may vary based on the capacity and the model of the Air fryer.
Disclaimer
Nutrition values are provided here as a courtesy and are only a rough guide. Please consult a health care provider if you have any concerns.
More Moong Recipes
If you love moong like us, then do check out this Moong Dal Dosa. 
Here are some more recipes featuring whole green gram.