I still remember how frenzied i was, when i went to Mc Donalds for the first time. But i m an odd man out here. I couldnt understand the hype with Mc Donalds. I ve eaten burgers in many places and Mc Donalds burger is certainly not my favorite. There s one burger that still stays in my heart. A burger that did not taste of artificial food flavors and preservatives. A burger made specially with fresh home baked burger buns and patties straight from the skillet. Crunchy cucumber slices and juicy tomatoes slathered with butter and a spicy spread. Ooh. Boy! I remember that burger to its every last detail. Even the little cherry that came on the top along with the toothpick. I ve not had the fortune to eat one such burger after i left Bangalore. Oh, all that deliciousness came for a sum of 35 rupees. Can you believe that? Now, do you all get why i am not starry eyed when its Mc Donalds.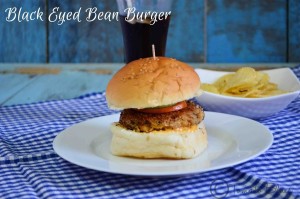 Now, i ve been wanting to recreate that burger experience at home , like forever, now. And the last month, Groovy Gourmets decided the September theme as burgers without the humdrum aloo patties. So, i grabbed the opportunity and made these burgers with black eyed beans patties. I did not bake the buns as i dint have the time to. But i do have a spectacular recipe here for burger buns. So, go ahead and bake them if you got the time. A burger with home baked buns has its own charm. We are not great fans of fries at home. So i just served my burger with some potato wafers.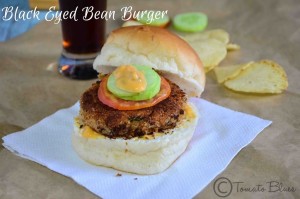 Recipe For Black Eyed Bean Burger
( Burgers with black eyed bean patties)
Prep Time: Overnight for soaking the beans
10 mins for the rest
Cook Time: 1 hour
Yields 3 to 4 burgers
Ingredients
For The Pattice
Black eyed beans 3/4 c soaked overnight
Potato 1 medium peeled and boiled.
Bread slices 3
Ginger garlic paste 1 tsp
Cumin powder 1/2 tsp
Chili powder 1 tsp
Garam masala 3/4 tsp
Coriander powder 1/2 tsp
Corn flour 2 tbsp
Coriander leaves 3 tbsp chopped finely
Salt to taste
Flour 1/4 c
Water 3/4 c
Bread crumbs for rolling
Oil to shallow fry
For The Spread
Cream cheese 3 tbsp
Thousand island spread 2 tbsp (optional)
Mixed herbs 1 tsp
For The Assembly
Tomato slices 6 to 8
Cucumber slices 8
Directions
Pressure cook black eyed beans and potato until mushy.
Drain water completely.
Place beans, potato, coriander leaves, corn flour and all spice powders with salt in a mixing bowl.
Dunk the bread slices in a bowl of water, squeeze all the water out and add to the bowl.
Now, knead into a dough sort of mixture until all ingredients are combined well.
Check for seasoning and adjust.
Divide the patty mixture into 4 equal parts and shape each part into a round patty that s 1/2″ thick.
Heat a pan with some oil for shallow frying.
In a bowl, combine flour and water into a mixture.
Dunk a patty into the flour mixture and make sure its coated well.
Now roll the patty into the breadcrumbs making sure its evenly coated.
Drop the patty into the pan and fry till golden brown.
Repeat with the remaining patties.
Lets assemble the burger now.
In a bowl, combine together cream cheese, herbs and thousand island dressing ( if using).
Take a bun and slit into half horizontally.
Spread the cheese mixture on the bun halves.
Place a patty on one half of the burger.
Place tomato slices and cucumber slices on the patty.
Drop another 1/2 tbsp of spread on the cucumber slices.
Now cover with the remaining half.
Repeat for the remaining burger buns and patties.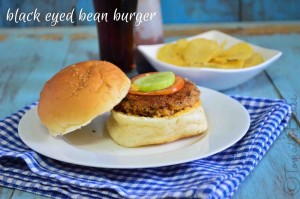 Serve warm or hot with potato fries and any drink of your choice.