HOW TO MAKE CRANBERRY BEANS KURMA?
CRANBERRY BEANS KURUMA- A PROTEIN RICH SIDE DISH WITH CRANBERRY BEANS IN RED KURMA BASE.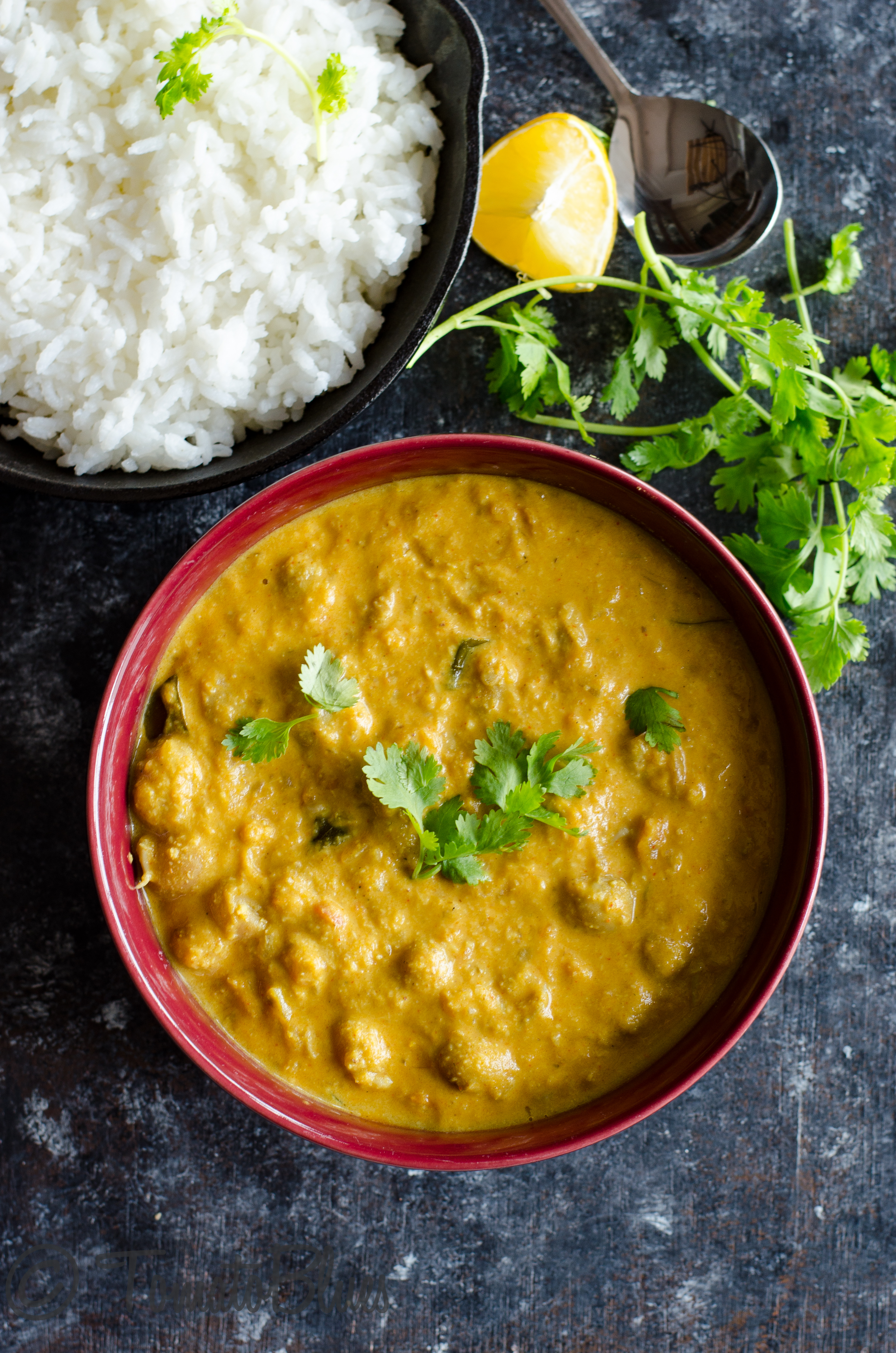 Cranberry beans kurma is a creamy vegan curry that uses Cranberry beans as the main ingredient. Cranberry beans look very similar to Pinto beans and are a great source of vegetarian protein.
Cranberry Beans
You can easily find fresh cranberry beans in the wet markets of Singapore. I personally find them very pretty and tend to buy some whenever i visit the market.
This cranberry beans curry is a fantastic vegan and gluten free way to enjoy fresh cranberry beans.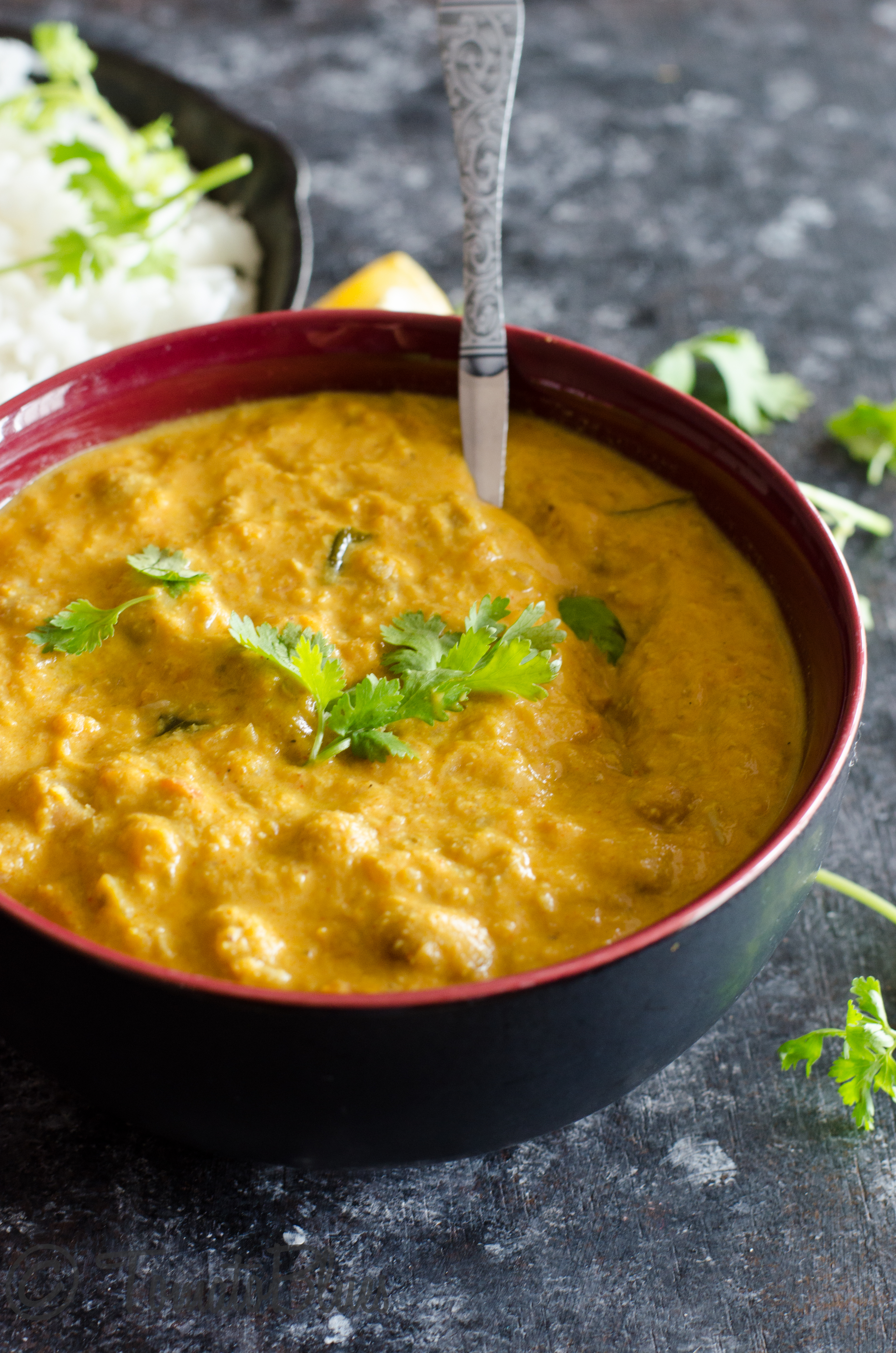 Kurma/ Qorma/ Korma
Kurma has different versions across the Indian subcontinent. While Qorma uses yogurt as a base in the Middle eastern countries, a Kuruma or Kurma in southern India primarily relies on coconut to bring out flavors.
North Indian Kurma uses simple onion tomato base and does not involve much grinding. Instead, it relies on dairy and nuts to add richness to the curry.
South Indian Kurma
There are many versions of Kurma across India but the southern states follow a combination of a few common ingredients like coconut and fried gram dal.
Base for Cranberry Beans Kurma
This recipe is a combination of both the southern and northern state versions of Kurma. There is minimal grinding of ingredients  and not too many spices are involved here.
This kurma is not only vegan but also gluten free. This curry also freezes well.
Freezing
Leftover kurma can easily be frozen in silicon storage bags once they cool down. You can also use a freezer safe glass container like Pyrex to freeze this.
Leave it in the refrigerator to thaw for a few hours before using the frozen curry. Once thawed, add a portion to a sauce pan, add 1/2 c hot water and heat gently over low flame before serving.
This curry tends to thicken over time. So if the consistency of this kurma is thick, add 1 c water to 1 c kurma while reheating leftovers.
Substitutes for Cranberry Beans In This Kurma
If you cannot find fresh cranberry beans where you live, dried cranberry beans also will work in this curry.
In case you decide to use the dried beans, soak the cranberry beans after washing them well in about 4 c water for 6 hours.
Discard the water used for soaking, add 3 to 4 c fresh water and salt. Pressure cook this for 4 to 5 whistles.
Let the pressure release naturally. Once done, drain the water and use the beans in this curry.
Other alternatives to this kurma are canned chickpeas, black beans or field beans ( Mochai in Tamil, Lilva in Hindi)
How To Make Cranberry Beans Kurma?
Fresh cranberry beans cook very fast. So i have cooked this in an open pan. I liked how the beans were cooked just right and the buttery beans lent a beautiful texture to the kurma.
Thickening Agents
Our recipe does not use fresh coconut. Instead we are going to be using some soaked almonds and coconut milk to thicken it and give it a nice heft.
Pairing Suggestions For Cranberry Beans Kurma
The curry tastes great with cooked rice, both short grained rice like Jasmine rice or long grained Basmati.
It pairs well with Naan, Kulcha, Lachcha Paratha or dinner rolls too.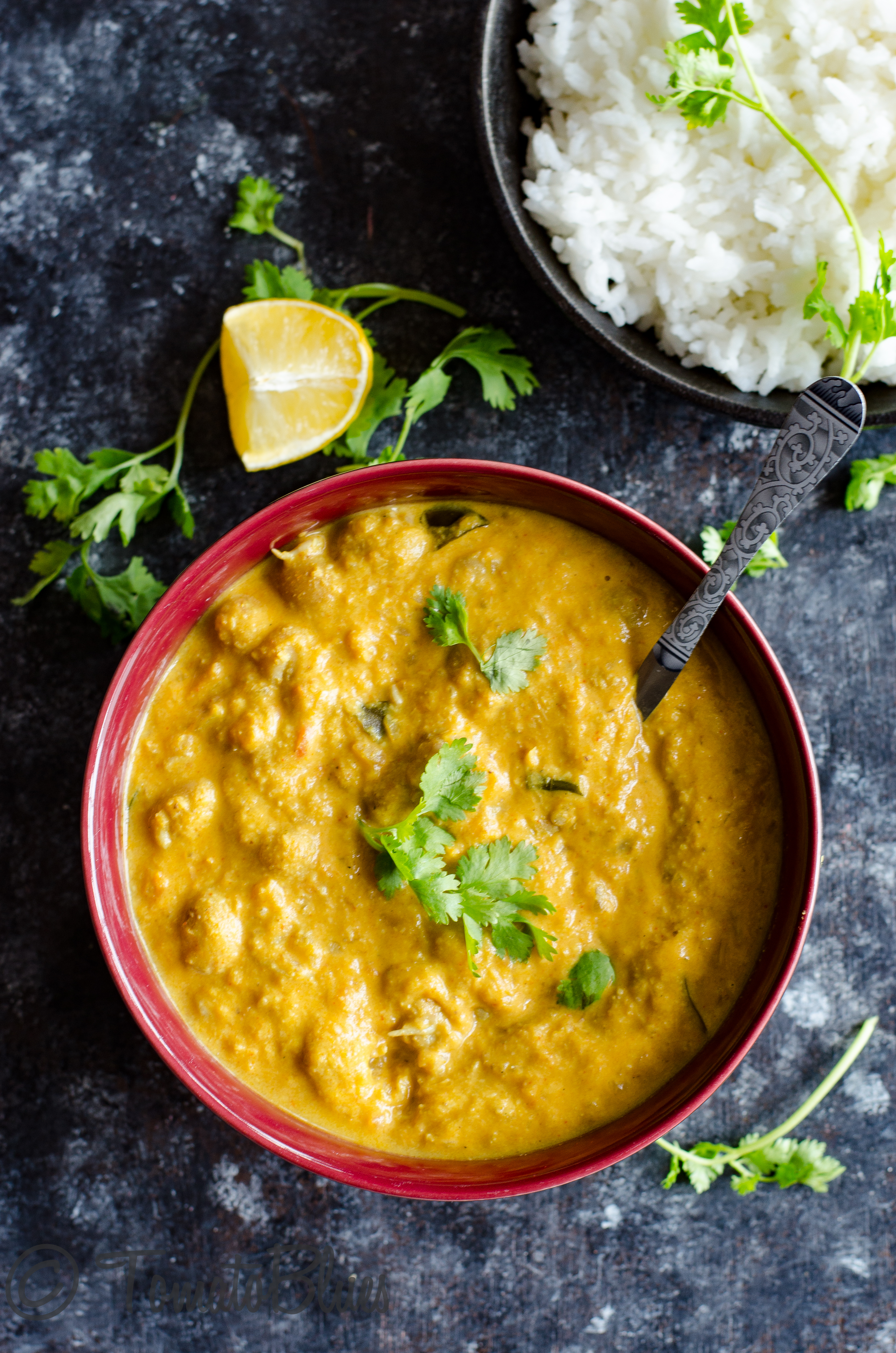 Please check out our other Kurma Recipes here:
Check out a few more recipes that use Beans as a main ingredient
Follow me on Instagram or Facebook for regular cooking updates and short videos. Follow me on Pinterest for delicious content. Tried our Cranberry Beans Kurma recipe? Loved it? Then please rate this recipe and leave a comment.
In case you have any questions regarding this recipe, leave a comment and i ll respond at the earliest possible. If you tried this recipe and enjoyed it, click a picture and share it on instagram by tagging us @tomatoblues.
Shall we now check how to make Cranberry Beans Kurma?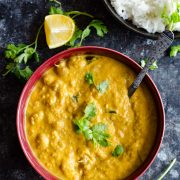 Print Recipe
Cranberry Beans Kurma
Cranberry Beans Kurma is a vegan gluten free curry made with fresh cranberry beans. This pairs well with Roti, Naan and rice. Freezes well. Can easily be doubled.
Ingredients
For The Base
1

c

finely chopped Onion

Red or white both work

1.5

tsp

garlic paste

1/2

c

tomato puree

1

tbsp

virgin coconut oil

1

c

canned low fat coconut milk

If you are using regular coconut milk, add 1/2 c water to 1/2 c coconut milk and proceed. Please dont use coconut cream for this recipe.

6 to 7

almonds

soaked in hot water for 10 mins

1

tsp

Curry powder

1

tsp

Coriander powder

1/2

tsp

Paprika

1/2

tsp

Cumin powder

1

Bay leaf

2

tsp

Salt or to taste

1

tsp

Brown sugar

Optional but recommended
For The Cranberry Beans
3/4

c

Fresh cranberry beans

Please read the post for substitutes and alternate cooking methods

2

c

water

1

tsp

Salt

Or adjust according to taste
For Garnishing
2

tbsp

finely chopped coriander leaves
For serving Cranberry Beans Kurma
2 to 3

wedges

Lemon

3

c

Cooked rice
Instructions
Cooking the Cranberry Beans
Add 2 to 3 c water to a pan. Add salt. Mix well

Add the cranberry beans to the water and cook till soft and tender. Takes about 10 to 12 mins. While the beans are cooking, lets cook the kurma base simultaneously.
For The Cranberry Beans Kurma Base
Heat a pan with the coconut oil.

Add the bay leaf and the onions and the garlic paste. Saute on medium flame for 2 mins or until onions turn soft.

Now add the cumin powder, curry powder, paprika, coriander powder and salt. Mix well and saute for 30 secs.

Now, add the tomato puree and mix well. Simmer for 3 to 4 mins until the raw smell of the tomato goes away.

Add the salt and mix well. Set aside.
Finishing our Cranberry Beans Kurma
When the beans are cooked, drain them and add to the kurma base. Mix well.

Now peel the soaked almonds. Combine almonds and 2 tbsp water. Grind to a smooth paste in a blender.

Add this paste to the kurma. Mix well.

Now add the coconut milk , mix well and bring to a gentle simmer.

Garnish with coriander leaves and our Cranberry Beans Kurma is ready to be served.
For Instant Pot & Air Fryer Recipes
Instant Pot timings may vary based on your geographic location. Air fryer settings and timings may vary based on the capacity and the model of the Air fryer.
Disclaimer
Nutrition values are provided here as a courtesy and are only a rough guide. Please consult a health care provider if you have any concerns.