HOW TO MAKE CHANNA CHAAT?
Looking for a protein rich salad recipe? Then you must try Channa Chaat.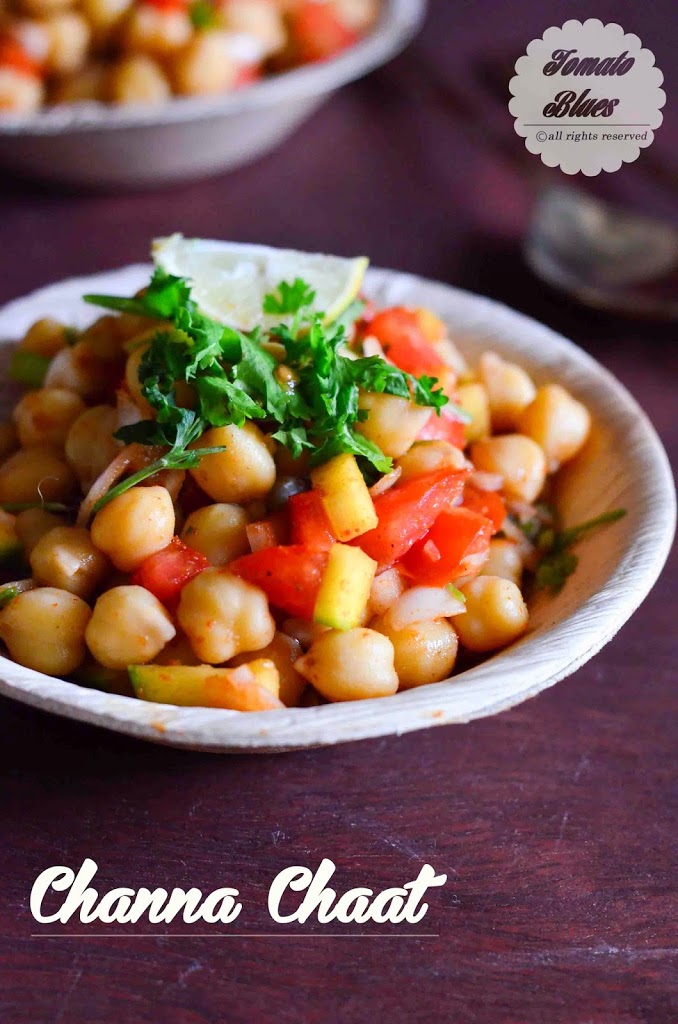 I always wonder why a snack translates to something deep fried in many homes. Especially in India, a snack almost always means a bajji or a bonda or some vada. If you invite some one home, its almost mandatory to serve one of these. Oh, how can i forget samosas and kachoris? After all, they are quite ubiquitous even in the normal course of life where i live.
While i m not against deep fried food, i believe in moderation. I dont mind eating a samosa or two once in a month but making it my regular snack doesnt work well. I prefer simple, fuss free and a tad bit healthier snacks.This also doesnt mean i d bake my samosas.
No, i believe in eating things the way they are to be eaten but in moderation. So, if Mr. P and i are watching TV on Sundays, i usually make something to munch- mostly some chaat or a bowl of pop corn or maybe even some sandwich or bread upma. Vadas or samosas or even bajjis dont find a place in my kitchen.
That s how this Channa chaat was made one Sunday. I didnt want to stand sweating and steaming in a hot kitchen in front of a wok. So, i decided to go the no cook ( well, almost no cook) route and made this. This is something like a salad but then yummier.
And its best when eaten cold. Although we didnt bother sticking it in the fridge.There s no one way to make this chaat. Feel free to add whatever veggies you please and i m sure you wont be disappointed.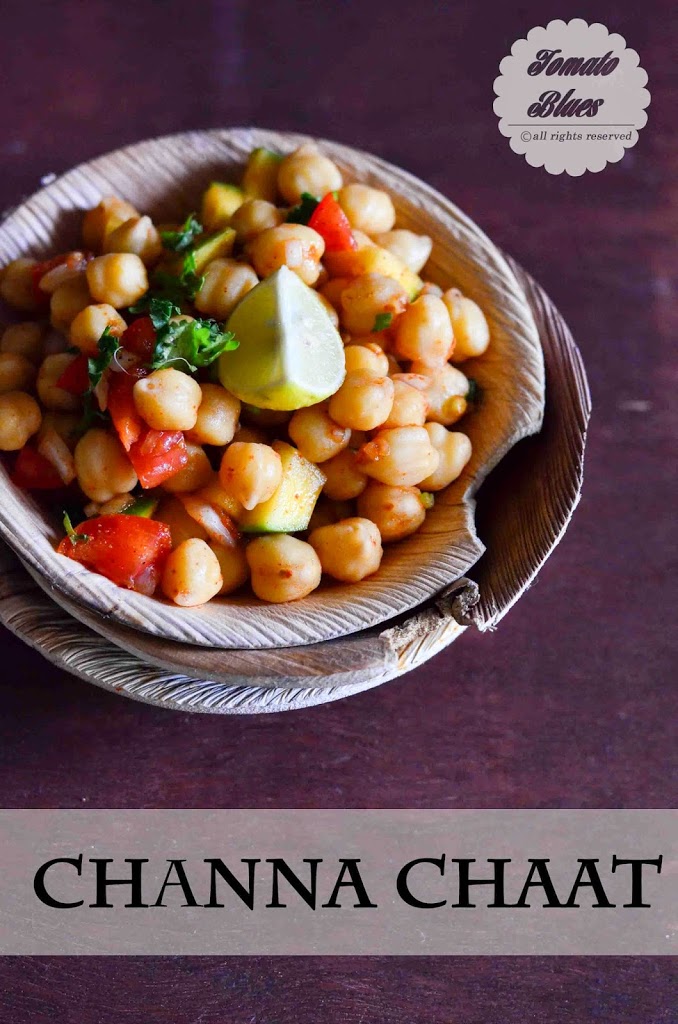 Recipe for Channa Chaat
( Learn how to make Channa Chaat, a simple almost no cook salad kind of street food made with garbanzo and assorted veggies)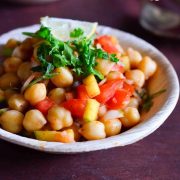 Print Recipe
Channa Chaat
Channa Chaat- a simple Vegan Garbanzo beans salad that can be made ahead. Can be served cold. Gluten free.
Ingredients
Garbanzo beans 1.5 c soaked overnight

Onion 1 large chopped finely

Tomatoes 2 medium chopped finely

Raw mango 1/2 c diced

Lemon juice 1 tbsp

Chaat masala 1 tsp

Red chili powder 1 tsp

Sugar a sprinkle

Salt to taste

Coriander leaves 2 tbsp chopped finely
Instructions
Pressure cook the soaked garbanzo beans in enough water with salt for 3 whistles until just tender.

Drain all the water completely.

In a mixing bowl, combine lemon juice, salt, sugar, chaat masala and red chili powder using a hand whisk,

Now, place the cooked garbanzo, onion, tomatoes and raw mango and toss well.

Garnish with coriander leaves.
Notes
1. Canned garbanzo will work well for this recipe. Make sure you drain all the liquid and then proceed.
2. You can also add pomegranate pearls to this recipe to make it richer.
3. In case you plan to serve this as a salad and make it ahead, then dont add the lemon juice in the beginning. Add the lemon juice just before serving.
For Instant Pot & Air Fryer Recipes
Instant Pot timings may vary based on your geographic location. Air fryer settings and timings may vary based on the capacity and the model of the Air fryer.
Disclaimer
Nutrition values are provided here as a courtesy and are only a rough guide. Please consult a health care provider if you have any concerns.