Aloo Tuvar Curry Recipe With Step By Step Photos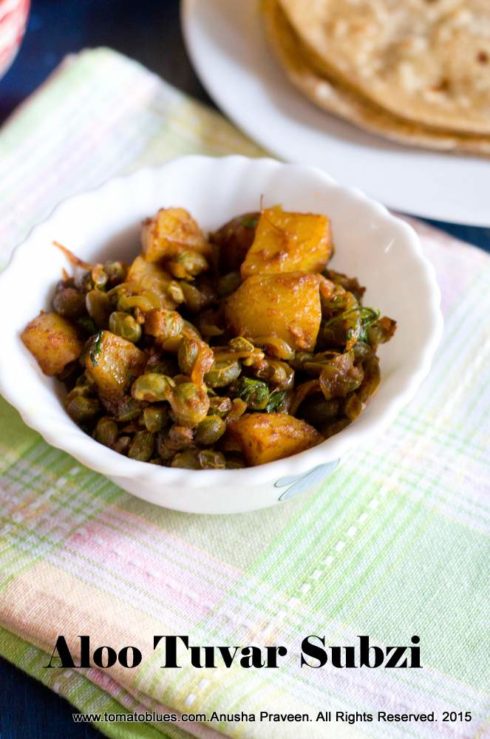 Tuvar or Fresh pigeon peas is something that i spotted only after coming to Gujarat. I had neither seen nor heard of it when i was in Southern India. It is surprising because we consume a lot of toor dal for that matter. It is indeed strange that i had never thought about how the toor dal lands itself in the tall container in Amma s kitchen before i married. But well, things change a lot after marriage goes the clichéd saying. In my case, a lot includes a lot of food. I cook in ways that neither my mom nor my MIL does. I buy stuff that will not even be looked at in both the households. And i must admit, when both come home, they have a ball, enjoying the food that i make and earnestly try to jot down what goes into what.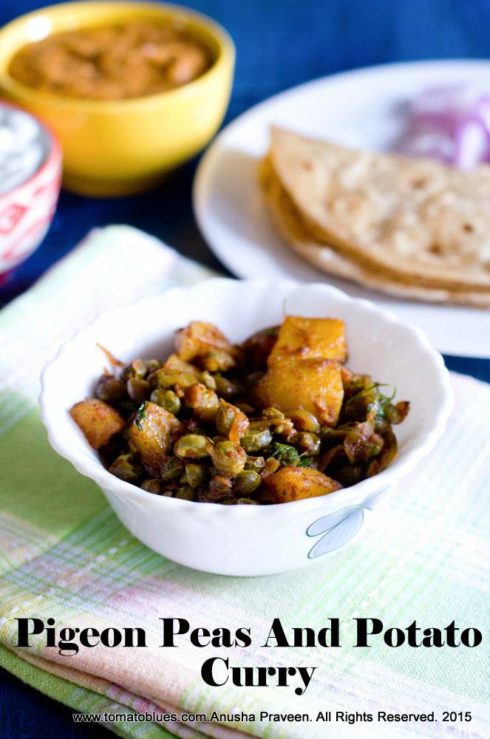 Coming to the Aloo Tuvar curry recipe, this is a recipe that i put together when i ran short of ideas on what to do with those beautifully shelled pigeon peas. My house help painstakingly shelled these beauties and put it away in the fridge and i really had no idea what to do. I did not want to just make a curry out of it. I also used the curry in another recipe which i will be sharing soon. But in the meantime, let s check how to make Aloo Tuvar curry with step by step pictures. Hey! did i mention, this is vegan and gluten-free!
Step By Step Pictorial To Make Aloo Tuvar Subji
Chop the potatoes. Peel garlic. And chop up the ginger.
Slice the onions. Keep all the spice powders ready.
Shell the pigeon peas and place them in a microwave bowl.Cook the pigeon peas on high with 1 cup of water and salt in the microwave till tender but firm. Mine took 8 mins to cook. Drain and set aside.
Place the ginger and garlic in a mortar and coarsely crush to a coarse paste. I have often found that freshly ground ginger and garlic takes a recipe to another level in terms of flavor. It holds good for this recipe too. And the aroma from the paste is delicious. Makes your stomach growl immediately.
That is the ginger garlic paste.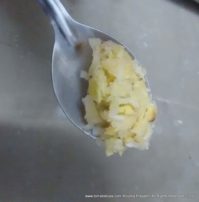 Heat oil in a pan. Crackle the cumin seeds.
Add chopped onions and fry till translucent
To the onions, add all the spice powders except the raw mango powder. Mix well.
Next add the potatoes and mix well.
Add the cooked pigeon peas and combine. Add salt next and mix well.
Now add the raw mango powder and mix it into the curry.
Add 1/4 of water to the curry and combine well. Cook closed till potatoes are tender but firm.
Aloo Tuvar Curry
Author:
Prep time:
Cook time:
Total time:
A simple vegan and gluten free curry with fresh pigeon peas and potatoes.
Ingredients
Potatoes 2 medium cubed
Fresh pigeon peas/ Tuvar 1/2 c
Onions 2 sliced thinly
Garlic 3 cloves
Ginger 1/2″ chopped
Oil 1 tsp
Cumin seeds 1 tsp
Salt to taste
Spice Powders
Coriander Powder 1 tsp
Raw mango powder 1/2 tsp
Garam masala 1/2 tsp
Turmeric powder 1/4 tsp
Kasuri methi / dried fenugreek leaves 1/2 tsp crushed
Chili powder 1 tsp
For Garnish
Coriander leaves 2 tbsp chopped finely
Instructions
Heat oil in a pan.
Add the cumin. Once it crackles, add the sliced onions.
Fry till onions turn translucent.
Now, add the pounded ginger garlic paste and mix well.
Cook for 1 min.
Add coriander powder, garam masala, chili powder, turmeric and kasuri methi next and mix well.
Cook for 30 secs.
Immediately tip in the potatoes and salt.
Mix well.
Now, add the pigeon peas and mix well.
Next add the raw mango powder and mix well.
To the curry, add 1/4 c of water and combine.
Cook closed on medium flame till potatoes turn tender but remain firm.
Garnish with coriander leaves.
Serve hot with phulkas.
Notes
In case you dont have raw mango powder, you can use any souring agent like chaat masala or lemon juice. If you are adding lemon juice, add it at the end before serving. How ever the taste will differ a bit.[br]You also use hyacinth beans or edamame beans in this curry instead of pigeon peas.
 Serving Suggestions: Phulkas