I can visualise my husbands face once i mention Bread Upma Or Bread Seeyali. If you want me to be more descriptive, imagine a kid's face if you tell him that its curd rice for lunch in the tiffin box.Did i drive home my point?? Yes! hubby hates bread but me loves bread. But we dont have bread for breakfast. No. That s an unwritten rule in my household. We ll eat it as a snack but not breakfast. But well… like there s an exception to every rule, i make this for breakfast when i wake up at 15 mins past 8. No more no less. If its more than that, then there s no breakfast. If its less than that, then i ll leave the breakfast menu to your imagination. I know hubby scorns it but thats what s breakfast for those 8.15 AM days. Cant help!!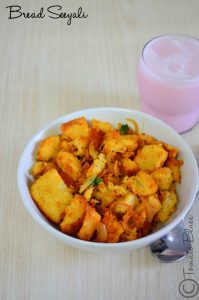 Recipe For Bread Upma
( Learn how to make Bread Upma, an easy stir fry with bread)
Prep Time: Under 15 mins
Cook Time: Under 15 mins
Serves 2


What you need?
Bread slices 8
Onions 2 medium sliced thinly
Tomatoes 1 large chopped finely
Ginger grated 1 tsp
Oil 2 tbsp
Green chillies 3 slit lengthwise
Curry leaves a sprig
Cilantro chopped finely 1 tbsp
Salt to taste
Mustard seeds 1 tsp
Turmeric powder 1/4 tsp
For garnish:
A few onion rings
How to make it?
First, soak the bread slices in water, squeeze well and crumble them. Keep aside.
Heat oil in a pan. Add mustard seeds and wait for them to pop.
Add ginger, garlic, curry leaves and turmeric next.
Saute for 30 to 40 secs.
Now,add onions and saute till they turn pink.
Next, add the tomatoes and saute till oil separates. Takes about 7 to 8 mins.
Add salt and combine well. Turn the flame to low.
Now, add the crumbled bread and mix gently along with the tomato onion mixture.
Add cilantro and combine again.
Garnish with onion rings and serve hot.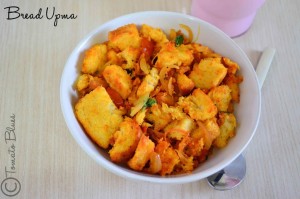 Alternatively, you can omit the tomatoes and add lemon in the end.