How To Make Easy and Healthy Carrot Cake Muffins?
Carrot Cake Muffins are easy and healthy breakfast muffins made with freshly grated carrots and spices.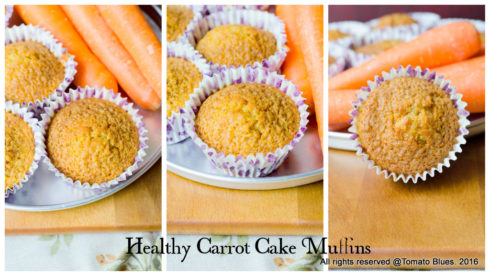 Carrot cake muffins are an easy breakfast option and works wonders with kids. No kid, Lil A including, refuses a muffin for breakfast. Well, you need not declare that they have carrots in them but you can always tell them the magic word muffin and i m sure these will go down without a murmur. Recently, my neighbor's son had a healthy food festival in his school. Knowing that i bake quite a lot of stuff, she came to me for ideas and i suggested these carrot cake muffins. She expressed her concerns about baking them as she has never baked them before and had not even heard of carrot cake. So, i assured her that i ll bake a batch for her for the kids to enjoy at school.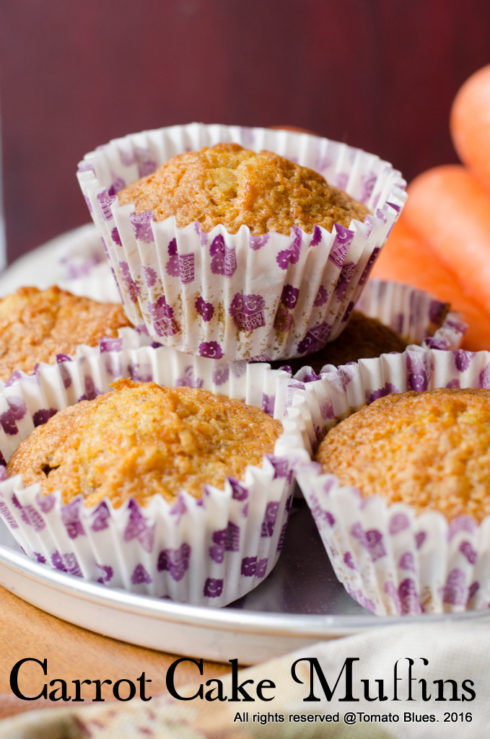 And that is how i landed up making 20 carrot cake muffins and downing 5 in a single day. These are that good. I could not stop eating them and only stopped when i realised that the kid had to take 10 to school. Common sense prevailed and i dragged myself away from the muffins. Honestly, the fear that Lil A and i would demolish the whole batch,made me run to her house with them.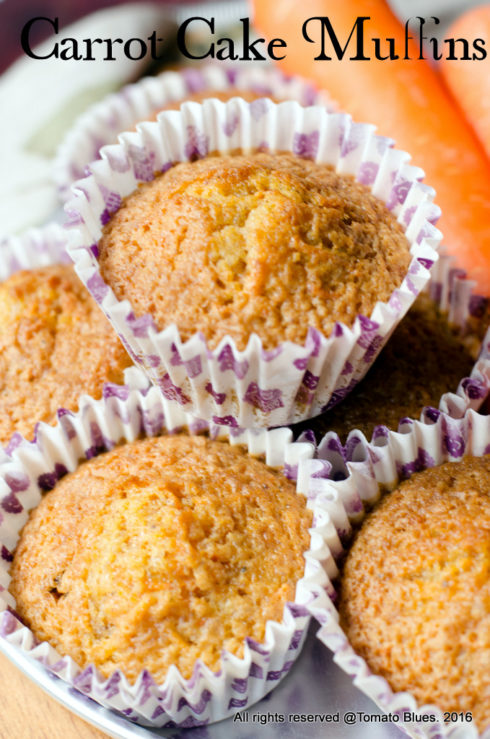 The carrot cake muffins have been spiced mildly with ginger and cinnamon. You may also use garam masala for a new flavor. These muffins would taste a wee bit off if you made them plain. So i strongly recommend using these spices. You may also use All purpose flour wholly in place of the wheat flour. But then these muffins would not be as healthy as before. If you have the time and some cream cheese, make sure you frost them before you enjoy these  muffins.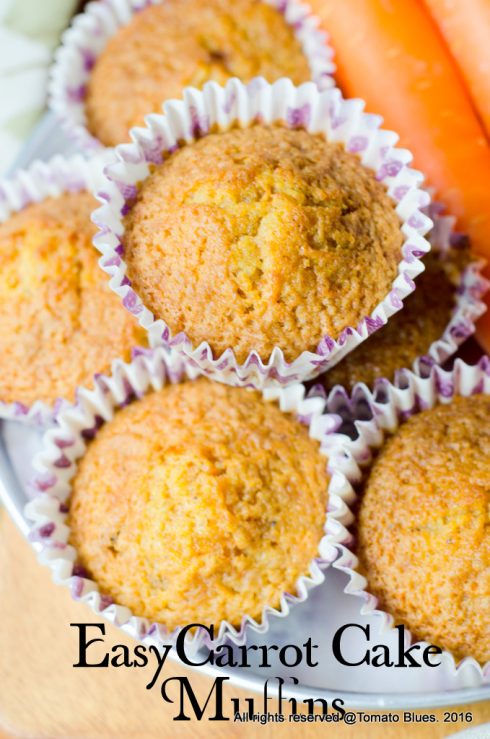 Recipe For Carrot Cake Muffins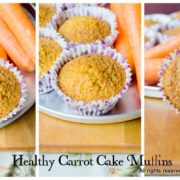 Print Recipe
Carrot Cake Muffins Recipe
Carrot cake muffins are muffins with grated carrot, raisins and spices. Makes a great breakfast or dessert too
Ingredients
All purpose flour 1/4 cup

Whole wheat flour 1/4 cup

Baking powder 1/4 tsp

Baking soda 1/2 tsp

Cinnamon powder 1/2 tsp

Ground ginger 1/2 tsp

Ground nutmeg 1/2 tsp

Salt a small pinch

Vanilla extract 1 tsp

Caster sugar 6 tbsp

Oil 1/3 cup

Grated carrots 3/4 c

Egg 1 large beated

egg at room temp
Instructions
Preheat oven to 175 C.

Combine wheat flour, all purpose flour, salt, sugar,cinnamon powder, ground ginger and nutmeg, baking soda and baking powder in a large mixing bowl using a whisk. Sieving will also work well here.

In another bowl, break an egg along with the vanilla and beat till frothy.

Now, add the grated carrot, oil and vanilla and beat for another 2 to 3 mins on slow speed using your electric mixer.

Gently fold in the dry ingredients to the wet mixture in three batches until you can see no dry flour in the batter and well incorporated.

Pour in to lined muffin moulds.

Bake in the preheated oven for 12 mins or until tops turn golden.

Check if a skewer inserted comes out clean to ensure your muffins are baked.

Once done, cool on a wire rack for 10 mins.

Serve warm.
Notes
1. Whole wheat flour can be replaced with all purpose flour. But please dont attempt replacing all purpose flour with wheat flour. The flour is to liquid ratio is different for whole wheat flour based goodies.
2. In case you dont have the spices mentioned, you may use 1 tsp of garam masala
3. If you are looking to replace the egg here, use 1/4 c of apple sauce for a vegan version and 1/4 c of whisked fresh yogurt.
For Instant Pot & Air Fryer Recipes
Instant Pot timings may vary based on your geographic location. Air fryer settings and timings may vary based on the capacity and the model of the Air fryer.
Disclaimer
Nutrition values are provided here as a courtesy and are only a rough guide. Please consult a health care provider if you have any concerns.