Carrot Milk- a healthy and vibrant breakfast drink made with the goodness of carrots.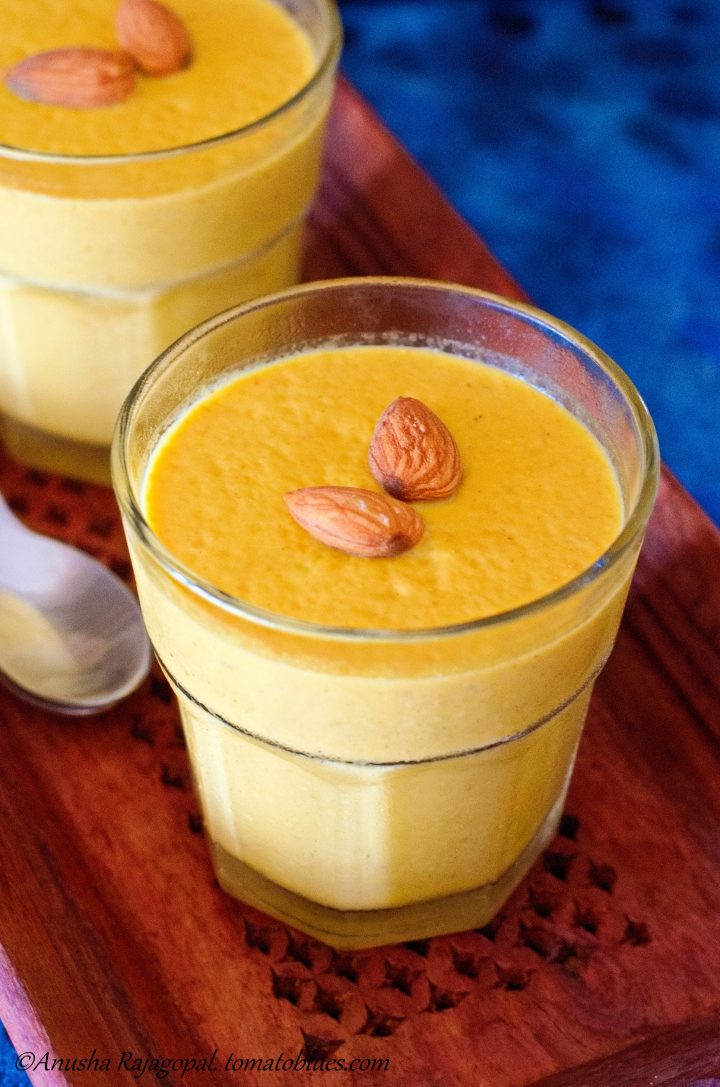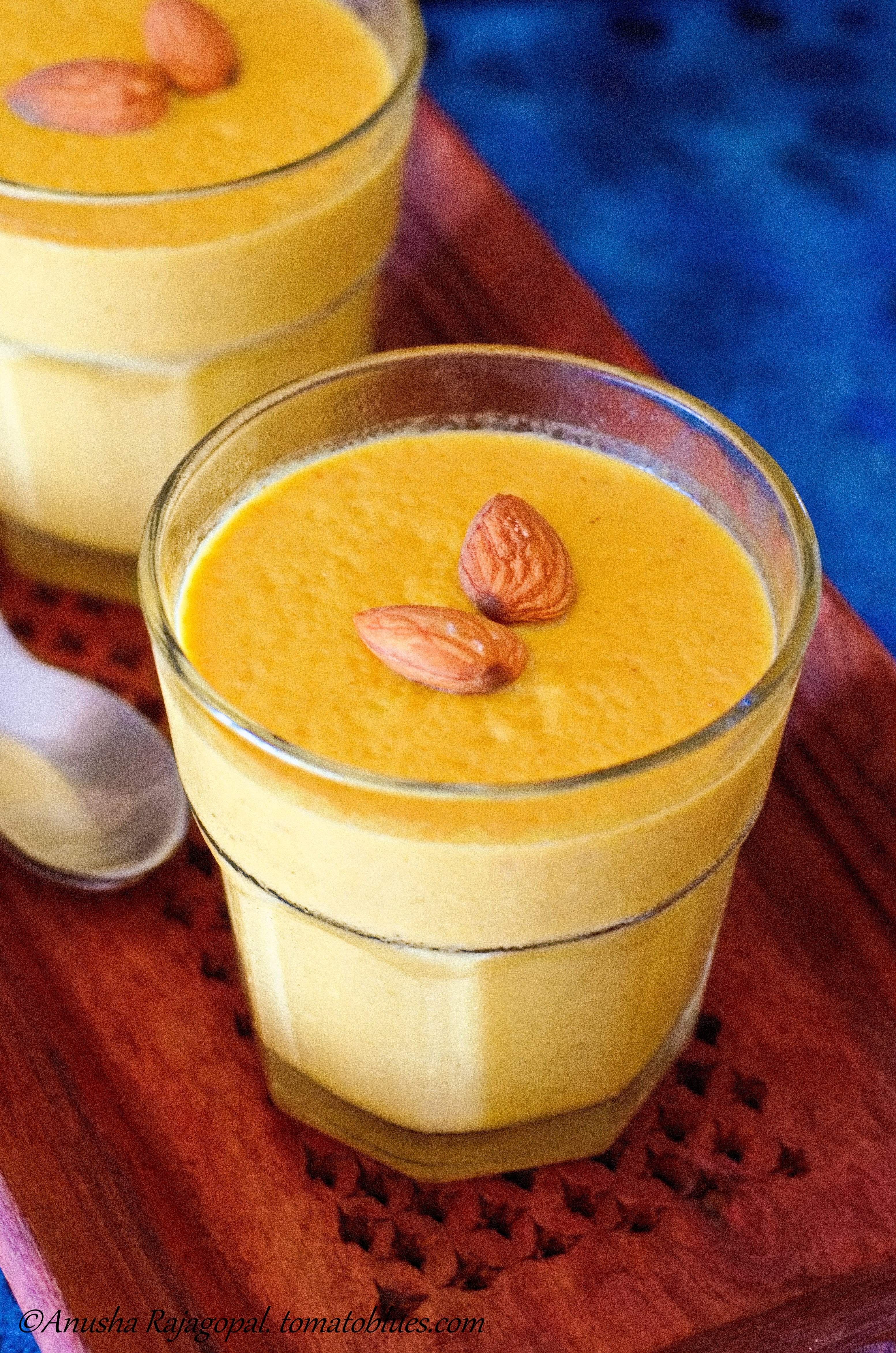 Why we love this recipe?
This is a delicious breakfast recipe that you will not stop making , once you try it. It checks all boxes that are necessary for a good breakfast.
Healthy.
Delicious.
Can be made ahead.
Attractive to kids.
Quick to eat/ drink.
So do you need any more reason for making carrot milk?
Carrot milk for toddlers and babies
If you ask if this recipe is suitable for toddlers and babies, the answer is both yes and no. This recipe has nuts and dried fruit. So this is not recommended for babies below 6 months.
This recipe is a great way to introduce carrots to toddlers. You can make the same recipe with non-dairy milk like coconut milk or oat milk.
In case your baby is allergic to nuts, then skip the nuts in this recipe and use only carrots, figs, and raisins. 
Use plain water, carrots, raisins, and figs to make this carrot milk 
All this said and done, you can include this without any guilt in your baby's food chart after he/she turns 6 months old.
Carrot milk during pregnancy and lactation
This is an excellent drink for pregnant women because of its nutrient properties. However, if you are pregnant and suffer from reflux, then skip adding dairy milk. Or enjoy this cold. This is also  great for lactating mothers.
What alternatives can be used for Dairy milk in this recipe?
The carrot and milk combination is really yummy but not all people enjoy dairy milk in their smoothies and milkshakes. If you are someone who does not enjoy dairy-based milk or is allergic to it, then you can replace milk in this recipe with coconut milk, oat milk, or almond milk. This will also make it a vegan carrot milk smoothie.
Can sweeteners be added to this?
If your carrots are super sweet, I strongly recommend skipping sugar or any other sweetener. But in case, the carrot Gods don't smile on you and you are left with bland as sawdust kinds, then use organic maple syrup or jaggery or honey or even agave. Please note that adding honey will make it non-vegan.
Can you have this at night?
While we have enjoyed this lovely drink at night, it has always been chilled. Having room temperature dairy milk-based beverages or even hot dairy-based beverages during the night may increase reflux and acidity issues.
Adding a pinch of saffron to your carrot milk during the night not only improves the flavor but also your sleep quality. Saffron is used as an anti-depressant in Ayurvedic treatments, is believed to have immunity-boosting properties.
If you are looking for more breakfast smoothie options, then check out our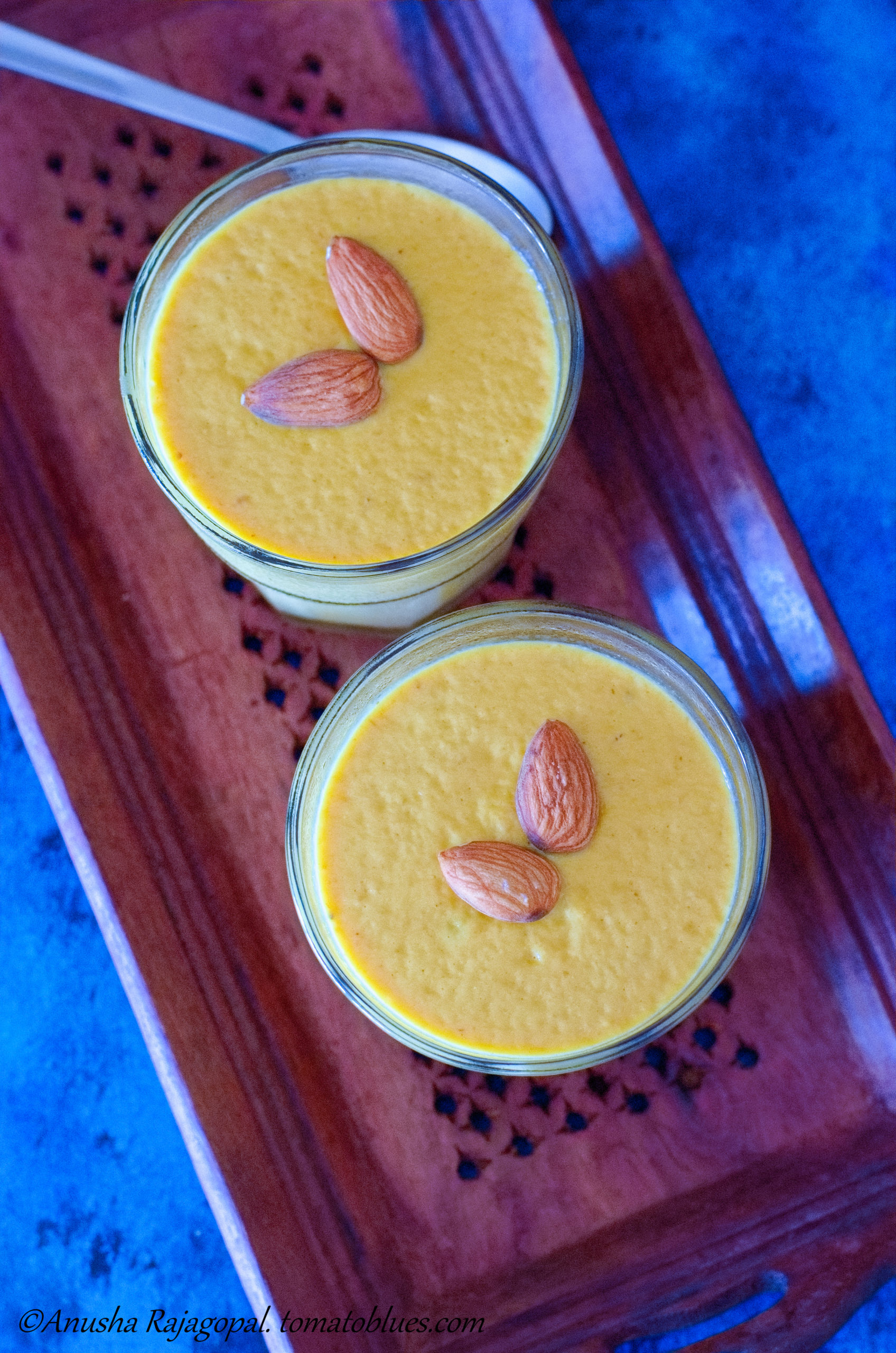 Method
Soaking nuts and raisins
First, soak the almonds, walnuts, raisins and figs in warm water for 30 mins to 1 hour.
Once done, drain the water fully.
Pressure cooking carrots
Pressure cook carrots for 2 whistles by combining them with water. Raw carrots don't work well in this recipe because they don't blend well with the milk. Alternatively, you can also steam your carrots in a steamer. You can also pressure cook the carrots on low-pressure mode for 2 mins in the Instant pot and do a 10 min NPR.
If you are pressure cooking the carrots, then once it's done, let the pressure release naturally. Do not drain the water from the carrots.
Blending
Add the soaked and drained nuts to a blender. Tip in the steamed carrots along with the water used for cooking them.
Now, add cardamoms, vanilla and maple syrup ( read post for more details on sweeteners). Blend to a smooth paste.
Next, add milk to the blended carrot puree. Blend again to a smooth puree to a smoothie-like consistency.
Once done, pour into glasses, chill and enjoy. You can make this the night before if serving for breakfast. If you are using non-dairy milk, then this smoothie keeps well for 3 days in the fridge.
Looking for more carrot recipes? Then check out our
Here s the video on making this delicious and healthy carrot milk: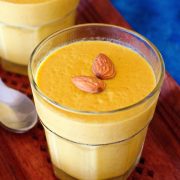 Print Recipe
Carrot Milk Recipe
An easy and nutrient dense breakfast drink with carrots and nuts.
Ingredients
3

medium

carrots

peeled

3/4

c

water

6

almonds

5

walnuts

2

tbsp

raisins

2

figs

2

cardamoms

1/4

tsp

vanilla

1

tbsp

maple syrup

250

ml

cold milk

Use milk that has been boiled and cooled.
Instructions
Soak the almonds, figs, walnuts and raisins in 1 c warm water for an hour.

Pressure cook carrots with 3/4 c water for 2 whistles. Let pressure release naturally. Allow carrots to cool.

Drain the water used for soaking the nuts and fruit completely.

Add the nuts and fruit to a blender.Add cooked carrots along with the water used for cooking to a blender.

Add cardamom, vanilla and maple syrup.

Add milk to this blended puree. Blend again into a smooth puree resembling a smoothie.

Chill for 1 hour if needed.

Pour into glasses and serve.
Video
Notes
Note: Calorie values mentioned here are only a rough guide. 
I m not a certified nutrition or diet expert to provide accurate values.
Please use these values only as an approximate value.
Values may change based on the ingredients used.
For Instant Pot & Air Fryer Recipes
Instant Pot timings may vary based on your geographic location. Air fryer settings and timings may vary based on the capacity and the model of the Air fryer.
Disclaimer
Nutrition values are provided here as a courtesy and are only a rough guide. Please consult a health care provider if you have any concerns.
Nutrition