The entire clan of Rajagopals are gargantuan fans of cracked wheat upma. In case you all dint know, i was Anusha Rajagopal before i made the transit to Anusha Praveen. Having come from that clan, i m no exception. I love my cracked wheat upma but i dont enjoy the almost plain upma that they make at my house. Amma makes it with just green chilies, ginger and curry leaves. But i like my version. This is truly a weight watchers delight with the added advantages of veggies as it fills you up well but is not high on calories. This is a vegan dish by itself but, we enjoy it with yogurt. In case, you are one of those who cant stand curd, you can relish this with coconut chutney and you wont be disappointed. Oh! did i mention the quick and easy to make part? And this makes a fabulous breakfast.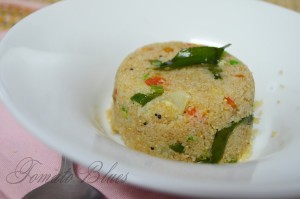 Recipe For Cracked Wheat Upma
( Cracked wheat or godhumai rava upma with assorted veggies)
Prep Time: Under 20 mins
Cook Time: 15 mins
Serves 3
What You Need?
Cracked wheat 1 cup
Water 2.25 cups
Carrot cubed 4 tbsp
Beans chopped finely 4 tbsp
Fresh green peas 2 tbsp
Potato 1 small peeled and cubed
Onion 1 medium chopped finely
Green chilies 10 to 12 slit lengthwise
Grated ginger 1 tbsp
Curry leaves 8 to 10
Mustard seeds 1 tsp
Urad dal or split black gram dal 1 tbsp
Chana dal or bengal gram 1 tbsp
Salt to taste
How To Make It?
In a large pan, bring the water to a boil.
Simultaneously, heat oil in a pan and add the mustard seeds.
Once they splutter, add the dals and wait for them to turn a light brown.
Once done, add the chilies, curry leaves, ginger and onions and saute till onions turn a light golden brown.
Your water must have begun boiling by now. Turn the heat on the water to the lowest.
Now, add the other veggies to the onion mixture and saute for 2 mins.
Pour the boiling water into the veggies and add salt.
Now stir in the cracked wheat and cook on high flame for 3 to 4 mins.
After 4 mins, turn the flame to the lowest and cook covered for another 5 mins.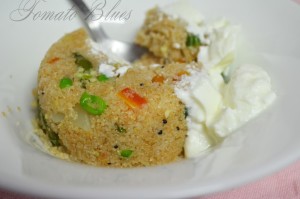 Once done,serve hot with curd or coconut chutney.
P.S. Use only the amount of water mentioned. In case you use more water, you wont have upma but cracked wheat fudge instead.You can also make this without onions.