I am sure you all would have enjoyed the festive goodies during the Diwali season. But we can all do with a detox meal plan to help ease us into regular eating, right? Time to give the body some nourishment with these post Diwali meals. Try this plant-based meal plan this week to get back into healthier eating.
Follow us on Pinterest for delicious pins.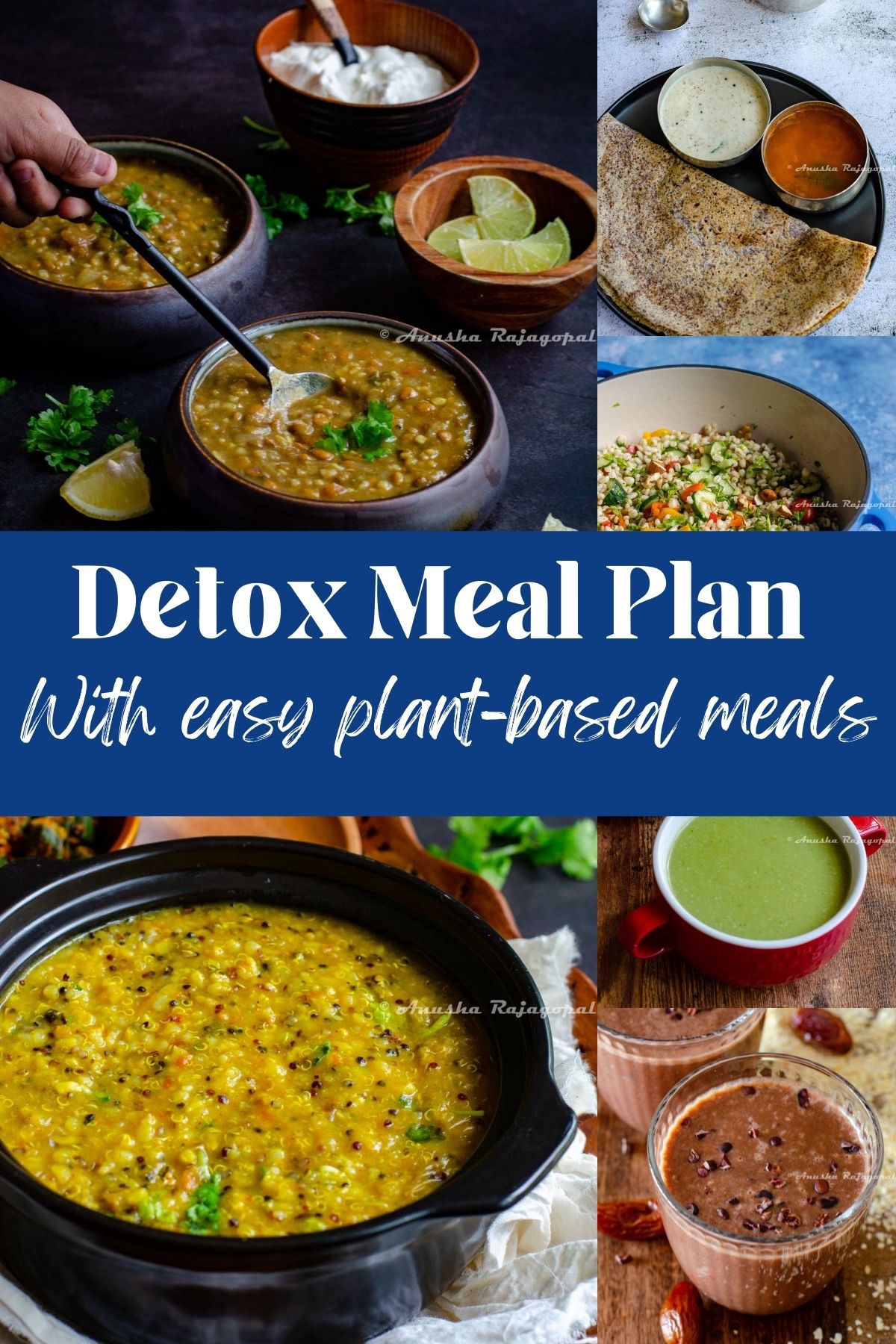 What is a detox meal plan?
Well, the concept of detox may mean many things to many people. In our house, we look at this as a way to nourish our bodies with nutrients. The source of these nutrients may be anything from veggies to whole grains. 
We tend to stick to these kind of meals post festive season.This way, we replenish the lost nutrients.
Plant based meal plan
Today's meal plan features plant-based meals for the most part. The only exception here is the yogurt. If you want to skip the yogurt, please feel free to do so. Or you can use plant based yogurt.
Coconut yogurt is a great option. The tempering in the lemon Rasam is made in ghee. Use any neutral flavored oil to make this vegan.
Following this meal plan is also a great way to go vegan for a week and see if your body can handle it.
Instant Pot is the star
in this week's meal plan. I m sure we are all tired after churning out delicious sweets and snacks for the past two weeks and could use a break from elaborate cooking.
One pot meals are your best friend if you are fatigued from all that cooking and cleaning up. And for breakfast, we are going to keep it minimal and truly light in every sense. 
This week's meals
Monday
Breakfast- Kesar Badam Overnight Oats
Lunch- Moong Dal Cheela and yogurt ( Use coconut yogurt for a vegan version).
Dinner- Ragi Dosa with Instant Pot Tiffin Sambar
Tuesday
Breakfast- Blueberry chia smoothie
Lunch- One pot brown rice Sambar Sadam and carrot beans curry
Dinner- Broccoli soup
Wednesday
Breakfast- Coriander poha
Lunch- Brown rice, lemon rasam and broccoli fry
Dinner- Vegan butternut chili
Thursday
Breakfast- Dosa, tomato chutney
Lunch- Middle eastern Barley salad
Dinner- Persian lentil soup
Friday
Breakfast- Vegan coffee banana smoothie
Lunch- Rasam rice with quinoa, Vazhakkai podimas
Dinner- Ragi chapati, capsicum zunka
Prep Work for this week's meals
On Sunday night-
Prep the Kesar Badam overnight oats.
Soak the Moong dal for cheelas.
Prepare the Ragi dosa batter.
Prep the veggies except shallots and tomatoes for the Instant Pot Tiffin Sambar.
On Monday Night-
Blend the berry smoothie and keep ready for breakfast the next day morning.
Chop carrot, beans and broccoli. 
On Tuesday Night-
Chop butternut squash and keep ready.
Clean the cilantro, wrap in paper towels and store in an airtight container in the fridge.
On Wednesday Night-
Make tomato chutney, let it cool and refrigerate.
Cook barley in the Instant Pot, let it cool and refrigerate. Read the Instant Pot Barley post for more details.
Chop all veggies except onions needed for the salad and keep ready. Prepare the dressing and refrigerate.
On Thursday-
In the morning, soak the lentils and rice for the soup.
After dinner, blend the smoothie and refrigerate.
Also chop veggies for the Ragi chapati and capsicum zunka after dinner.
Things to note
Never chop onions and garlic ahead of time. Both are breeding ground for bacteria and should not be chopped and stored at any cost.
I will not be serving the Moong dal Cheelas with paneer this time as I want to keep it light. You can add paneer if you are serving it for kids.
All soups included in this meal plan are freezer-friendly. Please check the individual posts to know how to freeze them.
I use frozen shredded coconut for all my curries. This is so convenient since it need not be thawed ahead of time. You can find this in all Indian grocery stores. 
Just like how soups can be frozen, you can freeze dosa batter too. Please read the individual blog post to find out how.
Printable meal plan & grocery list
You can download or print this vegan meal plan along with the grocery list by clicking below.
Meals plans from the past