How To Make Carrot Beans Poriyal, A Simple No Onion No Garlic Stir Fry?
Carrot Beans Poriyal is a simple stir fry using carrot, beans and fresh coconut. Vegan. Poriyal Recipes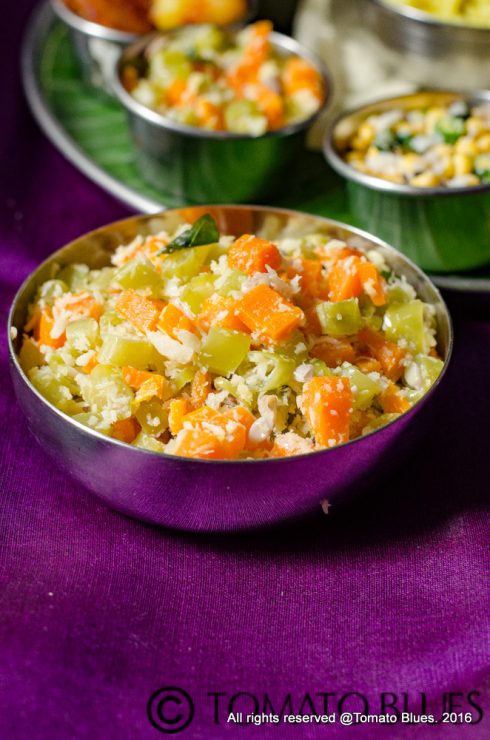 Carrot Beans Poriyal is a simple no fuss dry curry made the South Indian style with lots of freshly grated coconut and curry leaves. This poriyal is a no onion no garlic recipe that is frequently made in my kitchen. Apart from the fact that it is vegan and can be made gluten free if the hing is omitted, this carrot beans poriyal is a great dish because it calls for minimal ingredients and yet packs a punch. And it is also very kid friendly because of the colorful appearance of the dish. It is the norm in my house to make satvik food on special occasions. We are not that biriyani kind of people. In fact, when i think about it, my daily meal itself is almost satvik if i go the South Indian route but for the occasional kara kuzhambu . I tend to make one shallow fried curry, one simple stir fry like this carrot beans poriyal, a kuzhambu, rasam,  all of which is served with rice and homemade yogurt. And the dessert is always a fruit or some fruit based milkshake or lassi. Carrot beans poriyal is a favorite at home. Lil A loves her carrots and picks them out separately from the poriyal, which is one more reason, why i make this quite often these days. Making this is a breeze on days when you are pressed for time. In case you want to make this ahead, prepare the entire poriyal and add the freshly grated coconut just before serving. This is to extend the shelf life of the dish. So, shall we now check out the recipe for carrot beans poriyal?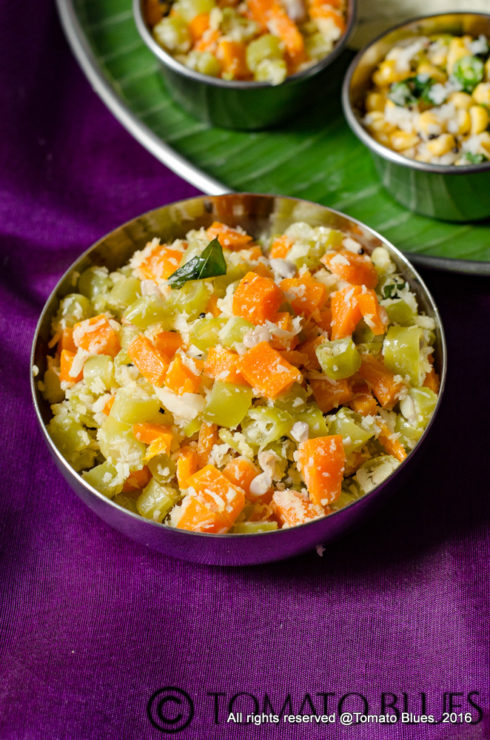 Recipe For Carrot Beans Poriyal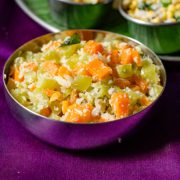 Print Recipe
Carrot Beans Poriyal Recipe
Carrot Beans Poriyal is a simple vegan stir fry made using carrots, beans and freshly grated coconut. Tastes great with rice, sambar or rasam.
Ingredients
Carrot 1 largish peeled and cubed

Beans 12 stringed and chopped finely

Freshly grated coconut 2 tbsp

OIl 2 tsp

Mustard seeds 1 tsp

Urad dal 1 tsp

Curry leaves a sprig

Dry red chilies 2 torn

Salt to taste

Hing a small pinch

optional, skip for a gluten free version
Instructions
Cook the carrot and beans together until firm but done. I use my microwave for this and cook the carrot and beans on high for about 7 mins in 2 cups of water.

Once done, drain the water completely and set aside. I use this drained water in soups or rasam.

Heat a pan with oil.

Pop the mustard seeds and tip in the urad dal, curry leaves, dry red chilies and hing if using.

Once the dal turns golden, add the cooked carrot and beans along with salt and mix well.

Cook this on medium flame until mixture turns almost dry. Takes about 3 to 4 mins

Once done, switch off flame and add grated coconut and mix well.

Serve hot.
For Instant Pot & Air Fryer Recipes
Instant Pot timings may vary based on your geographic location. Air fryer settings and timings may vary based on the capacity and the model of the Air fryer.
Disclaimer
Nutrition values are provided here as a courtesy and are only a rough guide. Please consult a health care provider if you have any concerns.