Potato Podimas or Urulai Kizhangu Masiyal is a south Indian style mashed potato recipe  that comes together in a pinch if you have some boiled potatoes on hand. Serve this vegan potato curry as a part of a complete South Indian meal platter.
Follow us on Pinterest for delicious pins.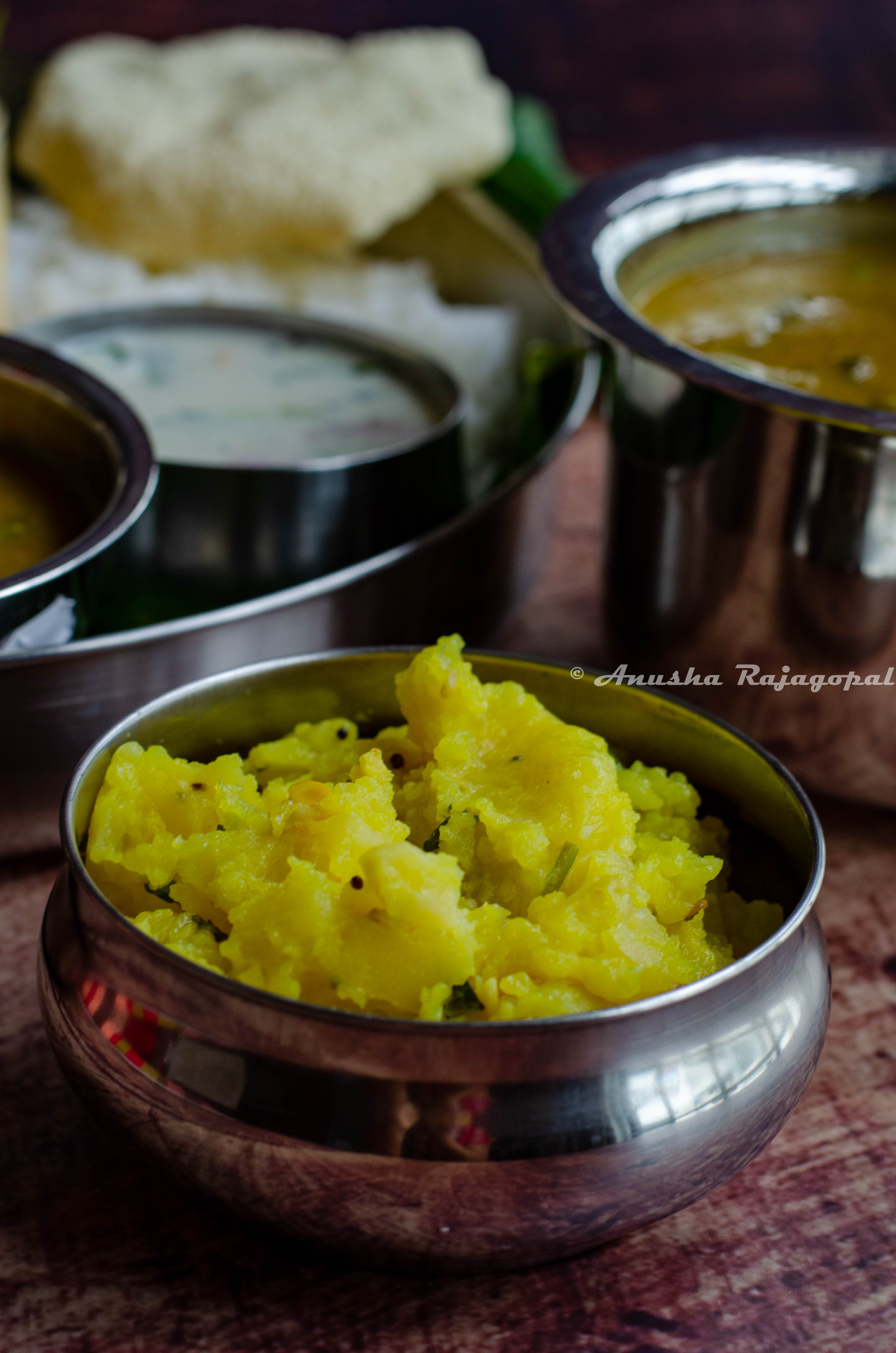 Why we love this recipe?
✓ It is so versatile! Serve them with rice, Rotis or make fritters with them.
✓ A Sattvic South Indian dish, this is such an easy dish to put together.
✓ This curry is what you need to make a South Indian Thali complete.
Jump to:
Ingredients
Potatoes– Use any floury potatoes to make this tangy curry.
Tempering- All South Indian dishes revolve around the concept of tempering. Tempering in Tamil is Thalikaradhu. It is such an integral part of cooking a south Indian meal. This recipe uses a combination of urad dal and channa dal( Chickpea lentils) for tempering. The dals give a nice bite to the dish.
Turmeric- Adds a vibrant yellow to the dish and also gives a beautiful earthy flavor.
Lemon juice- This is perhaps the star in this dish. The slight tang that comes with this curry is the elevating factor. And this is what makes it the perfect accompaniment for some Sambar and rice.
Ginger and green chilis- While we will be using green chilis to spice this up, ginger adds a subtle pleasant pungence. Ginger also helps in keeping gas issues at bay. 
Pro Tip: For any starchy root vegetable based dish, always make sure to add either ginger or pepper or garlic. This helps reduce bloating, gassiness and flatulence.
Meal Planning
I learned a very valuable lesson from my cook a few years ago. In the wise words of Bhavana Ben, " Didi, Hamesha fridge me ubla hua aloo rakhe rehna" Wondering what that means? Well, my cook Bhavana used to remind me to always have boiled potatoes in the fridge always. I follow this rule religiously till date. And believe me, if you have some on hand, this curry will come together in 5 mins flat.
Freezing and Shelf Life
If you want to freeze potato Podimas, then let it cool after cooking. Do not add the lemon juice. Transfer this cooled down podimas to a freezer-safe container and freeze. Before using, allow it to thaw in the fridge for 4 hours or for 2 hours at room temperature. Alternatively, you can use the microwave to defrost it.
When thawed, add the curry to a pan and gently heat it. If you have a microwave, then you can reheat it on high for 1 min. When warm, add the lemon juice and mix well. Serve as a part of a meal.
This keeps well for upto 1 month.
Method
Pressure cooking and mashing
Combine the potatoes with water and salt. Pressure cook this for 3 whistles. Allow pressure to release naturally. When done, drain all the water from the potatoes. Let it cool. When cool, peel and mash the potatoes using your finger. The mashed potatoes have to be chunky and not smooth.
Tempering
When the potatoes are ready, heat a pan with oil. Add the mustard seeds and when they pop, add the urad dal , Channa dal, green chili and ginger along with curry leaves and asafetida. When the dal begins to brown, add the turmeric. Immediately, tip in the mashed potatoes and salt. Mix well. Cook on medium flame for about 2 to 3 mins.
When done, garnish with finely chopped cilantro. Allow it to cool down a bit. When slightly warm, add lemon juice and mix well. Serve with rice and sambar or even with Rotis.
More South Indian Recipes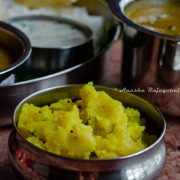 Print Recipe
Potato Podimas
South Indian styled mashed potatoes spiced with ginger and green chili. Vegan.
Ingredients
2

largish potatoes boiled and mashed

2

tbsp

finely chopped Green chillies 4 chopped finely

2

tsp

finely chopped Ginger grater 1 tsp

1/2

tsp

Turmeric powder a large pinch

1/4

tsp

Hing a pinch

1

tsp

Mustard seeds 1 tsp

1

tsp

Urad dal 1 tsp

2

tsp

Channa dal 1 tsp

10

Curry leaves a sprig

1

tbsp

Oil 2 tbsp

2

tsp

Salt as needed

For garnish

2

tbsp

Finely chopped Cilantro

2

tbsp

Lemon juice
Instructions
Combine the potatoes along with 2.5 c water and 1 tsp salt.

Pressure cook the potatoes for 3 whistles.

Allow pressure to release naturally.

When done, drain the cooked potatoes well in a colander.

Peel them and mash them lightly once done.

Now, mix the required amount of salt and combine well but take care not to mash the potatoes too much.

Heat oil in a kadai.

Add mustard seeds and after they splutter, add the dals and hing

Once the dals turn a light brown, add green chillies, curry leaves and turmeric powder.

Saute for 2 mins.

Next, add the mashed potatoes and combine well.

Now, saute the potatoes on medium flame for 3 to 5 mins.

Let it cool.

Once cooled, add the lemon juice to this and combine gently.

Garnish with cilantro and serve hot with rice.
For Instant Pot & Air Fryer Recipes
Instant Pot timings may vary based on your geographic location. Air fryer settings and timings may vary based on the capacity and the model of the Air fryer.
Disclaimer
Nutrition values are provided here as a courtesy and are only a rough guide. Please consult a health care provider if you have any concerns.
Please note that this post was originally published in November 2011. This has now been updated with fresh recipe card, method pics and final pics.