When someone says Avial , i m reminded of a childhood neighbour.  I used to call her maami. And she was a Palakkad brahmin. I can say she was a godmother sort of person to me and she was the one who introduced me to this dish. And this is my husband s favourite dish. He happens to like the coconut flavour in the dish and i love it because it s loaded with veggies of all kinds.I generally serve it with adai or rice. Adai
Aviyal
combo is quite popular in Tamil Nadu especially Coimbatore because we are close to Kerala. Whenever i eat the dish, fond memories of me ambling around maami s house come back to me. And that s why this is so close to my heart. For Maami and my husband, from my kitchen, a bowl full of that creamy flavourful Avial. Maybe i ll meet her this time when i go home. And i ll tell her that i made avial. I can imagine the flow of conversation…. 🙂 Oh and some more reason to love Aviyal- its chock full of veggies.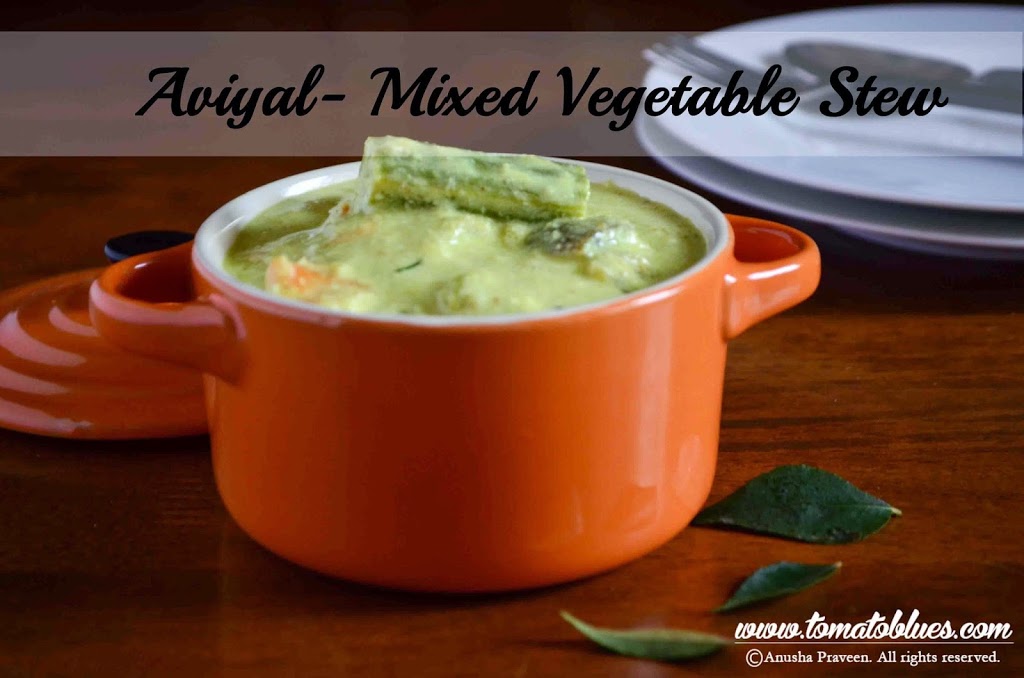 Recipe For Avial
( Learn to make Avial, a mixed vegetable stew from Kerala, South India)

Prep Time: 20 mins
Cook Time: 30 mins
Serves: 3 to 4
Allergy Info: Vegan, Soy free and Nut free
Course: Accompaniment to rice
Cuisine: Kerala ( South Indian)

Ingredients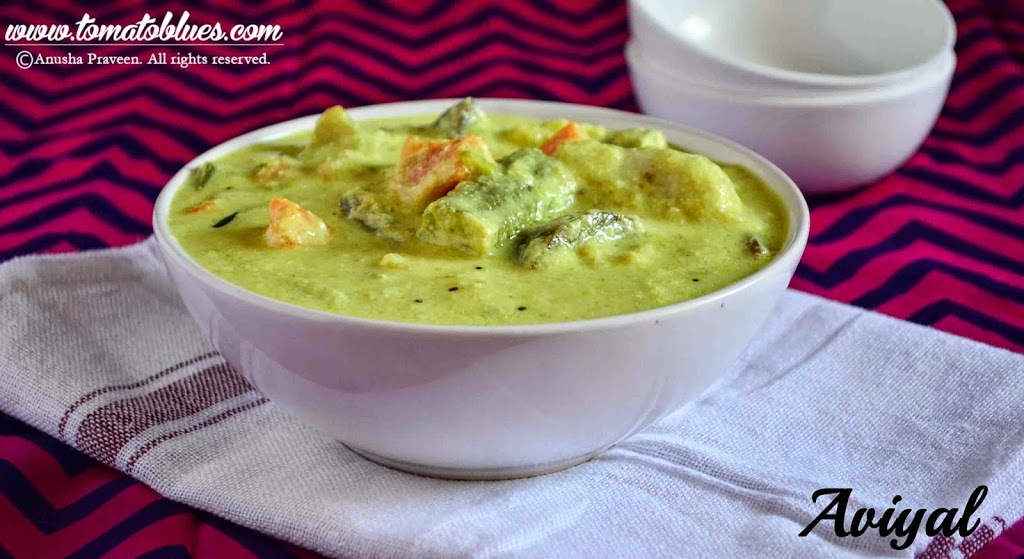 Mixed Veggies ( drumstick, carrot, brinjal, beans, white pumpkin, raw tomato, broad beans, cluster beans, potato, yam, colocassia) 1 and ½ cup chopped into cubes or lengths
Coconut oil 1 and ½ tablespoon
Thick Fresh Curds 1 and ½ cup
Turmeric Powder a large pinch
Salt as per taste
To be ground into a paste:
Grated coconut ¾ cup
Green chillies 5
Cumin seeds 1 teaspoon
For Tempering:
Coconut Oil 2 tablespoon
Mustard seeds 1 teaspoon
Hing a large pinch
Curry leaves a sprig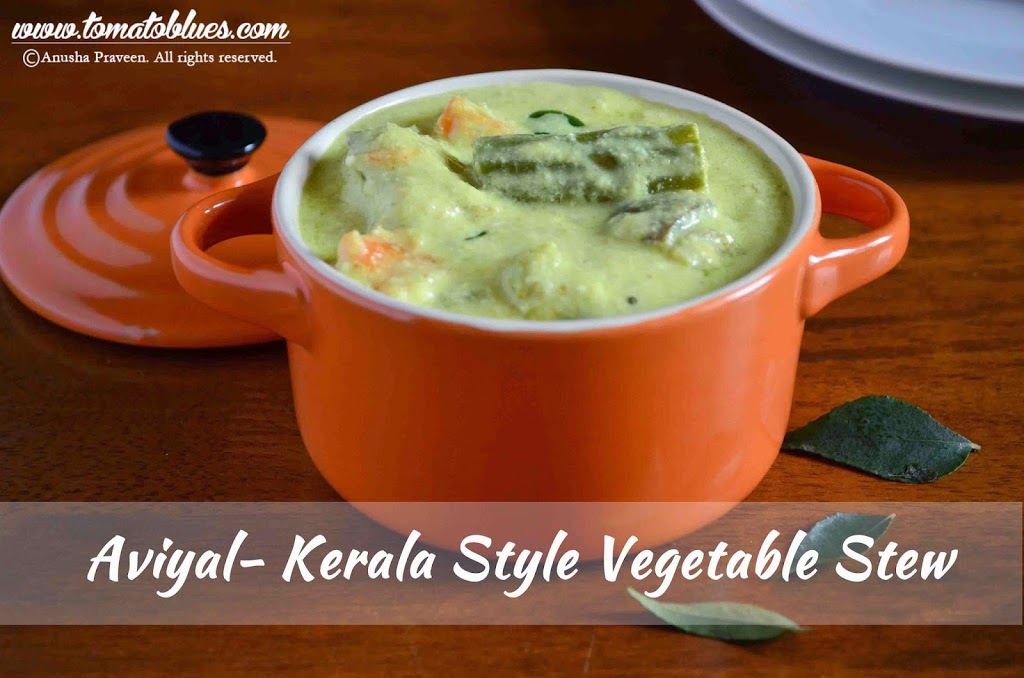 Directions
If you want to eat avial, you have to forget about calories and cholestrol. Just go easy on yourself and relax. Treat yourself to this and you will definitely love it.
Boil the vegetables in water until well cooked. Boil potato, yam and colocassia seperately or better yet, pressure cook them for 3 whistles.
Set aside the boiled vegetables. Grind the cumin, coconut and the chillies to a smooth paste. You can adjust the spiciness by adding or decreasing the number of chillies.
Heat  coconut oil in a kadai. Add turmeric powder. And add the boiled veggies. Saute for 3 to 4 mins.
Now add the coconut paste and combine well. Cook on low flame for 5 mins.
Once done, take off from heat and let it cool down completely.
After it cools down, add the salt to the curds whisk well and add to the mixture. Combine well but gently. Take care not to mash the veggies.
Now, temper with mustard seeds, curry leaves and hing in coconut oil.
Serve with rice or Adai.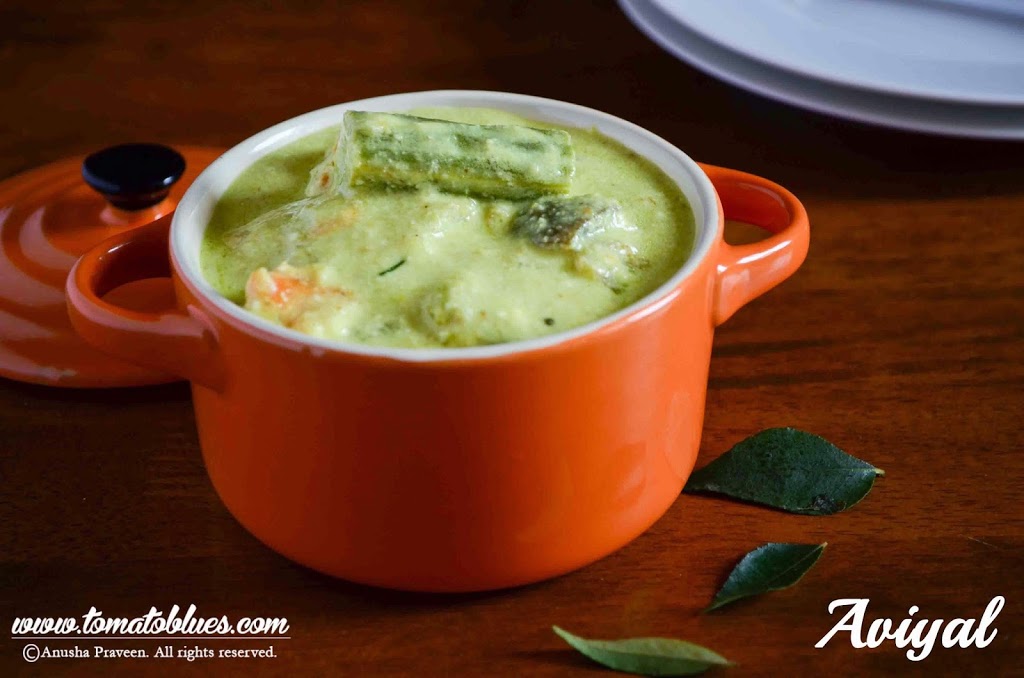 This is my entry to  Healing Foods: Coconut Event by Siri  and guest hosted by  Sukanya of Saffron Streaks 

Note: Dont attempt this recipe in any other oil but coconut oil. The dish tastes better if the curds are slightly sour. It thickens after sometime but can be thinned by adding some more curd later on too.