Step by step guide to make Kerala style Pulissery with pineapple.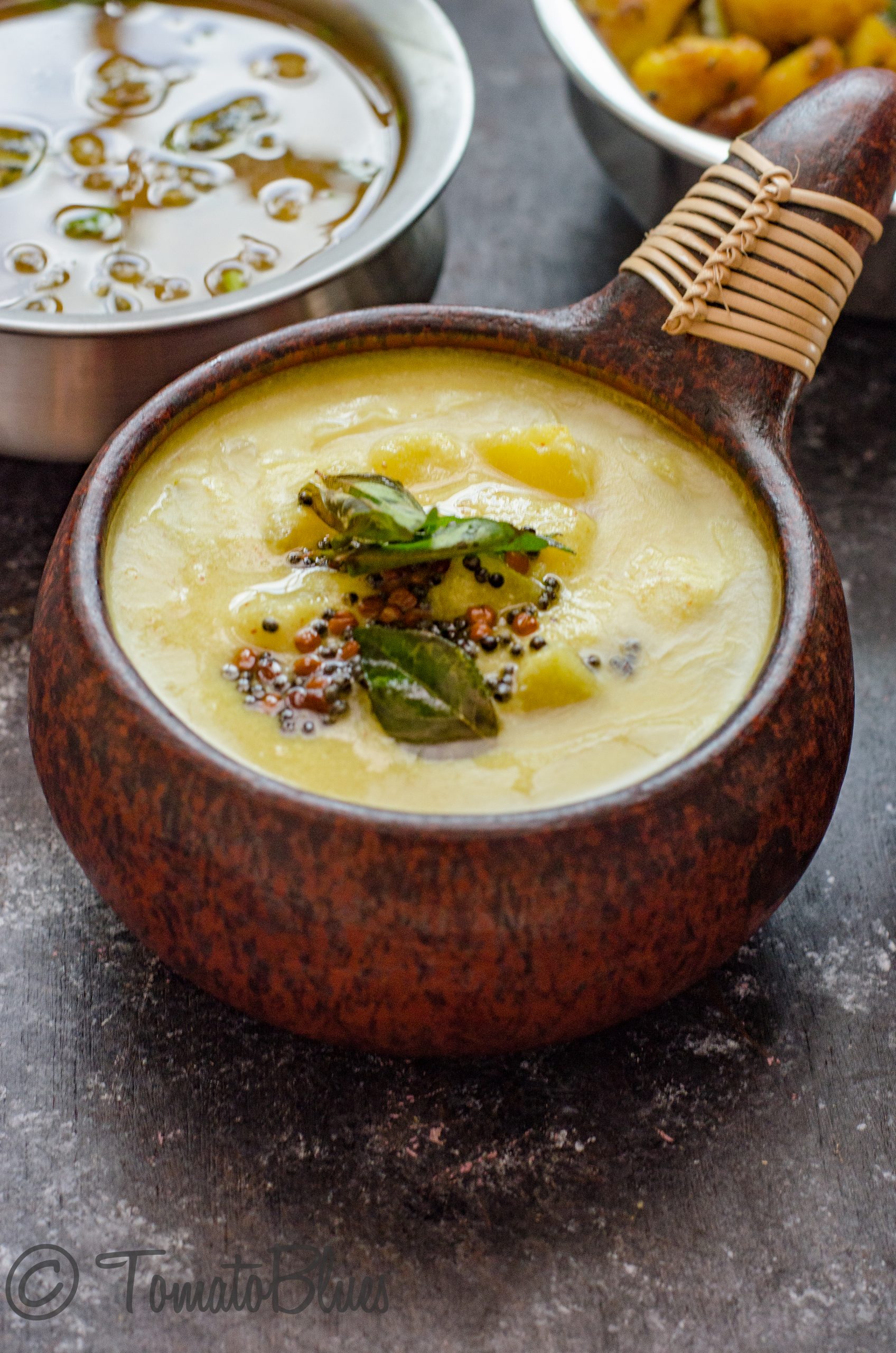 Pineapple Pulissery is a traditional Kerala based dish that is served as a part of the Sadya. Sadya means feast in Malayalam and it is an elaborate affair which has at least 15 dishes. A sadya is usually prepared during festive occasions like Onam and Vishu. This pulissery is made usually with whatever fruit is in season. So summers are meant for Mambazha pulisseri and when mangoes are not in season, then nendram banana or pineapple is used.
I have a fondness for Pineapple. I cant eat it as is. It gives me an itchy tongue. But i love it when it s cooked. So i scour for recipes that use pineapple in cooked form. I have eaten this in a Kerala restaurant based in Baroda.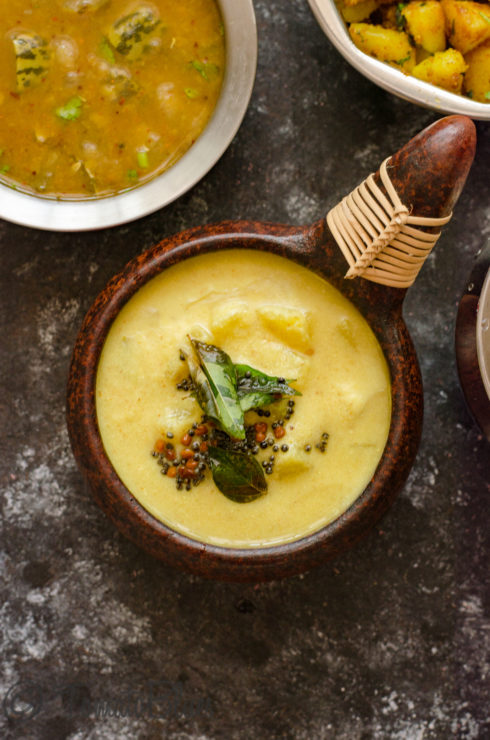 And suddenly, just like that, one day, I had this ginormous craving to eat this with  rice and pappadam. When i get a craving, i do not dismiss it casually. So, i made some pineapple pulissery and it so happened that the in house midget enjoyed it.
What sort of pineapple to use in this recipe?
Choose a pineapple that is not too ripe or too raw. The pineapple should be slightly tangy with a dominant sweet taste. Canned or preserved pineapple will not work well for this recipe.
Choosing yogurt:
Using slightly tangy yogurt. The tang of the yogurt, the sweetness of the pineapple and the fresh and delicate coconut flavors come together like symphony in this gem of a recipe.
What to pair my pulissery with?
This recipe which is very similar to mor kuzhambu
It is best eaten with hot rice and papadam.
If you are looking for more pineapple recipes, then check out pineapple smoothie, pineapple kesari and pineapple rasam.
Watch how to make Pineapple Pulissery aka Pineapple mor kuzhambu here: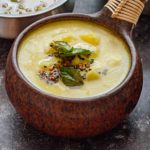 Print Recipe
Pineapple Pulissery Recipe| Kerala Style Pulissery
Pineapple Pulissery is a sweet and sour yogurt and pineapple curry. It pairs well with rice and pappadam. This Pulissery is a part of the traditional Kerala Sadya
Ingredients
Pineapple chunks 1 c

Water 3/4 c

Turmeric powder a tsp

Red chili powder a tsp

Salt to taste

Thick and sour yogurt 1 c

whisked thoroughly.

Sugar 1 tsp

To grind together -

Fresh grated coconut 1/2 c

Garlic 1 clove

Green chili 1

Cumin seeds a tsp

Shallot 1

For tempering -

Coconut oil 2 tsp

Shallots 4 sliced thinly

Dry red chili 1

Curry leaves a few

Mustard seeds a tsp

Fenugreek seeds a tsp
Instructions
Combine pineapple and water in a pan.

Cook till pineapple is soft.

Add turmeric powder and chili powder. Mix well.

Grind all ingredients under to grind to a smooth paste, adding 1/2 c water.

Add ground paste to the pan and mix well. Simmer for 3-4 mins.

Now add sugar and salt. Mix well.

Immediately add whisked yogurt and mix well.

Simmer on low flame for 2 mins.

Once done, switch off flame.

Heat another small pan with coconut oil.

Pop the mustard seeds and add Fenugreek seeds.

Add the shallots, curry leaves and dry red chilies.

Once shallots begin to brown and are soft, add tempering to the curry and mix well.
For Instant Pot & Air Fryer Recipes
Instant Pot timings may vary based on your geographic location. Air fryer settings and timings may vary based on the capacity and the model of the Air fryer.
Disclaimer
Nutrition values are provided here as a courtesy and are only a rough guide. Please consult a health care provider if you have any concerns.