HOW TO MAKE KATHIRIKAI THEEYAL?
KATHIRIKAI THEEYAL- A DELICIOUS EGGPLANT &COCONUT GRAVY FROM KERALA. ONAM SADHYA RECIPE WITH VIDEO.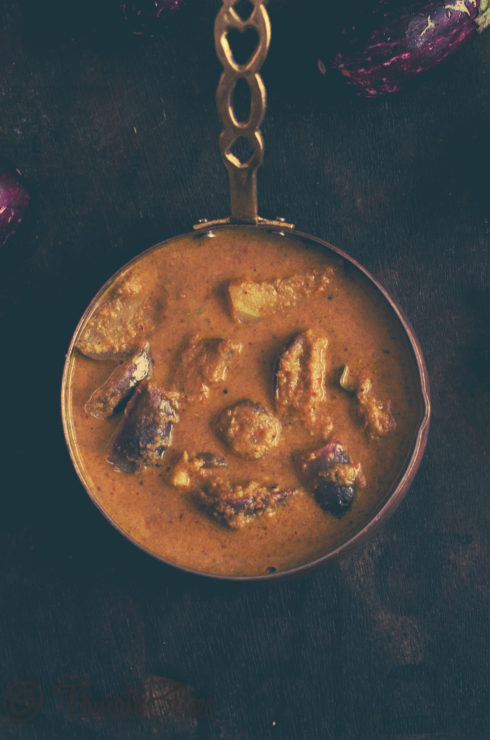 When i first discovered the flavor bomb called Kathirikai Theeyal, i became a fan of Kerala food for life. This dish that is called Kathirikai theeyal has all my favorite things- eggplants, coconut, shallots and coconut oil. While i wont call it a simple recipe in terms of the procedure, it is a very simple dish when it comes to the ingredients.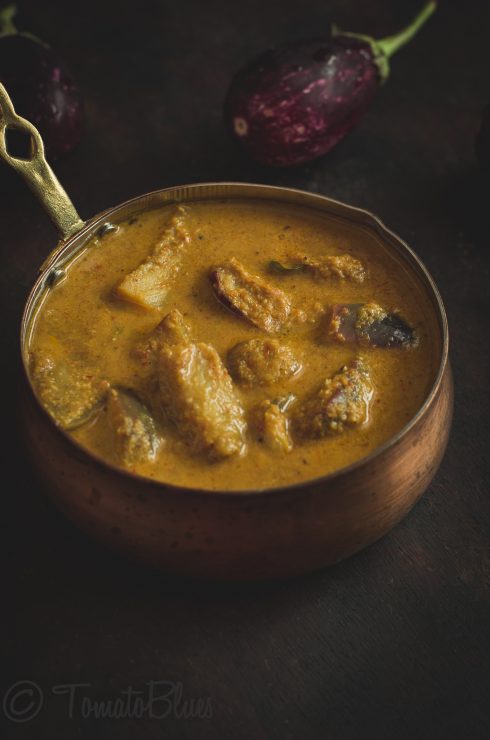 The concept of theeyal revolves around roasting the coconut to a light golden brown on a slow flame and grinding this along with other spices to a paste. Now, like any Indian recipe, the kathirikai theeyal has its own number of versions. But the central idea is pretty much one- roast the coconut! The theeyal is another dish that is a part of the 7 course meal that is served on the festival of Onam. A good sadhya must definitely have a good theeyal and if it has eggplants, well, i guess i m bowled over. You can find more Onam recipes here.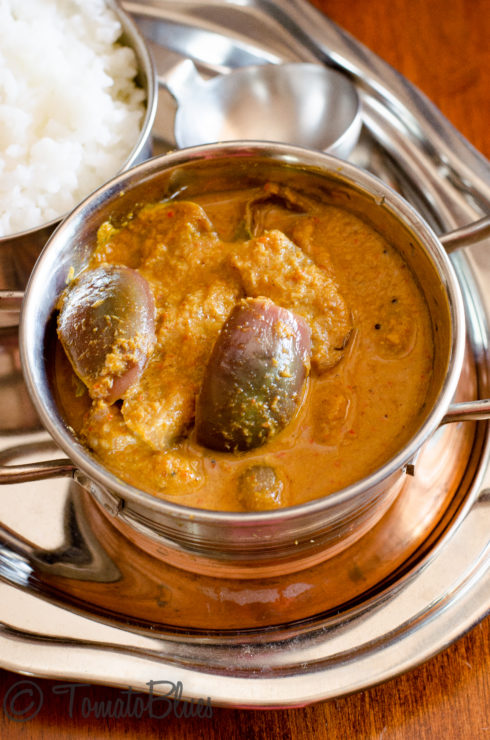 This is a video recipe and hence i did not bother taking step by step shots. If you liked this video, then go and subscribe to my youtube channel here-My YouTube Channel
Recipe For Kathirikai Theeyal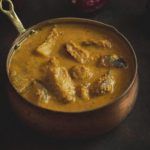 Print Recipe
Kathirikai Theeyal
Kathirikai Theeyal-A delicious eggplant and coconut gravy from Kerala. Tastes great with rice.
Ingredients
Purple eggplants 8-10 quartered

Shallots 8-10 peeled

Curry leaves a handful

Coconut oil 2 tbsp divided

Turmeric powder 1/2 tsp

Salt to taste

Tamarind extract from a small marble size tamarind ball 1 c

Mustard seeds 1 tsp

To roast and grind:

Freshly grated coconut 1/2 cup

Coriander seeds 1 tbsp

Whole black pepper corns 5

Dry red chilies 3-4
Instructions
Heat 1 tsp of coconut oil in a pan.

Keep the flame at the lowest, add the coconut and roast till light golden brown. Make sure you do not leave this unattended at any time as coconut burns quickly.

Once done, transfer to a blender.

Add a few drops more oil to the same pan and roast the coriander seeds, pepper and dry red chilies till aromatic. Again do this on low flame.

Once done, transfer to the blender, let cool and grind to a smooth paste adding little water.

Heat 1 tbsp coconut oil in a pan.

Splutter the mustard seeds and add shallots and curry leaves.

Once shallots turn light brown, add eggplants and fry for a min or two.

Add the tamarind extract along with salt and turmeric powder.

Mix well and let simmer till raw smell of tamarind goes away and the eggplants are fork tender.

Once done, add the ground paste and mix well.

Simmer for another 5 mins.

Finish with a drizzle of coconut oil and a sprinkle of curry leaves in the end.

Serve hot with rice and thoran of your choice.
For Instant Pot & Air Fryer Recipes
Instant Pot timings may vary based on your geographic location. Air fryer settings and timings may vary based on the capacity and the model of the Air fryer.
Disclaimer
Nutrition values are provided here as a courtesy and are only a rough guide. Please consult a health care provider if you have any concerns.