HOW TO MAKE KERALA SAMBAR?
Kerala Sambar- Vegan stew made with Pigeon pea lentils and mixed veggies in the Kerala style.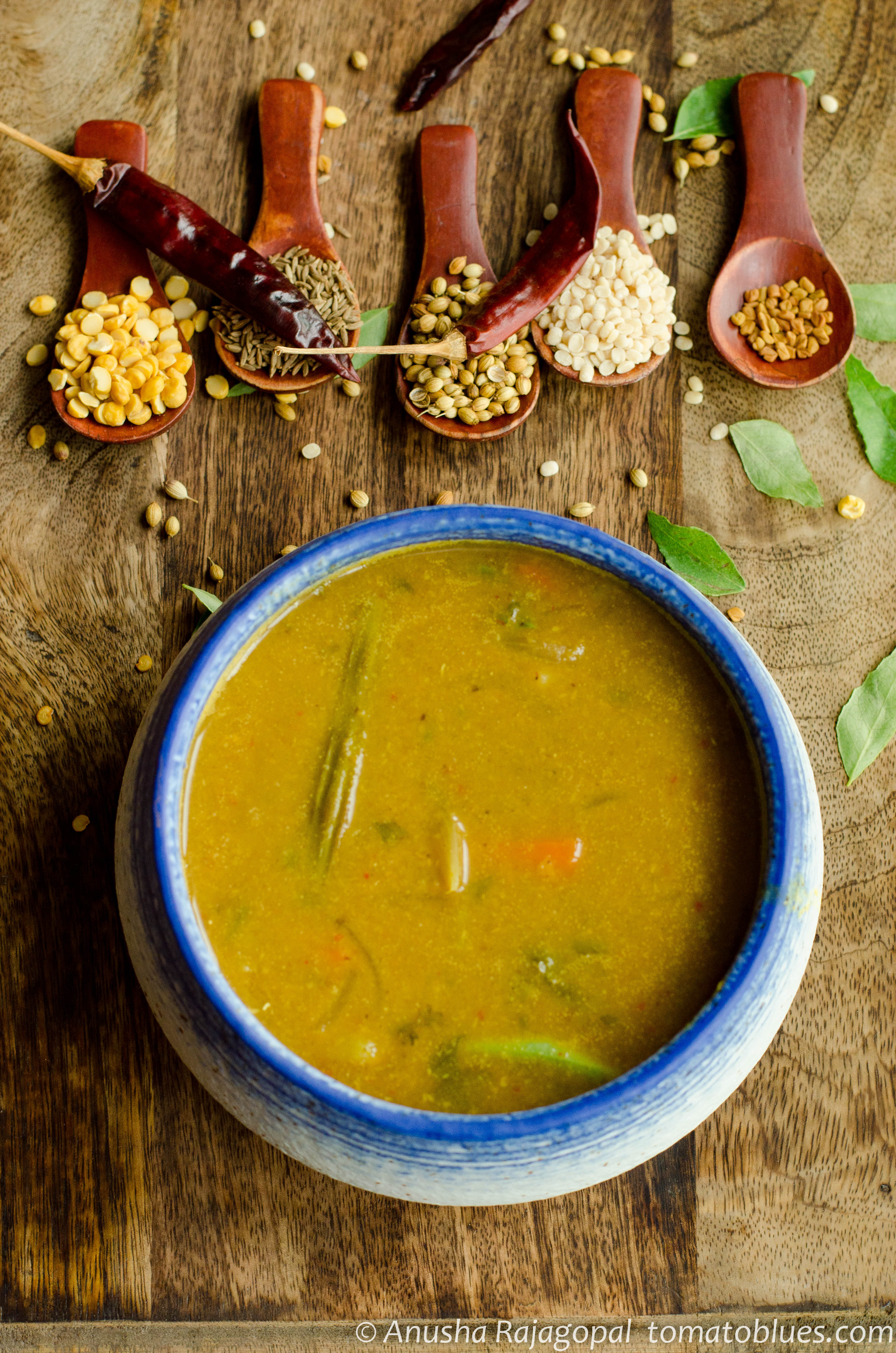 Kerala Sambar – A classic Onam Sadhya Recipe
Sambar is a ubiquitous dish in the Southern states of India. Every state has its own version of sambar. While it is believed that Sambar originated in Karnataka, this classic dish has traveled beyond borders.
The Varutharacha Sambar or the Kerala style sambar is a classic Onam sadhya dish. Sadhya means feast in Malayalam.
Generally, an enormous feast with more than 16 items is served in a Kerala household on the festivals of Onam or Vishu.
Kerala sambar vs Tamil Nadu Sambar
What is it that makes the Kerala style Sambar different? The Tamil Nadu style Arachuvitta Sambar and this are different in the spices that they use. 
This sambar uses fresh coconut, urad dal and cumin seeds in its spice paste. The Tamil style sambar does not have urad dal or cumin. Neither does it use green chili or garlic.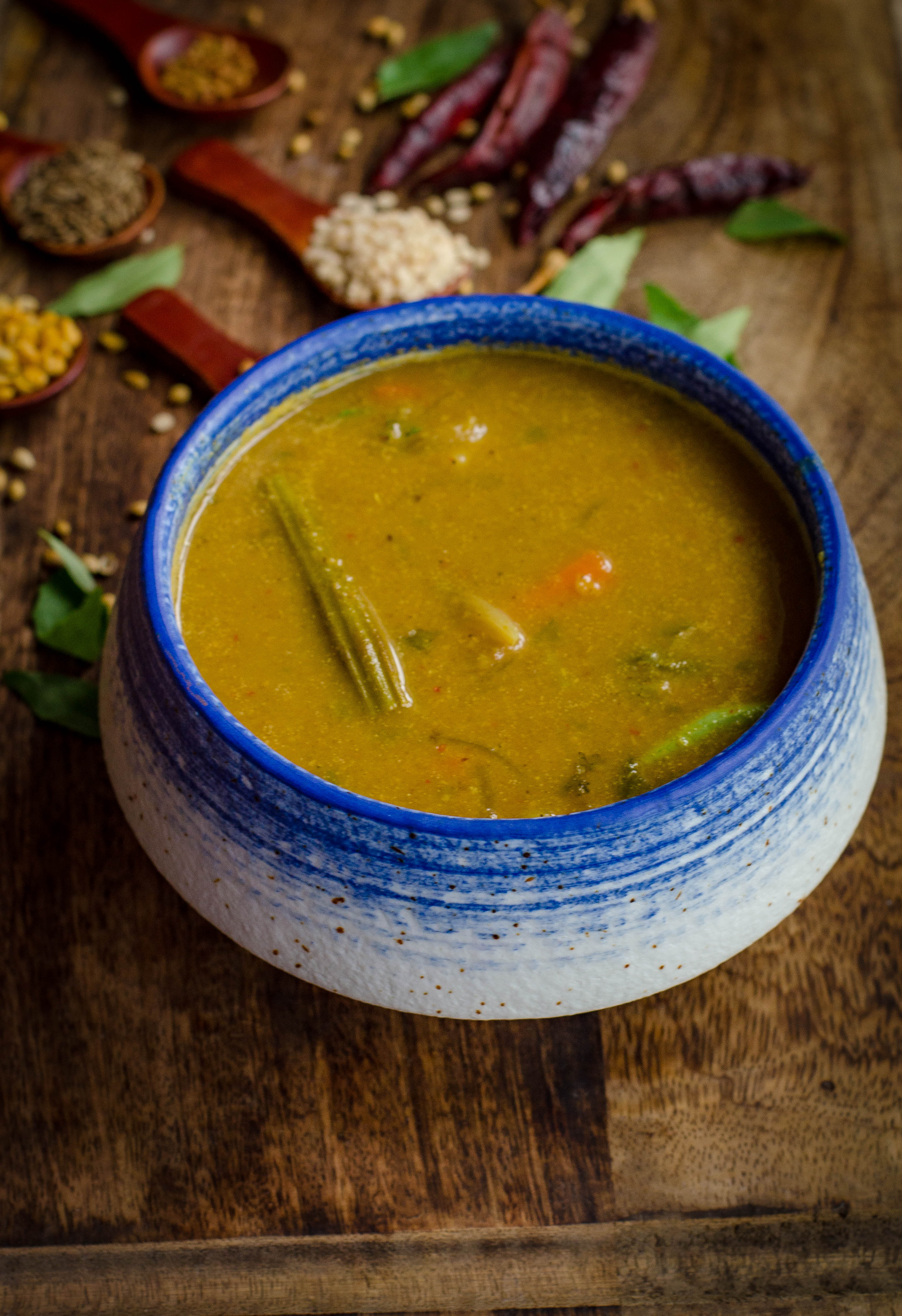 Vegetables 
This sambar uses an assortment of vegetables. But some are almost mandatory. While you can make this sambar with Brinjals, Drumsticks, Carrots and many veggies typically used in a sambar, the Kerala sambar uses a mixed veggies.
Carrots, potatoes, drumsticks are a must for making a fantastic sambar. But you can also include veggies like Okra, Brinjal, Raw banana, Raw mango and Mangalore cucumber.
I have used a combination of carrots, potatoes, okra and drumstick in this recipe along with shallots and garlic today. 
Onions, Garlic and Green chili 
This recipe uses the regular onions, shallots and garlic.
This combination is what makes it very different from the regular sambar we get in Tamil Nadu or Karnataka.
Green chili lends a subtle flavor to this recipe and hence is highly recommended.
I have used Thai green chili which are on the spicier side. Please use green chili according to your spice preferences.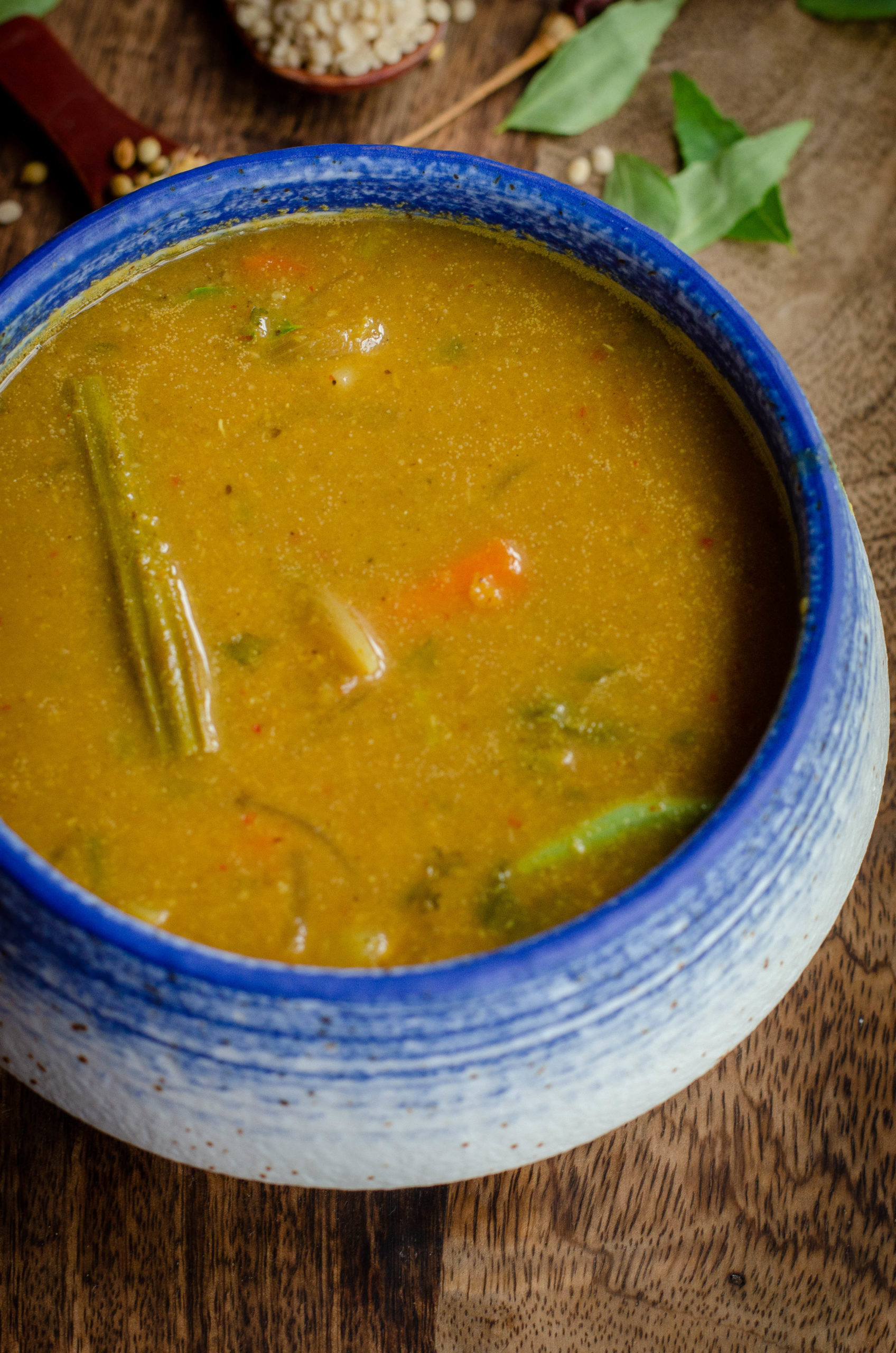 Toor Dal
I prefer cooking the dal to a mushy consistency for all my sambar recipes. This lends a nice smooth texture to it and also gives a good body to the sambar. 
I soaked my toor dal for 20 mins in warm water after washing it well. Then, i discarded the water used for soaking, added fresh water and turmeric.
Then i pressure cooked my toor dal in my Mealthy multipot on high pressure for 11 mins and let the pressure release naturally. You can also cook your toor dal in an Instant pot or regular pressure cooker.
If you are using a regular pressure cooker to cook toor dal, then cook the dal for 5 to 6 whistles and let pressure release naturally. 
Once the dal is cooked, drain and reserve the water used for cooking the dal. Then mash this dal nicely using a ladle or masher. Add the reserved water, mix well and set aside.
Coconut Oil In Varutharacha Sambar
Like any Kerala recipe, this also uses coconut oil for that nutty flavor.
I have used cold pressed coconut oil to make this but you can use Virgin coconut oil too.
Prep work for making this recipe
The work flow for this Sambar can be put together like this. 
First, soak your dal and tamarind.
While dal and tamarind are soaking, chop all the veggies and set them aside.
Once the dal and tamarind has soaked, cook your dal. While the dal is being cooked, you can make the tamarind extract and begin roasting the spices.
Once the spices are roasted, let them cool. By this time, the dal would be ready.
You can then start making the sambar.
If you are looking for more Kerala Recipes,
then please check out
If you are looking for more South Indian style Sambar or Kuzhambu recipes, then here are some recipes for you
Varutharacha Kuzhambu Recipe
Vazhaipoo Kuzhambu Recipe
Kothavarangai Puli Kuzhambu Recipe| Tangy Cluster Beans
Here s a video on how to make Kerala Sambar
Lets make Kerala Sambar step by step:
Step 1: Let s soak the tamarind and dal first and cook the dal.
Step 2: Assuming the veggies are chopped, let s begin roasting the spices. We are going to use coconut oil to roast our spices.
First , let us add shallots, garlic, urad dal, channa dal, coriander seeds, dry red chili, cumin seeds, fenugreek seeds and roast them on low flame till fragrant.
Once done, let s add the fresh grated coconut, switch off flame and roast the coconut in the residual heat until it turns light brown.
This process takes anywhere between 4 to 6 mins.
Once done, transfer the roasted ingredients to a blender. Allow it to cool .
Step 3: Cooking the veggies
Heat a pan with coconut oil. Add the sliced onions, tomato, green chili and all the veggies along with salt. Mix well and saute for 1 to 2 mins on medium flame.
When done, add tamarind extract and ground turmeric. Simmer for 5 mins until raw smell of the tamarind goes away.
Continue to cook until veggies are done. I have used potatoes, okra, carrots and drumsticks here. The potatoes take the longest time to cook. The veggies took roughly 8 mins to cook till they were fork tender.
I chose not to pressure cook the veggies because of the okra and i did not want them to lose shape.
Step 4: Grinding the roasted spices + coconut
Add ¼ to ½ c water and grind the spices to a slightly coarse paste.
Step 5: Putting together the sambar.
Add the spice paste to the veggies mixture. Mix well. Simmer for 1 to 2 mins. Now add the cooked toor dal and mix well.
Add asafetida. Mix well. Simmer for 3 to 4 mins on medium flame. When you see a frothy and slightly bubbly surface, switch off the flame.
You can also adjust the consistency of the sambar if you find it too thick by adding upto ½ c water at this stage.
If you add water, dont forget to adjust the seasoning. Also once you add water, simmer further for 1 min.
Follow me on Instagram or Facebook for regular cooking updates and short videos. Follow me on Pinterest for delicious content. Tried our Kerala Style Varutharacha Sambar recipe? Loved it? Then please rate this recipe and leave a comment.
In case you have any questions regarding this recipe, leave a comment or email me at [email protected] and i ll respond at the earliest possible. If you tried this recipe and enjoyed it, click a picture and share it on instagram by tagging us @tomatoblues.
Recipe for Kerala Sambar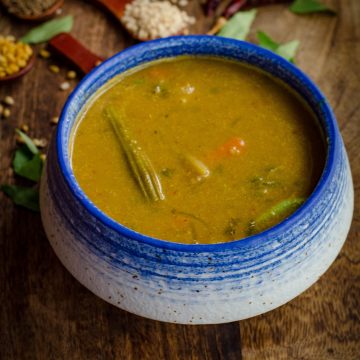 Kerala Sambar
Kerala Sambar- A delicious Vegan South Indian Sambar curry made with mixed veggies and pigeon pea lentils ( toor dal)
Equipment
Pressure cooker or Electric pressure cooker

2 or 3 qt Frying pan

Blender
Ingredients
For the Spice Paste
1.5

tsp

cold pressed coconut oil

2

shallots

peeled and sliced

1

garlic

peeled and sliced

2 to 3

dry red chili

1.5

tbsp

Urad dal

1

tbsp

channa dal

1.5

tbsp

coriander seeds

½

tsp

cumin seeds

¼

tsp

fenugreek seeds

6

tbsp

freshly grated coconut

tightly packed

¼ ro ½ c

water
For the tamarind extract
15 to 20

grams

tamarind

1

c

warm water
For the toor dal
¾

c

Toor dal

1.75

c

water

¾

tsp

ground turmeric
Vegetables
½

c

thinly sliced onions

1

medium

tomato quartered

2

green chili

60

g

carrot

chopped into fingers

60

g

okra

chopped into 2 inch fingers

50

g

potato

chopped into thin and long wedges

50

g

drumstick

chopped into 3 inch long pieces
For the Kerala Sambar
1.5

tbsp

cold pressed coconut oil

2

tsp

salt or to taste

All veggies mentioned

1

c

tamarind extract

½

tsp

ground turmeric

1

recipe

ground spice paste

2.5

c

cooked toor dal

the amount of dal + water mentioned under Toor Dal ingredient group will yield this much.

¼ to ½

c

water

to adjust consistency if required
For Garnishing
2

tbsp

finely chopped coriander leaves

cilantro

1

sprig

curry leaves
Instructions
Prepping the Tamarind
Soak the tamarind in warm water for 20 mins.

Once softened, mash well with your fingers and make an extract.

Discard the leftover fiber and strings
Cooking the toor dal
Soak this in 2 c water for 20 mins.

Once soaked, discard the water used for soaking. Add 1.75 c fresh water and ¾ tsp turmeric powder.

Pressure cook this for 5 to 6 whistles until mushy.
Roasting the spices
Heat a pan with 1.5 tsp coconut oil.

Add the shallots, garlic, dry red chili, urad dal, channa dal, coriander seeds, cumin seeds and fenugreek seeds. Mix and saute on low flame till fragrant and dals begin to turn golden.

Once done, add coconut and switch off flame.

Continue to roast the coconut with the spices in the residual heat till coconut turns light brown.

Once done, transfer to a blender and let cool.

Add ½ c water and grind to a slightly coarse paste.
Making the sambar
Heat a pan with coconut oil.

Add onions, tomato, green chili and all veggies.

Saute and mix well. Cook till tomatoes begin to lose shape.

Now, add tamarind extract along with turmeric.

Simmer till raw smell of the tamarind goes away. Add ½ c water if the water has reduced.

Continue to cook the veggies till they are fork tender.

Now add ground paste and mix well.

Add cooked toor dal and asafetida next and simmer for 4 mins till you see a frothy surface with tiny bubbles.

Adjust the consistency if the sambar is too thick at this stage by adding up to ½ c water.

Once done garnish with coriander leaves and curry leaves
Video
Nutrition
Pin This Recipe
Pin this recipe and save for later