How To Make Beetroot Thoran?
Beetroot thoran is a simple stir fry made with parboiled beets and freshly grated coconut. Vegan.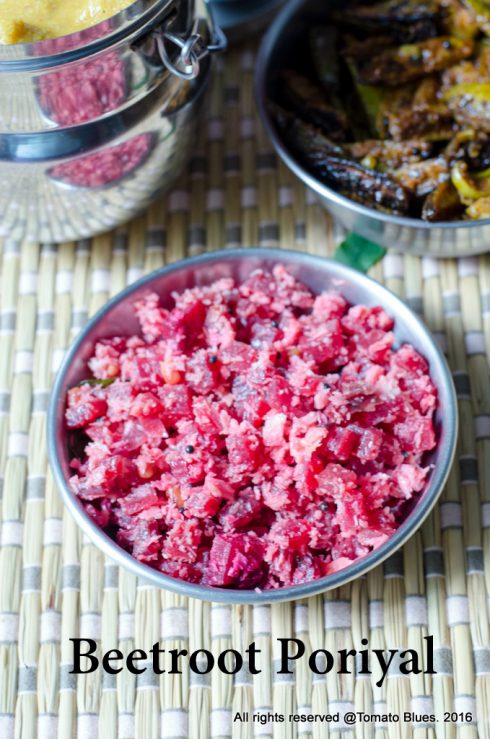 Beetroot thoran or beetroot poriyal as it is called in tamil is a simple stir fry made with beetroot and freshy grated coconut which is then tempered with curry leaves and a few other spices. It is amazing how such a simple dish like this beetroot thoran can take your meal to a totally new height. My love for beets is eternal. Deep vermillion. Thats the colour of beets. I love that colour and i relish the sweetness. My amma makes this beetroot thoran in a different way.I ve adapted her style and incorporated my own to this poriyal. However my husband preferred amma s version. (feels not so good)  The luxury of someone coming in to cook doesnt last forever and mine ended today. As usual, i was engrossed in something else and completely lost track of time. The clock struck 11 and i realised i hadnt started lunch. For days like these, i have a shortcut menu like my neighbour calls it. I make dishes which take less time but i just make sure they taste good the funda being eat less but taste good.  So i chopped up the beets, soaked the tamarind in warm water for the Rasam and started to make the meal. The menu was simple but i love such meals, healthy, yummy and quick. So make some of my beeetroot thoran and let me know.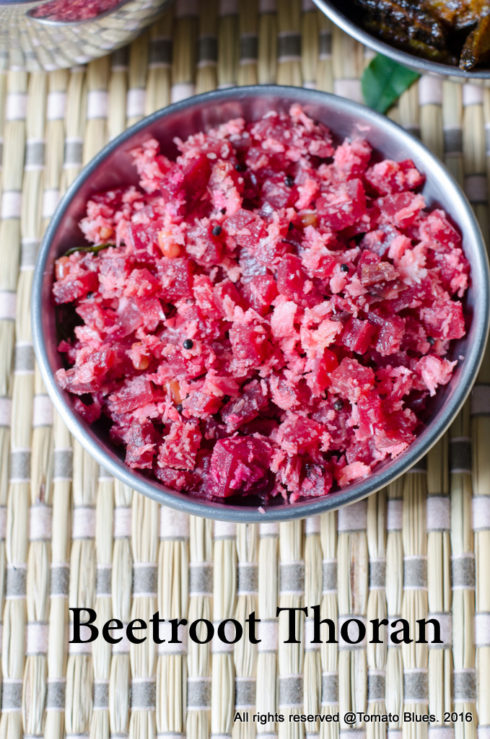 Recipe For Beetroot Thoran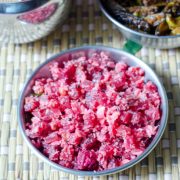 Print Recipe
Beetroot Poriyal A Saturday Quick Fix Lunch Idea
Beetroot Thoran or Beetroot poriyal is a simple stir fry made with beets and freshly grated coconut. This goes well with rice, dal curry or sambar and even rasam
Ingredients
2

beetroots peeled and cut into small cubes

Grated coconut 2 tbsp

1

medium size onion chopped fine

1/2

inch

ginger bit

Salt as per taste

For tempering:

Oil 1 tbsp

Urad dal 1 tsp

3

dry chillis

Mustard seeds 1/2 tsp

Hing a large pinch

Curry leaves a sprig
Instructions
Grind the coconut and the ginger to a fine powder in a mixer. Keep aside.

In a kadai, add enough water and boil the chopped beets. Dont add to much of water or you will lose the taste when you drain the water. It takes about 8 mins for the beets to be done.

You may choose to cook the beetroot in the microwave too. Cook on high for 7 mins in the microwave or until fork tender.

Drain the extra water and keep aside. You can add this water to tomato soup for a lovely red color.

Heat the same kadai up and add the oil. Add all the ingredients for tempering. Next add in the onions and saute them till golden brown. Now add the beets and mix well. Add salt and saute for 2 mins.

Now add the coconut mixture to this and combine well. Saute for another 2 to 3 mins.

Serve with rice and any sambhar or kootu of your choice but rasam is the best choice
Notes
When my amma makes it, she doesnt add the ginger and onions. But i love the earthly flavour of ginger and the sweet taste of fried onions. You can try it without them too. My husband likes it that way but i personally recommend this version. You can also add some cooked chick peas to this but you ll have to soak them overnight and pressure cook them. I wouldnt advise cooking the beets in the pressure cooker too. You will lose the flavour.
For Instant Pot & Air Fryer Recipes
Instant Pot timings may vary based on your geographic location. Air fryer settings and timings may vary based on the capacity and the model of the Air fryer.
Disclaimer
Nutrition values are provided here as a courtesy and are only a rough guide. Please consult a health care provider if you have any concerns.