I m terribly late in writing this post. I should have technically posted this recipe on the 13th but it so happened that i had too much on my plate and my H was on a diet regimen. I wasnt actually cooking much. Let along doing all the grinding and grating. But when H finished his crazy diet idea on Friday, my hands were already beginning to itch to make this creamy nutty goodness.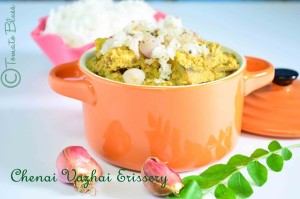 This month, my turn to blog hop for the cookies group was Priya s blog. True to her blog s name, you will have a fine appetite kicking in when you visit her space. I have a list of recipes as long as my arm, bookmarked from her space. I loved her take on food with a global perspective. My favorites from her space, in no particular order,are
oatmeal nutella whoopie pies

olive rosemary foccacia

7 up pulao

butter beans pulao

chenai vazhai erisery
As much as i was intrigued by the 7 up pulao, i decided to make the erissery as my H is a fan of Kerala cuisine and anything that s made with coconut oil strikes a chord with his tummy. I must say, it was a fantastic lunch that we devoured along with crispy poppadoms, 
tomato rasam
 and rice.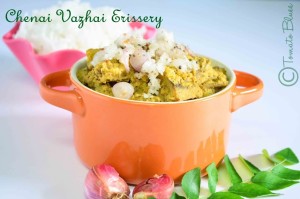 Recipe For Chenai Vazhai Erissery
( A creamy vegan coconutty gravy with yam and plantains)
Prep Time: 10 mins
Cook Time: 30 mins
Level: Easy
Allergy Info: Gluten Free, Vegan 
Ingredients
Elephant yam 1 c chopped
Plantain 1 medium peeled and cubed
Coconut oil 1 tbsp
Turmeric 1/2 tsp
Salt to taste
To Grind To A Paste
Freshly grated coconut 1/2 c
Pepper corns 1/2 tbsp
Dry red chili 1
Cumin seeds 1 tsp
Turmeric 1/4 tsp
Tempering
Coconut oil 1 tbsp
Freshly grated coconut 2 tbsp
Shallots 10 chopped finely
Curry leaves a sprig
Mustard seeds 1 tsp
Urad dal 1 tsp
Hing small pinch
Directions
Pressure cook the yam and plantain with 3 cups of water and turmeric for 2 whistles.
Dry roast the pepper corns and dry red chili until aromatic. Set aside to cool.
Once cool, blend pepper corns, red chili, coconut and cumin with 1/4 tsp turmeric to a smooth paste by adding water as required.
Once the yam and plantain is cooked, drain the water and reserve.
Heat a pan with 1 tbsp coconut oil.
Add the cooked yam and plantain and saute for 2 mins.
Now, add the ground paste and salt to the yam mixture and mix well.
Add 1/2 c of the reserved water to this and mix.
Let it simmer for 5 mins on medium flame.
Once done, switch off the flame.
In another pan, heat 1 tbsp of coconut oil.
Pop the mustard and add the urad dal. Saute till it turns light brown.
Now, add the hing, curry leaves and shallots and saute till they turn a light golden brown.
Add the coconut next and saute till golden.
Add this mixture to the erissery and mix well.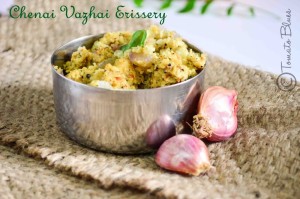 Serve hot with rice and poppadom.