How To Make Vathal Kuzhambu?
Vathal Kuzhambu-An Authentic TamBrahm Tamarind Stew Made With Sundried Vegetables. Kuzhambu Recipes. Vegan.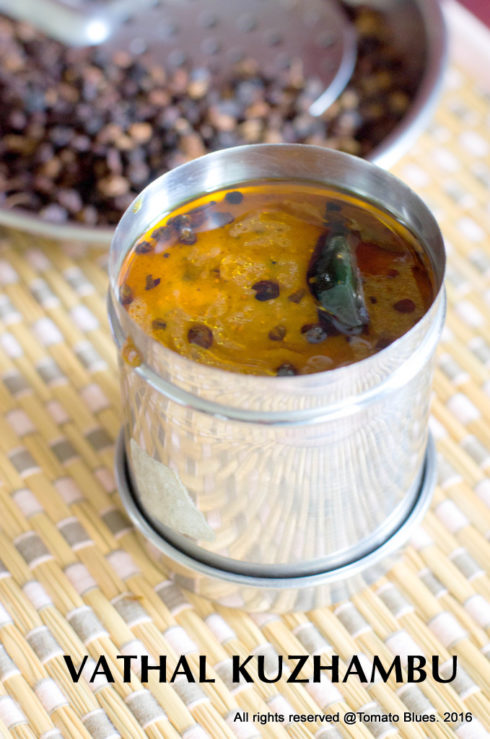 Ok, there are 2 kinds of vathal kuzhambu in my house. One for my lazy days and one for those days when i m really in a mood to cook. This one is the lazy version. I make vathal kuzhambu mostly on days when i do not have veggies or if it is rainy. This  kuzhambu is the ultimate comfort food when served with hot rice, sutta appalam and some ghee. However, in the Praveen household, we enjoy this with plain dal, rice and ghee. Of course, a potato fry must be present to make the meal complete.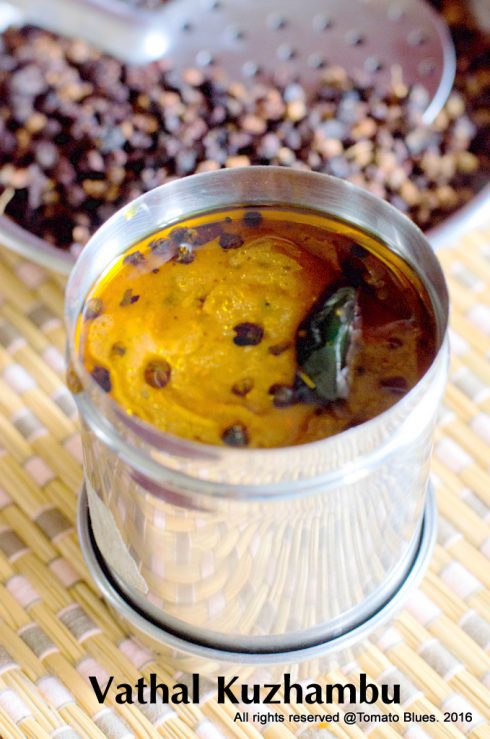 Vathal kuzhambu, as the name suggests, is a stew made with sun dried veggies. In Tamil Nadu, people sun dry many types of vegetables including turkey berry, nightshade berry and ivy gourd. I have used dried nightshade berries for this quick vathal kuzhambu. If you are interested in another way of making this kuzhambu, please check how to make arachuvitta vathal kuzhambu. The recipe can be found by clicking here.
Recipe For Vathal Kuzhambu
Prep Time: 10 mins
Cook Time: Under 20 mins
Serves 2

Ingredients
Any vathal ( dried vegetable preserved in salt) I used nightshade berries called as manathakkali vathal.
Tamarind extract from a lemon size tamarind soaked in 1 cup warm water for 20 mins and diluted with another 1 cup of water
Jaggery a small bit
Sambhar powder 1 tbsp
Dry chillies 1
Sesame oil 1 and 1/2 tbsp
Fenugreek seeds 1/2 tsp
Mustard seeds 1 tsp
Hing a pinch
Salt as needed
Curry leaves a sprig
Directions
Heat oil in a kadai. Add the mustard seeds. Once they splutter, add the fenugreek seeds, red chili, curry leaves, turmeric powder and the vatral.
Saute for a min or 2. Then add the sambhar powder and saute for another min.
Now, add the diluted tamarind extract, salt, hing and jaggery.
Simmer on medium flame till the mixture reduces to 3/4 or a little less.
Serve with rice and appalam or as a side dish with Snake gourd Kootu
Serving Suggestion: Can be paired with pongal, rava pongal, snake gourd kootu and rice or just plain rice.