How To Make Beans Poriyal?
Beans Poriyal, a simple stir fry with fresh green beans and coconut. South Indian Lunch Recipes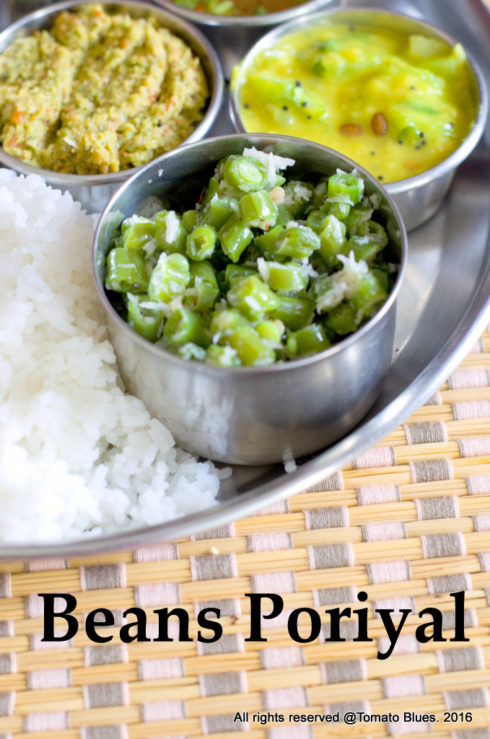 Beans poriyal has always figured on my thali meals. I love making elaborate thalis replete with curries and dals. This simple beans poriyal is a stir fry that uses green beans and freshly grated coconut. It is a staple in many Madhwa and TamBrahm households.I recently realised that my blog has a lot of food areas uncovered. Well, the reason is i dont make something for the blog itself. I make what we only eat and even that has changed a million fold since i got married.But then there are some really quick(when i say quick, i mean it)recipes that i ve not thought of posting at all. Not until Mr.P promptly pointed out to me that i had left out all traditional madhwa delicacies.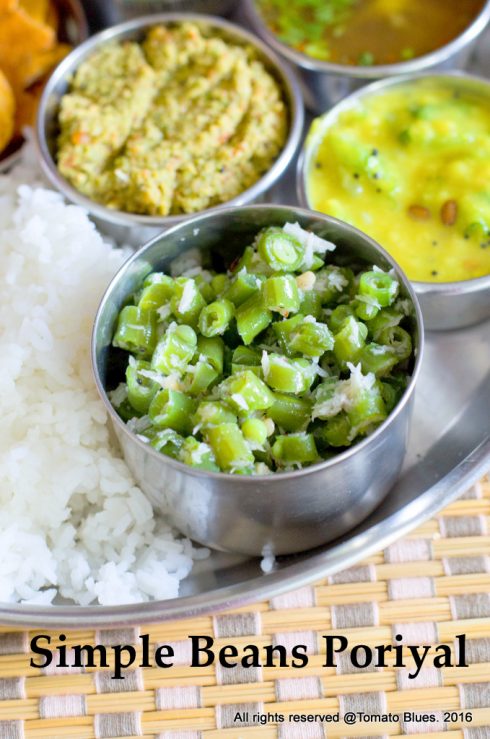 As for this beans poriyal recipe, i dont know if its traditional madhwa but what i know is, ever since i ve been big enough to sit down and eat a meal on a banana leaf with the rest of the family on those special days, this stir fry has almost always taken its rightful place at the left hand corner of the elai. And i ve never once hesitated to stuff a mouthful of it and be bold enough to ask for a second helping. I must admit that i was one tiny tyrant who could turn all Norman Bates on people back when i was young.
Tuck in to this beans poriyal with some 
Tomato Rasam
 and steamed rice.I served it recently with bendekai gojju ( another madhwa special).
In the meanwhile, this is my post for this month s 
Avant Garde Cookies
 cook with 5 or under 5 ingredients ( ok i have 6 and i cheated a lil bit but do you care?). Check out the other cookies Priya Sreeram s Melting Moments, Priya Mahadevan s Nutella Cookies, 
Roshni s Peri Peri Nuts
, Radhika s Moong Dal Puttu and Jayanthy s Dhoodh Peda
Recipe For Beans Poriyal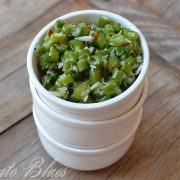 Print Recipe
Beans Poriyal Recipe. Green Beans Stir Fry
This is a simple stir fry using green beans and fresh coconut. Tastes great with rice and rasam.
Ingredients
Green beans chopped finely 1 cup

I used about 100g of beans

Dry red chili 2 torn

Grated coconut 3 tbsp

Salt to taste

Oil 1 tbsp

Mustard seeds 1 tsp

Hing a small pinch
Instructions
Microwave the chopped beans for about 10 mins on high or cook on stove top till cooked and tender but firm.

Once done set aside.

Heat oil in a pan.

Add mustard seeds and once they splutter, add the red chilies and hing.

Add the cooked beans next and mix well.

Add salt and grated coconut and combine well.

Cook on medium flame for about a minute.

Serve hot with rice and rasam