This was actually meant to be a guest post. Well the guest was not any blogger or food blogger but the brain behind this blog. While its me who cooks, clicks and quotes on the blog, the inspiration definitely comes from my dear Mr.P who never tires of my endless sometimes garrulous talks on food, some more food and everything on food. He doesnt even mind when i drain out his pocket.He s that sweet and he s way too good in inspiring me.
There are days when i m not in that mood for writing a post or cooking. But its Mr.P who gives a gentle nudge and reminds me that little obstacles in life must never be a reason why you stopped doing something that you are so passionate about.
Mr.P couldnt find the time to write me a post. So i thought i might as well post his recipe. Making rasam is a daily ritual at home. If i make a south indian lunch, then rasam definitely makes an appearance at the lunch spread. While i make the rasam the same way in the same vessel at the same speed at the same time everyday, Mr.P a rasam afficionado experiments making rasam.Mr.P s all about simplicity and comfort. A no fuss easy going person who hates complicating life. His attitude towards life also reflects in his choice of food. One sunday, he decided to be terribly sweet to me and made this tangy rasam for dinner alongside some potato curry. I couldnt click the curry because the moment i set my eyes on the rasam, i just wanted to begin tucking in. Try this rasam and rest assured that you wont be disappointed.
( Like any south indian day to day recipe, this s very versatile. You can add some of this, lessen some of that and you can adjust this rasam to suit it to your palate.This rasam tastes great when made with country tomatoes or naatu thakkali but in the eventuality that you dont get them, use any tomatoes that you have on hand. Cherry tomatoes or the regular ones will do too. In that case increase the number of tomatoes. In case you use cherry tomatoes, add about 5 to 6. And in case of other kinds, maybe 4 for a nice flavor.)


Recipe For Tomato Rasam
( Learn to make tomato (thakkali) rasam)

Ingredients
Tamarind extract from a lemon size ball of tamarind 1 cup
Ripe country tomatoes 3 medium coarsely chopped
Home Made Rasam Powder 1.5 tbsp
Salt to taste
Oil 1 tablespoon
To Temper:
Ghee 1 tbsp
Cumin seeds 1 tsp
Mustard seeds 1 tsp
Curry leaves a sprig
Hing or asafoetidia a large pinch
Garnish:
Cilantro chopped finely 3 tbsp
How To Make It?
Heat oil in a pan. Add the tomatoes and saute till they are mushy.
Now, add the rasam powder and saute on low flame for about 30 secs.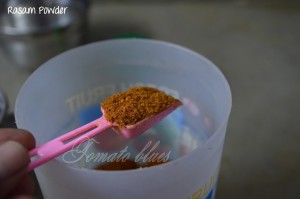 Next, add the tamarind extract and simmer till the raw smell of the tamarind goes away. Takes about 5 to 7 mins.
At this stage, add the salt and let it simmer till frothy.
Switch off the flame and set aside.
In another pan, heat ghee, add the mustard seeds.
Once they splutter, add the cumin seeds, hing, curry leaves and add this to the rasam.
Garnish with cilantro leaves.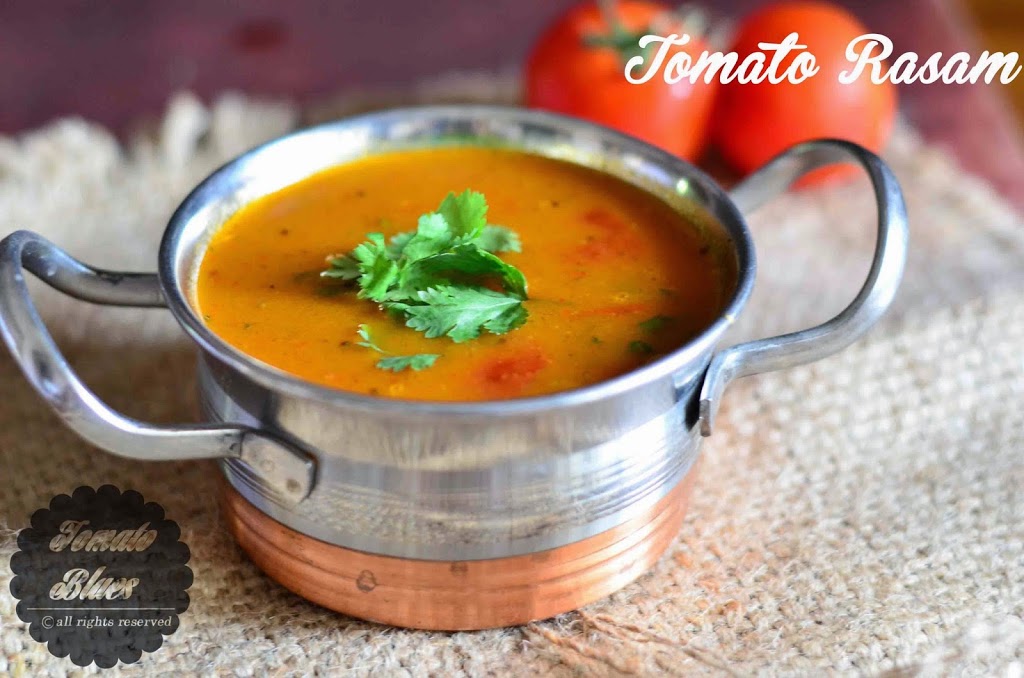 Serve hot with rice and appalams or try it with this crispy potato fry
Sending this to Susan s MLLA hosted by Valerie of A canadian foodie