Homemade Rasam Powder- A South Indian aromatic spice blend that is used to make Rasam, a light broth. This spice blend has whole spices and can easily be prepared at home.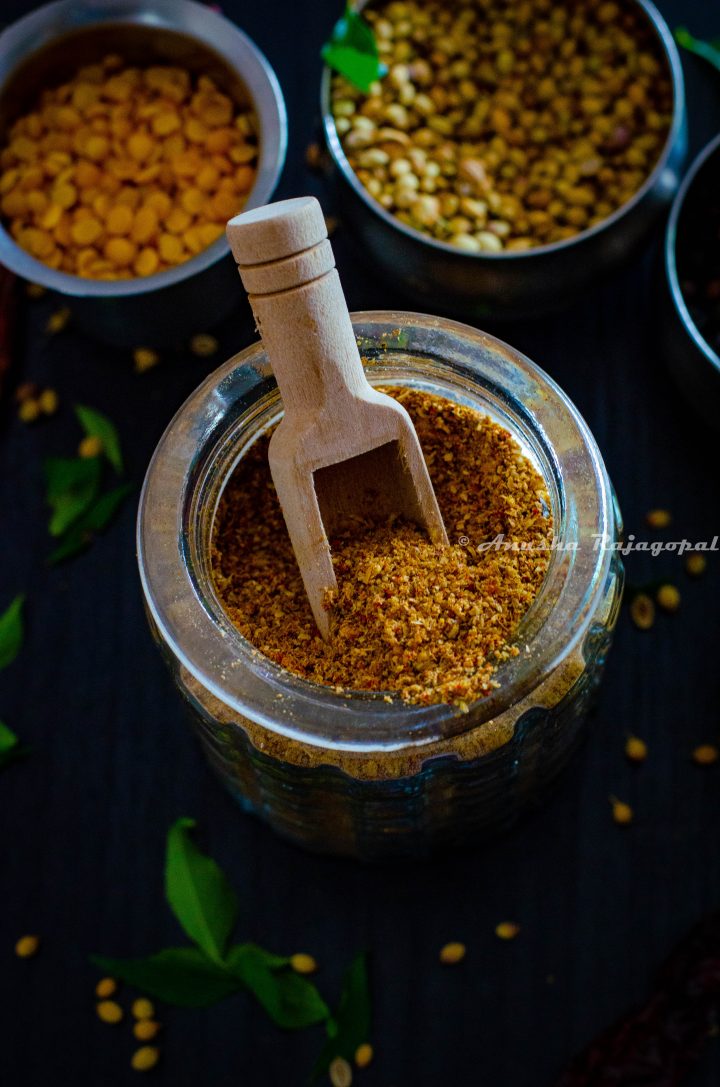 If you are a South Indian, especially one that hails from Tamil Nadu, the chances of your survival without rasam can border to zero.  Rasam is everything all at once- comforting, tangy and healthy.
What is Rasam?
In a three-course Tamil-style meal, Rasam usually is the second course. Poured over some piping hot rice and mixed, this tongue-tickling combination is not only yummy but also a great digestive aid. Rasam can be described as a light broth. There are so many variations to this classic and most recipes call for Rasam powder.
Jump to:
Homemade Rasam Podi or Saaru Pudi
Saaru in Kannada means Rasam. And Andhra cuisine has Chaaru which is their version of Rasam. No matter where you go in South India, a lunch menu features Rasam. Rasam podi or Saaru Pudi is a spice blend that we use to make Rasam.
Ingredients
This pantry staple calls for very few ingredients. Coriander seeds, whole black pepper, and cumin are among the most called for. Almost all recipes use these ingredients. So, what makes every version different? It is the proportion of the ingredients and the way they are handled that makes every recipe for this spice powder different.
For instance, my MIL makes this in two ways. One is the traditional roasting and grinding method. The other is where she sundries all the ingredients for 3 days. She then grinds it in a flour mill. The disadvantage to this second method is that you cannot do it if it is not sunny.
My friend's mother makes Rasam powder without any chilis. This tastes good too but the color will be slightly on a dull green side.
Recipe Notes
Make sure that you sun the ingredients for at least 4 hours before you begin roasting them.
Using a cast iron skillet and dry roasting on low flame patiently gives best results.
This spice blend calls for Toor Dal and is just perfect for Rasam recipes that do not use cooked Dal.
Roasting the ingredients properly and ensuring that there is no moisture in them before grinding is very crucial. Even a tiny amount of moisture will result in fungal growth.
I like using a combination of Guntur chilis and Kashmiri or Byadagi chilis. The latter gives a beautiful red color without increasing the heat.
While roasting chilis, discard all the stems in the dry red chilis. Break them into smaller pieces if they are too long. This makes even roasting easier.
Adding dried curry leaves to Rasam powder is a great way to include them in our diet. I tend to dry curry leaves after washing and patting them dry. Once they are free from moisture, I dry them out in my oven or microwave or let them dry under the sun. These dried curry leaves come in handy when I dont have fresh ones on hand.
If you do not have dried curry leaves, skip this step. Alternatively, take about 1/4 c loosely packed curry leaves and wash them in a colander under running water. Pat them dry using a kitchen towel and let them dry completely.
Once the leaves have dried, add them to the skillet after roasting cumin and pepper. Roast curry leaves until shriveled and crisp. You can now add this to Rasam Powder.
Storage and Shelf Life
Storing Rasam Powder
Store Rasam powder in a clean, dry airtight container. I prefer and recommend using glass jars for best results. Try to sterilize the glass jars before storing any spice blends. Also, as I mentioned earlier, use a dry jar. Any moisture means fungus in your Rasam powder. This holds good for all spice blends.
Shelf life 
While this spice blend stays fresh for a long time if processed correctly, it loses its flavors as time goes by. So, making this in small batches and storing them in a clean dry jar is the most ideal thing to do. I make a small batch every three weeks once. You can easily half the ingredients mentioned here and make a smaller batch too if you do not make Rasam often. Similarly, if you are making a larger batch, you can also double the quantity of ingredients mentioned here.
Homemade Rasam Podi- Method
Dry roasting
Before setting out to make this Rasam masala, make sure to measure out all your ingredients and keep ready. Use standardized measuring cups and spoons for best results. In case you do not have a set of standardized measuring cups, then use the same measuring cup that you use to measure one ingredient to measure all ingredients.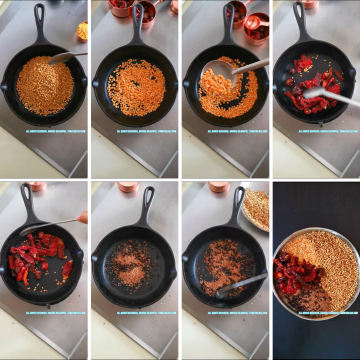 Heat a cast iron skillet. When the skillet is hot, add the coriander seeds first and dry roast on low flame till aromatic. This takes 3 to 5 mins. Keep stirring the seeds every now and then and mixing them up to ensure even roasting. Transfer the coriander seeds to a plate immediately.
When the coriander seeds are roasted, add the Toor Dal. Again, roasting on low flame is key. Roast the Dal until light golden and aromatic. Again this takes 3 to 5 mins. Once the Dal has roasted, transfer to a plate immediately
Next add the dry red chilis and roast just for 1 to 2 mins until chilis begin to plump up. Take care not to burn the chilis. When done, transfer to the plate immediately with the roasted coriander and toor dal.
Now, add the cumin seeds and pepper corns. Switch off the flame. Toss and turn the cumin and pepper a few times and roast till they turn aromatic. You can see that the cumin seeds become a deeper brown when they are roasted. When they are done roasting, immediately transfer them to the plate.
Grinding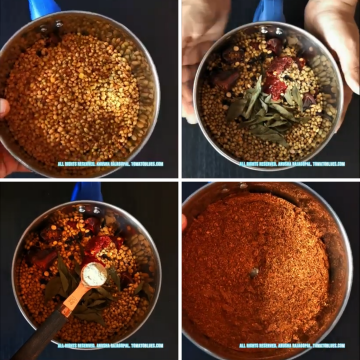 Allow the ingredients to cool down. Transfer the cooled ingredients to a blender jar. Add a handful of dried curry leaves and asafetida ( Refer recipe notes). Close and blend to a slightly coarse powder.
Transfer this powder to a clean and air-tight jar. Now, you can use this homemade Rasam powder in all Rasam recipes.
Explore Rasam Recipes
Follow me on Instagram or Facebook for regular cooking updates and short videos. Find us on Pinterest for delicious content. Did you use our Indian meal plans for the week? We value your thoughts and comments! Leave a comment and tell us how it worked for you. Email us your questions to anusapraj@gmail.com if you need any guidance in making this.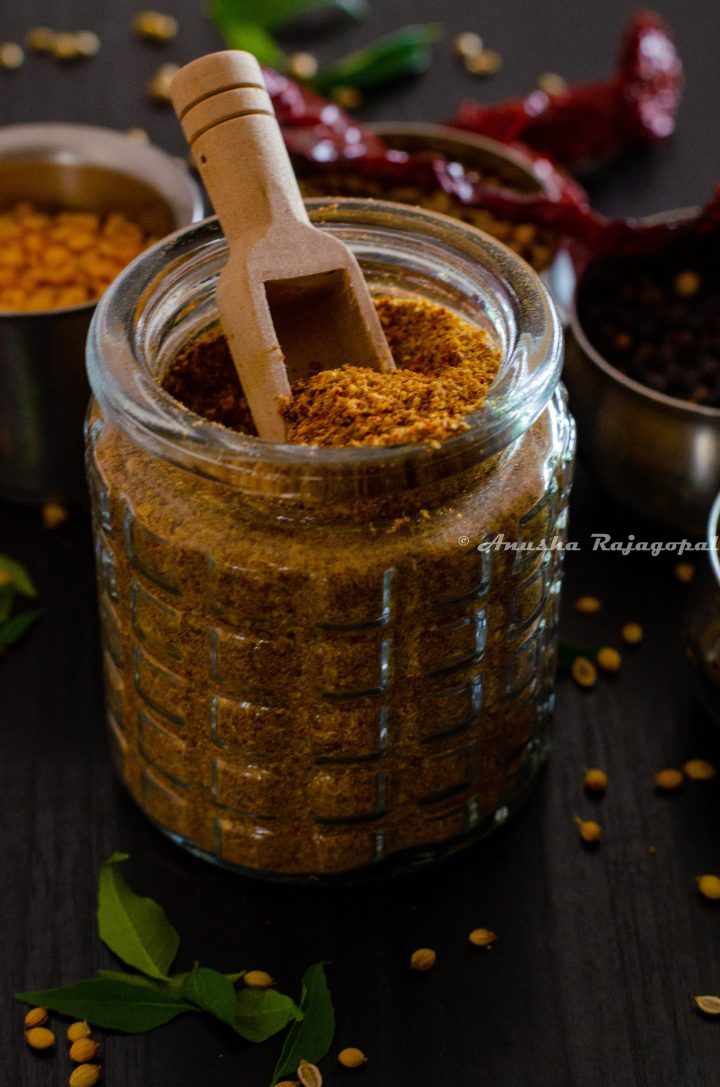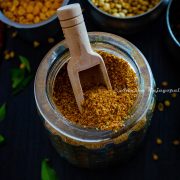 Print Recipe
Rasam Powder
South Indian aromatic spice blend for making Rasam
Ingredients
1/2

c

coriander seeds

1/4

c

toor dal

10 to 12

dry

red chilies

2

tbsp

Cumin seeds

2

tbsp

Whole black peppercorns

1/4

c

loosely packed dry curry leaves

1

tsp

Asafetida
Instructions
Heat a cast iron skillet and add the coriander seeds.

Dry roast coriander seeds on low flame till aromatic.

When roasted, transfer to a plate immediately for it to cool down.

Next, add the Toor dal and roast on low flame till light golden and fragrant. This takes 3 to 5 mins.

As soon as the Dal has roasted, transfer to the plate.

Now, add the dry red chilis and roast on low flame for 1 to 2 mins.

Just roast until chilies begin to plump up in the heat.

Make sure not to burn them.

Transfer the roasted chilies to the plate.

Now add the cumin and pepper. Switch off the flame.

Dry roast this on low flame till the spices begin to pop here and there.

This takes roughly 1 to 2.5 mins.

When done, transfer to cool with the remaining ingredients on the plate.
Grinding
Transfer the cooled ingredients to a blender jar.

Add the dried curry leaves and asafetida.

Grind to a slighly coarse powder.

Transfer to a clean and dry container.
Video
For Instant Pot & Air Fryer Recipes
Instant Pot timings may vary based on your geographic location. Air fryer settings and timings may vary based on the capacity and the model of the Air fryer.
Disclaimer
Nutrition values are provided here as a courtesy and are only a rough guide. Please consult a health care provider if you have any concerns.
Rasam Powder- FAQs
Is Rasam powder the same as Sambar powder?
No. Both spice blends are different. We use other ingredients like fenugreek and channa dal in Sambar powder. Whereas, in Rasam Podi, it is only Toor Dal.
Can we use Rasam powder for making Sambar?
Yes, you can. The taste will be slightly different than the authentic sambar but still, it will work.
When to add Rasam powder?
Every one has their own way of making Rasam. For me, I prefer adding the Rasam powder either when I saute the tomatoes like I do in my Tomato Rasam. Or I add them directly to the tamarind extract like I do in my basic rasam.
What do you use Rasam powder for?
Many people often limit spice blends to its intended use. However, a little experimentation with whatever is available in the pantry can give different delicious results. Rasam powder, for instance, can be used to make a quick sambar or used in a Raita for flavoring. You can also add some Rasam powder while making Kichdi for a unique taste.
How much Rasam Powder to use?
To make 600 ml of Rasam, you will need about 2 heaped tsps of this Rasam powder. Adjust the quantities according to your family's palates. Also, please remember that freshly ground Rasam powder tends to be spicy during the first 3 days. The spices mellow down after this. 
What are the medicinal properties of South Indian Rasam?
I won't have done enough justice to this post if I do not answer this.
Coriander seeds- good for digestion and is known to help maintain blood sugar levels.
Cumin seeds– again, aids digestion, reduces bloating and gas.
Peppercorns- cure cold and cough.
Asafetida- is good for controlling flatulence and reducing bloating.
Tamarind- has anti-inflammatory properties and helps alleviate constipation.
Tomatoes- are rich in lycopene and anti-oxidant properties.
Toor dal- has protein.
That is it. Pretty much sums up why you should have Rasam on a daily basis. 🙂