Get ready to welcome the nip in the air with this butternut squash chili. After all, what is winter without the hearty stews, comforting soups and spicy chilis, eh? This vegan chili is loaded with proteins and is oil-free. Intrigued? Let us get started making one of the yummiest chili of the season, shall we?
Follow us on Pinterest for delicious pins.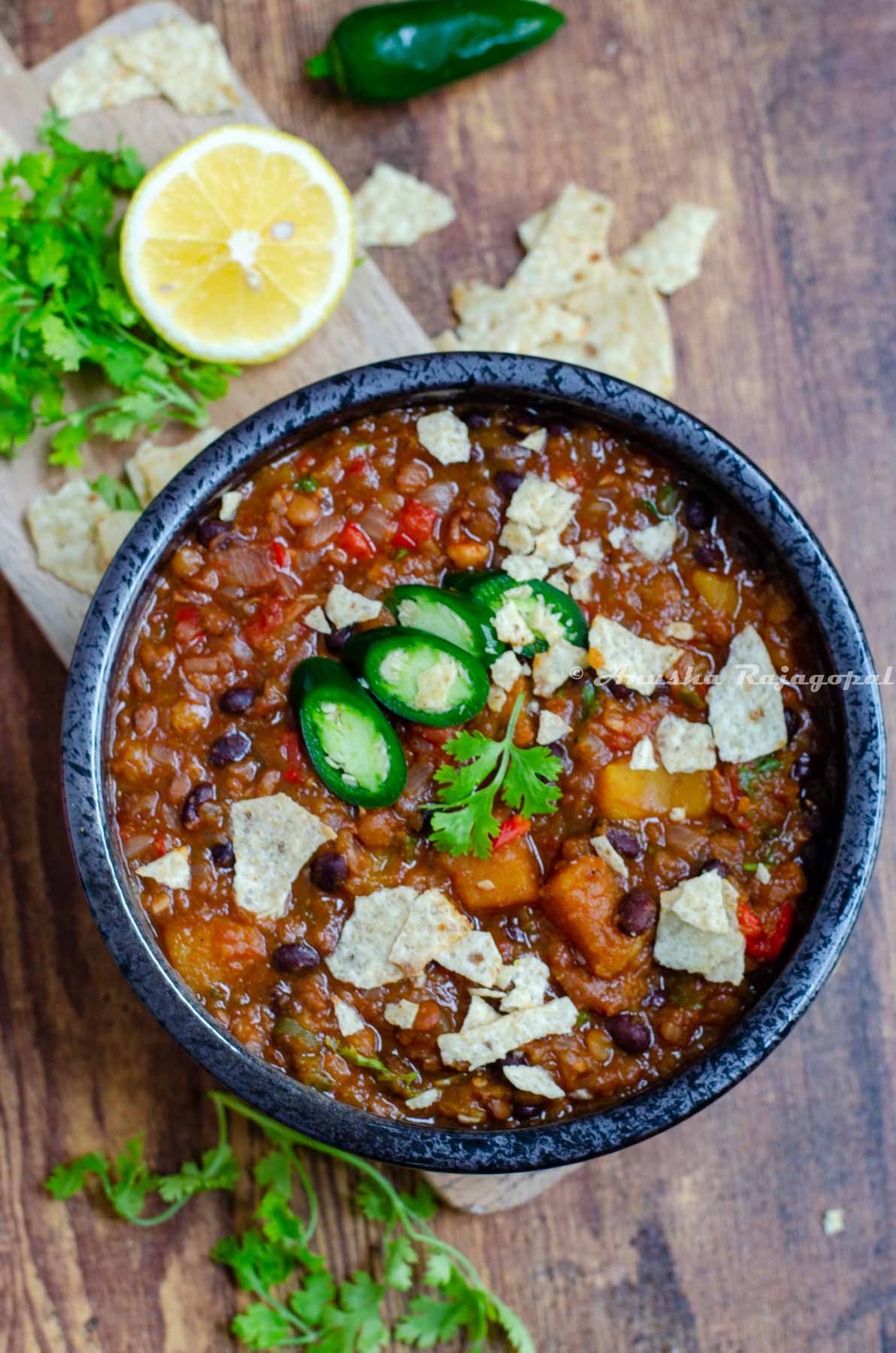 I love everything about fall. Donning my pullovers, sipping cups of hot cocoa and Masala Chai, the earthy, woody scent of cinnamon, plump squashes that adorn the markets and the food are something I look forward to every year.
Fall and chili go hand in hand, agreed? Off late, I have been on a no-oil cooking spree and my Instant Pot has become my best friend in this department. Long story short- I had a beautiful butternut on my counter begging to be chili-ed.
5 reasons to make this Chili
Just 10 minutes of prep time.
No oil, vegan recipe.
Dump and go Instant Pot Chili loaded with proteins.
Freezer-friendly.
And finally, tasty as heck.
Jump to:
Ingredients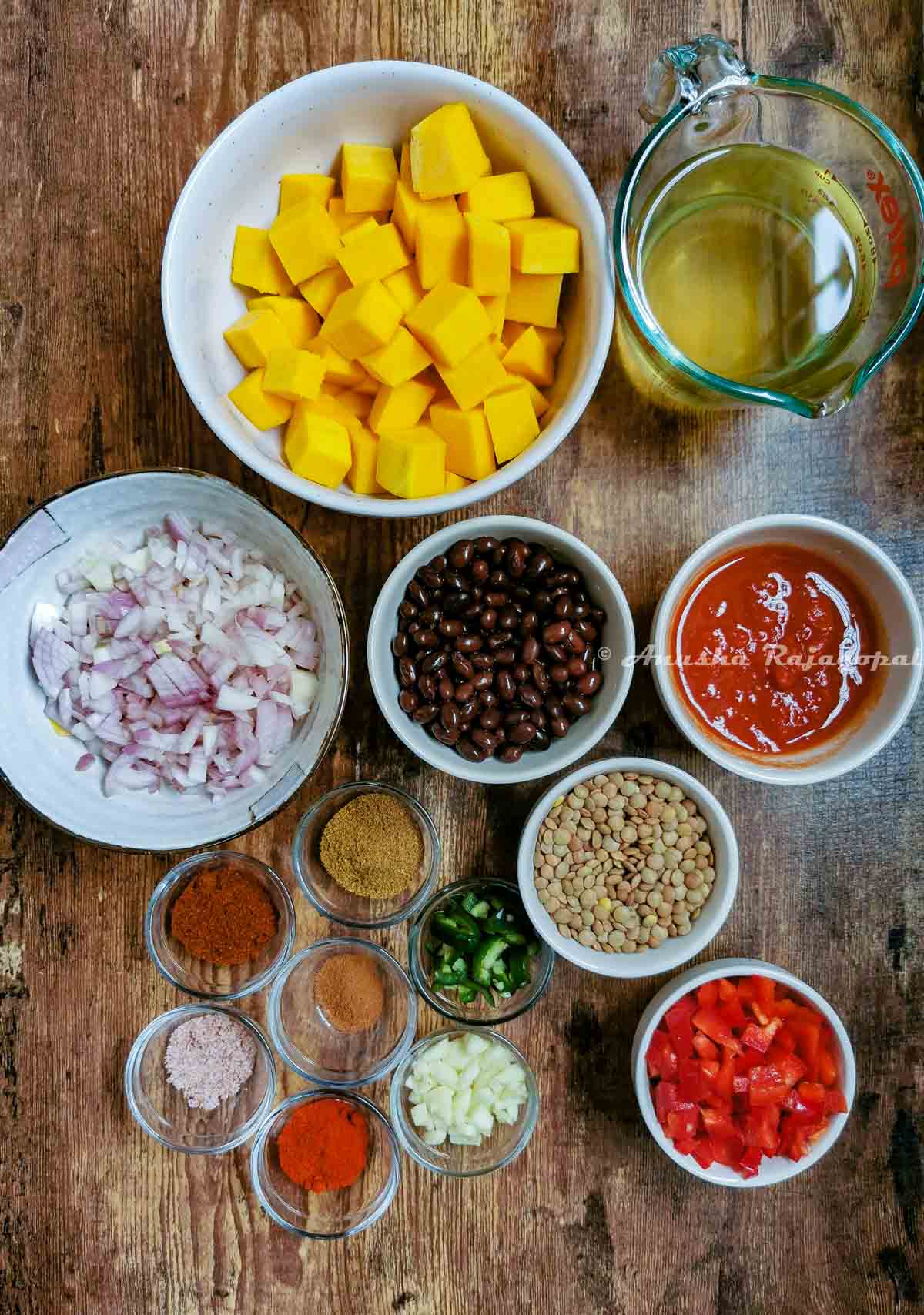 This recipe calls for no oil. Here is a breakdown of the ingredients used. You can find the detailed measurements in the recipe card.
Butternut
While I have used butternut squash to make this, you can also try this recipe with other winter squash varieties like acorn squash or Kabocha squash.
Black beans
Canned black beans are a boon. All in agreement, say aye. Drain the beans well and rinse once under water before using it.
Lentils
Green lentils are my favorite lentils after red ones. They cook easily, are creamy and wholesome. While these are my first choice in this chili, you can also use brown lentils.
If you are using brown lentils, make sure to soak them for 20 minutes in warm water before cooking.
Veggies
Other than the squash, I have used bell peppers. I used red ones since they were what I had. You can use orange or yellow ones as well. Green ones have a distinct flavor and tends to overpower the flavors in this recipe. So try and use yellow or orange or red peppers.
Tomatoes
Canned tomatoes are my best friends in the pantry. For this Chili, I have used canned diced tomatoes. You can also use 1.5 tbsp tomato paste if you do not have access to this.
Fresh tomatoes and tomato puree are decent substitutes for diced tomatoes as well.
Jalapeno
These are an integral part of any good chili. We are huge Jalapeno fans here. I did not bother deseeding them. But if you are worried about the heat, please remove the seeds before adding them.
Spices and aromatics
A combination of onions, garlic and spices like ground cumin and paprika work their charm here in this squash chili recipe. Since we love our chili spicy, I have used both cayenne and smoked paprika. You can also use regular red chili powder in place of cayenne.
Feel free to give either one a miss if you are wary of spicy food.
You can also add freshly ground black pepper as a garnish just before serving for a spicier chili.
Variations
Use other squash varieties

like acorn or Kabocha instead of butternut.
Switch the black beans to

canned red kidney beans

. Both work excellently in this vegan chili with butternut squash.
Not a fan of beans? Want to make some

chili without beans

? Make the butternut squash chili no beans version by adding just lentils. Double the quantity of green lentils.
This butternut squash and black bean chili uses plant based stock. You can

use just plain water

instead.
Cannot find fresh butternut? Or making this in Spring? Use frozen butternut squash in a pinch.
Make this runnier and

serve it as a soup.

Add some vegan dinner rolls by the side to make it a complete meal.
Storage and shelf life
You can store this chili in the fridge for 4 days. In the freezer, it lasts for 2 months. Allow the chili to cool down fully before transferring to portion sized containers.
I love using Pyrex or food-grade silicon bags for freezing. Freeze leftover chili in small portions and label with date.
Thaw frozen chili in the fridge overnight or for 2 hours at room temperature. Transfer to a saucepan and reheat gently till it begins to simmer. Add 1/2 cup water or broth while reheating if you find that it has become thick.
Serving suggestions
Our favorite chili toppings in no particular order are tortilla chips, sour cream, jalapenos, a squeeze of lime and loads of finely chopped vibrant green cilantro.
Since this is a vegan recipe, I kept it that way while serving as well. I did not use sour cream.
Low fat Greek yogurt is also a great topping. If you are not particular about keeping this vegan, then add a scoop onto your bowl.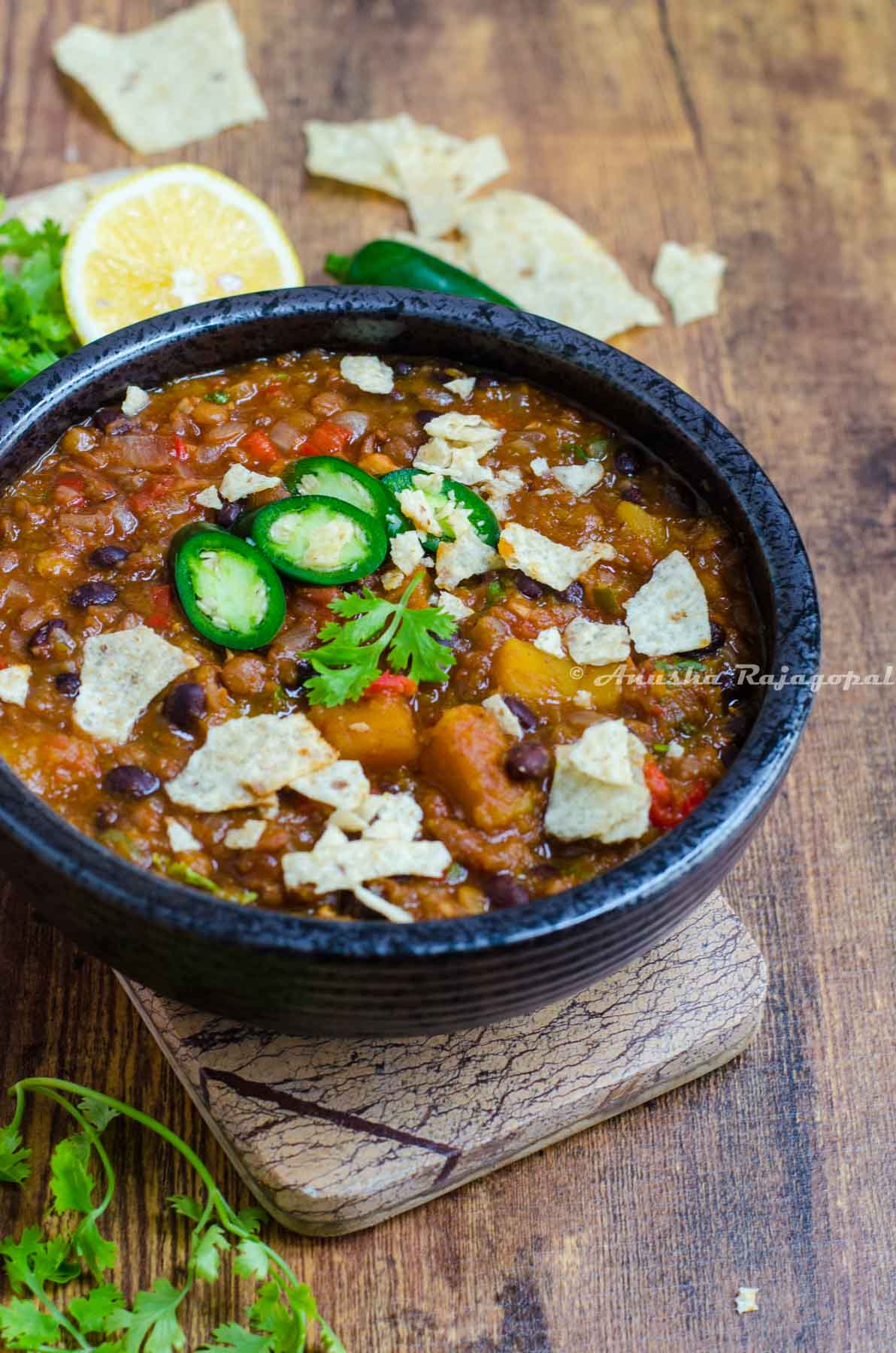 Method
Prep your butternut squash by scrubbing it and washing well. When you cut them, make them into large cubes. This way, they won't become fully mushy.
This recipe uses roughly 2 cups cubed butternut squash.
Wash the green lentils in a colander and set aside. Similarly, drain the canned black beans and rinse them under water once. Set aside.
Instant Pot Dump and Go Chili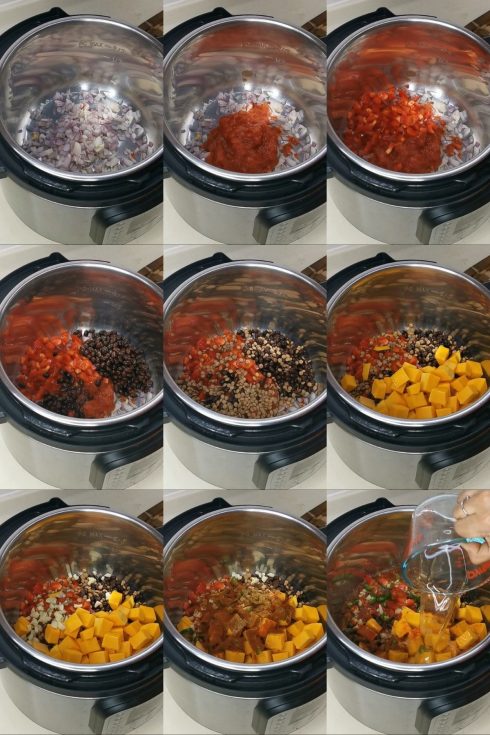 Insert the inner pot into the Instant Pot. Now, add the finely chopped onions, bell peppers, diced tomatoes, black beans, washed lentils, cubed squash, garlic, jalapeno, salt, ground spices and 1 cup vegetable stock.
Stir to combine.
Instant Pot Timings and Settings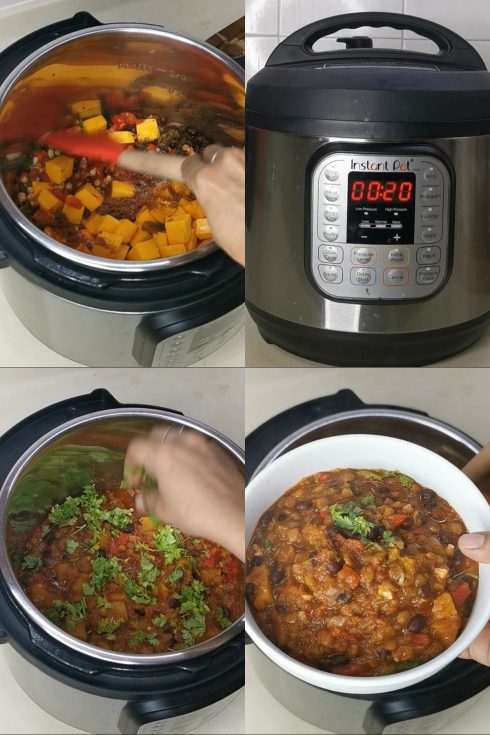 Ensure that the sealing ring has been fitted properly into the Instant Pot lid. Close the Instant pot and turn the valve to SEALING.
Plug in the IP and press BEAN/CHILI mode and set the timer to 20 minutes. The default setting for BEAN/CHILI mode is high pressure cooking on 30 minutes. For this recipe, 20 minutes is just perfect.
Allow the cooking cycle to complete. When cooking is done, wait for the pressure to release naturally.
Once pressure releases, open the lid and gently mix everything. Do not mash the chili. Now, garnish with finely chopped cilantro leaves. Mix well and serve hot.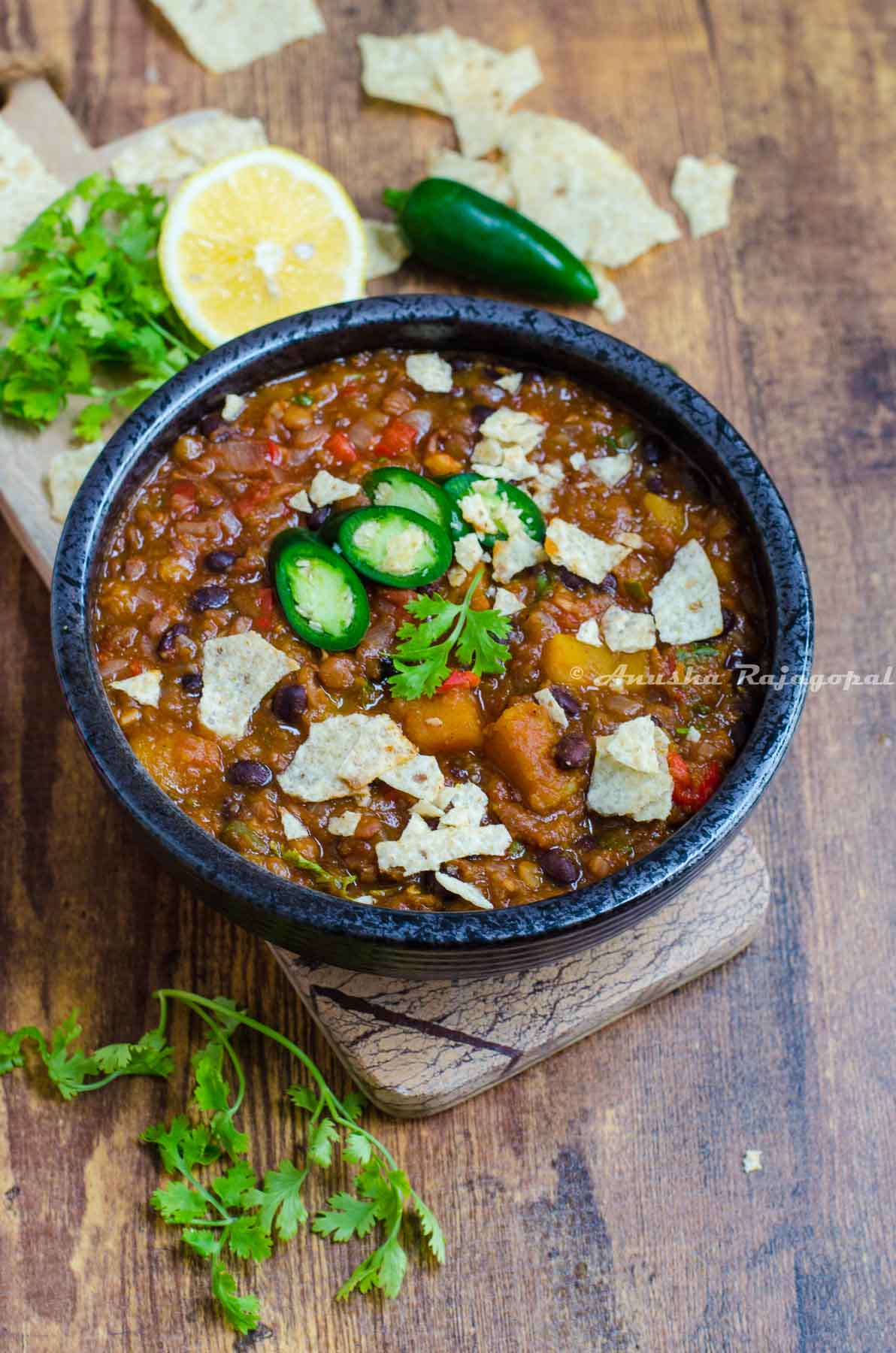 Slow cooker butternut chili
To make this recipe in your slow cooker or crockpot, add all the ingredients to the pot. Stir well. Cook for 4 to 5 hours until the butternut squash is cooked and the chili is thick. Make sure to stir once in a while as it cooks in the crockpot.
Stovetop Chili
If you do not have an Instant Pot or a slow cooker, you can still make this on the stove top. Combine all the ingredients in a dutch-oven or a heavy bottomed pan. Cook on medium heat for 1 hour till the squash is cooked and the chili is thick.
Or use a stove-top pressure cooker. Add all the ingredients to the cooker. Close the cooker and put the pressure valve on. Cook for 5 to 6 whistles on medium heat. Once done, allow pressure to release naturally. Open and garnish with cilantro. Serve hot.
Explore More Instant Pot Recipes
Recipe Card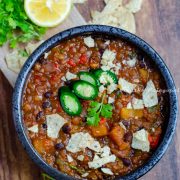 Print Recipe
Butternut Squash Chili
Nourishing chili with the goodness of butternut, lentils and black beans. Vegan. Gluten free.
Ingredients
3/4

cup

finely chopped onions

1/2

cup

diced tomatoes

1/2

cup

finely chopped bell peppers

1/2

cup

drained black beans

1/2

cup

green lentils

350

grams

peeled and cubed butternut squash

1

tbsp

chopped jalapeno

2

tsp

minced garlic

1

tsp

smoked paprika

1/2

tsp

ground cinnamon

1

tsp

cayenne

1

tsp

ground cumin

1

tsp

Kosher salt or to taste

1

cup

vegetable stock

Preferably low sodium
For garnish
2

tbsp

finely chopped cilantro

1/4

cup

crushed tortilla chips

2 to 3

wedges

lime

1

tbsp

sliced jalapeno
Instructions
Place the inner pot into the Instant Pot.

Add all the ingredients mentioned in the order given.

Ensure that the sealing ring has been fitted into the Instant Pot lid correctly.

Close the Instant Pot. Turn the valve to SEALING.

Plug in the IP. Press BEAN/CHILI mode and set the timer for 20 MINUTES.

Allow the cooking cycle to complete.

When done, wait for pressure to release naturally.

After pressure drops, open the lid and gently mix everything once.

Garnish with finely chopped cilantro leaves.

Serve in bowls topped with crushed tortilla chips and jalapenos.
Notes
Nutrition values given here are a rough estimate. Please consult a registered dietician for more information and insights.
Instant pot timings and settings differ based on geographic locations. 
For Instant Pot & Air Fryer Recipes
Instant Pot timings may vary based on your geographic location. Air fryer settings and timings may vary based on the capacity and the model of the Air fryer.
Disclaimer
Nutrition values are provided here as a courtesy and are only a rough guide. Please consult a health care provider if you have any concerns.
Nutrition
Calories:
224
kcal
|
Carbohydrates:
42
g
|
Protein:
11
g
|
Fat:
3
g
|
Saturated Fat:
1
g
|
Polyunsaturated Fat:
1
g
|
Monounsaturated Fat:
1
g
|
Trans Fat:
1
g
|
Sodium:
859
mg
|
Potassium:
829
mg
|
Fiber:
13
g
|
Sugar:
6
g
|
Vitamin A:
10607
IU
|
Vitamin C:
59
mg
|
Calcium:
105
mg
|
Iron:
4
mg
Follow me on Instagram or Facebook for regular cooking updates and short videos. Find us on Pinterest for delicious content. Tried this vegan squash chili? We would love to hear any feedback! Please leave a recipe rating and tell us how it worked for you. Email us your questions to anusapraj@gmail.com if you need any guidance in making this recipe.